As the creator economy is booming, social media platforms are coming up with more meaningful features that benefit creators on their platforms.
As part of it, you can now turn your Twitter followers into newsletter subscribers.
This feature of Twitter enables you to promote your newsletter and build a loyal audience base. This could be one of the great features of direct monetization.
Anyone who has a Revue newsletter can show their newsletter in their Twitter bio.
To add your newsletter, you need to connect your Twitter account with Revue and then enable the "Show newsletter on Twitter profile" option in the Revue Settings.
Fast Facts
In January 2021, Twitter acquired Revue, a newsletter platform.
Steps to Add Newsletter to Twitter Bio
1. Register or log in to Revue
Go to the Revue website.
Click Log in with Twitter, if you have already registered.
Or
Click the Register Now button on the top right corner of your browser window.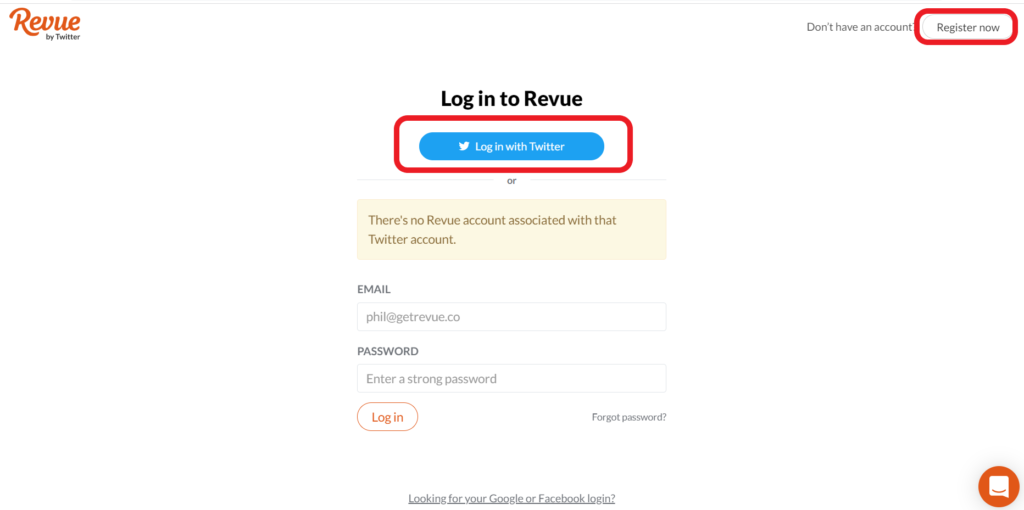 Now, click Sign up with Twitter.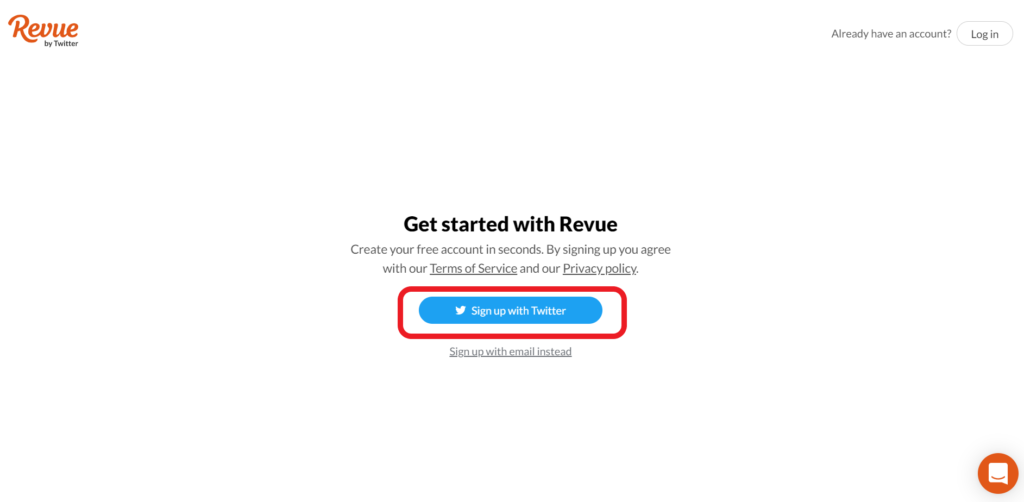 Note: Ensure to log in to your Twitter account in the other tab.
Revue automatically fetches your Twitter username after the successful signup. You can edit the user name and title of your newsletter if you want.
Select your country from the dropdown.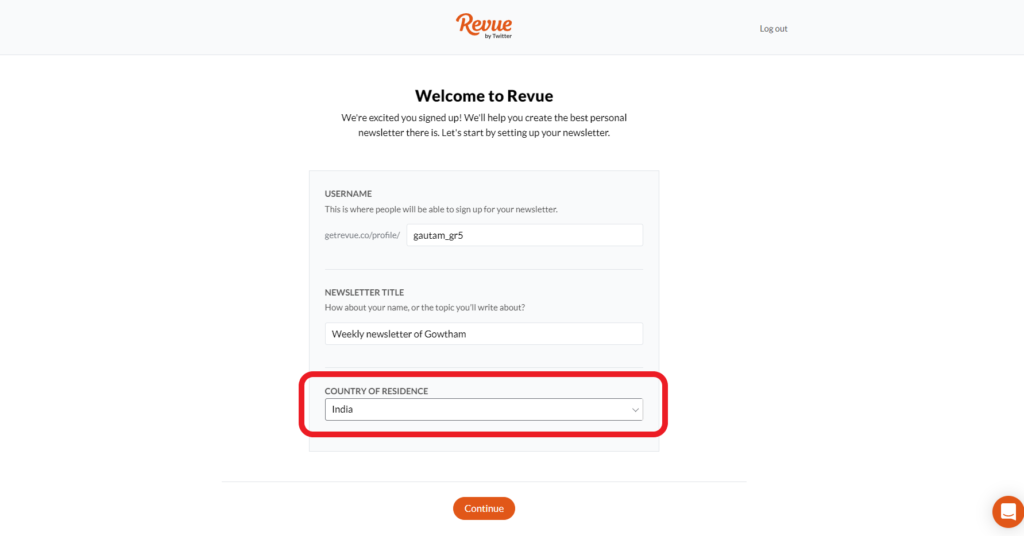 After you've made changes, click Continue.
2. Connect your Twitter account
Now, you are on the home page of Revue.
Navigate to your profile icon on the top right side and click on it.
Click Account settings.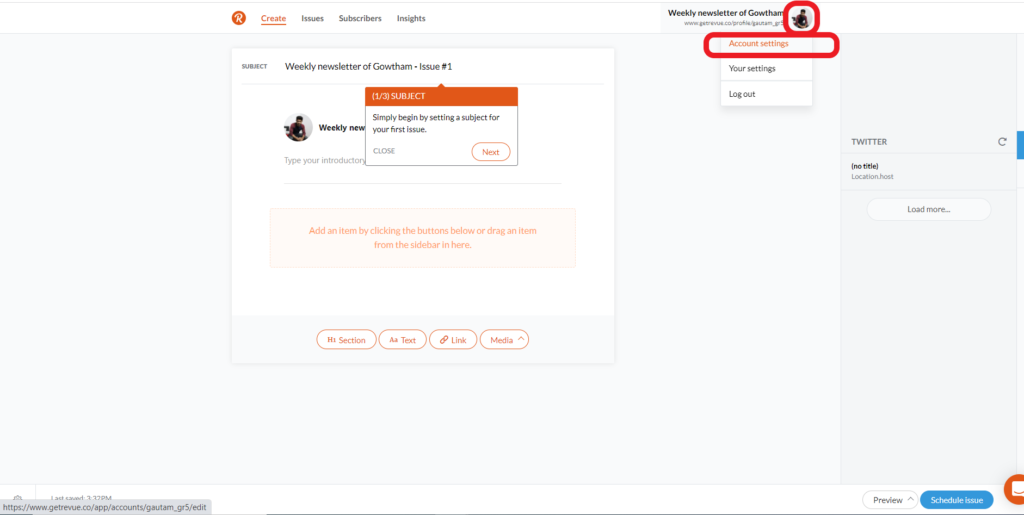 You can see multiple sections such as Profile, Settings, Design, Integrations, Members, and Team.
Click on Integrations.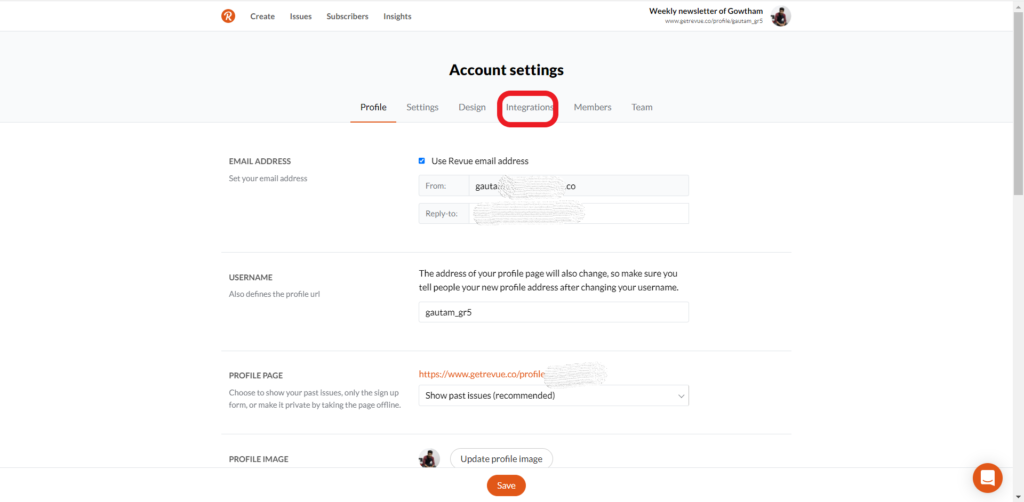 Now, you can see multiple social media and other application cards.
The first card itself is a Twitter.
Since we've already logged in or registered with our Twitter account, In that card, you can see Settings and Disconnect, which means you've already connected.
In case you are logged in or registered with your email address, you can see "Connect now".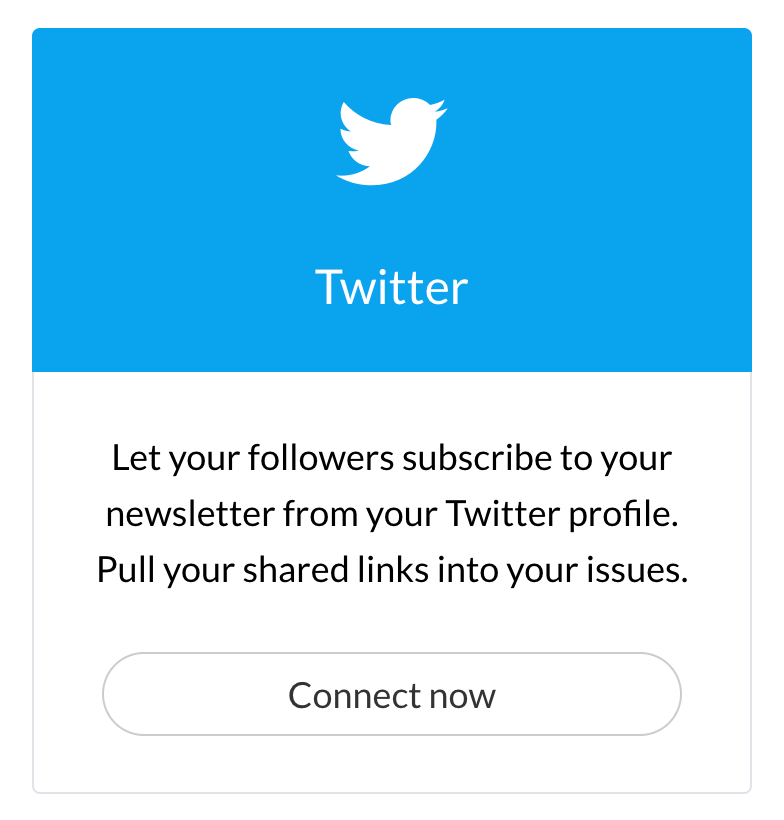 Before clicking, the "Connect now" button, open a new tab and ensure to log in to your Twitter account.
Once you've logged in to your Twitter account, you can click "Connect now".
3. Head to Settings
Next, you need to click Settings on the Twitter card.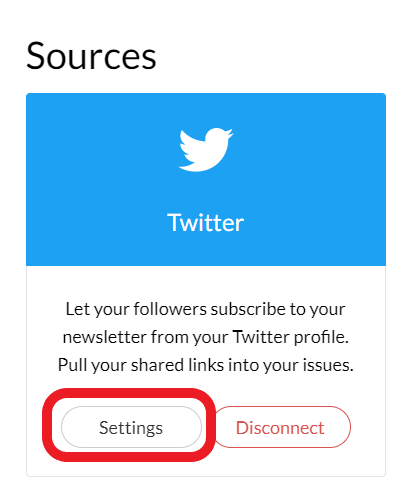 Now you can see the new feature option.
4. Enable "Show newsletter on Twitter profile"
In the Setting window, you can see "Show newsletter on Twitter profile."
Select the check box located before the "Show newsletter on Twitter profile."
Then you can show your example issue on your Twitter account for your followers' reference from the dropdown menu.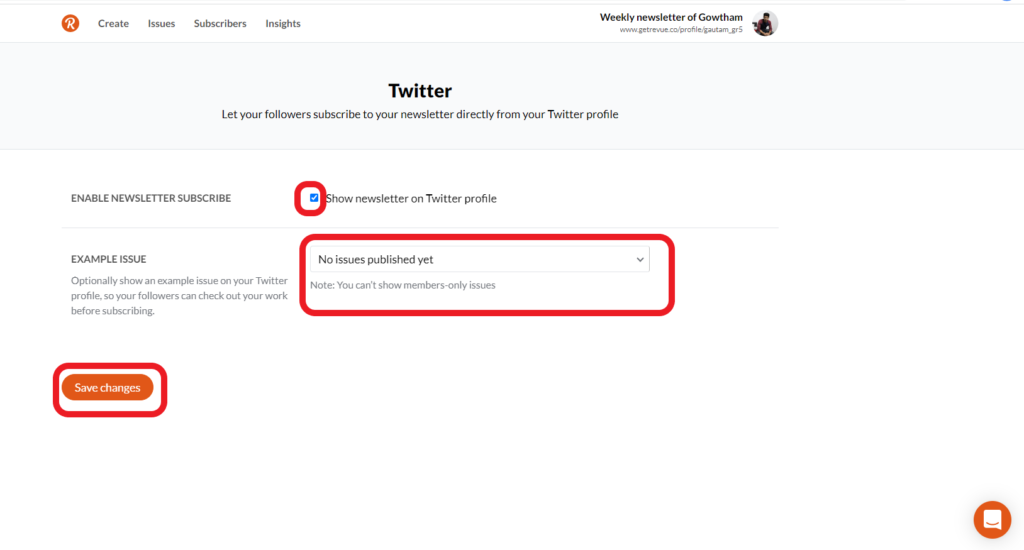 Finally, click Save changes.
Now, head to your Twitter profile page to see this new cool feature.
In case if you haven't seen anything on your Twitter profile, try to disconnect Twitter from Revue and reconnect it.