What is Aptos?
Aptos is a new fastest and most scalable layer 1 blockchain that was built using the Move programming language. Move is a Rust-based programing language that was created by Meta (Formerly Facebook) to empower the Diem blockchain. Since the Move language is designed to support parallel execution, Aptos will provide a seamless experience to both developers and users.
Aptos was developed with user experience as the core focus, not only for end users but also for developers. The combination of user experience, safety, scalability, and performance made Aptos blockchain famous. 
In this article, you will get to know the recently launched/yet-to-launch Aptos projects. If you are someone who is into flipping airdrops, you must explore this article as it contains projects that still don't have tokens and will soon have airdrops.
Best Aptos Projects for 2023 and Beyond
1. Aptos Names
Aptos Names is a naming and identity service for Web 3 just like ENS Domains. Developed by @0xChucky and backed by AptosLabs, the platform launched on Oct 18, 2022.
You can buy human readable .apt domain names on Aptos Names Service (ANS) platform to replace your Aptos wallet addresses. For example, mike.apt
The use of human-readable names over wallet addresses makes crypto transactions easier and reduces fraud and human error. Hence, the growth of the ANS is inevitable. 
To use Aptos Names, you need to connect your Aptos Wallet. Currently, the platform supports wallets, such as Petra, Martian, Fewcha, Pontem, and Rise Wallet.
The platform has released no token yet. So, you can expect an airdrop.
2. Liquidswap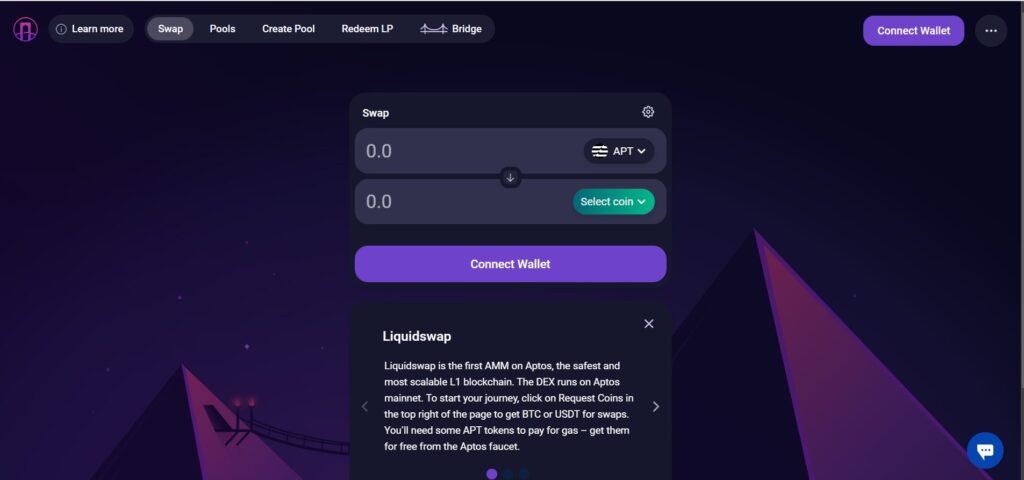 Liquidswap is the first decentralized exchange (DEX) of the Aptos blockchain. It is a Uniswap of Aptos blockchain. The platform was developed by Pontem Network and audited by leading blockchain security auditing firms, such as Ottersec, Halborn, and Zellic.
On Liquidswap, users can swap tokens, use liquidity pools, burn, and use the bridge to transfer coins across blockchains.
To use Liquidswap, you need an Aptos wallet and some APT tokens for the gas fee. The platform currently supports, Pontem Wallet, Petra Wallet, and Martian Wallet.
While Liquidswap has yet to reveal its own tokens, the platform says there are no guarantees on airdrops.
3. BlueMove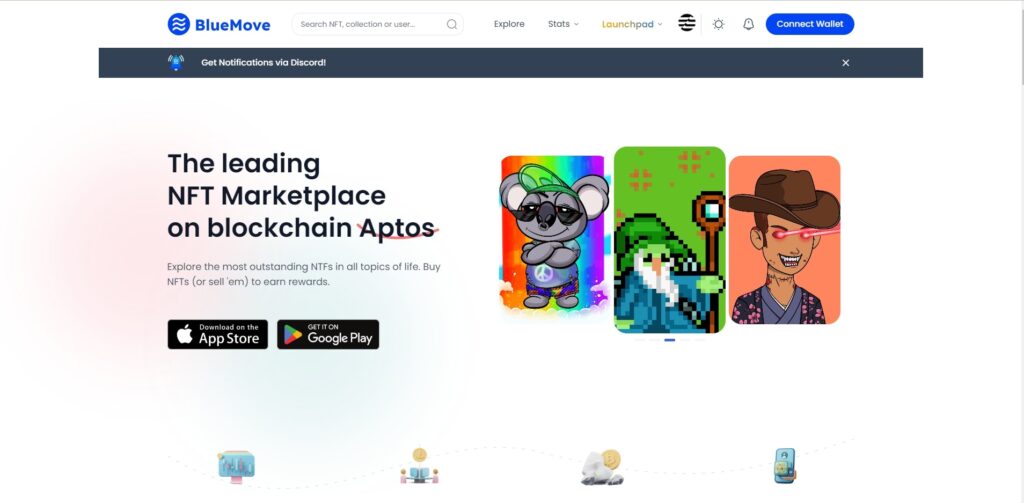 BlueMove is a multi-chain NFT marketplace that supports Aptos and Sui blockchains. It has categories such as art, collectibles, and domain names.
BlueMove has features that other OG NFT marketplaces lack. The unique features of the BlueMove NFT marketplace include launchpad, bulk transactions, mint tracking, NFT lending, and an NFT order book.
The platform rewards traders, collectors, and creators for participation in the form of MOVE tokens.
The marketplace has its own token named MOVE with a total supply of 300,000,000, of which 5% will be released as an airdrop.
4. AptosLaunch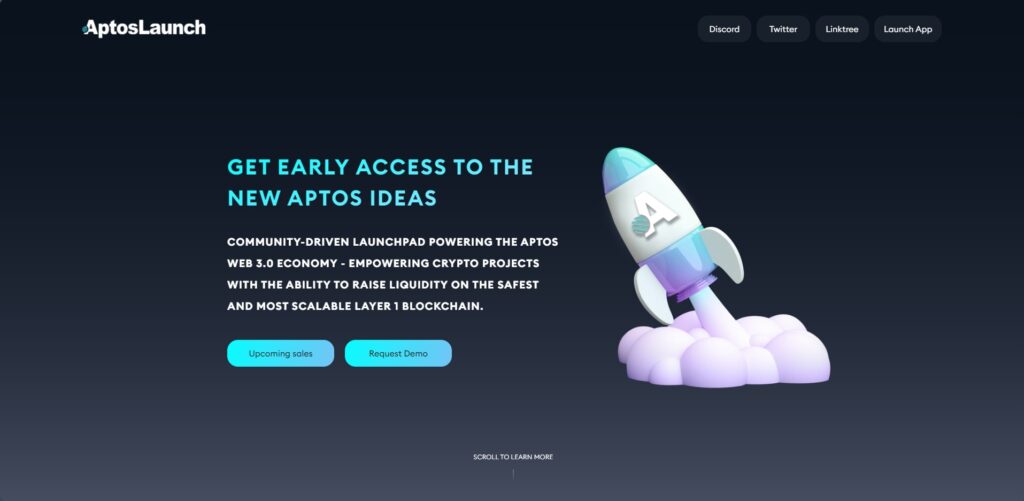 AptosLaunch is a community-driven launchpad that empowers Aptos projects. It offers the most convenient project launching environment that is equipped with a time period, accepted token types, and an auction algorithm.
If you are a developer, to get high visibility across the Aptos community, launch your project on AptosLaunch. To launch your project on AptosLaunch, fill in this form.
If you are a consumer, use the AptosLaunch platform to keep track of upcoming projects and airdrops.
AptosLaunch has its own token ALT.
5. Ditto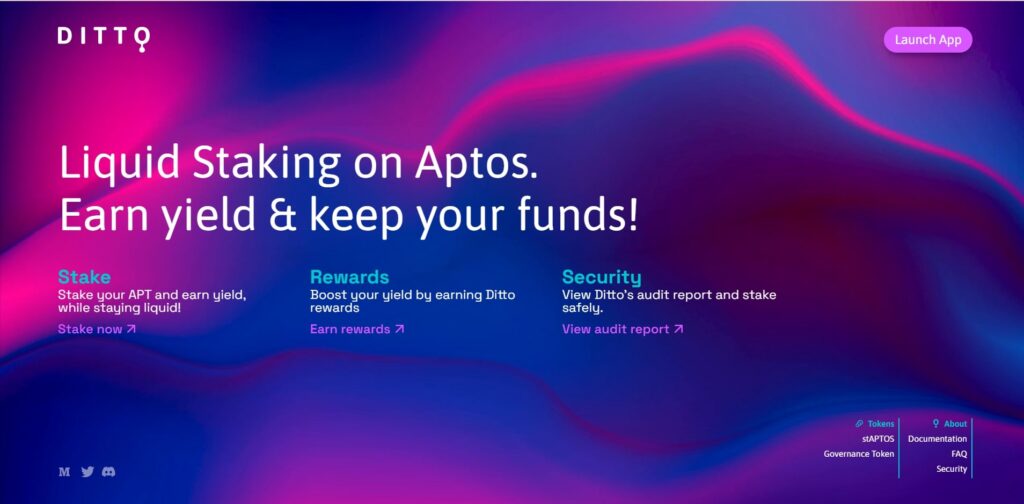 Ditto is a liquidity staking platform on the Aptos blockchain. You can stake your APT tokens to earn a yield. The yield will be given in the form of Ditto staked Aptos (stAPT).
Currently, the platform offers a 7% annual yield and charges a 10% fee on staking rewards.
The platform is audited by one of the leading blockchain auditing firms, Ottersec. With a vision of making stAPT the primary token that the DeFi community holds and transacts, the future of this project looks bright.
6. Tortuga Finance
Tortuga Finance is another liquidity staking platform on the Aptos blockchain. You can stake your APT tokens for tAPT tokens. The platform offers trusted staking by choosing the best-experienced validators.
The platform is backed by the famous FTX Ventures and Jump Crypto.
Currently, the platform offers a 7% annual yield and charges a 0% fee on staking rewards.
7. Hippo Labs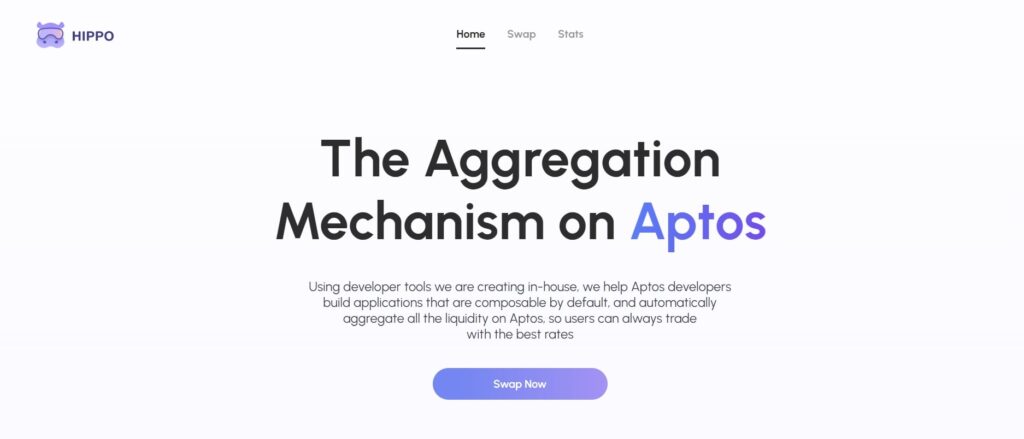 Hippo Labs is an aggregation mechanism on the Aptos blockchain. The platform is similar to the famous DEX aggregator 1inch.
It automatically aggregates a dozen liquidity protocols on Aptos and offers the best rates for its users to swap their tokens.
Hippo Labs supports Rise Wallet, Martian, Petra, Pontem, BitKeep, and Nightly.
8. Arco Protocol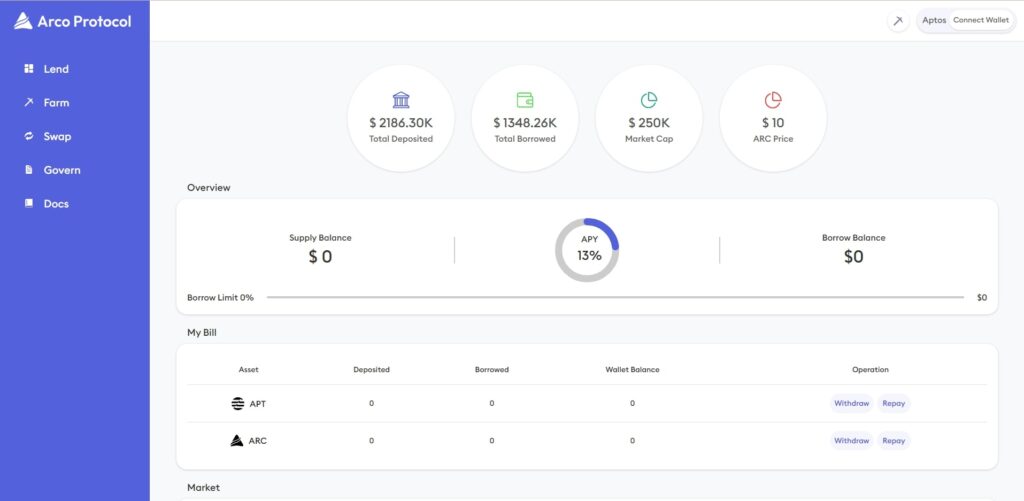 Arco Protocol (ARCO) is the first cross-chain non-custodial liquid asset lending and staking platform on Aptos and Sui blockchains. This is similar to AAVE.
Connect your wallet and lend or borrow APT tokens.
There are four ways to claim the platform token ARC:
Discord OG roles

Content creators

Bug bounty hunters

Testnet participants
9. Aptin.io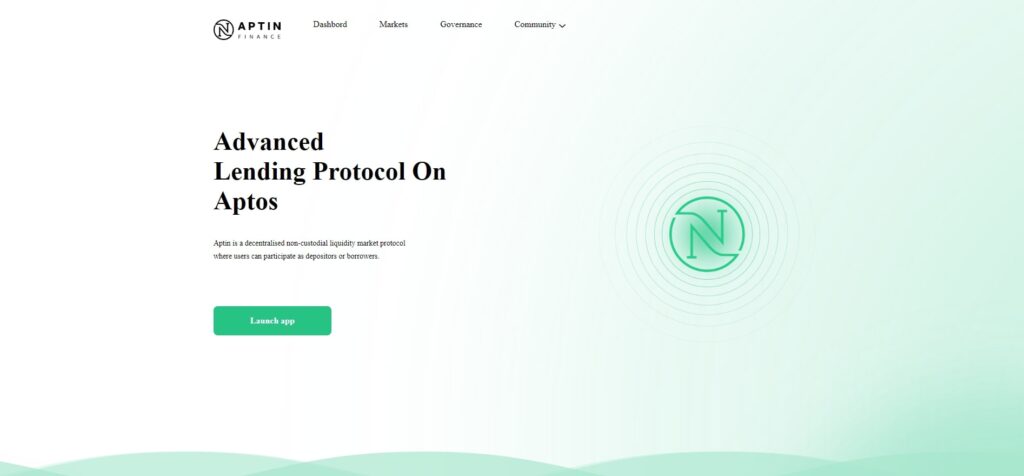 Aptin.io is an advanced lending protocol on the Aptos blockchain. Like on Arco Protocol, users can participate on Aptin.io as a lender or borrower.
The governance token will be coming soon.
10. Aries Market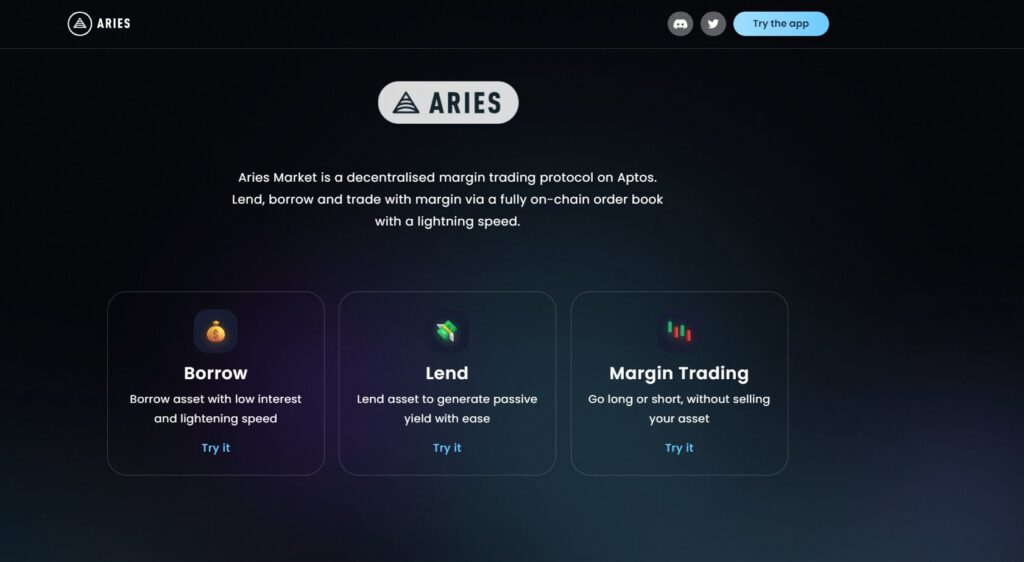 Aries Market is a margin trading protocol on Aptos that is fully decentralized. You can lend, borrow, and trade with margin at lightening speed.
All entries will be maintained in the on-chain order book.
11. Mobius.market
Mobius.market is another liquidity protocol for the Aptos token. You can deposit or lend assets to earn interest.
Currently, it supports Aptos, Ethereum, and Bitcoin.
12. Plasmaverse
Plasmaverse is a play-to-earn action role-playing game on the Aptos, Sui, and Solana blockchains. The game is plotted based on a colonizing earth-like planet called Plasmaverse, which is located twenty light years away.
13. Aptos Eagle
Aptos Eagle is the first meme coin on the Aptos blockchain. This could be the next Dogecoin or Shiba Inu.
To get a chance to win an airdrop, go to Twitter and follow Aptos Eagle. Like and retweet this tweet. Lastly, comment your Aptos wallet address. 
14. SOUL
SOUL is another naming system on the Aptos blockchain. The project is not yet completed and still in progress.
To win an airdrop, you need to fill in this form. 
Conclusion
Projects like these will rise whenever a new layer 1 blockchain is created. The success of these projects totally depends on their real-time problem-solving.
If you have planned to get an airdrop from any of these projects, do your own research.