Fletch Wallet is the first native Aptos mobile wallet. It allows users can send, receive, and store tokens and NFTs.
Users can also explore the dApps of Aptos inside the Fletch mobile wallet. The wallet also has a swap feature, which is under development.
Currently, Fletch Wallet is available for Android. The website of Fletch Wallet is still under development.
The Fletch Wallet also has a Discord community with over 11k members.
How to Create and Set Up Fletch Wallet?
To use Fletch Wallet, first, you need to download and install the application.
Then, you need to create your Fletch mobile wallet account.
The account creation process includes setting a new password and backing up the secret recovery phrase.
Steps to Create and Set Up Fletch Wallet
1. Install Fletch Wallet
If you have already installed the Fletch Aptos Wallet extension, you can skip this step.
First, you need to go to the Google Play.
Then, install the Fletch mobile wallet.
2. Tap "
Create a New Wallet
"
After the installation, the application will open up. If not, find the Fletch Wallet application on your mobile and tap on it.
Now, you will be able to two options: "Create a New Wallet" and "I already have a wallet".
You need to select "Create a New Wallet" since you are new to the Fletch Wallet.
3. Create a New Password
As a part of wallet account creation, you need to set a strong password to access the Fletch Wallet on your current device.
Remember, the password gets stored on your device, not on the server of Fletch Wallet. Hence, the wallet team cannot recover your password if it is lost. However, you can reset the password by yourself with the seed/ recovery phrase.
Now, set a password with a minimum of 8 characters, including special characters, letters, and numbers.
Then, select the checkbox given and tap on "Create Wallet".
4. Backup the Seed Phrase
After tapping on Create Wallet, the Fletch Wallet will be about to display your seed/ recovery phrase.
The 12-word seed phrase is displayed in a blurred manner. You need to click on it to see those words.
Before you click on it, make sure to check that nobody is behind and around you. If anyone has access to these seed phrases of yours, they will have full control over your wallet.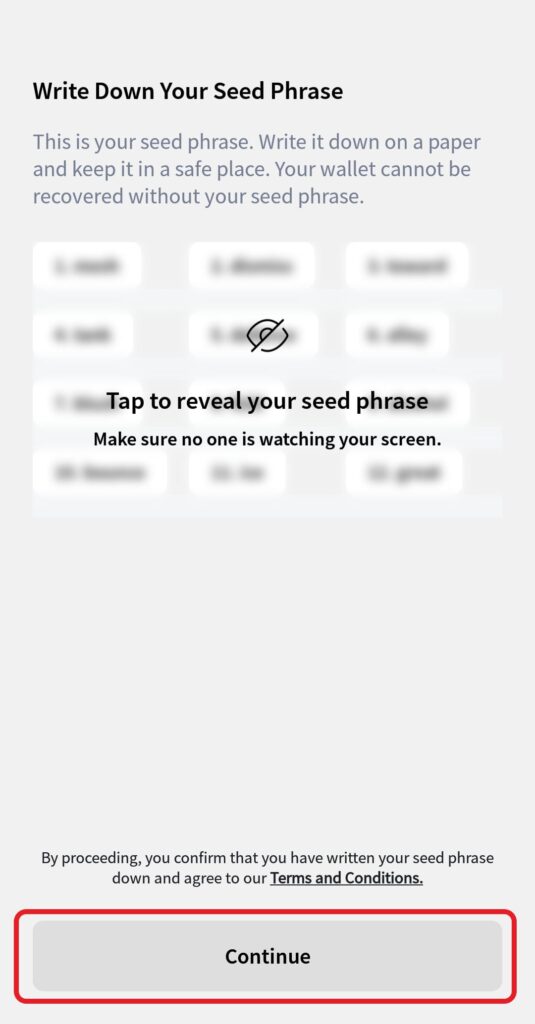 Since Fletch Wallet is a decentralized wallet, you need to rely on this seed/ recovery phrase to restore your password or restore your account on different devices.
Note down your seed phrase of yours on a piece of paper or notepad and store it in a secure place where you only have access to it. I recommend physical storage rather than digital.
Once you have taken a backup of your seed phrase, tap "Continue".
Now, you are all set to use the Fletch Aptos Wallet.
5. Use Fletch Wallet
Now, you will land on the home page of your Fletch Wallet account. On the homepage, you can see your account balance and perform actions, such as sending tokens and copying your wallet address.
Tap the "NFT" to see your digital collectibles, tap the "Internet icon" to explore the dApps, and "Activity" tab to see your recent transactions.
Conclusion
Installing and creating a Fletch Wallet account is a simple task.
Setting up the password and backing up the recovery phrase are the two essential steps involved in creating the Fletch Aptos Wallet account.
Your entire portfolio is accessible to anyone who has your seed phrase. Hence, always follow best practices to keep your secret phrase safe. Otherwise, you will have no way of accessing your assets. If you lose them, nobody can access your account—even Fletch Wallet developers.
Beware of the scams floating around. At any point in time, nobody from the Fletch Wallet team will ask for your recovery phrase.