XDEFI Wallet is a non-custodial multi-chain hot wallet that allows users to store, swap, and send 10,000 cryptocurrencies across 14 different blockchains.
XDEFI Wallet supports Bitcoin, Ethereum, Arbitrum, Avalanche, Bitcoin Cash, BNB Beacon Chain, BNB Smart Chain, Doge, Fantom, Litecoin, Polygon, Terra V2, and THORChain. 
Users can also store and send their NFTs in their XDEFI Wallet.
The XDEFI Wallet is the gateway to access all dApps. It has an integrated bridge that allows users to swap cryptocurrency across different chains.
In this article, I will explain how I created and set up the XDEFI Wallet.
How to Create, Set Up, and Use XDEFI Wallet?
To use XDEFI Wallet, first, you need to download the extension.
Then, you need to create your XDEFI Wallet account.
The account creation process includes setting a new password and backing up the recovery phrase.
That's it. Now, you are all set to use XDEFI Wallet.
Steps to Create, Set Up, and Use XDEFI Wallet
1. Install XDEFI Wallet
To install XDEFI Wallet, you need to visit the XDEFI Wallet website and click "Install XDEFI Wallet".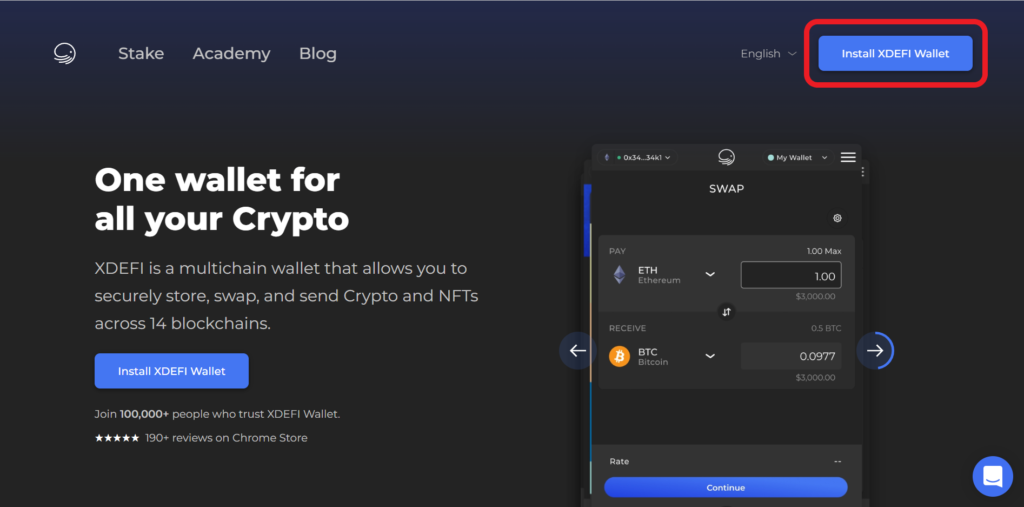 XDEFI Wallet is available as an extension for Chrome, Edge, Brave, Opera, and Cốc Cốc browser.
After the installation, click the "puzzle icon" to the right of your browser's omnibox, followed by the "XDEFI Wallet extension".
2. Create XDEFI Wallet
After opening the XDEFI Wallet extension, click "Let's get started".
Then, agree to the terms and conditions of XDEFI Wallet by selecting the small checkbox.
Since you are creating a new account in XDEFI Wallet, you need to click the "Create XDEFI Wallet" option.
If you already have an account with this wallet, click "Restore XDEFI Wallet". Then, enter your secret recovery phrase to restore your account.
If you want to connect your hardware wallet to XDEFI Wallet, click "Connect Hardware Wallet". You can also connect your hardware wallet after creating and setting up the XDEFI account.
Set a Password
The first step in the account creation process is setting up a new password.
Enter a memorable password with a minimum of 8 characters. The password that you are going to set is used to protect your XDEFI Wallet on your current device.
After setting up a password, click "Next".
3. Back-Up and Verify Secret Phrase
Next, the wallet will display your secret recovery phrase.
Since the XDEFI Wallet is non-custodial, details such as passwords and secret phrases are stored on the users' machines, not on the servers of XDEFI. This is what is called "decentralized".
Now, back up your secret phrase. We would highly recommend noting down your secret phrase on a piece of paper and storing it somewhere safe.
The secret phrase has full control over your wallet account. A person with your secret phrase will have full access to your funds in your wallet. Hence, always use the best practices for storing them.
Once you have taken a backup, click "Next".
Next, you need to verify your secret phrase. To do so, you need to enter the words in a certain position as displayed.
Lastly, click "Next".
4. Set Up a Name
Next, give a name to your wallet.
Enter the name in the given field and click "Next".
You can rename the wallet account name later on the "Accounts" page if you want.
Now, if you want, you can make XDEFI Wallet the default browser wallet by clicking the "toggle icon".
That's it. You have created and set up an XDEFI Wallet account.
5. Use XDEFI Wallet
By default, you will land on the "Assets" page where you can manage your assets. You can send, receive, and buy crypto assets from the Assets page.
A search box is given on this page to search the crypto assets. Next to the search box, there is a dropdown that allows you to show the crypto assets of all chains or a particular chain.
On the "NFTs" page, you can manage the NFTs of all supported chains. The "swap" button allows you to swap tokens between the supported chains. For example, you can swap Ethereum for Bitcoin and vice versa.
The "Activity" page shows all your recent transactions in and out. The "Accounts" page lets you create multiple wallet accounts, see the secret phrase, change the wallet account name, back up, and delete the account.
To change the "Network", click on the "dropdown" icon on the top left side of the wallet.
For more options and settings, click the "three parallel icon" on the top right side of the wallet.
There, you can add contacts, manage your wallets, such as connecting it to a hardware wallet, testnet enabling, and settings. To lock XDEFI Wallet, click the "three parallel lines" on the top right side of the wallet and click "Lock".
The "Settings" option allows you to change your password, chain management, dApps permission management, token approval, and default currency setup.
This is how you can use the XDEFI Wallet for managing your cryptocurrencies, NFTs, and Defi access.
Conclusion
Installing and creating an XDEFI Wallet account is a simple task.
Setting up the password and backing up the recovery phrase are the two essential steps involved in creating the XDEFI Wallet account.
Anyone with your seed phrase can access all your assets.
Hence, always remember to store your secret phrase in multiple places to prevent it from being lost. If you lose them, nobody can access your account—even the XDEFI Wallet team.
Beware of the scams floating around. At any point in time, nobody from the XDEFI Wallet team will ask for your recovery phrase.
If you want to contact XDEFI Wallet customer support, you can contact them via Discord or start a live chat by clicking on the "Intercom" icon at the bottom right of the webpage.
FAQ
1. Does XDEFI Wallet support hardware wallet?
Yes, XDEFI Wallet supports hardware wallets such as Ledger and Trezor.