Every paid Midjourney user will either have a limited number of generations or limited Fast hours along with unlimited relaxed generations.
Members of Basic Plan will have a limited generation of 200 per month, whereas subscribers of Standard and Pro Plan will have limited FAST generations and unlimited relaxed generations. 
For those who are not aware of what is FAST hours,
Midjourney AI uses special computer parts called GPUs to understand and handle every request. Each person's GPU time depends on their plan. This time is called FAST hours and is given each month.
If you don't have GPU time, you may have to wait in line based on how much you use the service. This is called Relaxed generation.
With limited FAST hours in all plans, it's common for users to reach a point where they must switch to Relaxed mode. This can cause discomfort and frustration for many, as they must wait in line based on their usage.
But there is a way to get more FREE FAST hours even if you running out of your paid FAST hours.
Ready to eliminate wait times on Midjourney? This article will show you how to get even more FREE FAST hours, tips to save FAST hours, and make the most of your time!
How to Get Free FAST Hours in Midjourney?
To get free FAST hours in Midjourney, you need to rate the images of fellow Midjourney users. Each day, Midjourney awards the top 1000 raters with a bonus FAST hour.
The bonus FAST hour has a validity of 30 days from the day it has been awarded.
You can rate images based on your own opinion, such as style, theme, elements, etc.
How to Rate Images of Others?
Now, that you know it is essential to rate images of other Midjourney users, let's learn how to rate them.
You can rate any images either on the Midjourney website or in the Midjourney Discord.
To rate images on the Midjourney website,
Head to Midjourney.com and click "

Community Feed

"

Then, hover over the image you like

Click the "smiley" icon and select any one of the ranking options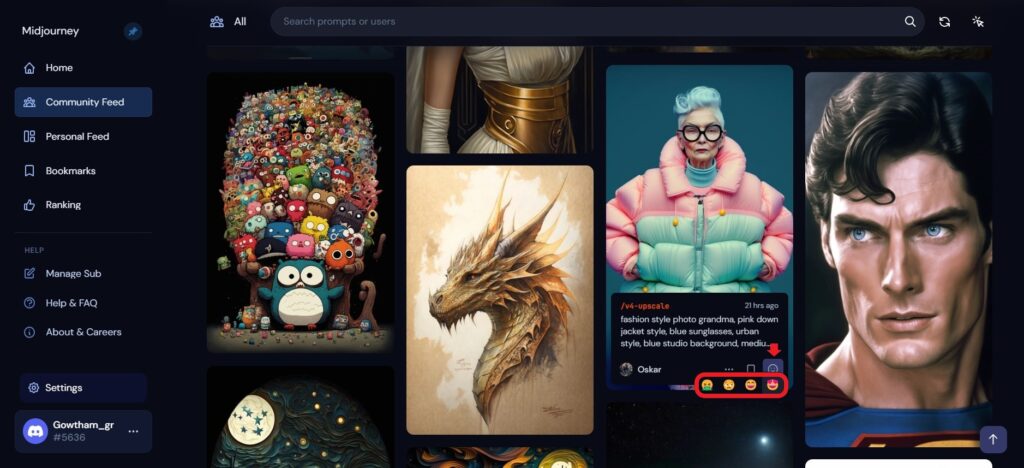 To rate images in the Midjourney Discord,
Navigate to any one of the "

#newbies

" or the "

#general

" channel

Enter into it

Rate any upscaled image with the ranking option
You can rank your own work or your peers.
If you are one of the top raters for the day, you will get a direct message from the Midjourney Bot to notify you that you have earned free FAST hours. 
Tips to Save Midjourney FAST hours
Use your FAST hours when you really need them. By default, all your executions will utilize your FAST hours. Hence, it is essential to manually switch to the "Relax" mode.
To switch to "Relax" mode, you need to execute the "/relax" command. Once you've executed the "/relax" command, your jobs now do not consume fast hours but might take a little longer.
You can always switch back to the Fast mode with the "/fast" command.
How to check my Midjourney FAST hours?
Every paid user of Midjourney will get a limited number of FAST hours and unlimited Relaxed generations based on their plan. Since the FAST hours are limited, they need to keep an eye on them.
To track Midjourney FAST hours, execute the "/info" command. By doing so, you will get all your Midjourney subscription details and usage.
How many GPU/ FAST hours does my job cost?
Typically, generating an average image takes just one minute of GPU time. However, if you choose to upscale an image or use a different aspect ratio than 1:1, it may consume more GPU time.
On the other hand, creating variations of an image or using lower "quality" values will require less GPU or FAST hour.
Refer to the following table for GPU consumption:
Conclusion
Rating images in Midjourney including your own is the only way to get free FAST hours. If you have used up all of your FREE FAST hours and need more right away, you can buy more FAST hours at Midjourney.com/accounts. 
You will only get a direct message from the official Midjourney Bot when you are given free FAST hours. If you encounter someone asking for credentials, it is most likely a scam; beware!