You must be familiar with Midjourney at this time. If not, Midjourney is a highly sophisticated generative AI that generates images from a textual description written in human language.
Midjourney can only be accessed via its official Discord channel. Check out the article on how to use Midjourney and avail of its free trial.
Midjourney has been outperforming its fist tier competitors DALL.E 2 and Stable Diffusion. It has huge potential to influence many fields, such as gaming, photography, architecture, animation, and more.
If you are one of Midjourney's ten million users, you must have a second thoughts about its free alternative. This article aims to provide both free and paid alternatives to Midjourney AI for its ten million users who may be considering a secondary option.
In this article, I will omit DALL.E 2 and Stable Diffusion as many of you are already aware of it. In case you are not, refer to our articles on how to use DALL.E 2 and Stable Diffusion.
Best Midjourney Alternatives
1. BlueWillow AI
BlueWillow AI is the perfect alternative for Midjourney. What I meant by perfect is its working environment and the output it generates.
The working environment at BlueWillow AI is the same as Midjourney Discord.
The results of BlueWillow AI have remained me of Midjourney V2. You can use BlueWillow for logo design, graphics, photo-realistic scenes, and more.  
Currently, BlueWillow AI is free. It means you can generate unlimited images with BlueWillow. However, it will not be free forever.
2.
Generated Photos
Midjourney is well-versed in creating photo-realistic human faces. Generated Photos is one step ahead of Midjourney when its come to photo-realistic human faces and humans.
You can simply browse and buy copyright-free realistic human faces or generate one according to your needs. Each face you are seeing in this platform is completely distinct from one other.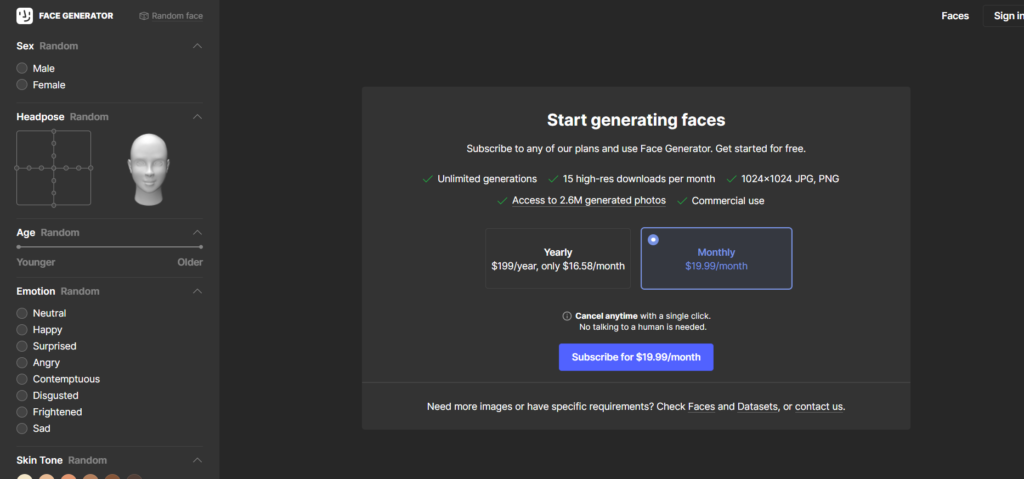 To generate human faces, you don't need to enter a single word as a prompt. Instead, you can just select all features including sex, age, ethnicity, skin tone, emotion, hair color and length, glasses, and makeup.
As a new update, the platform just launched super realistic whole-body images that don't exist in the world.
3.
Microsoft Designer
Microsoft Designer is one platform for all kinds of designs from canvas, and AI-generated images to motion graphics, and more. Microsoft is yet to launch this application, which will be an alternative to Canva.
It is believed that Microsoft Designer is free for individuals and it will available on a subscription basis for companies and government agencies.
This platform allows you to directly publish your design or send it to your phone for a quick share.
4. NightCafe Studio
NightCafe Studio is a platform to create, share, discuss, and print AI art. NightCafe minimizes your prompting efforts by showcasing many styles. All you need to do is just enter your main prompt and don't worry about style jargon as they are available in an interactive manner.
Initially, you will get 10 free credits. After that, you either need to buy credits or simply complete the tasks described to earn free credits.
You can also opt for NightCafe pro plans to enjoy ads-free generation and more additional perks, such as tipping other creators, pause, delay, or cancel generations at any time.
5.
StarryAI
StarryAI is one of the amazing alternatives to Midjourney. It has two AI models called Argo and Argo 2. Both are great for artistic and product renders.
The downside of StarryAI is that it takes up to 2 minutes for rendering the artwork. The platform offers 5 free credits after that you need to opt for their pro plans starting from $11.99. Compared to NightCafe Studio, the price is a little bit higher.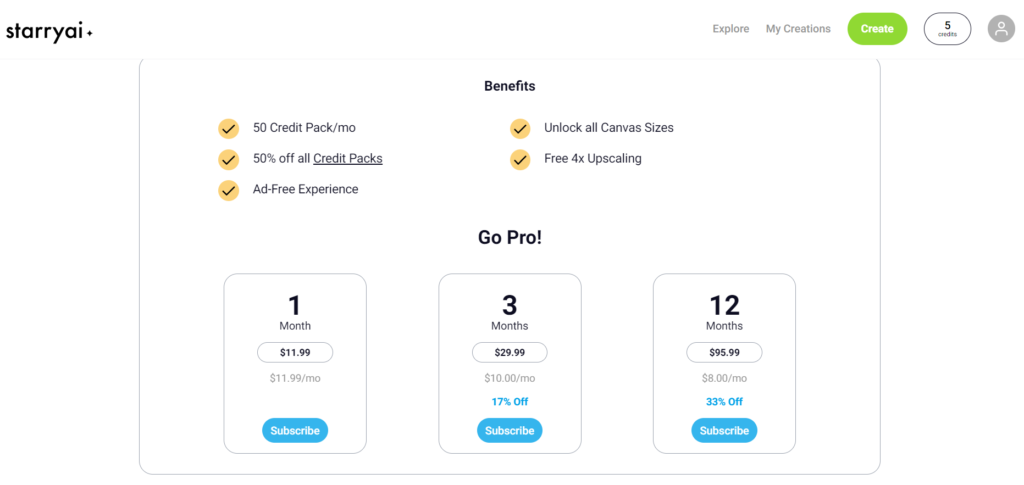 Like NightCafe Studio, you have a lot of styling options to choose from.
6. Playground AI
Playground AI is one of the free online text-to-image creators that hosts DALL.E 2 and Stable Diffusion 1.5 & 2.1 in which Stable Diffusion is completely free-to-use whereas DALL.E 2 is paid.
Unlike Midjourney or BlueWillow AI, Playground AI has its own interface for easy access. If you don't know what technical words and filters to add to your prompt, Playground AI is a great go-to place that allows you to add multiple keywords in an interactive way.
7. Dream by WOMBO
Dream by WOMBO is another easy-to-use alternative for Midjourney. Just like Playground AI, Dream has an interactive interface that allows even people to add any kind of style jargon with just a click of the mouse.
In Dream, you can also use an image as a reference along with your prompt. Dream also has a unique feature that allows NFT enthusiast to connect their wallets to the platform and remix their NFTs with their existing NFTs as reference.
Dream by Wombo is available as both Android and iOS applications.
8.
MindsEye Beta
MindsEye Beta is a graphical user interface built to run AI models, such as Disco Diffusion v5 and Hypertron v2. It is created by Apolinário. 
It is hosted in a Google Colab notebook so that anyone can use it for free always. To use MindsEye Beta Google Colab notebook, you don't need any coding knowledge.

To know how to run this colab notebook, check out the step-by-step instructions given at https://multimodal.art/mindseye. 
If you are intimidated by the coding environment the colab notebook has, you can try MindsEye Lite hosted in HuggingFace.
9.
ARTSIO
ARTSIO is a free-to-use AI art platform that hosts Stable Diffusion to allow its users to create images of their choice. To use ARTSIO as an alternative to Midjourney, you need to click "Midjourney Style" once you reach the create tab.
Like Playground AI and Dream, it has an interactive user interface.
Apart from the AI art creation, it showcases the AI art of its user base. The platform honors real-world artists by listing the original creations along with AI-generated images related to artists.
Conclusion
Midjourney is the leading generative AI model that generates realistic as well as outstanding animations and graphics. In this article, I have given multiple free and paid alternatives to Midjourney. According to me, BlueWillow AI and Generated Photos are two AI models that come near to Midjourney's performance and sometimes overtake Midjourney.
Considering the partnership between Microsoft and OpenAI and the features of the Microsoft Designer application, it might be a perfect alternative to Midjourney. But, we need to wait and watch to witness the performance of the Designer application.