Changelly is primarily a cryptocurrency exchange platform and an aggregator that brings the best exchange rate by analyzing a set of centralized exchange (CEX) prices.
Apart from cryptocurrency conversion, Changelly allows users to buy and sell cryptocurrencies with ease.
Changelly has partnered with Mercuryo to sell cryptocurrency. Users can sell crypto and withdraw in USD or EUR according to their bank's acceptance of fiat currency.
Things You Need to Have for Selling Crypto on Changelly
For selling cryptocurrency in Changelly, you need two of your ID proof of which one must be a passport (or any national ID). Along with that, prepare to take a selfie.
Then, you will need your bank account details/ card details to receive the fiat currency after the sale of crypto.
And, you will need to enter the wallet address of the particular cryptocurrency that you have chosen for selling. This will act as a refund address in case the transaction fails.
How to Sell Cryptocurrency on Changelly?
To sell cryptocurrency on Changelly for fiat currency, first, you need to set the crypto and fiat currency pairs.
Then, complete the email and identity verification.
Next, you need to choose the payment option and give the refund crypto wallet or exchange address.
Lastly, send the cryptocurrency that you want to sell to the wallet address displayed on the screen and wait for a few minutes to receive your fiat currency.
Steps to Sell Cryptocurrency on Changelly
1. Navigate to "
Sell
"
Visit the Changelly website and bookmark it to escape phishing attacks.
Once you are on the website, navigate to "Sell" and click "Sell crypto".
2. Set the Crypto and Fiat Currency pairs
After getting into the "Sell" section, you need to set the cryptocurrency and fiat currency for this sell order.
For example, if you want to sell ETH, you need to select that in the first section and enter the amount.
Then, select the fiat currencies, USD or EUR, in the second section and click "Sell".
3. Complete the Email Verification by Mercuryo
Next, Changelly's selling crypto partner, Mercuryo, needs your email for verification.
Enter the email address and select the check box given after reading the "Privacy Policy" and "Cookies Policy".
Now, click "Send code".
By doing so, you will receive the verification code to your entered email address. You need to enter that code within the given seconds.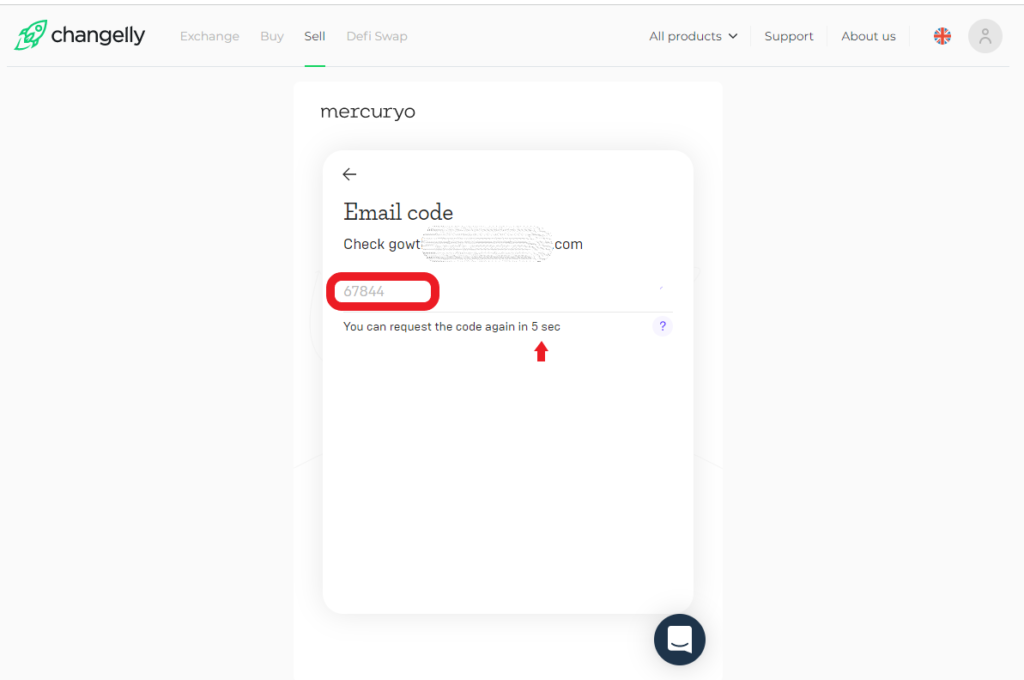 4. Verify the Identity
Mercuryo will verify your identity after the email verification.
Identity verification is a 3-step process that can also be continued on the mobile phone by scanning the QR code given.
The first step in identity verification is providing the first two pages of your passport (or any national ID).
Keep in mind that the photo that you are going to upload must be bright and clear. Also, all four corners of the photo must be visible.
Once you have uploaded your passport photo, click "Confirm and Proceed".
Next in the identity verification process is to take a selfie with the document that you have uploaded previously.
The final step is to upload the front page of the second document. That's it.
5. Choose Payment Method
Next, you need to choose a payment method to proceed further. There are two options: cards and bank accounts.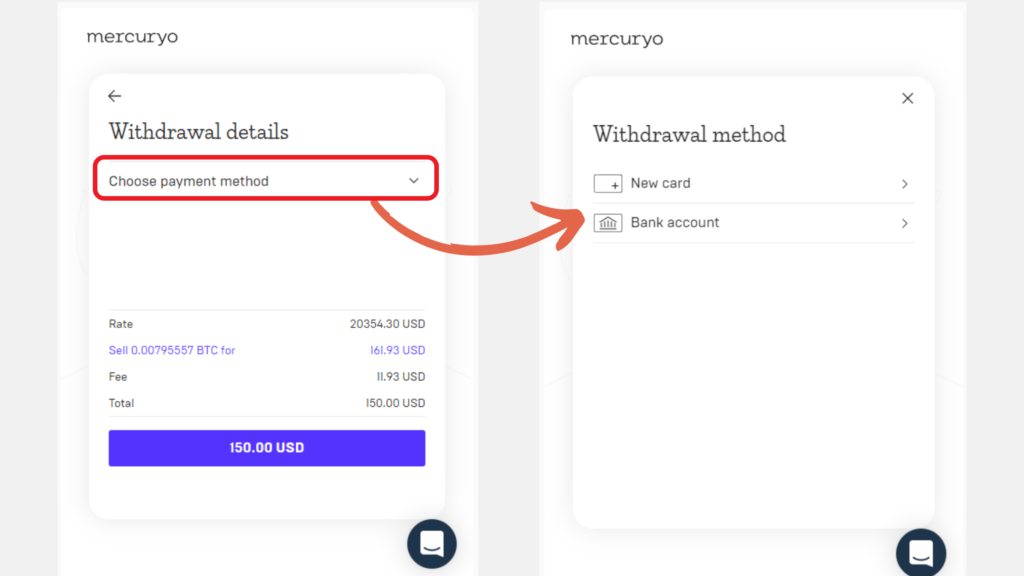 We suggest you choose the card payment over bank accounts as bank transfers might be subject to holidays. Currently, Mercuryo accepts Master Cards and VISA cards.
If you have chosen to receive payments by card, you need to enter the card details now.
6. Enter the Refund Address
Now, the Mercuryo will ask the crypto wallet or exchange address to refund the crypto if the transaction fails.
Once you enter the address, click "Continue".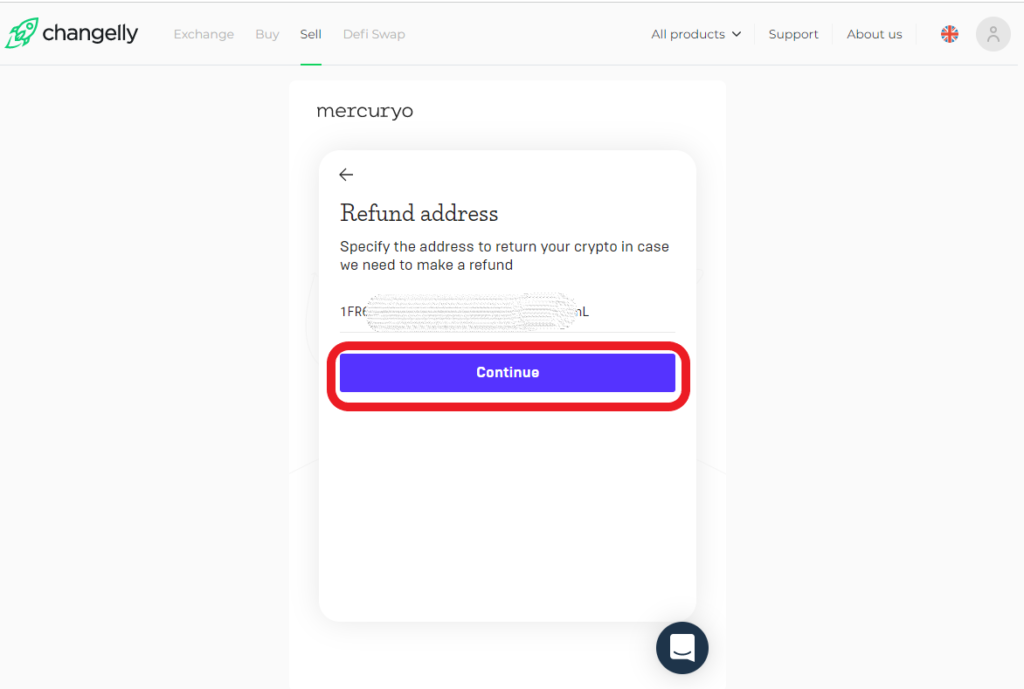 Then, you need to choose the refund options.
Since the transaction involves a few block confirmations, it may take up to 10 minutes to receive money on your card. In the worst cases, it might take longer than that.
Hence, during this time the exchange rate is subject to change.
If you are selling a small amount of crypto and do not bother about the price deviations, you need to choose, "Unconditional payout" refund option.
If you are selling a large amount of crypto and don't want to sell if the price moves more than 5%, you must choose "In the range of 5%".
Then, click "Continue".
7. Send Crypto to Mercuryo Wallet
Now, you will be able to see your order details along with the platform fee which is 5 USD for $1,000.
Just below the details, you can see the Mercuryo wallet address to which you need to send the cryptocurrency that you want to sell.
8. Wait for the Transaction to Complete
After sending the crypto to the Mercuryo wallet address, wait for a few seconds to a few minutes.
Once the transaction is completed, you will receive your money on your card.
Usually, it takes less than 10 minutes to receive money on your card if you sell cryptocurrency on Changelly. However, if the blockchain is congested, it may take longer. 
This is how you can sell your cryptocurrency on Changelly.
Conclusion
Selling cryptocurrency is a bit of time taking process compared to buying cryptocurrency in Changelly. This is because of the identity verification and transferring crypto to the given wallet address.
The overall fee for crypto-fiat transactions on Changelly is 6.5% approximately.
FAQ
1. How to fix the "Transaction blocked by antifraud" error while selling crypto on Changelly?
The "Transaction blocked by anti-fraud" error will pop out while you are trying to sell your cryptocurrency, particularly when you are trying to submit your card details.
This is because your identity is not verified by the Changelly and Mercuryo teams. If you are getting a "Transaction blocked by anti fraud" error, you need to wait a few seconds to 1 or 2 minutes. Once both teams verify your identity, you are good to go.