NFT is a digital asset that proves ownership of digital items such as images, art, video games, or virtual land. NFT are unique and can't be replaced with something else. Digital ownership is stored on blockchain technology like Ethereum or Solana. 
Non Fungible Token has been grown to $20 billion dollar sales volume in 2021 that is a raise from $200 million dollars in 2017. That is an unprecedented change in NFT sales volume and 2021 is the time NFT goes mainstream. 
Most of the NFT art and marketplace is part of the Ethereum Network and the major disadvantage of the Ethereum network is a huge gas fee applied on the minting of NFT's. Because of the higher gas fee and there rise of the Solana-based NFT marketplace. 
Solana is the emerging and tough competitor for Ethereum. Solana has also been called an Ethereum killer. Solana has been an emerging market for the NFT market and a lot of new projects are getting launched on the Solana ecosystem.
Benefits of Solana NFT Marketplace 
Lower gas fee's 

Ultra-fast transaction speed 

Growth of Solana ecosystem growing continuously day by day
We have curated the best Solana NFT marketplace where you can able to buy, sell and mint your NFT 
MagicEden is the number one Solana NFT Marketplace where you can able to create, sell and buy NFT's. They have a listing fee of 0% on Magic Eden and they take 2% on every transaction. 
MagicDen Launchpad's products and services aim to help creators mint their collections without any technical capability.
MagicDen supports almost all Solana Wallet from Phantom, Slope, Sollet, Solflare, Clover, Ledger, Solong, and MathWallet.
MagicDen has a popular NFT collection ranging from OnlyDice, Stoned Ape Crew, and Baby Ape Social Club. 
Solanart is NFT Marketplace based on the Solana network that allows any to create, sell and buy Solana-based NFT's. 
Solanart has a transaction fee of 3% for every successful NFT sale. The creator can able to set their own fee.
Solanart has popular NFT collections ranging from Degenerate Ape Academy, Aurora, Solpunks, and Galactic Gecko Space Garage. 
Solanart supports several wallets including Solflare, Phantom, Clover, Sollet, Slope, Ledger, MathWallet, and Sollet ( Extension )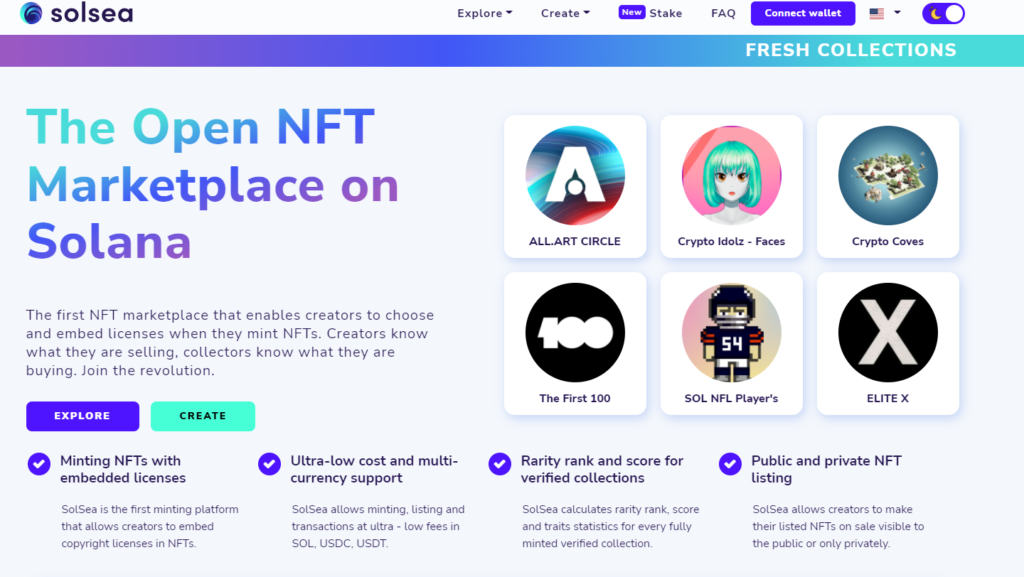 Solsea is the first Solana NFT marketplace that helps creators to sell, mint and buy NFT's. Solsea also introduces NFT's with rarity rank and NFT compatibility with SPL tokens. 
With Solsea's calendar feature, you could never able to miss the upcoming drops, project.  Solsea has a successful NFT collection including basis. markets, All.ART Circle and Meta Waifus.
Solsea First 100 feature never-before-seen Virtual NFT Art fair featuring the pioneers and early adopters. You can check out their First 100 here
Solsea supports major Solana Wallets like Phantom, Solflare, and Sollet. For every transaction, they charge 3% of successful NFT sales. They won't charge listing fees. 
Solsea can handle the creator's royalties. Artists can set their own royalties and for every sale, royalties amount would be distributed to the creator.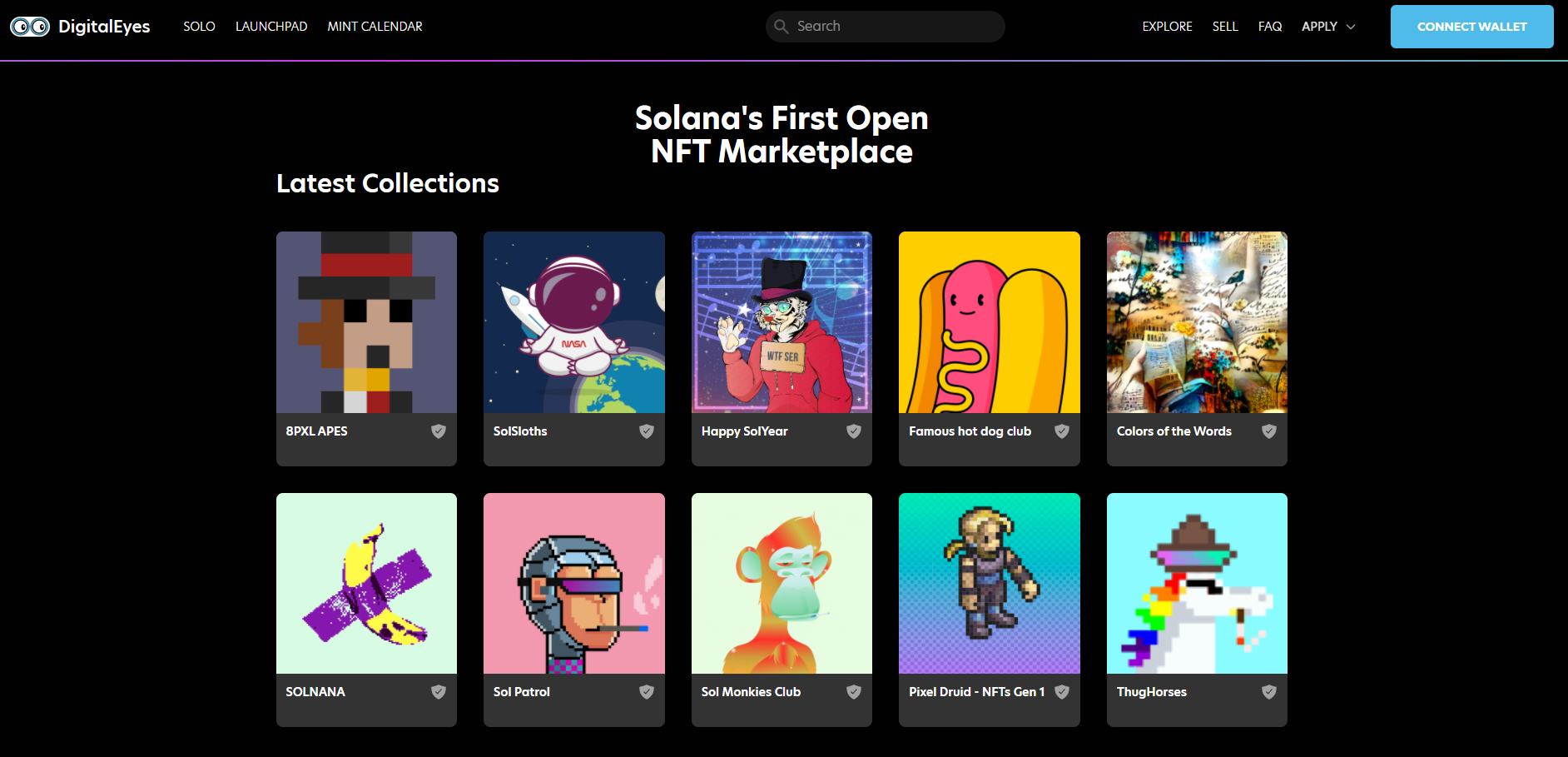 Digital Eyes is Solana's First Open NFT Marketplace where users can able to create, sell and buy Solana's NFT. 
The top NFT collection of Digital Eyes is Aurory, Degenerate Ape Academy, Frakt, and Galactic Gecko Space Garage. 
DigitalEyes supported wallets are Phantom, Sollet, Solflare, Solong, Slope, and MathWallet. 
DigitalEyes has a services fee of .99% of every successful NFT sale. Two additional fees are applied for the buyer of the NFT that is royalty fee set by the creator and the service fee.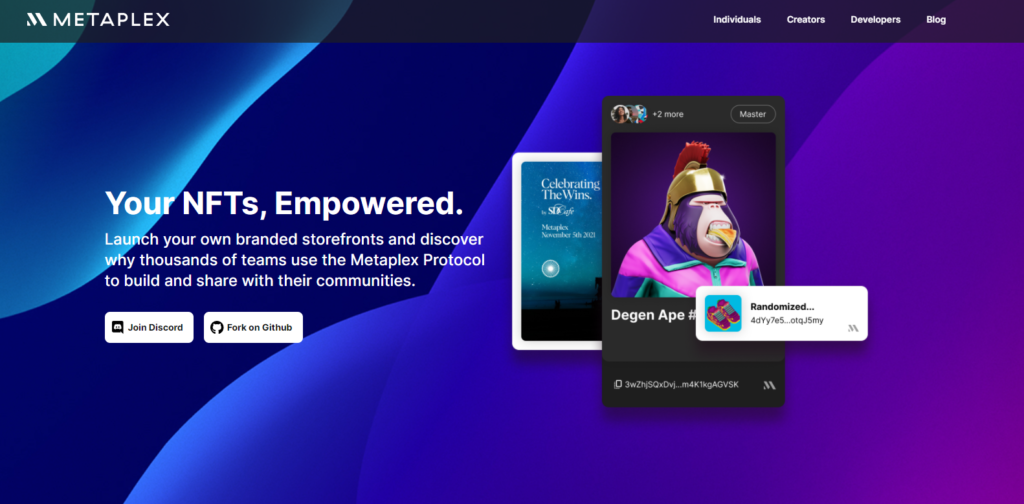 Metaplex is like Shopify for your NFT collection. Instead of listing your NFT on the open marketplace where you have to compete with multiple NFT projects. 
Your project gets shown based on the marketplace guideline and rules and this could be a major drawback for your brand.
With Metaplex you could able to launch your own branded Storefronts. The Megaplex storefront connects to a powerful on-chain decentralized program that mints and sell NFT's.  You could able to avoid Marketplace fees for every successful NFT transaction. 
Lots of successful Solana-based NFT project has been launched on Metaplex including Degen Ape Academy, Solana Monkey Business, Genopets, and Nyan Heroes, and Oddkey.