After the popularity of Open AI's DALL.E 2 and Midjourney AI, the next on the list is the Stable Diffusion public release.
Unlike, other AI text-to-image models, you can use Stable Diffusion on your PC. However, it requires a basic knowledge of Git and Miniconda3 installation. Also, a system requirement 3xxx series NVIDIA GPU with at least 6GB of RAM is required to get good results from Stable Diffusion.
But in this article, you will learn how to use Stable Diffusion for free (without any above-mentioned system or skill requirement) and how to utilize the additional settings in it.
What is Stable Diffusion?
Stable Diffusion is a text-to-image model that is developed and released by Stability AI and other collaborators that includes Patrick Esser from Runway and Robin Rombach from the Machine Vision & Learning research group at LMU Munich.
Stable Diffusion allows people to create stunning art within seconds just by entering text. The Stable Diffusion model is built upon the latent diffusion model and insights gathered from AI developer Katherine Crowson, Open AI's Dall-E 2, Google Brain's Imagen, and many others.
How to Use Stable Diffusion for Free?
As per Stability AI's advice, to gain more control and rapid generation, we will use Stable Diffusion in DreamStudio, an in-browser application.
To use Stable Diffusion for free, you need a Discord account. Then, sign up for DreamStudio using your Discord account.
Every user is given 200 free generations to play with Stable Diffusion AI. They must aware that using the additional settings will result in more than one credit loss for a single image generation.
After free generations, users need to enroll for the membership which costs £10. The £10 membership includes 1,000 generations approximately.
Apart from the DreamStudio, you can use Stable Diffusion for free forever using the Stable Diffusion Discord channel.
Check out 50 Text-to-Image Prompts for AI Art Generator Stable Diffusion and the output for a visual treat.
Steps to Use Stable Diffusion for Free (In DreamStudio)
1. Create a Discord Account
If you already have a Discord account, you can skip to the next step.
Discord is a social platform that allows its users to chat via text, voice, and video. It is mostly used by gamers and certain communities.
To create a Discord account, visit the Discord website. Then, download the application or use it on the browser itself.
Next, you need to create your Discord account. The account creation process includes entering the date of birth, email address, and setting username.
That's it. You have successfully created your Discord account.
2. Go to the Stability AI Website
Type "stability AI" in Google. Then, click "Stable Diffusion beta signup form" in Google SERP.
After clicking that link, you will be welcomed to the beta access of Stable Diffusion AI.
To access Stable Diffusion AI, you need DreamStudio. To go to DreamStudio, click on "DreamStudio" on the signup form page.
DreamStudio is nothing but the front and application program interface (API) to use the Stable Diffusion image generation model.
3. Sign Up for Stable Diffusion Beta
After clicking the "DreamStudio", you need to log in to it.
If you log in using your Gmail account or any other email address, you won't get the free credits.
To avail of the free credits for Stable Diffusion, you must log in with your Discord account. To do so, click "Continue with Discord".
After you have clicked on "Continue with Discord", an access request will appear from Discord.
To proceed further, you need to authorize the request.
This request only allows DreamStudio to access your Discord username, avatar, banner, and email address. It cannot read your messages or send messages as you.
4. Create the Prompt and Wait for the Output
Once you are authorized the access, you will land on DreamStudio.
There you can try with your own text-image prompts or you can use the prompts from free prompt generators.
Enter your prompts in the given box and click "Dream". Within a few seconds, Stable Diffusion will create your art.
You can view the AI-generated artwork in the "History" section. But, as these images are only stored on your browser, you will lose them if you clear your browser cache.
Hence, it is very important to download the output if you like it. To download the AI-generated artwork, just click on it.
5. Utilize Additional Settings
To increase the art quality or personalize it, you need to use the additional settings provided on the right-hand side of the DreamStudio.
These additional settings include width, height, Cfg scale, steps, number of images, sampler, model, seed, and initial image.
Width & Height: These settings allow you to change the width and height of the artwork that the AI is going to generate.
Cfg Scale: The higher the Cfg value, the higher the rapport between the art and your prompt.
Steps: This will tell the Stable Diffusion AI how many steps to take to generate the artwork. The higher the steps, the greater the loss of your credit.
| | | | | | | |
| --- | --- | --- | --- | --- | --- | --- |
| Steps | 512×512 | 512×768 | 512×1024 | 768×768 | 768×1024 | 1024×1024 |
| 10 | 0.2 | 0.5 | 0.8 | 0.9 | 1.3 | 1.9 |
| 25 | 0.5 | 1.2 | 1.9 | 2.3 | 3.3 | 4.7 |
| 50 | 1.0 | 2.4 | 3.8 | 4.6 | 6.6 | 9.4 |
| 75 | 1.5 | 3.6 | 5.7 | 6.9 | 9.9 | 14.1 |
| 100 | 2.0 | 4.8 | 7.6 | 9.2 | 13.2 | 18.8 |
| 150 | 3.0 | 7.2 | 11.4 | 13.8 | 19.8 | 28.2 |
Number of Images: You can set how many images you want for the single input prompt.
Sampler: It allows you to select multiple sampling methods for image creation. The default method is "k_lms".
Model: The Model option allows you to select the different versions of Stable Diffusion. The default model is "stable-diffusion-v1.5".
Seed: The seed used to generate your image. It enables you to manually set a seed.
I.e., you can select the previously generated image from the "History" tab as a seed and then modify it according to your requirements.
Initial Image: The initial image setting in Stable Diffusion allows you to upload an image from your local storage and modify it using the AI.
Be aware that the free credit available is directly proportional to the change in these additional settings.
Steps to Use Stable Diffusion for Free (In Discord Channel)
1. Join the Stable Diffusion Server
To use Stable Diffusion free forever, you need to join the Discord server.
To do so, open Discord either on the web or the application. Then, use the "Explore Public Servers" option or use this link to join the official Stable Diffusion Server.
2. Choose a Channel
After joining the Stable Diffusion Discord server, you need to scroll a bit to reach the dream bot section. Then, choose any one of the dream bot channels.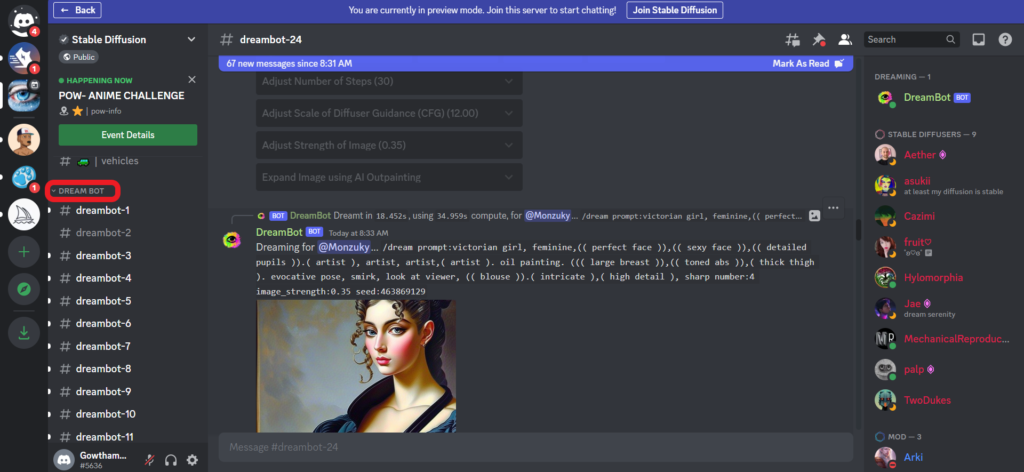 3. Enter the Prompt
Now, you need to use "/dream" command to enter your prompt.
After entering the prompt, click "Tab" on your keyboard for more options, such as seed, cfg scale, negative, aspect, width, height, etc.
4. Try Outpainting
After typing and entering the prompt, you will be able to see a few options just below the AI-generated image. Click "Expand Image using AI Outpainting" to outpaint the image. You can outpaint an image up, down, left, right, up & down, and left & right.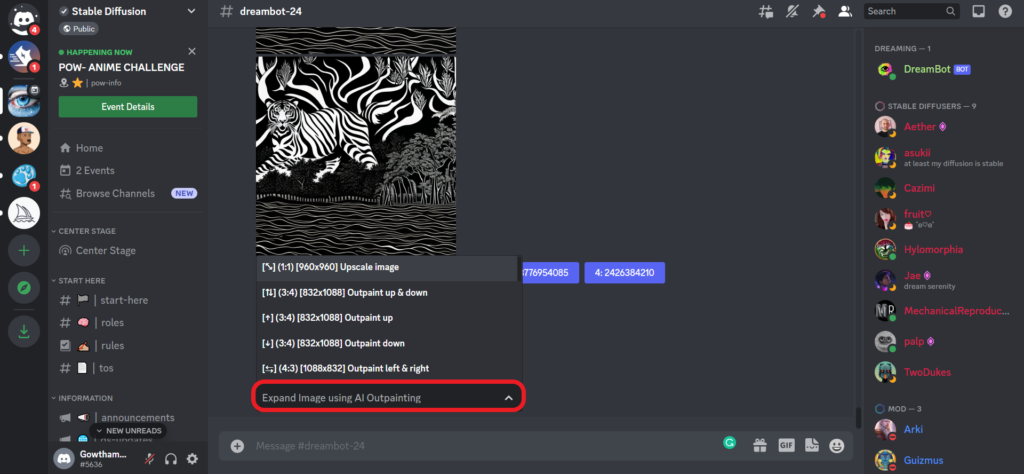 Conclusion
This is how you can use the Stable Diffusion machine learning model for free.
You can also use Stable Diffusion on your PC. But that demands some system requirements.
To easily interact with the Stable Diffusion model with a rich user interface, go for DreamStudio. If you want to use Stable Diffusion free forever, go for the Stable Diffusion Discord server.
To check out the Stable Diffusion public demo, visit https://huggingface.co/spaces/stabilityai/stable-diffusion.
If you love Stable Diffusion, you might also like Disco Diffusion.
FAQ
1. How to see my free Stable Diffusion credits in DreamStudio?
To check the free Stable Diffusion credits in DreamStudio, you need to click the "profile icon" in the upper right corner of the webpage. Then, click "Membership".
Now, you can see your free generations in the top right corner of the webpage.