Users can deposit INR to WazirX in 3 ways:
But, WazirX has disabled MobiKwik wallet deposits currently.
To deposit INR on WazirX, first, you need to link your bank account and get verified.
Now, you can deposit INR via bank transfer or MobiKwik wallet.
Once you have deposited INR, you can buy cryptocurrencies with it.
Alternatively, you can buy USDT via P2P trade and then buy cryptocurrencies from it.
Steps to Deposit INR via Bank Account
1. Link your Bank Account
In order to deposit money to WazirX, you need to add your bank account, UPI id and get verified.
The bank account verification process usually takes a few minutes.
To link your bank account, you need to tap on the profile icon located in the top left corner of your screen.
Then, navigate to Banking & payment Options.
Now, you can add your bank details such as account number, IFSC code, and type of account.
Tap on Submit.
A confirmation pop-up will appear, tap on Yes, save it.
If you have enabled the 2FA, you need to type the Google Authenticator code here on the WazirX application.
That's it. Within a few minutes, your account will be verified.
Note: Your WazirX account name and the name in your linked bank account must match for successful verification.
2. Tap on INR
After adding the bank account and getting verified, you are all set for the deposit.
Go to Funds and tap on INR.
Now, you will see two options at the bottom of your screen: Deposit and Withdraw.
Tap on Deposit.
3. Select Instant Deposit
After tapping Deposit, you will be able to see two options: Instant Deposit (Bank Transfer) and WazirX P2P.
Since MobiKwik has been temporarily disabled, you will not be able to see that.
Tap on Instant Deposit (Bank Transfer).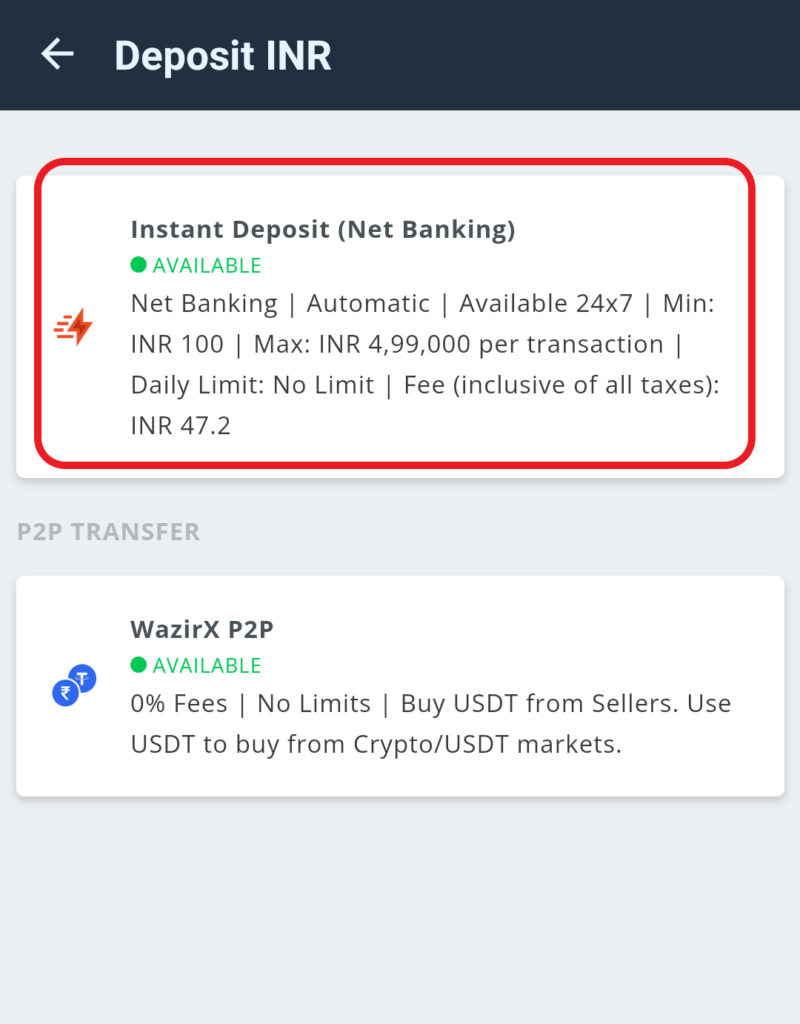 Enter the amount and tap on Continue.
Now, you will be redirected to your bank's Net Banking login page. Enter your net banking credentials and proceed with the on screen instructions to complete the transaction.
Mostly, the deposit will reflect within one hour.
In the worst case, it may take up to 24 hours for the deposit to get credited to your WazirX account.
4. Check Recent Transactions
You can check your recent transactions under the Recent Transaction tab.
Go to Funds and Tap on INR.
Now, you can see your recent transactions.
Steps to Use P2P transfer
Peer-to-peer (P2P) transfer in WazirX allows users to buy crypto from USDT that has been bought from other individual sellers.
This way you can skip the INR deposit.
Hence, there is no platform fee for deposits.
With USDT, you can buy Bitcoin (BTC), Solana (SOL), Ethereum (ETH), Ripple (XRP), Terra (LUNA), Dogecoin (DOGE), Binance Coin (BNB), Axie Infinity (AXS), and more.
Go to

Funds

Tap on

INR

Tap

Deposit

Tap

WazirX P2P

Enter the quantity of USDT

Tap on

Buy

Once you have got the match, you need to make payment via UPI

Copy the seller's UPI id

Open your Paytm, Google Pay, or PhonePe and paste the seller's UPI id

Make payment

Go to WazirX and tap on

I have paid

That's it. Within a few minutes your order will be completed

Now, you can purchase cryptocurrencies with USDT
Conclusion
You can use a bank transfer to deposit INR.
Alternatively, you can also use WazirX P2P to buy USDT, and then, you can swap that USDT for other cryptocurrencies.
While using P2P, you pay the seller with INR via UPI payments. You need not bring INR to the WazirX platform.
Hence, there is no platform fee for P2P transfer.
The fee for deposits via bank is INR 47.2. The minimum deposit INR is 100 and the maximum is 4,99,000 per transaction.
There is no daily limit for bank deposits.
You can refer to this guide for withdrawal of INR from WazirX: How to Withdraw Money from WazirX to Bank Account.
FAQs
1. WazirX supported banks list?
WazirX supports 11 banks:
Catholic Syrian Bank

Deutsche Bank

Dhanlaxmi Bank

Federal Bank

Indian Overseas Bank

Jammu and Kashmir Bank

Karnataka Bank

Lakshmi Vilas Bank

Tamilnad Mercantile Bank

IDFC First

PNB
2. Why can't I deposit funds into my WazirX wallet?
There are many instances of deposit issues:
Making deposits from unlinked bank accounts

Name mismatch in WazirX account and bank account

Bank details such as account number or IFSC incorrect

The bank account linked to WazirX is not on the supported bank list

Incorrect login credentials at the payment gateway