Tezos is an open-source blockchain that is launched in 2018. It has its own cryptocurrency known as tez (ꜩ). Like Ethereum, Tezos is one of the leading blockchains that supports smart contracts. It has proven security and scalability.
Since it is a proof-of-stake blockchain, it consumes less energy and is faster than a proof-of-work blockchain like Ethereum.
Tezos allows developers to easily build powerful tools and products. On the other side, users can explore NFTs, DeFi, gaming, and more applications running on the Tezos blockchain.
Advantages of Minting NFTs on Tezos Blockchain
Cheaper minting cost: In Tezos blockchain, the cost to mint NFTs is very cheaper than Ethereum. I.e. only 30 to 50 cents. Thanks to its proof-of-stake mechanism. Proof-of-stake algorithm allows Tezos to be faster and consume less energy than what proof-of-work blockchains will consume.
Decentralization: Tezos is a decentralized blockchain like Ethereum. It is governed by its own community, not by any centralized organization.
Security: Tezos is a security-focused blockchain. Verifications are done at both the protocol and application layers by leveraging the languages OCaml and Michelson, a practice used in mission-critical industries.
Eco-friendly: Since Tezos uses a proof-of-stake algorithm, it consumes over 2 million times less energy than proof-of-work blockchains. It is more energy-efficient than Bitcoin and Ethereum.
Best Tezos NFT Marketplaces
We have covered the most popular Tezos NFT marketplace rated based on security, wallet support, NFT project, supports, listing fee, platform fees, discoverability of the project, and much more. Here is the list.
Objkt.com
Objkt.com is one of the leading and largest NFT marketplaces in the Tezos blockchain. It supports both the English and Dutch auction. One can find many Hic et Nunc tokens on this platform.
Features of objkt.com include:
Repricing the NFTs without the need of delisting

Follow feature

Split royalties

The mint date on the token page

Add to favorites

Bookmarking artworks to get notifications

Collection collaborations

Mint tokens with multiple creators
On objkt.com, artists can mint NFTs even with a minimum of 0.0011 tez. It respects artists by giving them royalties.
GAP, the American clothing company has been launching their NFTs on objkt.com.
Fee
Objkt.com NFT marketplace charges a fee of 2.5% on every successful transaction.
Wallet Support
Objkt.com supports Spire, Temple wallet, Galleon, Kukai Wallet, Umami, AirGap Wallet, Autonomy, and Naan Wallet.
Kalamint
Kalamint is one of the first Tezos NFT marketplaces founded by two Indians Sandeep Sangli and Harsha Bakku in 2020. Backed by Tim Drapper's Draper Goren Holm Ventures, Amesten Capital, Moonwhale Ventures, Kalamint has ranked as 13 among the Tezos ecosystem.
The categories in Kalamint include art, collectibles, and photography. Kalamint has sold NFTs worth $2.7 million between April and October 2021.
Kalamint has a native token $KALAM that is used to reward all creators, buyers, and sellers on the platform. Each week, the platform will distribute $KALAM 50% to buyers with respect to the value of buying, 40% to sellers with respect to the value of sales, and 10% to minters irrespective of sales.
Kalamint offers royalties to artists and it is customizable.
Features of Kalamint include:
Price range filter

NFT state filter

Allows artists to be featured on the landing page
Fee
Kalamint charges a fee of 2.5%.
Wallet Support
Kalamint supports Temple Wallet, Spire, Galleon, and Kukai Wallet.
Hic et Nunc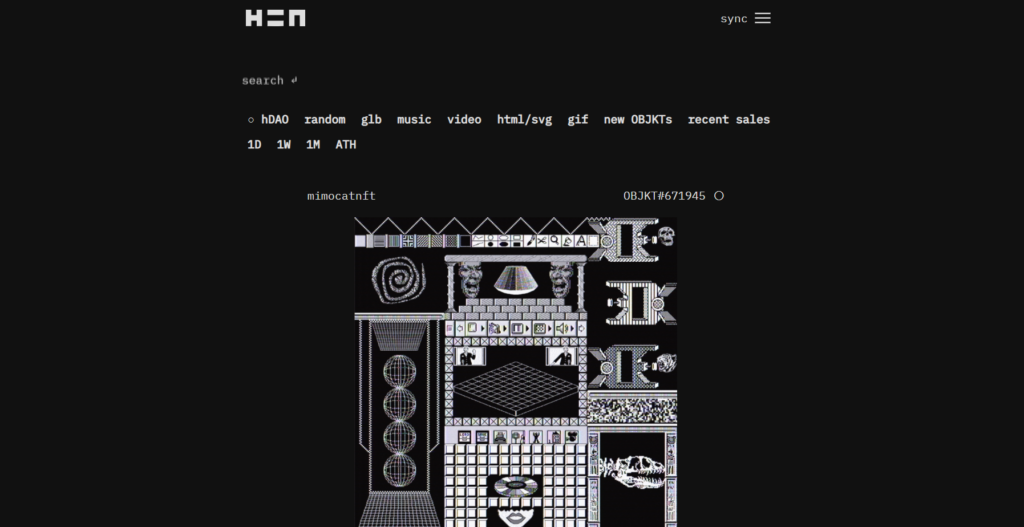 Hic et Nunc, aka H=N, was the most famous NFT marketplace from August to November 2021. After December 2021, Hic et Nunc NFT marketplace's site traffic has drastically decreased. This is because the creator of this marketplace took down the site in November 2021. However, the community recovered the site and it is up and running. But the site is not user-friendly as there is a lack of design.
Hic et Nunc is popularly known for their autonomy and their less energy consumption. Thus, NFTs in this platform are often known as green NFTs.
Hic et Nunc offers 10-25% royalties for artists.
Fee
Hic et Nunc charges a 2.5% seller fee.
Wallet Support
Hic et Nunc supports Spire, Temple Wallet, Galleon, Kukai Wallet, Umami, and AirGap Wallet.
fxhash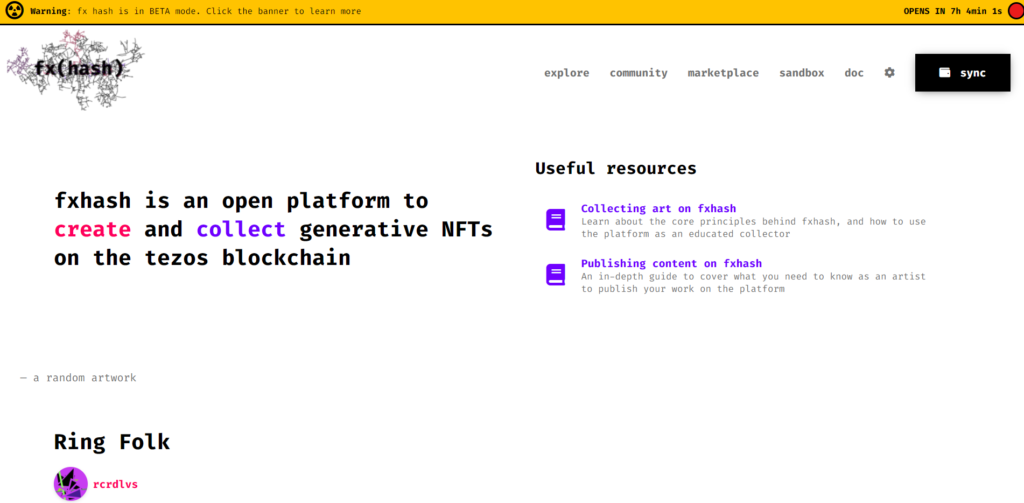 fxhash is an open NFT platform that allows artists to publish Generative Tokens. Generative Tokens (GT) are automatically generated outputs with the help of computer programs.
Being a platform for generative artists, fxhash allows generative artists to publish Generative Tokens that are written in HTML, CSS, and Javascript.
Once artists published their GT, anyone can mint unique iterations from it.
fxhash offers royalties for artists, which are customizable.
Features of fxhash include:
Sandbox

support for trial mints

Excellent documentation – Offers separate guides for artists and collectors
Fee
fxhash charges a 2.5% platform fee for minting NFTs. (for Beta version)
Wallet Support
fxhash supports Spire, Temple wallet, Galleon, Kukai Wallet, Umami, AirGap Wallet, Autonomy, and Naan Wallet.
Versum
Versum is an NFT platform as well as metaverse on the Tezos blockchain that focuses on art and scalability.
Unlike other platforms, Versum displays NFTs organically based on the user's likes. That being said artist's success metrics such as sales, views, likes, or followers won't be necessary to get popularity. Hence, it could be a beginner-friendly platform.
Artists can expect the support of generative tokens soon on Versum.
To mint on Versum, artists need to get verified. For more details on verification, refer to this guide.
Features of Versum include:
Minimalistic UI

Infinite scalability

Personalized feeds
Fee
The versum fee is currently unknown.
Wallet Support
Spire, Temple Wallet, Galleon, Kukai Wallet, Umami, AirGap Wallet, Autonomy, and Naan Wallet.
OneOf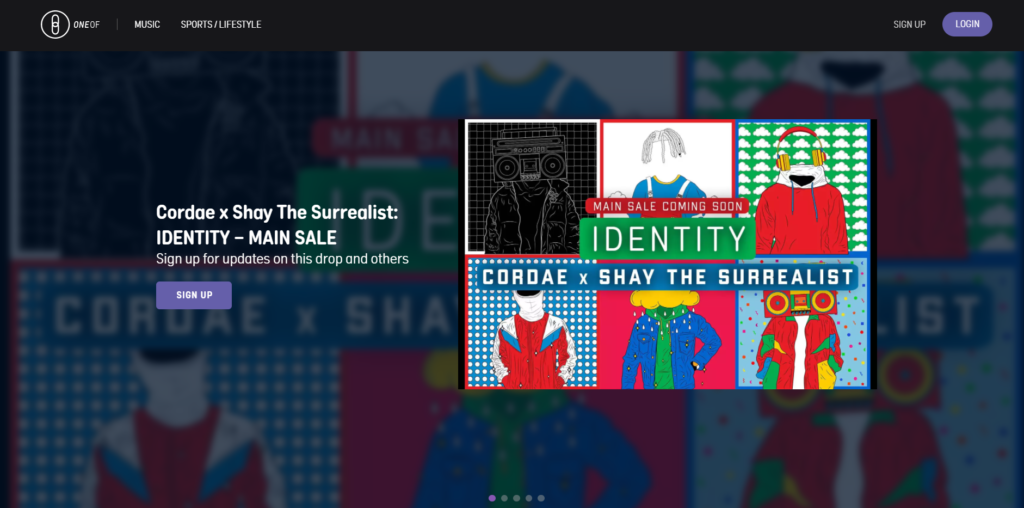 OneOf is an eco-conscious NFT platform that runs on the Tezos blockchain. This green NFT platform has three categories: lifestyle, sports, and music. It strives to connect collectors and fans to their favorite brands, athletes, and artists.
OneOf is an exclusive NFT platform for OneOf NFTs. OneOf NFTs means just a single edition of a particular artist.
There is no need for fans and collectors to use their crypto wallets to access OneOf. NFTs can be kept safe in the platform's custodial wallet if fans/ collectors prefer.
Independent artists including Doja Cat, Alesso, Chief Keef, and Pia Mia have launched their NFTs on the OneOf platform.
The platform accepts credit or debit cards, Tezos, and other major cryptocurrencies.
Features of OneOf are:
Exclusive for OneOf kind NFTs

NFT drops

Eco-friendly
Fee
OneOf's fee is currently unknown. Perhaps it would be commission-based.
Wallet Support
No need for any crypto wallets to access the OneOf NFT platform.
Bazaar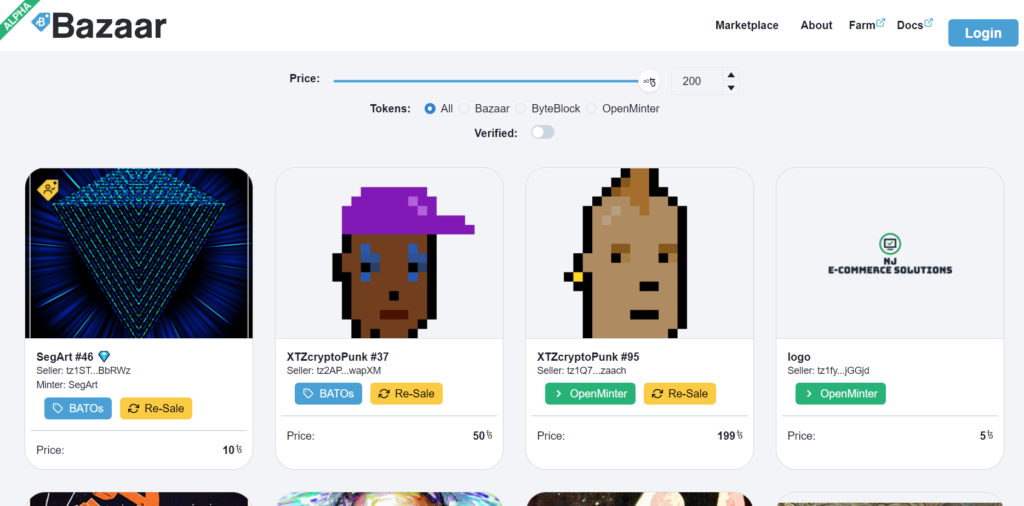 Launched in the first quarter of 2021, Bazaar is the first-ever carbon-offset NFT marketplace. Started by Geoff McIntyre, the platform values its community more. Thus, it has a decentralized governance token called bDAO.
Bazaar offers royalties for its artists.
Features of Bazaar are:
Governance token bDAO

NFT drops

Batch minting/ selling

Tip jars

Verified toggle on the home page
Fee
Bazaar has a standard transaction fee of 2.5%
Wallet Support
Bazaar supports Temple Wallet, Spire, Galleon, and Kukai Wallet.
ByteBlock
ByteBlock is an India-based NFT marketplace that primarily focuses on India and South East Asia. It is launched on April 2021 and is driven by Tripti Vishwakarma.
ByteBlock primarily supports objkt.com's secondary sales. There is no registration process for NFT minting. Also, the platform supports new artists with free tez.
Features of ByteBlock include:
No registration process

Batch minting

Tagging feature for photographs
Fee
ByteBlock takes 1% as a platform fee.
Wallet Support
ByteBlock supports Temple, Spire, Galleon, and Kukai wallet.
MinterPop
MinterPop is one of the CleanNFT marketplaces that hosts comics NFTs and illustrations by legendary artists. It allows artists to mint only after the vetting process.
MinterPop onboard artists include Colleen Doran, Cliff Richards, Steve Ellis, and 29 others.
MinterPop allows artists to set perpetual royalties on the secondary sale.
Fee
MinterPop fee is currently unknown.
Wallet Support
MinterPop supports Kukai wallet.
tzPunks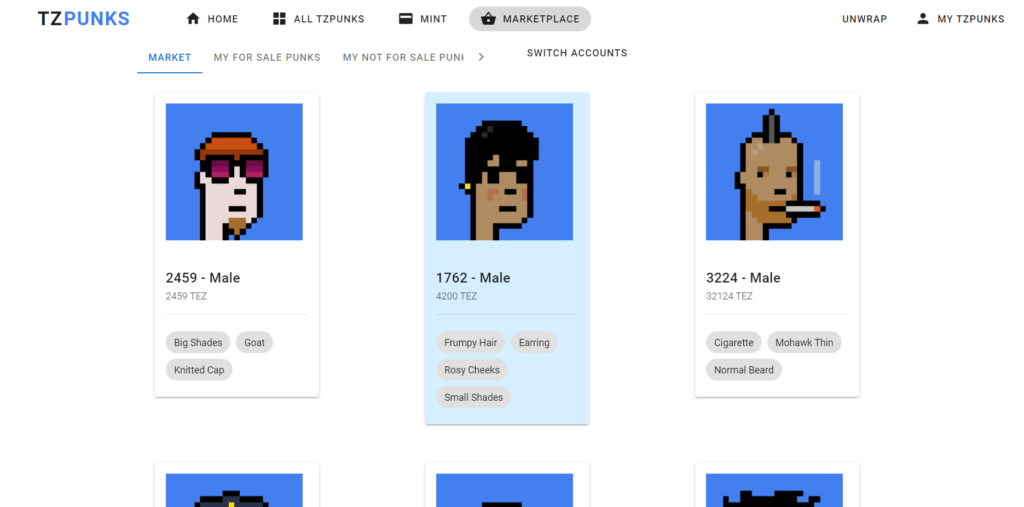 tzPunks is an exclusive NFT marketplace for Tezos punks. Inspired by the success of CrypoPunks, there was the birth of Bunks and Solpunks. Now, it is the time for tzPunks.
tzPunks are 10,000 uniquely created characters on the Tezos network. NFT enthusiasts can mint or buy already minted tzPunk.
Remember, the allocation of tzPunk will be made on a random basis while minting.
Fee
It will cost 50 tez to mint a tzPunk.
Wallet Support
tzPunk marketplace supports Spire, Temple Wallet, Galleon, Kukai Wallet, Umami, and AirGap Wallet.