Midjourney is an AI art generator that generate art from texts in seconds, similar to DALL.E. Both neural networks are trained with billions of parameters to generate realistic images from prompts.
It is clear that to generate art, these AI art generators need input in the form of prompts.
Since the release of AI art generators, people have been intrigued by interacting with them and seeing the output. Since the quality of the prompt is directly proportional to the quality of the art, it is essential to give more detailed and challenging prompts.
In this article, you will find 75 text-to-image interesting Midjourney prompts and the output that will give you a visual treat for sure. If you wish, you can use these prompts on Dall.E also.
You can also use the free prompt generators available on the market to quickly create the prompts with more specific styles and detailing.
What is Text-to-Image Prompt?
Text-to-Image Prompts are natural language descriptions that are used as input for AI art generators, such as Midjourney, DALL.E, and so on.
AI art generators have the capability to generate images from these prompts using a dataset of text-image pairs.
Tips for Midjourney Prompts
A good prompt must contain a noun. Without a noun, there is no subject in the prompt, so you won't be getting any good results. If possible, you can go with multiple nouns as it will give more characters in the art.
Write at least 3 to 7 words

: A prompt with more than 3 words will give the AI a clear context.

Use multiple adjectives

: Multiple adjectives will infuse multiple feelings into the artwork. Eg: beautiful, realistic, colorful, massive.

Include the name of the artist

: Including an artist's name in the prompt will mimic the style of that artist. Eg: Picasso, Vincent Van Gogh, Paul Gauguin.

A style

: If you want the art to be in a particular style, you must include styles, such as surrealism, symmetry, contemporary, minimalism, and so on.

A computer graphics

: With computer graphics, the art becomes more effective and meaningful. Eg: Octane render, Cycles, Unreal Engine, Ray tracing

Quality

: Mention the quality of the art such as low, medium, high, 4k, and 8k.
While creating prompts for Midjourney, always make sure to avoid the list of banned words. Otherwise, you will lose access to Midjourney AI.
75 Text-to-Image Prompts for AI Art Generators Midjourney
Generic
Prompt #1 A world destroyed by lightning falling into a black hole
Prompt #2 celestial space, nebulas, flyable humanoid, glance through the visor, seconds away from portal –ar 16:9 –test –creative –upbeta
Prompt #3 new generic isekai anime poster with main character and bunch of girls in front, ultra HD
Prompt #4 beautiful engagement ring in art deco style, gems, gold, cartier, Van Cleef & Arpels, Maison Janesich, Ostertag, René Boivin, Paul Brandt, Raymond Templier and Fouquet, detail, 8k
Prompt #5 heavy arms gundam penguin mech
Prompt #6 woman, beautiful, elegany, golden braided hair golden eyes, green and gold caftan, dress, smiling, fairy, shiny, realistic ,4k
Prompt #7 Paco Bouazza on horse slaying a terrifying dragon
Prompt #8 Lightning, orange color, Paris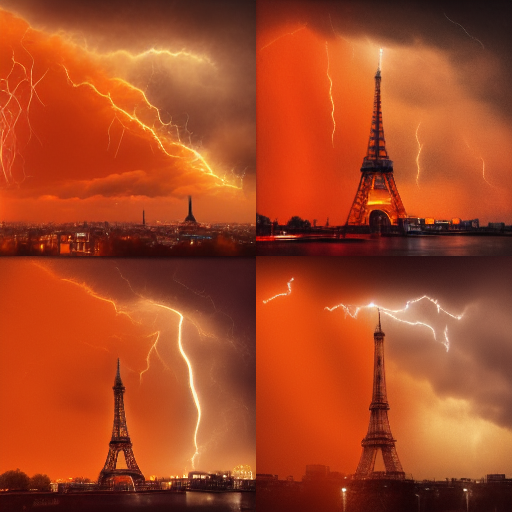 Prompt #9 realistic anime girl in maid dress with coal colored hair in battle pose with spear look at viever, Highres illustration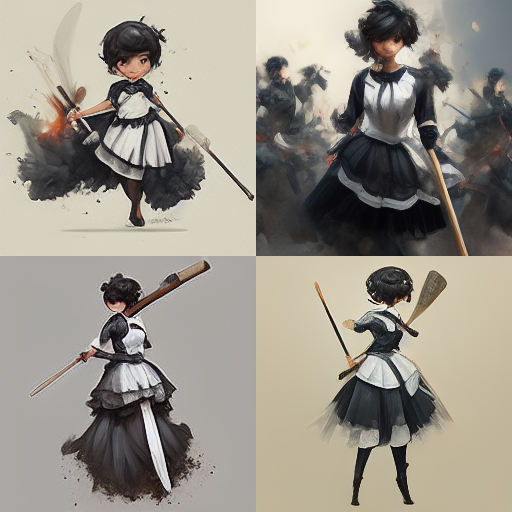 Prompt #10 middle eastern young woman wearing a kimono fighting with a glowing red katana
Prompt #11 Kanye west graduation album cover, ultra realistic
Prompt #12 houston texas,starry sky,realistic scenery,hyperrealistic,ultra HD,studio light,silk,octane rendering,portrait,8k (Upscaled)
Prompt #13 great king ultra detailed art 8k –ar 16:9
Prompt #14 sleeping in dark night with full moon sky
Prompt #15 area of rocks, deep inside the forest, divine domain
Prompt #16 red maple, hill, golden, autumn
Prompt #17 cute panda with bayern munchen jersey realistic
Prompt #18 cute fox in the style of a pixar movie wears a hood , lighting, Cinematic Lighting, 3d, render, hyper detailed, 8k –ar 9:16
Prompt #19 ultra realistic portrait of a girl looking panicked. High res and ultra realistic
Prompt #20 enchanted forest, with a path between the trees, sun shining, close up, Cinematic Lighting, 3d, render, hyper detailed, 8k (Upscaled)
Prompt #21 sneakers nike adidas collaboration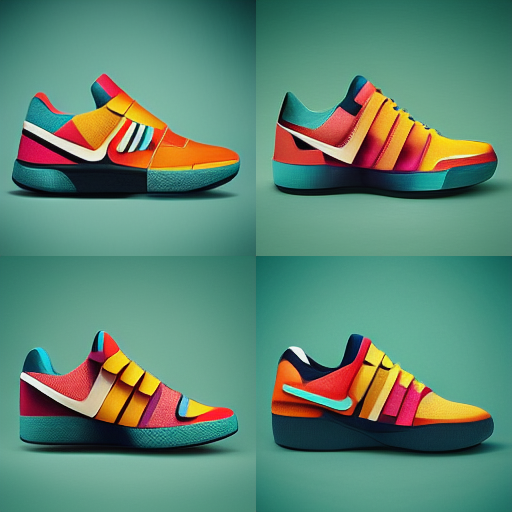 Prompt #22 painting of Jennifer Connelly in the style of Botticelli
Prompt #23 florida, thunderstorm in distance, lake, reflection, egret taking off, moody, misty, atmospheric
Prompt #24 woman crying sad cinematic dark mental anger depression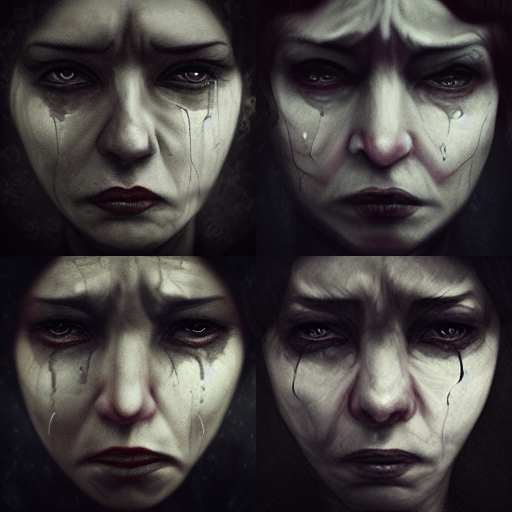 Prompt #25 thunder on tumbling see and a pirates's ship at night , cloudy black sky
Prompt #26 the loneliest satellite in orbit surrounding the Jupiter, –ar 16:9
Prompt #27 pencil drawing , great martial artist , hyper realistic
Prompt #28 God, 8K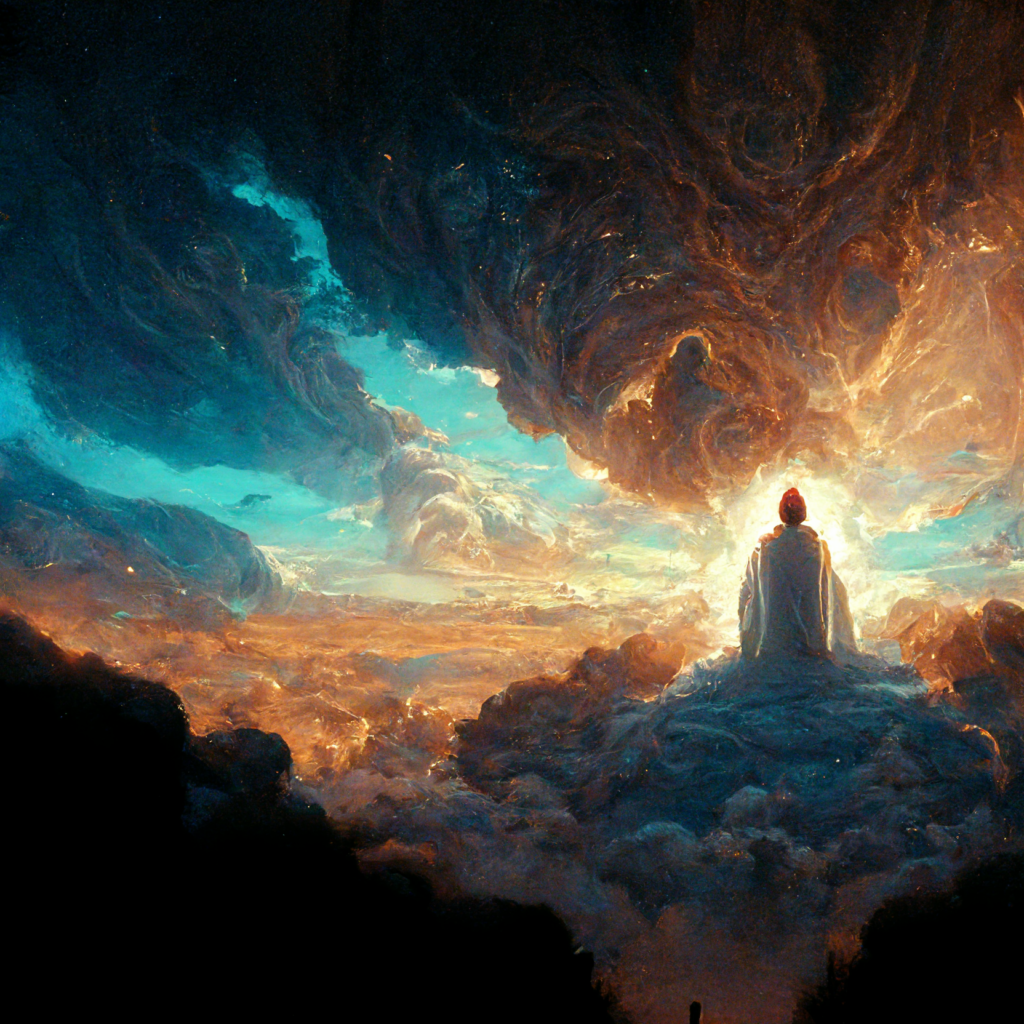 Prompt #29 cold ice cream topped with mulitple fine chopped dry fruits
Prompt #30 kangaroo playing tennis in space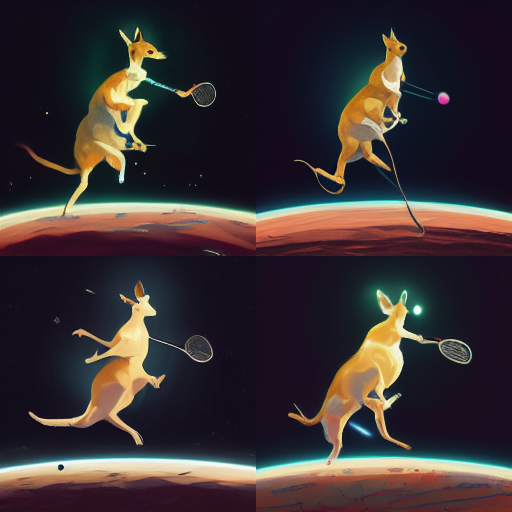 Prompt #31 abstraction van gogh style painting of young man and young woman underwater in a teal white gray gold tan abstract ocean, dancing and embracing under golden light coming from above, –ar 18:24
Prompt #32 beautiful wild flowers pouring out like a liquid (Upscaled)
Prompt #33 steve jobs with neem karoli baba, 4k
Prompt #34 sun surface with ultra detailing
Prompt #35 portrait, beautiful stunning warrior girl, red short hair, ice eyes, fantasy atmosphere, styled by Corrado Vanelli, super detailed, —testp
Prompt #36 realistic African warrior holding a bow and arrow in the savannah, realistic elephant, sun set, warm dramatic lighting, cinematic, magical, symmetry –testp –upbeta
Prompt #37 devil,fire,rockstar,raper
so la lune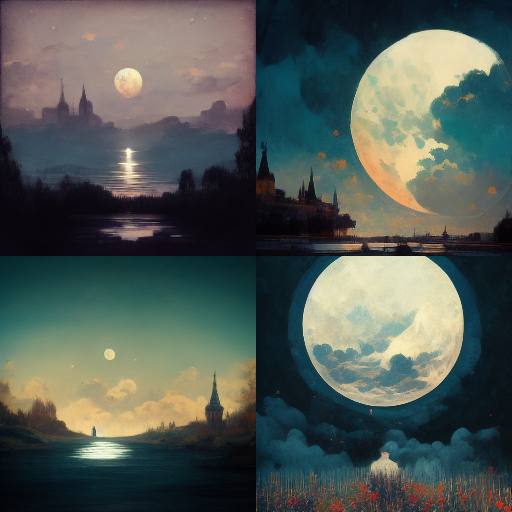 Prompt #38 peaceful countryside, day sky, Saturn, farmers,buffalo
Prompt #39 castillo de jaén ubicado en la luna con perros comiendo
Prompt #40 ethnic minorities in europe, people, flags, culture
Prompt #41 a pregnant woman with a smartphone inside her uterus
Prompt #42 logo of a man standing on top of a building, wearing vest, wearing cap and wearing a belt, watching the city with binoculars, white and black color, artistic, 16:9
Prompt #43 naval vessel, battleship, world war 2, the Bismark, the Hood, battling ships, horizon, Jupiter
Prompt #44 a happy golden retriever dog with black spotted tongue dancing ballet in a pink tutu in front of a mirror in oil painting (Upscaled)
Prompt #45 naval vessel, battleship, world war 2, the Bismark, the Hood, battling ships, horizon, Jupiter
Prompt #46 middle ages, gothic, realistic, rainy, church, crowded, river, trees, horses
Prompt #47 Sniper in the forest aiming at a camp with camo suit and detailed sniper, detailed, forest, camp with fire, sky with clouds, realistic, ammo on the ground
Prompt #48 scary hell , 4k , render , hyperrealistic (Upscaled)
Prompt #49 a dream wish, photorealistic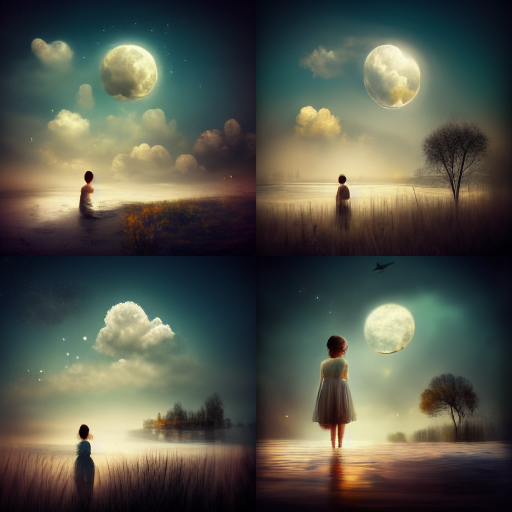 Prompt #50 cyber chicken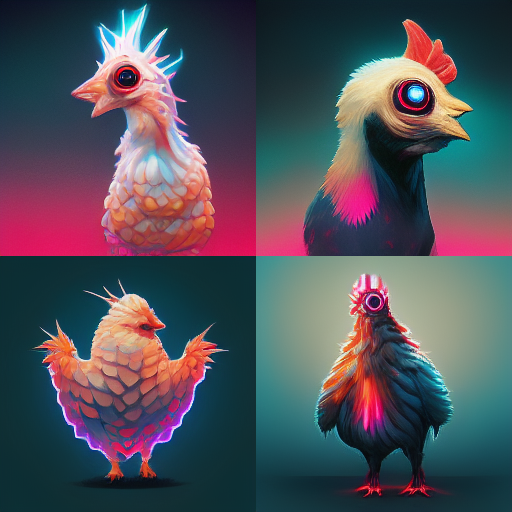 Prompt #51 two masculine friends wearing dhoti and chilling near two BMW cars, 4k
Prompt #52 A young beautiful girl with pistol pov, white T-shirt, black pant, city street, blue sky
Prompt #53 astronaut walking on Moon, earth visible in the background, high contrast, Perfectionism, cinematic lighting, post-production –testp –upbeta –ar 16:9
Prompt #54 origami wrapping of a fish, colored paper on top of cardboard, realistic
Prompt #55 a large rocket taking off from a far away launch pad the engines lighting up the clouds and seeing it streak into the sky at night
Prompt #56 APU based, very intricate detail, Merkava Mk. 4M armor, heavy equipment, detailed hydraulic components, cables, titanium frame. Dark navy with orange accents, US military weapons caution plate, oblique view, sci-fi cinematic, spectacular scene, photographic, volume lighting, hard surfaces, 3D render –hd
Prompt #57 Impressionist Mark Noble Lifting FA Cup Trophy at Upton Park Football Ground with Fans In Background
Prompt #58 village wood house mountain hilly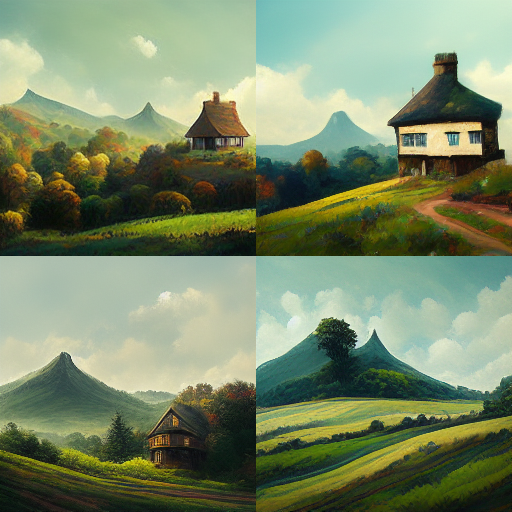 Prompt #59 yellowstone supervolcano
Prompt #60 tesla 3 model on mars, 4k, detailed
Prompt #61 beautiful model in bodysuit made of dripping echo, 8k, high res, scenic light (Upscaled)
Metaverse
Prompt #62 Metaverse Lifestyle, bored apes very detailed
Prompt #63 Bored apes vs CryptoPunks in Metaverse golf course, ultra details
Prompt #64 mark zukerberg, elon musk, bill gates in metaverse, pixar, pixar style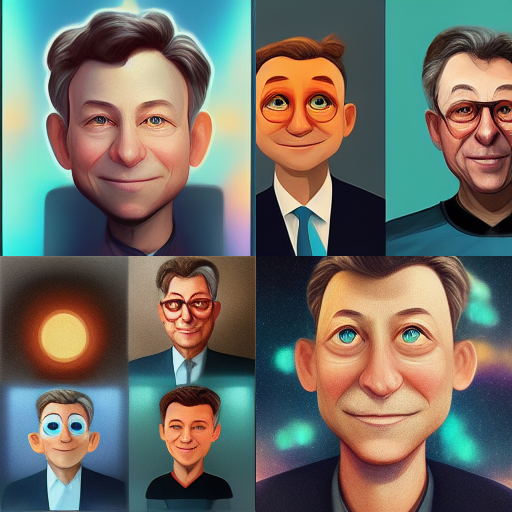 Prompt #65 A Nike shoe in a metaverse design made from black porcelain
Prompt #66 A Metaverse fashion style outfit by Demna Gvasalia featuring bags and dresses, fashion photos, —ar 9:16
NFTs
Prompt #67 A collection of Donald Trump versus Joe Biden NFTs
Prompt #68 A collage of NFTs: bored apes, CrypoPunks, Azuki, doodles, moon birds
Prompt #69 NFT CryptoPunks in the subway
Cryptocurrency
Prompt #70 Cryptocurrency rain in New York City, 4k, realistic
Prompt #71 cryptocurrency residing in blockchain vault, photo real, digital, high definition
Historical Events
Prompt #72 Osama bin Laden attacks the US twin towers with a plane
Prompt #73 National Expansion and Reform, 1815 – 1880
Prompt #74 Civil War and Reconstruction, 1861-1877
Prompt #75 Civil War and Reconstruction, 1861-1877
Conclusion
I have tried prompts in generic, Metaverse, NFTs, cryptocurrency, and historical events categories. Based on the result, Midjourney struggles when it comes to the latest technologies, such as NFTs, Metaverse, and Crypto. This is because of the lack of datasets for these latest technological events.
Before concluding, remember that the Midjourney neural network is still in beta!
Overall the Midjourney performs well in the generic category and historical events. Sometimes, Midjourney AI amazes users with its extraordinary art.