Decentralized Finance becoming mainstream and getting more traction than ever before.
For anyone who really wants to get started in DeFi and to successfully navigate the DeFi ecosystem, the first thing they have to do is follow the right DeFi Twitter accounts and then join the right DeFi Discord Community.
Here we gonna share the best DeFi Discord community and we will update this article frequently.
Best DEFI Discord Server
We have curated the best Discord community based on community members, the quality of the projects, collaboration among the community members, and many other factors. Here is the list
1. DeFi Pulse 
DeFi pulse is the latest analytics and ranking of DeFi projects. They track total value locked into the smart contract of popular DeFi applications and protocols. The index is based on the value of each token's circulating supply. 
DeFi Pulse discord has more than 21K members. The community shares interesting content related to DeFi and you can also have a general conversation with the community. 
You can join DeFi Pulse Discord Channel: https://discord.gg/WpTPYCe
2. Defiant
The Defiant curates, digest, and analyze all major developments in DeFi, so that you get updated on all the latest, important, cutting-edge, and fast-changing corner of Crypto and Finance. 
Their discord group has more than 3.7K members and the community shares everything related to DeFi, be it memes, general information, job board, tutorials, researched topic, and many more. 
You can join the DeFiant Discord Channel: https://discord.gg/svJ7dZ75J3
3. AAVE
AAVE is the multichain opensource decentralized, non-custodial liquidity protocol on Ethereum that allows users to supply and borrow crypto assets. AAVE is one of the leading DEFI lending projects. 
AAVE discord community has more than 23K members. The community member shares everything related to AAVE. They have a separate channel for giving feedback, and supports, asking community question, and knowing about AAVE token.
You can join AAVE Discord Channel: https://discord.gg/WpTPYCe
4. Uniswap 
Uniswap is a fully decentralized on-chain protocol for token exchange on Ethereum. Anyone can swap between ETH and any ERC20 token or earn fees by supplying any amount of liquidity. 
Uniswap discord community has more than 89K Members who share anything related to Uniswap. They have a sub-channel dedicated to memes, helps support, troubleshooting, help, and much more. 
You can join Uniswap Discord Channel: https://discord.gg/FCfyBSbCU5
5. dydx 
Dydx is a powerful exchange for trading perpetual. They are building an open platform for advanced crypto financial products, powered by the Ethereum blockchain. 
Dydx discord community has more than 43K traders. You can learn more about Perpetual trading by diving into the #general channel. You can ask anything related to liquidity-staking and safety-staking by diving into the #stacking channel. 
You can join dydx Discord Channel: https://discord.gg/Tuze6tY
6. Compound 
Compound is an algorithmic money market protocol on Ethereum that lets users earn interest or borrow assets against collateral. The compound is managed by a decentralized community of COMP token-holders and their delegates. 
Compound discord community has more than 14K members. You can ask anything related to DeFi or especially around Compound on the discord channel. They have separate channels for ecosystem, development, general discussion, help, and many more. 
You can join Compound Discord Channel: https://compound.finance/discord
7. Cryptocurrency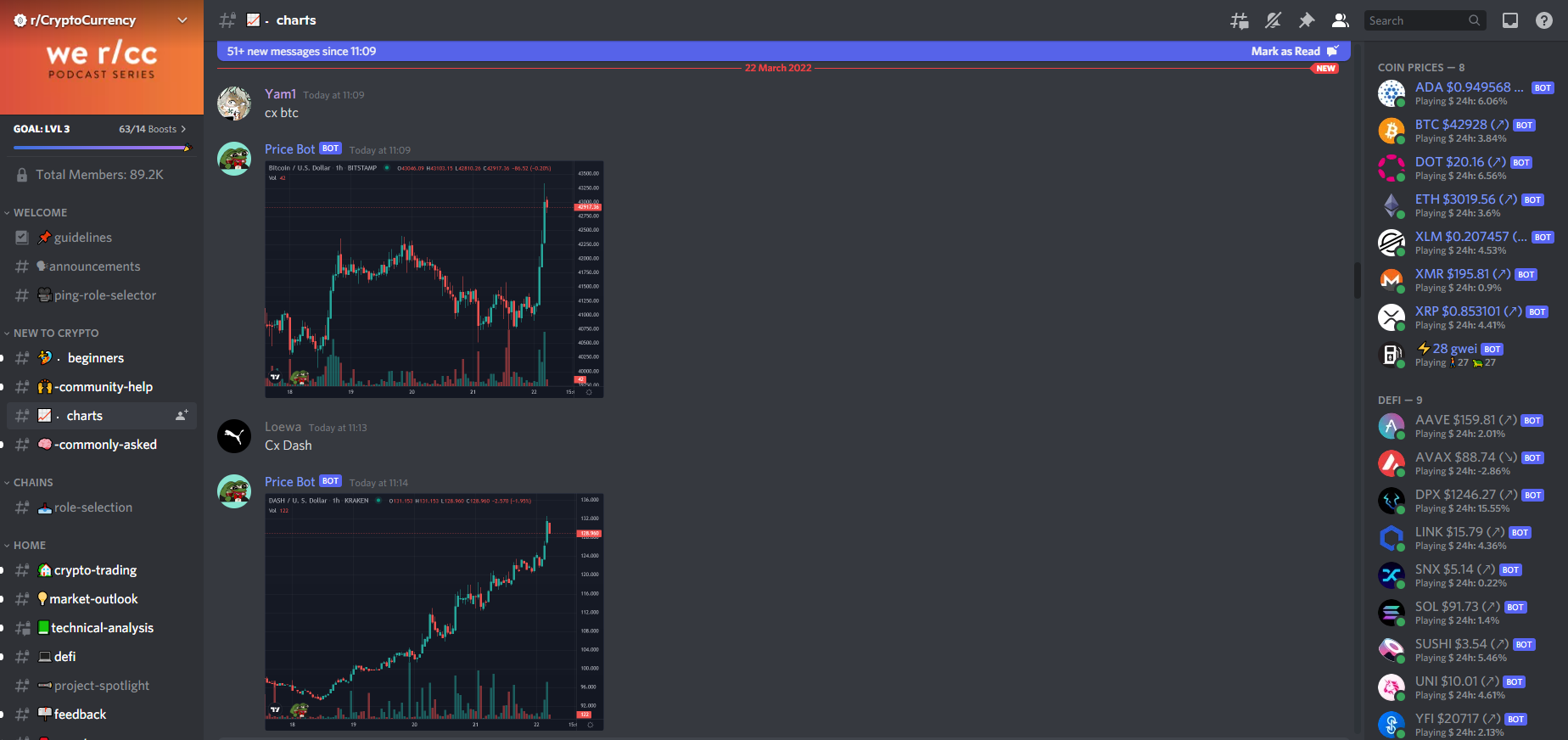 The /rCryptocurrency subreddit is one of the most active communities on Reddit for any crypto-related information. They have more than 4.6 million members and their discord server has more than 90K members. 
The discord community covers everything from Crypto, shitcoins, DeFi, NFT, Dao, and Web3 Projects. By joining this community you able to know what is happening in the entire crypto space. 
You can join Cryptocurrency Discord Channel: https://discord.com/invite/cryptocurrencyofficial