1inch is the first and most popular DEX aggregator that finds the cheapest crypto price from across multiple DEXs on Ethereum, BNB chain, Polygon, Optimism, Arbitrum, Gnosis Chain, Avalanche, and Fantom networks.
To use 1inch, you must connect your decentralized crypto wallet to it.
1inch supports decentralized wallets, such as:
1inch Wallet

MetaMask

Trust Wallet

WalletConnect

Coinbase Wallet

KeepKey

CoolWallet

Portis

MyEtherWallet (MEW)

Fortmatic

Torus

Bitski

Binance Chain Wallet

Venly
1inch also supports hardware wallets, such as Ledger and Trezor.
In this article, you will learn to connect Coinbase Wallet to 1inch.
To connect Coinbase Wallet to 1inch, you need to install Coinbase Wallet.
Next, tap on Connect Wallet on the 1inch page.
Choose Network and Wallet.
Allow 1inch to connect with your Coinbase Wallet by tapping on Connect.
Steps to Connect Coinbase Wallet to 1inch
1. Install Coinbase Wallet
If you have already installed the Coinbase Wallet, you can skip this step.
To download the Coinbase Wallet extension, click here.
Once you have done with the download and installation process, you need to create an account.
You don't need to have a Coinbase account to create a Coinbase Wallet account.
The Coinbase Wallet account creation process includes storing a 12-word seed/ recovery phrase and setting a new password.
For further clarification, you can refer to this guide: How to Create and Set Up Coinbase Wallet.
2. Click Connect Wallet
Visit 1inch.
In the upper right corner of the webpage, you will be able to see Connect Wallet button.
Click on it.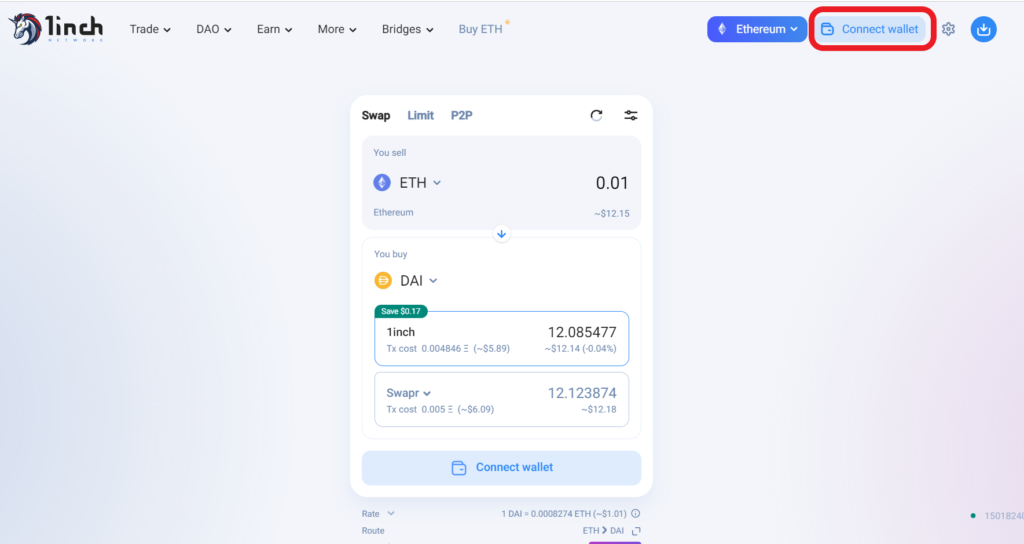 On that Connect Wallet page, you will be able to see the Terms of Service, Privacy Policy, Network options, and Wallet options.
Read the Terms of Service and Privacy Policy. Then, select the check box.
Now, you need to select the network according to your requirement.
Next, select Coinbase Wallet.
3. Allow to Connect
Once you have selected the Coinbase Wallet, a Coinbase Wallet pop-up will open up.
Next, Coinbase Wallet will show you the permission request.
The permission allows 1inch to see your wallet balance, activity, and send requests for transactions.
But 1inch cannot move funds without your knowledge.
So, click on Connect.
That's it. You have successfully connected your Coinbase Wallet to 1inch.
On the successful completion of this process, you will be able to view your partial wallet address in the top right corner of the webpage.
4. Use 1inch
Now, you can Swap, set Limit order, and/ or make P2P orders.
To swap tokens in 1inch, select the token that you want to swap in the first field.
In the second field, select the token that you want to swap for.
Lastly, Tap on Swap.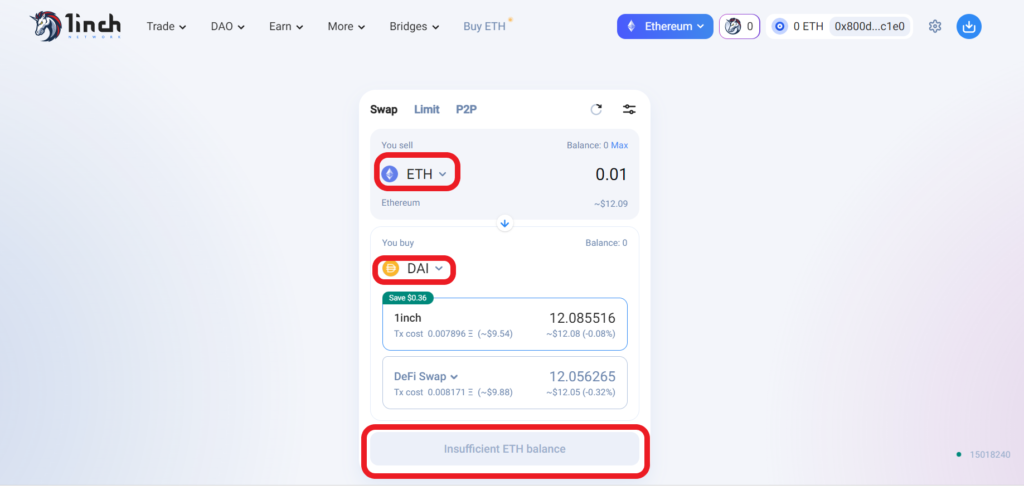 A confirmation pop-up will come from your Coinbase Wallet.
Tap on Confirm.
If you want to schedule a swap, tap on Limit.
If you want to exchange tokens privately, tap on P2P.
Conclusion
After establishing the connection, you can swap your tokens or you can stake your token in liquidity pools.
Once you are swapped or staked your tokens, always ensure to disconnect your wallet from 1inch.
To disconnect Coinbase Wallet from 1inch, tap on the partial wallet address.
Then, tap on the log-out icon.