Coinbase wallet is a non-custodial/ self-custodial multi-chain wallet that supports hundreds of thousands of tokens and dApps.
It allows you to access dApps, and store NFTs and cryptocurrencies with proper security.
Users can also link their Coinbase account with their Coinbase wallet to easily access cryptocurrencies.
Recently, Coinbase wallets added support for the Ledger hardware wallet.
Coinbase wallet is available as an extension as well as a mobile application (Android and iOS).
To use Coinbase wallet, you need to download the extension or mobile application.
Then, you need to create your wallet account.
The account creation process includes setting a new password and backup the seed phrase.
Steps to Create and Set Up Coinbase Wallet
1. Download the Coinbase Wallet Extension
Coinbase wallet is available as an extension for Chrome.
To download the Coinbase wallet, you need to go to the Coinbase website.
Click on the Download Wallet option on the top right corner of the webpage.
Then, you can install the wallet from the Chrome web store.
2. Click on "Create new wallet"
After the download and installation, a new Coinbase Wallet window will open up.
If it is not, you can click on the puzzle icon at the top right corner of the Chrome browser. Then, navigate to Coinbase Wallet and click on it.
Now, you will be able to see two options: Create new wallet and I already have a wallet.
Click on Create new wallet.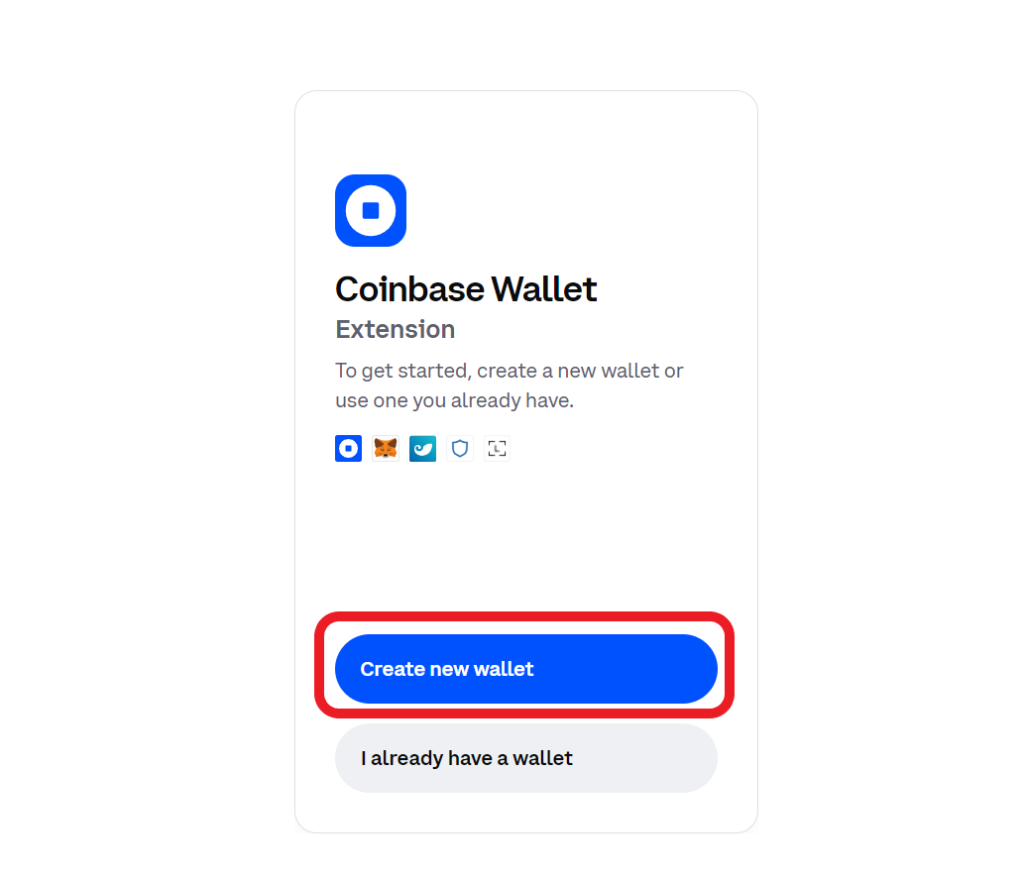 3. Set the Wallet Name
Now, you need to set a user name for your Coinbase Wallet. This name will be used to receive payments from any Coinbase Wallet users.
Type the user name without any space in the given box. Then, select the check box given.
Lastly, click on Submit.
4. Backup and Verify your Wallet
Next, you need to back up the seed phrase as it will be the only way to recover your assets under all circumstances.
After clicking on Submit, you will land on the Backup your wallet page.
Your 12-word seed phrase is blurred due to security reasons.
To view it, you need to click on the eye icon.
Write the seed phrase on a piece of paper and store it somewhere safe. Follow the best practices for storing and securing your seed phrase, also known as the recovery phrase.
You need to understand that if you lose your recovery phrase, you will lose all of the cryptos in your Coinbase wallet.
Select the check box given. Lastly, click on Continue.
Now, you need to verify the seed phrase by clicking the first and last word of your seed phrase.
Select the appropriate word and click Submit.
5. Set Password
The password that you are going to set, will be used to unlock your wallet each time you use your computer or mobile.
The password must be a combination of numbers, characters, uppercase, lowercase, and greater than or equal to 8 characters.
Select the check box after reading the terms and privacy policy.
Click on Submit.
6. Use Coinbase Wallet
After creating the Coinbase Wallet account, you can see your wallet address and account balance on the front page of your wallet.
To view the Coinbase wallet address, you need to click on the copy icon beside the user name.
Then, copy the Ethereum address or Solana address by clicking on the copy icon.
Besides the wallet balance, you can see the Buy, Send, Receive, and Swap buttons.
Right underneath that, you will be able to see three tabs: Crypto, NFTs, and DeFI.
You can find your crypto tokens under the Crypto tab and NFTs under the NFTs tab.
If you want to lock your Coinbase wallet, you need to click on the gear icon.
Then, click on Lock Wallet.
Conclusion
Installing and creating a Coinbase Wallet account is a simple task.
Setting up the password and backing up the seed phrase are the two essential steps involved in creating the Coinbase Wallet account.
Anyone with your seed phrase can access all your assets.
Hence, always remember to store your seed phrase in multiple places to prevent it from losing. If you lost them, nobody can access your account—even Coinbase Wallet developers.
The Coinbase Wallet account creation process in the mobile application is the same process like this.
FAQs
1. Does Coinbase Wallet Support Ledger?
Yes, the Coinbase wallet supports the Ledger hardware wallet since February 22, 2022. Now, Coinbase wallet users can explore Web3 with more confidence.
There is also a Ledger Nano X Coinbase limited edition available in the shop.