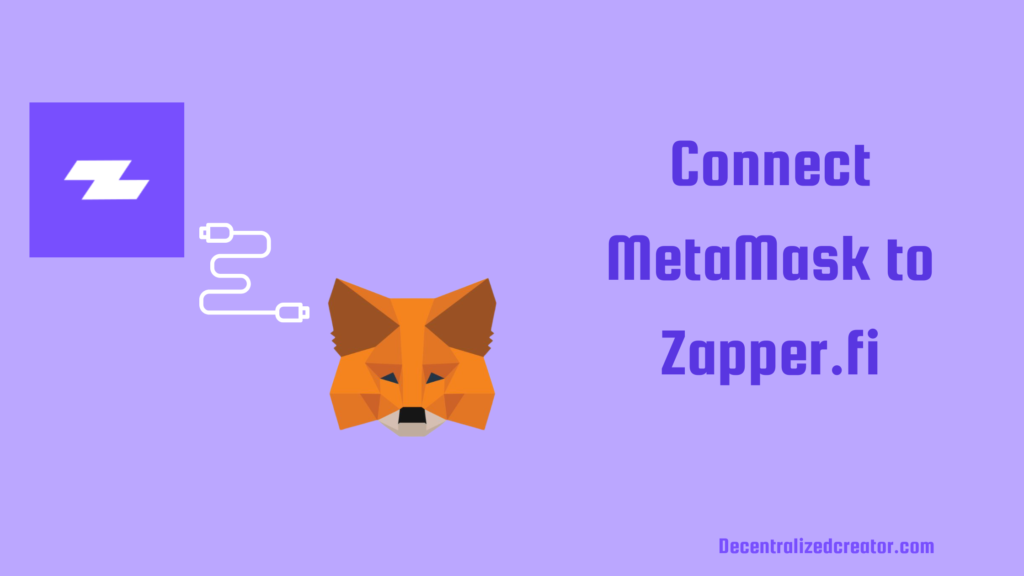 Zapper finance (Zapper.fi) is a DeFi portfolio management platform that makes DeFi easy to use.
With Zapper, DeFi users can easily manage and track multiple positions in the top DeFi protocols, including Uniswap, Sushiswap, Curve Finance, Balancer, Synthetix, 1inch, and Yearn Finance.
To use Zapper.fi, first you need to connect your Web 3.0 wallet.
Zapper supports many hot wallets, such as MetaMask, Coinbase Wallet, BlockWallet, Portis, Opera, XDEFI Wallet, Gnosis Safe, Fortmatic, Torus, and hardware wallets, such as Ledger, Trezor, Keystone, and Lattice.
In this article, you will learn how to connect MetaMask to Zapper. This process of connecting MetaMask Wallet to Zapper is almost the same for all other wallets except hardware wallets.
How to Connect MetaMask to Zapper.fi?
To connect MetaMask to Zapper.fi, you need to head to the Zapper.fi website.
Then, click "Connect Wallet" and select MetaMask.
Lastly, authorize the connection. That's it.
Steps to Connect MetaMask to Zapper.fi
1. Install MetaMask Wallet
If you have already installed MetaMask Wallet, you can skip this step.
MetaMask is available as a browser extension for Chrome, Firefox, Brave, and Edge.
It is also available as a mobile application for the Android and iOS platforms.
Choose the platform and install MetaMask. After the installation, you need to create a MetaMask account.
The account creation process includes setting a password and backing up the recovery phrase.
2. Visit Zapper.fi Website
After the installation and account setup of MetaMask, you need to head to the official Zapper.fi website.
https://zapper.fi/ is the official website of Zapper. You can bookmark it to avoid phishing scams.
3. Click "
Connect Wallet
"
Once you are on the Zapper.fi website, you will be able to see the "Connect Wallet" button in the upper right corner of the website. Click on it. 
Now, you will be able to see multiple wallet options that are supported by Zapper.
Click on "MetaMask".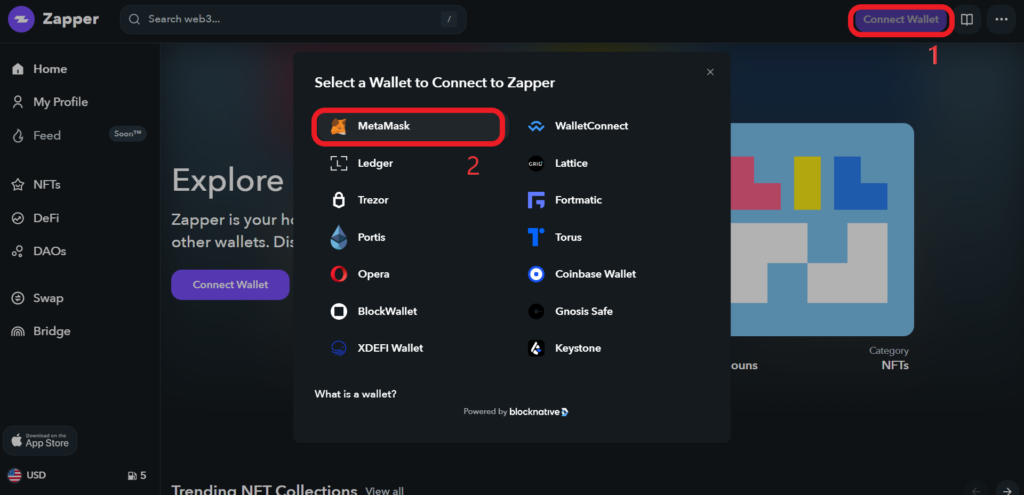 4. Authorize Access
Now, the Zapper requires access to your wallet. A MetaMask prompt will show up to select the account.
If you have only one MetaMask account, you can click "Next". Otherwise, select your MetaMask account and click "Next".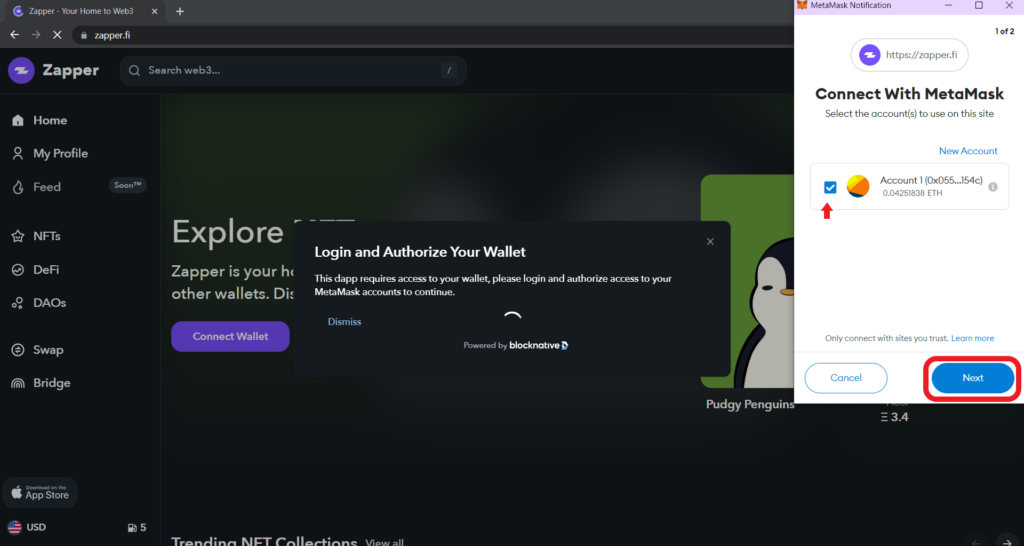 Next, you need to let Zapper connect to your MetaMask account by clicking "Connect".
This connection acceptance allows Zapper to see the address, account balance, activity, and send transaction approvals.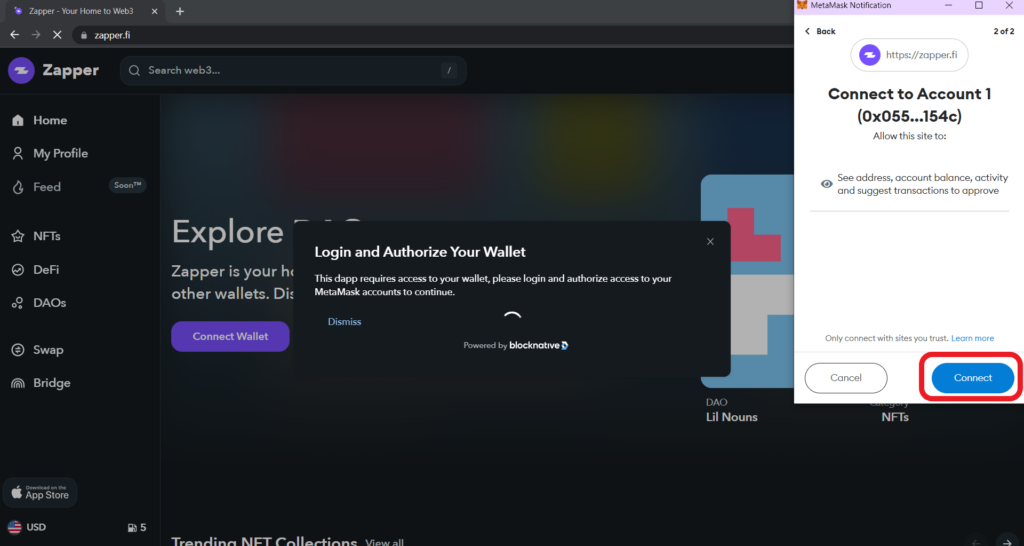 5. Disconnect MetaMask
It is essential to disconnect your wallet from Zapper once you are done with your DeFi portfolio management.
To disconnect MetaMask from Zapper.fi, you need to click the "dropdown icon" next to your wallet address in the upper right corner of the webpage.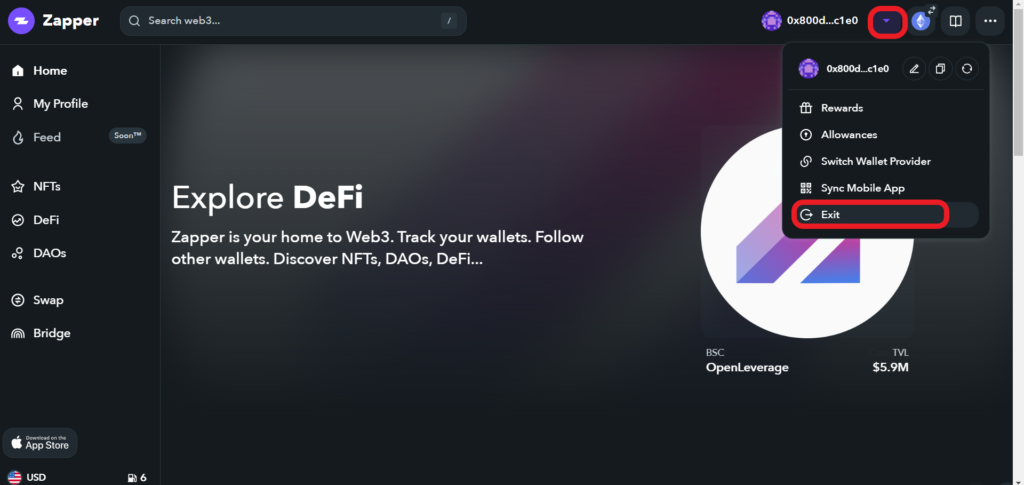 Conclusion
Connecting MetaMask and other supported wallets to Zapper.fi is a simple task.
After establishing the connection with Zapper.fi, you can manage your liquidity pools and engage in yield farming across different DeFi protocols.
Once you are done with Zapper.fi, make sure to disconnect your wallet.