Indeed, van Gogh and Picasso definitely had their heyday for centuries. But now, Beeple and fellow co-artists are the talk of the town. Yes, digital art is now taking over the art industry like crazy.
5.4 million NFT sales worth over $9 billion happened in the past twelve months. Thanks to the COVID-19 pandemic for bringing such amazing NFT art and NFT artists around the world to light.
Unlike, van Gogh and Picasso case, we can now directly connect with NFT artists with the help of social media and indulge with their artworks. Here we have curated a list of famous NFT artists for you to follow.
What are NFTs?
Non-fungible Tokens (NFTs) are digital units of data that are stored on blockchain. It is used to represent photos, audio, and videos. Since it's powered with blockchain, it comes with a unique encryption code; hence it is not exchangeable.
A copy of a particular NFT can be easily downloaded by anyone but they can't claim the ownership as they can't copy the unique code.
NFT Artists to Follow
Beeple
Artworks sold in total: 2,281
Value of all artworks: $37,871,180.19 (8,046.382 ETH) 
If you are familiar with the abbreviation NFT (you should), you should have heard the name Beeple. That's how he topped the list.
Mike Winkelmann, popularly known by the name of Beeple, is the top famous NFT artist in the world. His name exploded on the internet for the record breaking sale of $69 million for a single NFT collage; the collage contains the first 5,000 days of his artwork.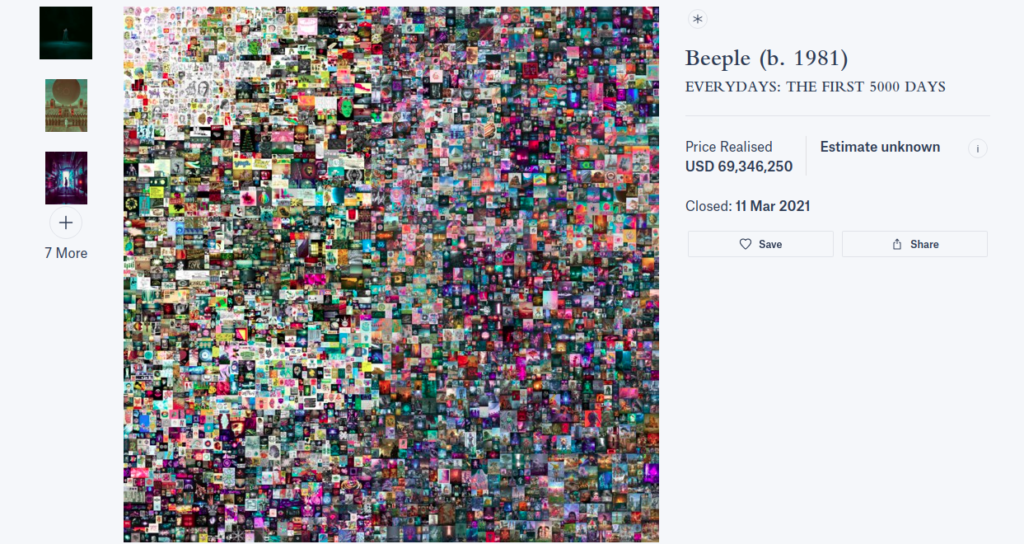 The artwork of Beeple reflects current trends and it's always unique & weird.
Behind his popularity, there is an experience of 13 years. Mike Winkelmann is a graphic designer and has created performance visuals for Justin Bieber, Eminem, Katy Perry, One Direction, and many more.
He has over 2M followers on Instagram. You can also check out his website to see Short Films, Everydays, VJ Loops, Spring/ Summer collections.
Pak
Artworks sold in total: 7,933
Value of all artworks: $62,499,842.31 (13,281.110 ETH)
After Beeple, Pak is one of the prominent social media figures as an NFT artist. Despite the popularity, Pak has kept their identity secret from the beginning itself. Surprisingly, Pak announced a face reveal at Times Sq. on Nov 4, 2021 and the incidence was trended with #pakwashere. However, it was like a performance art as he wore a mask and covered his whole body.
Post that incident, a 3D illustrator and designer named Berk Tarakcioglu released an NFT art on the same day depicting Pak.
Pak has 2 twitter accounts @muratpak and Archillect; Archillect has over 2.5 million followers including Elon Musk.
Metarift is the most successful sale of Pak that earned him $2.3 million in March 2021. His collection includes lion, ape, Elon musk, Doge, etc.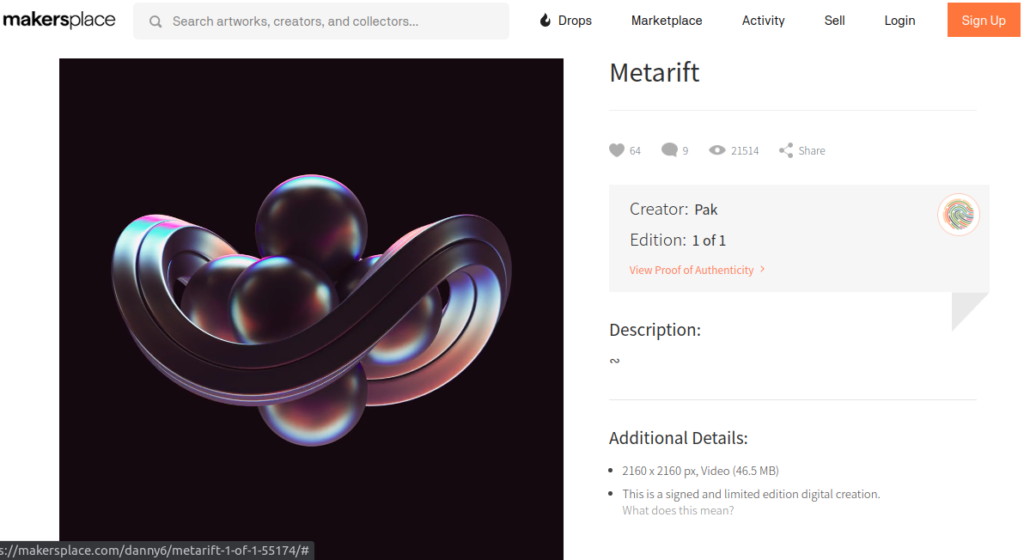 The artworks of Pak are inspiring and surreal. His passion to innovate is clearly visible in his collection called 'X'. 'The Title' is also one of his famous collections.
The Title is about value. It's about purpose.

It's an art piece of statement, taking the importance from "the file" and giving it to the cryptonative* art.

Controversial and hopefully historic.

A piece I'm very proud to sign.https://t.co/XPqZ7IwshW

— Pak (@muratpak) January 5, 2021
His twitter account @muratpak has 262.5k followers.
Mad Dog Jones
Artworks sold in total: 1,591
Value of all artworks: $18,493,839.93 (3,985.149 ETH)
Michah Dowbak, also known as Mad Dog Jones is Ontario-based multidisciplinary artist well-known for his futuristic artwork.
His artwork reflects cyberpunk or dystopian imagery along with nature and technology themes—mostly citrus and neon tones. His most successful sale was of REPLICATOR (Gen 1), which was sold for $4.1 million. The REPLICATOR will self replicate for 6 unique generations at the rate of one per month. Then each of these generations will create one artwork until it reaches generation 7. At last, total artworks generated will be between 75 to 300 copies over a year. Following the sale of any artwork, the new owner will own all subsequent replicants or jams.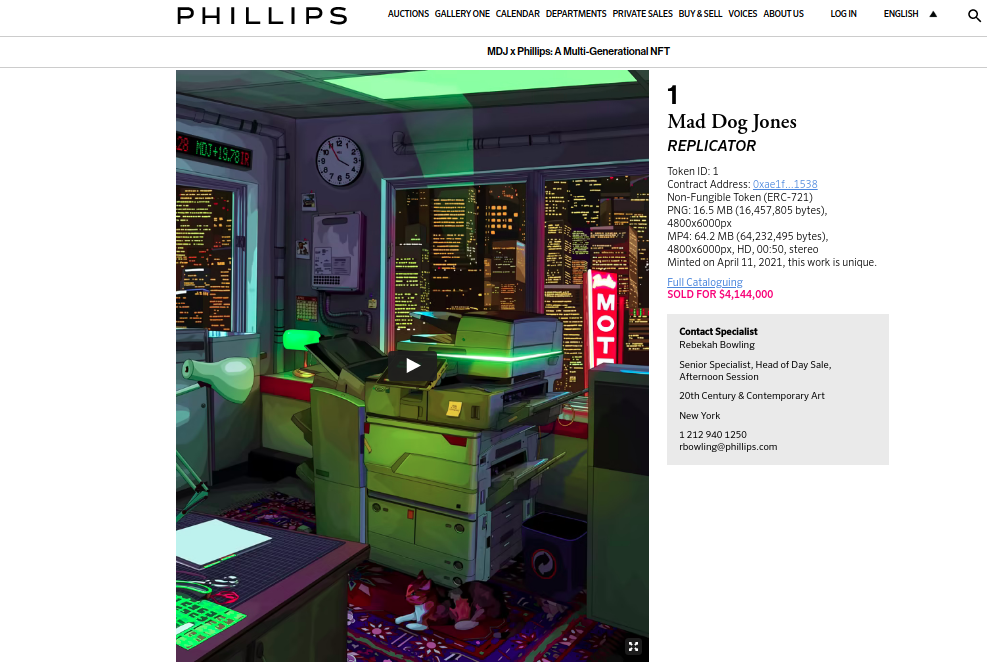 His Instagram profile has over 300k followers and Twitter profile has over 31k followers. Visit his website to buy/ view his artwork.
FEWoCIOUS
Artworks sold in total: 3,189
Value of all artworks: $27,495,769.23 (5,854.087 ETH)
FEWoCIOUS, a pseudonym of an 18 year-old Seattle-based crypto artist Victor Langlois. He is renowned for his surreal artwork. He started doing art at the age of 13 when he was living in his hometown Las Vegas and sold his first artwork at 17.
His artwork reflects hallucinatory effects with vibrant colors. Mr.MiSUNDERSTOOD was his most successful NFT sale, which was sold for $2.8 million. He had earned over $17 million in just under a year by selling his NFT artwork.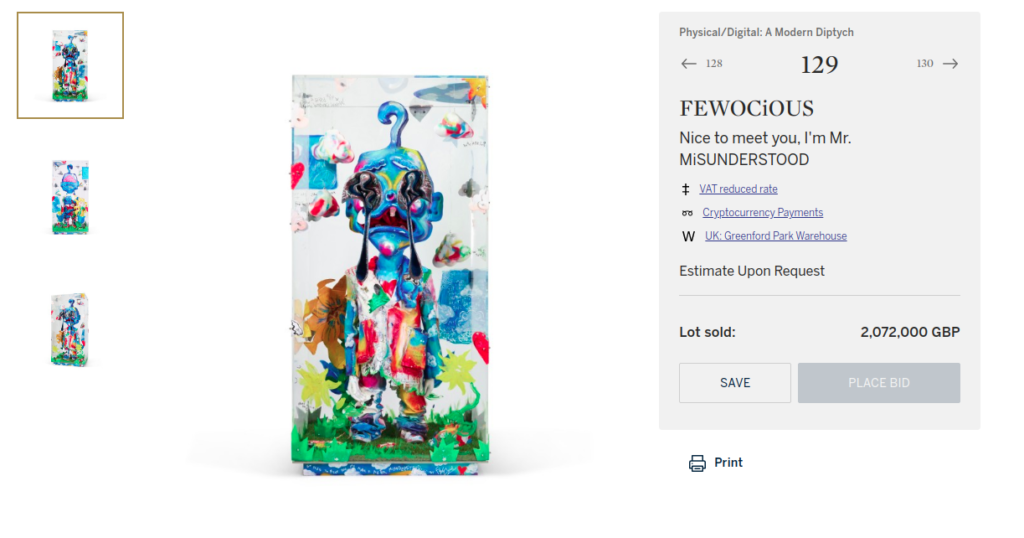 His Instagram profile has over 34k followers and Twitter has over 84k followers. Explore his website for a visual treat. He also hosts a weekly podcast along with Jonathan Wolfe.
SlimeSunday
Artworks sold in total: 6,790
Value of all artworks: $14,033,525.29 (2,987.859 ETH)
SlimeSunday is the pseudonym of Mike Parisella, a Salem based digital artist who always love to explore erotic topics. Due to this nature of artwork, he has faced censorship issues multiple times. Later, he started to blend nudity with some objects. His banned works can be found in the book called Banned from the Internet.
His most successful NFT sale was Gunky's Uprising that was sold for $1,333,333; it was a collaboration with 3lau.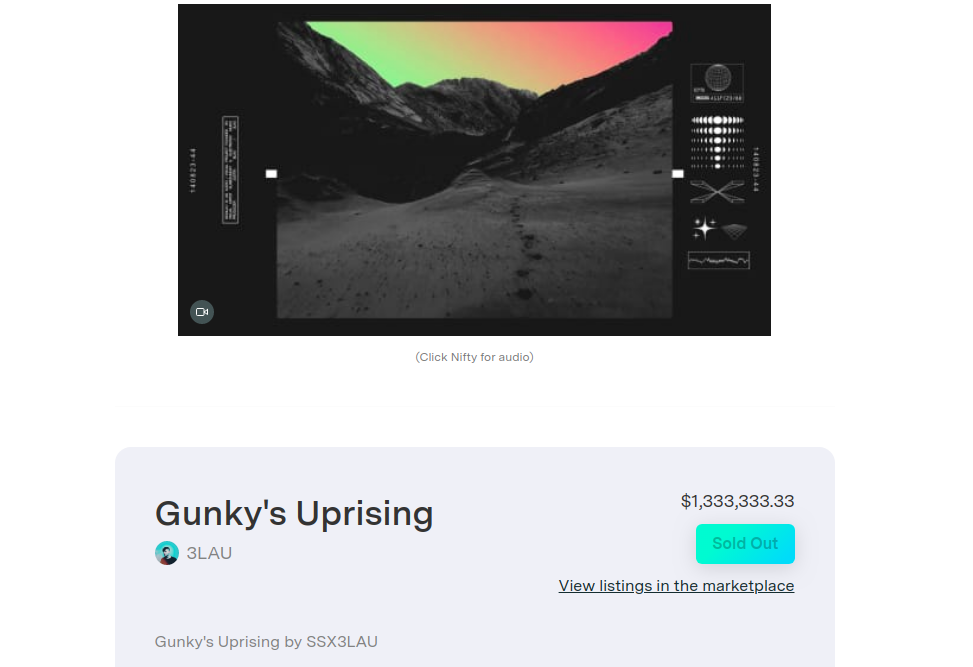 Mike's primary portfolio is in his Instagram Profile where he has over 500k followers and his twitter profile has over 10k followers. You can also find his artwork on his own website.
3LAU
Artworks sold in total: 6,479
Value of all artworks: $9,985,206.48 (2,125.937 ETH)
Justin Blau known as 3LAU is an American DJ who sold the world's first crypto-album for over 11.5 million in less than 24-hour. Yes, he made it to this list as a musician.
Being an early crypto adopter, his album Ultraviolet has over 300 million streams. He has also created digital art and made money out of it too. S̷t̷a̷r̷ ̷C̷r̷o̷s̷s̷e̷d̷ is his most successful NFT sale that was sold for $155,546.63 (33.3 ETH).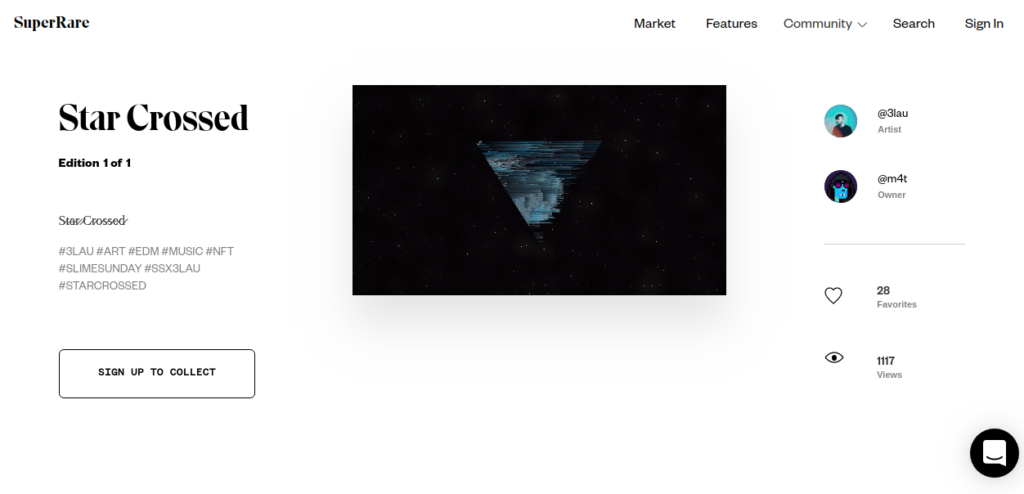 Justin's Instagram profile has over 300k followers and twitter has over 200k followers. Peek inside his website to hear his work.
Hackatao
Artworks sold in total: 2,281
Value of all artworks: $37,809,805.89 (8,050.035 ETH)
Hackatao is an Italian artist duo who started doing crypto art from 2018 after exploring sculpture, canvas, and many different techniques. Their first NFT is "Girl Next door". They are always open to collaborate with different artists and implement technology in art such as augmented reality, VR, 3D, and pixels.
Their artwork reflects issues of society, environment, humanity, psychology, art history, and crypto. "Flood" was their most successful NFT sale, which sold for $1.1 million (250 ETH).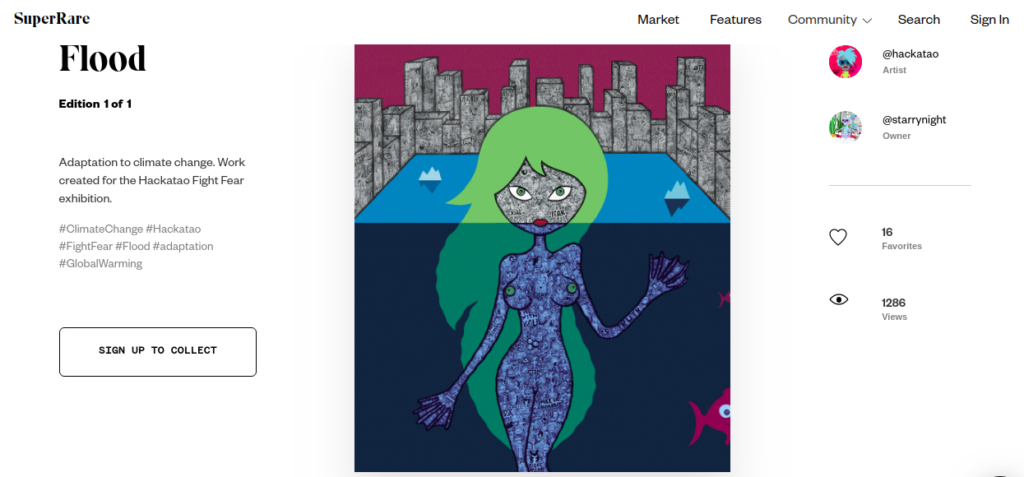 They have over 9k followers on Instagram and 44k followers on twitter. You can even find their work on their own website.
Xcopy
Artworks sold in total: 1,915
Value of all artworks: $58,588,996.09 (12,474.104 ETH)
Xcopy is a London based crypto artist who didn't reveal his/ her identity like Pak and Hackatao. They started their NFT journey in November, 2019.
Check out my CyberVisor! 🔥
So stoked to mint my first @cryptovoxels #wearables pic.twitter.com/0AOG94LYOb

— XCOPY 🏴 (@XCOPYART) November 12, 2019
Their artwork reflects death, dystopia, and apathy. Their most successful NFT sale was A Coin for the Ferryman that was sold for $6.2 million.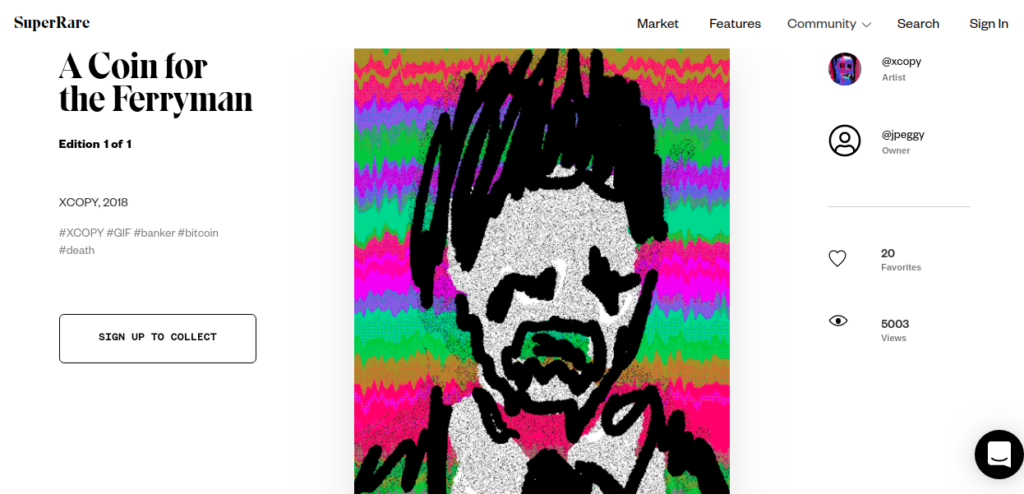 Their twitter profile has over 97k followers.
Trevor Jones
Artworks sold in total: 5,286
Value of all artworks: $22,127,161.64 (4,737.065 ETH)
The Canadian artist is famous for blending new technologies like Augmented Reality (AR) in his art. After much exploration, the former Director of Art in Healthcare, fell in love with Scotland (that's where he lives), Bitcoin, and NFTs.
His artwork reflects Bitcoin, modern emblems, and Picasso's palette. His fine art Genesis, a collaboration with Jose Delbo, sold for $1,412,998.67 (302.5 ETH) in October 2020. He started NFT journey with an art known as EthGirl, which was sold for 72.1 ETH.
'Genesis', the record breaking 302.5 ETH #NFT collab with @Jose_Delbo is up for an award in the 1st annual @NFTAwards! Check it out here and send us some luck.❤️🍀🤞@MaxStealth5 https://t.co/59ZEUCdnrd

— Trevor Jones 🎨 (@trevorjonesart) December 2, 2020
Trevor Jones has more than 10 years of experience in art. Since 2017, he has focused on cryptoart space.
His Instagram page has over 7.5k followers and twitter page has over 49k followers. Visit Trevor Jones' website to see his artwork.
Micah_johnson
Artworks sold in total: 4,821
Value of all artworks: $11,239,273.10 (2,406.145 ETH)
Micah Johnson is a former Major League Baseball (MLB) player who turned as an artist. His artwork ˈsä-v(ə-)rən-tē awarded as the NFT of the year 2020; the art depicts two African American boys and their separation from an astronaut. His creation Aku gives hope to children that they can do anything.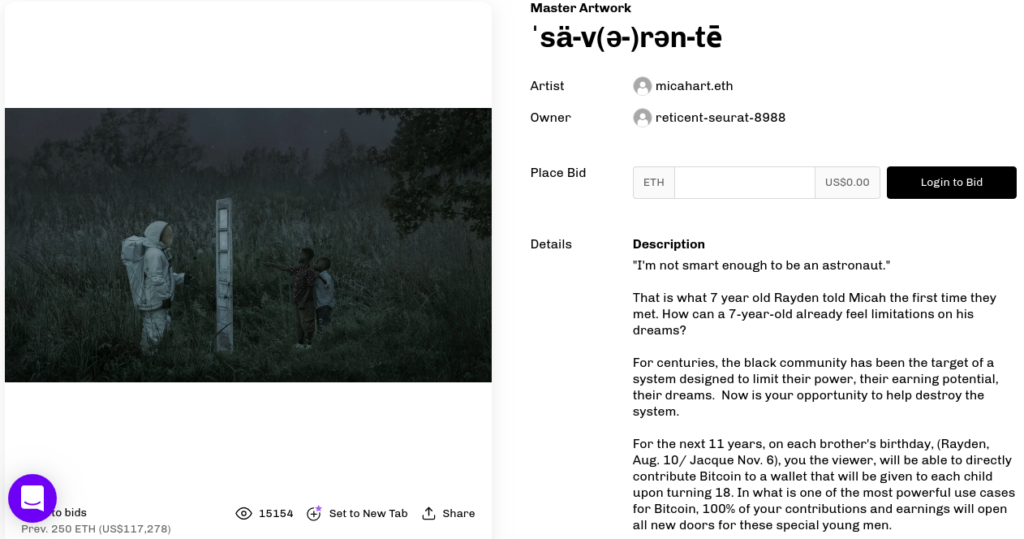 His artwork primarily features African-American children and has elements of empowerment, dismantling of racism. The ˈsä-v(ə-)rən-tē is the most successful sale of him, which is sold over for $120k.
Highest bid currently at $120,000‼️

Literally speechless 😭

And there are still 6 hours remaining‼️ https://t.co/TKGb6n9fi6 pic.twitter.com/k5K7MOtFiU

— Micah Johnson (@Micah_Johnson3) November 13, 2020
Micah Johnson's Instagram profile has over 22k followers and Twitter has over 21k followers.
Pr1mal Cypher
Artworks sold in total: 2,080
Value of all artworks: $2,144,378.25 (460.473 ETH)
Primal Cypher is an Austria based NFT artist who initially worked in the field of oil paintings. In early 2020, he forced himself to create more digital arts. He is the founder of ENCODE GRAPHICS, a comics publishing company based on crypto and cryptoart.
He has an open mind to try different kinds of arts. Forgotten Cats of Fallen Leaves Forest is his most successful NFT sale, which was sold for $93,091.43 (19.99 ETH).
Primal's Instagram profile has over 1.4k followers and twitter has over 9.5k followers.
Blake Kathryn
Artworks sold in total: 867
Value of all artworks: $3,849,858.33 (824.192 ETH)
Blake Kathryn is a fine 3D artist resides in Los Angeles. Recently, Paris Hilton did a collaboration with Blake to launch her NFT collections; the duo managed to sell the artworks for over $1 million.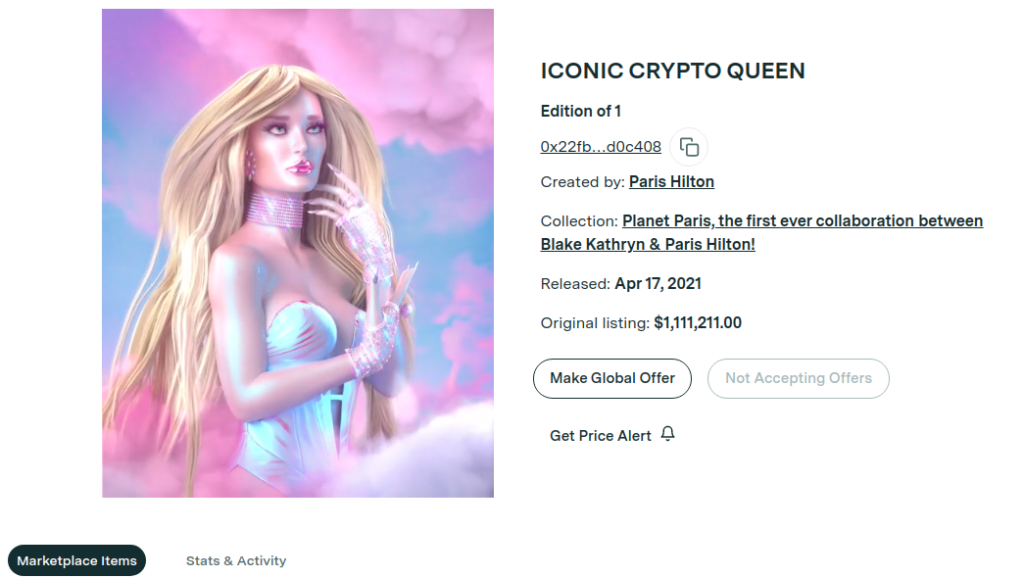 Blake also worked with the largest vodka brand Smirnoff.
She is known for her imagination, vibrant colors and surreal futuristic artwork. Most of her artworks feature women.
Blake's Instagram profile has over 98k followers and twitter has over 40k followers. For work inquiries, you can check out her studio page.
Giant Swan
Travis Van Zanen known as Giant Swan is a sculptor and digital artist based in Melbourne. He is using VR technology to create 3D shapes and colors. Initially, he struggled to convince galleries to display his artworks as most of them are not owning expensive VR headsets. But thankfully NFTs saved his career.
"your hurt as stretching glass, these beings were you, they were tears and they are your fear, they comfort you then quickly flee, their time seemed short and would illuminate around you"

"Metamorphosis" 1/1 Just dropped on @MintGoldDust https://t.co/zztLjqgR17 pic.twitter.com/EXSSnZVzEI

— Giant Swan 🦢 (@A_Giant_Swan) November 3, 2021
His Instagram profile has over 8k followers and twitter has over 5k followers.
Steve Aoki
Steve Aoki is a Grammy-nominated DJ, record producer, and NFT artist. In March 2021, he made $3.4 million from his debut sale of NFT. If anyone has enough of his NFT, they can get to watch his shows for free. He is also interested in Pokemon Cards and seemed to be selling $3 million worth of Pokemon Card collections in the TCGplayer marketplace.
More than 30,000 people came in and out of Steve Aoki's debut NFT release today on Clubhouse!

$3.4M on Steve's first drop, and the top bid for the 1 of 1 is at $100,000!

Thank you to everyone and thank you to @steveaoki, @mattavelli and @CeoPaoloSanto for helping me host this! pic.twitter.com/ZtjTs4lOq6

— FAROKH.ethᵍᵐ (🎙,🎙) (@farokh) March 7, 2021
In the month of November 2021, Steve launched an NFT marketplace called OddKey with the Spawn creator Todd McFarlane; the marketplace allows artists to showcase and sell their artwork.
Steve's Instagram page has over 9.4 million followers and his twitter profile has over 8.2 million followers.
Jose Delbo
Jose Delbo is an 87-year old Argentine comics artist well-known for his Wonder Woman and Transformers comics. He released his first NFT in August, 2020; since then, he made money that surpassed his two best sellers Wonder Woman and Transformers.
✨ SOLD!

History made w/ the legendary @trevorjonesart x @Jose_Delbo Drop!!

Genesis makes #cryptoart history with the highest single edition sale of 302.5 ETH (~$111K) and 540.86 ETH (~$200K) total sold!

Congrats to @MaxStealth5 @phillector @MuseumofCrypto and all collectors! pic.twitter.com/1N9OoOuZWE

— MakersPlace (@makersplaceco) October 17, 2020
He often collaborates with Apollo NFT Studios, and NFT-artists such as Trevor Jones, Pr1mal Cypher, more.
His comic artwork reflects classic style.
Jose's twitter profile has over 8k followers. You can see more of his work on his official website.