Midjourney v5, the latest version of the generative AI, is set to revolutionize the world of AI art. It is packed with new features and improvements that will take your generations to the next level.
From highly sensitive word order to improved crowd shots, this new version is designed to help you create stunning, lifelike images with ease.
In this article, we will explore the top 11 features of Midjourney v5 and see how they can help you achieve your AI art goals.
What's New in Midjourney Version 5?
1. Highly Sensitive to Word Order
Midjourney v5 can pick up even subtle changes in word order. In general, Midjourney v5 gives more weight to the first portion of your prompt than the second.
Hence, you need to place your primary objective first.
Let's see an example for your better understanding:
Prompt 1: Edgar degas painting of a Elon Musk, head and shoulder portrait –v 5
Prompt 2: head and shoulder portrait of a Elon Musk in the style of Edward Degas –v 5
In the first prompt, Midjourney v5 failed to generate the "whole head and shoulder" part and the exact facial features of Elon Musk.
In the second prompt, you can see how changing the order of words gave me the desired result.
2. Improved Eye and Finger Generation
Until Midjourney v5 arrives, there used to be an odd number of finger and eye generations.
Midjourney v5 has improved its ability to recognize and describe the details of eyes and fingers in photos.
Prompt 3: a portrait photography, beautiful bride with her stunning wedding ring on her finger, shot on Fujifilm Pro 400H, HD –ar 2:1 –v 5
3. Improved Crowd Shots
Midjourney v5 has made progress in improving its handling of crowd shots, but there is still room for improvement. While it can now better identify and describe individuals within a crowd, it may still struggle with larger groups and aspect ratios of 4:1 and 5:1.
Prompt 4: a gang of five masculine men, posing body building poses, low angle shot from the floor, studio lighting –v 5
It's now easier than ever to create the crowd shot you've always wanted.
4. Ultimate Detailing in Portrait Shots
Many Midjourney users and AI enthusiasts seemed to praise the portraits of Midjourney v4.
Midjourney v5 excels at providing intricate details in portrait shots, allowing its users to capture the subtle nuances of their subjects.
Midjourney v5 can be a valuable version for anyone who wants to create high-quality portraits that showcase the personality and character of the subject.
Prompt 5: editorial portrait photography of a 70-year-old granny with deep wrinkles, medium shot, taking a walk in a park, serene dusky evening, shot on Agfa Vista 200, side-angle view, 4k –ar 16:9 –s 800 –v 5
Does anyone else find this as AI-generated images? Damn! What a perfection!
5. Stunning Product Shots
With the improvements to detailing and aesthetics in portrait photography, product shots have also become better than ever. Now, you can capture even more stunning and lifelike images of your products, making them look their best and catching the eye of potential customers. These improvements in Midjourney v5 are a game-changer for anyone who wants to showcase their products in the best possible light.
Prompt 11:a low-angle product photograph of a brand new electric car with a futuristic design, on the edge of a cliff of a snowy mountain, breathtaking photorealistic shot, elegant, 8K –s 750 –ar 3:2 –v 5
6. Uncapped Aspect Ratios
With Midjourney v5, you can now capture panoramic and 360-degree room views, as well as create Twitter banners in 4:1 or 5:1 aspect ratios.
This means that you can create stunning, immersive images that allow viewers to fully experience the scene. Whether you are capturing a breathtaking landscape or showcasing your products in a unique way, Midjourney v5 can help you create images that stand out.
Prompt 6: Vector flat image of Huacachina in Peru, minimalistic, abstract, mist, unreal engine, by jewel tones, scandi style, cinematic, 4k –ar 4:1 –v 5
Previously, the aspect ratio was capped at 2:1
7. Improved Image Quality
Midjourney v5 provides higher image quality than its predecessor, with a 2x increase in resolution and detail. This means that photos produced by the software are more detailed and realistic, with greater depth and clarity.
8. May Generate NSFW Content
Since the Midjourney v5 is in alpha-testing, you can expect NSFW content occasionally.
While this can be a useful feature in some contexts, it's important to use the platform responsibly.
Anyone who violates or uses the banned words inside the platform will be subject to strict actions.
9. Next-level Texture Recognition
Textures are going to be at the next level. A new, more advanced texture recognition feature in Midjourney v5 enables it to identify and describe textures in greater detail.
Prompt 7: a woman with a handbag made out of crocodile leather and a suit made out of ostrich leather standing in an alleyway, sunny day, shot on Fujifilm Pro 400H, HD –ar 2:3
If you have a deep look at the textures of the suit and the handbag, you will come to know that version 5 has more texture detailing than its predecessors.
10. Accurate Representation of Sequential Numbers
Everybody knows that Midjourney versions and other generative AI models are incapable of producing sequential numbers and text.
But version 5 of Midjourney can accurately identify and describe the numbers, ensuring that they are represented correctly in your photos. 
Prompt 8: a futuristic numbered wall clock:: 2, numbers in the wall clock are made up of diamonds, neon rim light, elegant, highly detailed:: –ar 3:2 –no roman letters –s 700 –v 5
11. Shots Through Window Portraits
Midjourney v5's Shots Through Window Portraits update is a remarkable innovation in the world of generative AI.
This feature allows for the creation of stunning, realistic shots through a window, with improved detail in both eyes and fingers.
With Midjourney v5, capturing portraits through a window has never been easier or more beautiful.
With the Shots Through Window Portraits feature, you can capture a person's face through a window, while also including elements of the surrounding environment, such as a cityscape or natural scenery. This results in images that are not only beautiful but also tell a story.
Prompt 9: photography shot through an outdoor window of a coffee shop with neon sign lighting, window glares and reflections, depth of field, hoodied young man sitting at a table and looking at the window, portrait, kodak portra 800 –ar 2:1 –v 5
12. More NLP Friendly
On the day of Midjourney v5 release, most of its users felt like the new version was not up to the mark of version 4 in terms of aesthetics.
But that is not the case. The new version of Midjourney v5 is more NLP-friendly than a bunch of comma-separated words.
So to achieve the same or better aesthetics of the older version, you need to adapt a more NLP-friendly prompting approach, which is super easy for even the newbies.
I.e., you need to approach the new version with more coherent sentence prompts. However, it doesn't mean that the comma-separated phrases will bring bad results.
Both approaches will work but the more coherent and explicit complete sentences will do better.
Take a look at the below prompt for example:
Prompt 10: a candid shot of a lovely couple wearing an Indian traditional dress in a paddy field, the female is sitting on top of the lap of the male, a stunning portrait, wide angle shot –ar 3:2 –s 750 –v 5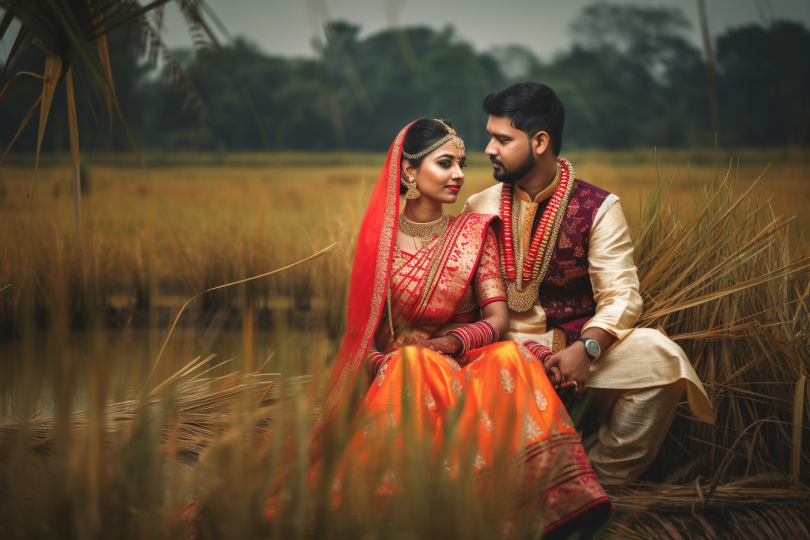 The above prompt is written in a more coherent and explicit manner. This can also be written as "a candid shot, a lovely couple in Indian traditional attire, paddy fields, Woman on man's lap, a stunning portrait, wide angle –ar 3:2 –s 750" which is the format predominantly used in Midjourney v4.
Conclusion
Overall, Midjourney v5 is a game-changer for photography enthusiasts and professionals alike. With its improved eye and finger recognition, stunning panoramic views, and realistic product shots, Midjourney v5 has everything you need to create breathtaking images.
Whether you're a portrait photographer, a product photographer, or just someone who loves to explore the world of AI art, Midjourney v5 is the perfect tool for you.
In case you don't know where to start or are feeling overwhelmed by the pace of generative AI, we highly suggest you start with this guide, "MidJourney Prompt Engineering Made Easy". It is an invaluable resource for beginners as well as intermediates.
FAQs
1. Is Midjourney version 5 released?
Yes, Midjourney version 5 is released in Alpha-state on March 15, 2023. The announcement of v5 release was first dropped on Midjourney Discord by the founder David Holz, followed by Midjourney Twitter.
According to the official claim, the new version has higher image quality, wider stylistic range and aspect ratios, support for seamless textures, better image prompting, wider dynamic range, and more.
2. How to Use Midjourney version 5?
To use Midjourney v5, you simply need to execute the "/settings" command on Midjourney Discord and then click on "MJ version 5". That's it.
Alternatively, you can also add "‐‐v 5" at the end of your prompt.