Stable Diffusion is an AI art generator that generates art from prompts in a few seconds. It is similar to OpenAI's DALL.E and Midjourney Lab's Midjourney AI.
Stable Diffusion is open to all and anyone can use Stable Diffusion for free.
To get the most out of Stable Diffusion, you need to give a long-tail description and be more specific.
Your thinking is the only limitation of using Stable Diffusion AI. If you have trouble creating good prompts continuously, you have come to the right place.
In this article, you will learn about the several prompt generators that you can use to play with the Stable Diffusion AI art generator.
4 Free Prompt Generators for Stable Diffusion
promptoMANIA
Prompt by promptoMANIA: A dog on mars, Ray Tracing Reflections, insanely detailed and intricate, hypermaximalist, elegant, ornate, hyper realistic, super detailed
promptoMANIA is one of the best free prompt generators for Stable Diffusion. Anyone can easily create a good and complete prompt within a few seconds.
You can include tons of details, such as camera, color, art medium, display, geometry, lighting, material, post-processing, etc., in the prompts with the ease of clicking a button. Each detail has different variations.
Apart from the details, you can add the style of any artist just by clicking on the artist's name presented in the promptoMANIA user interface.
The best part about the promptoMANIA prompt generator is that you can select the details and the style of artists based on the visuals.
To use promptoMANIA, first, you need to add the subject in the subject box.
Then, scroll down and select details, as well as include the style of a particular artist.
Next, if you want, you can keep introducing characters or any adjectives in the corresponding boxes.
Lastly, copy the prompt by clicking on the "copy icon".
If you want, you can also include the image URL ending with .jpg or .png to suggest inspiration for the artwork.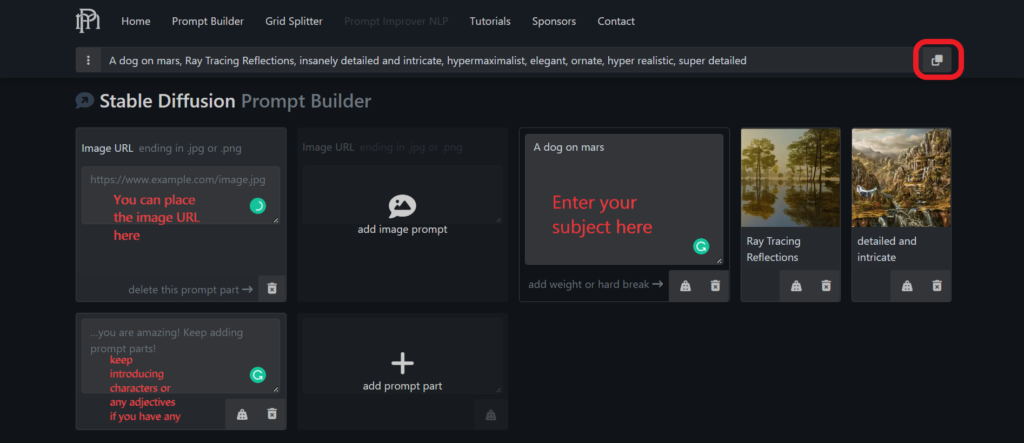 promptoMANIA can also be used to create prompts for Midjourney, DreamStudio, Stable Diffusion, DALL-E 2, Disco Diffusion, NightCafe, wombo.art, Craiyon or any other diffusion model.
Phraser.tech
Prompt by Phraser.tech: sepia 3d render made of paper texture of a dog on mars by @beeple_crap created at future in 4k ultra-high resolution, with feeling of fun
Phraser.tech is another easy-to-use free prompt generator for Stable Diffusion, Midjourney, DALLE-2, Disco Diffusion, Craiyon, and other diffusion models.
It makes it easy to create a prompt in a few seconds by having the 10 steps process. Out of 10 steps, selecting the first three is mandatory and the others are optional.
To create prompt in Phraser.tech, just go through each step and select neural network, content type, style, color, texture, resolution, camera settings, feeling, and era.
Lastly, to copy the prompt that you have created using Phraser.tech, you will be asked to sign in into the Phraser.tech.
Then, go to your DreamStudio account and select "Membership".
Next, navigate to the "API Key" tab and click "Copy".
Lastly, switch back to Phraser.tech and paste the key in the given box and click "Next" to see the artwork.
DrawingPrompt.com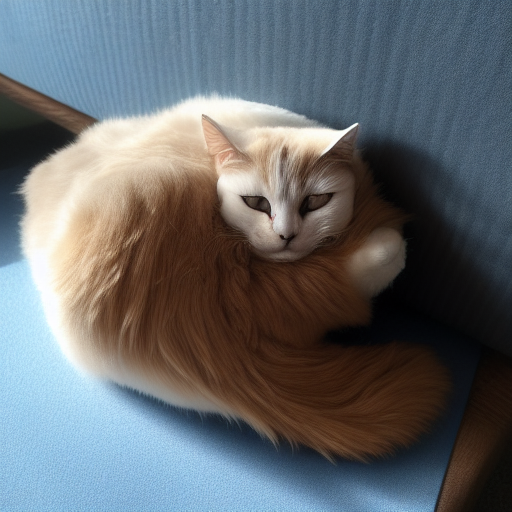 Prompt by DrawingPrompt.com: The Amazing Folding Cat. Cat curled up on a bed in a giant U, long legs stretched out. Eyes are closed, after a long day romping through the garden.
DrawingPrompt.com is not a prompt generator that is solely dedicated to AI art generators. But, you can still leverage this site to create prompts for Stable Diffusion.
To use the DrawingPrompt.com site, you need to simply click the "Create New Prompt" button. If the concept does not suit you, hit the button again.
Otherwise, you can scroll through the different types of categories the DrawingPrompt.com has and select one.

Art Side of Life's Random Art Prompts Generator
Prompt by Art Side of Life's Random Art Prompts Generator: An impossibly tall waterfall glowing with its own inner light
Art Side of Life's Random Art Prompts Generator has a collection of over 1000 art ideas and art prompts. It is primarily designed for naive art.
Although it is not specifically designed for AI art generators, it can be used to play with Stable Diffusion AI. In particular, it is suitable for children or people who don't have any knowledge of art.
Creating prompts in this generator is also very easy. Just select the category from the dropdown and hit "Generate Your Prompt" button.
Conclusion
If you are feeling stuck or you want to go wild with Stable Diffusion AI art generator, you can try out these 4 free prompt generators.
Besides these prompt generators, PromptBase also offers Stable Diffusion, Midjourney, DALL·E, and GPT-3 prompts. But it is not free to use.