Midjourney is a famous generative AI model that is accessible on the official Discord server of Midjourney Lab. Like other text-to-image models, it has its own community.
Give it a text description known as a "prompt", Midjourney will give you four images as a response to your input prompt. The Midjourney also has options to upscale the generated image as well as make variations of it.
Midjourney has been accumulating enormous potential with every update that rolls out. 
Does Midjourney Create Architectural Designs?
Yes, Midjourney has the potential to create architectural designs. But the thing is how well you are communicating with it. It totally depends on the input prompt. The quality of the Midjourney artwork is directly proportional to the quality of the input prompt.
To master prompting, first, you need to know prompt engineering. Then, it is essential to know the jargon of architecture, such as shapes, mediums, views, landscapes, styles, and architect names, to create architectural designs.
Don't worry. To make things easier, I wrote an article with a slew of architectural keywords. Feel free to use it: An Ultimate Guide to Get Architectural Design Images Using AI Art Generators.
Also, I made an easy-to-use all-in-one Midjourney guide for beginners as well as intermediates that helps anyone to create Midjourney prompts seamlessly. The guide not only covers architecture prompts, but also portrait photography, animations, UI/UX design, app icon design, interior design and more.
Best Midjourney Architecture Prompts
Midjourney Isometric Architecture Design
Prompt #1
an isometric architecture of a modern office building, glass front, glass lift, designed by Alexei Savrasov, 3D, Unreal Engine –q 2 –s 650
Prompt #2
an isometric architecture of a futuristic office building, Bauhaus style, designed by Frank Lloyd Wright, 3D, SketchUp –q 2 –s 650
Prompt #3
an isometric Neoclassical villa, solar panel rooftops, stylish elevation, golden hour, Jeanne Gang, CryEngine –q 2 –s 700
Prompt #4
an isometric spiral-shaped skyscraper with a Helix design, blender render by Pablo Carpio –q 2 –s 650
Prompt #5
an axonometric clam-shaped restaurant, futurism, rendered in Autodesk 3ds Max, Ivan Shishkin, vray –s 700 –q 2
Prompt #6
an isometric brutalist office tower, concrete and glass facade, multi-Level sky garden, cityscape views, by Martin Deschambault –s 700 –q 5
Prompt #7
isometric, modern Victorian mansion, brick exterior with intricate details, car parking, wrap-around porch, dusk, CryEngine –s 650 –q 5
Prompt #8
axonometric, neofuturist architecture, skyscraper, glassfront, Helix design by Mies Van der Rohe, Autodesk 3ds Max –s 650 –q 5
Prompt #9
axonometric, Zen garden pavilion with sliding glass walls, contemporary, Cineme4D render by Stanley Twardowicz –s 650 –q 5
Prompt #10
isometric, modern mud house, futuristic design, lit up at night, 3D, SketchUp –s 650 –q 2
Midjourney Modern Architecture Design
Prompt #11
A beachfront resort, isometric, 3D, arched buildings, sealife, Octane render by Zaha Hadid –q 2 –s 700 –c 50
Prompt #12
Floating restaurant with a modern minimalist design, night view, glo-fi light-lime colors, Alexei Savrasov –s 750 –q 2
Prompt #13
a sketch of 100,000 sq. ft modern entertainment venue, a facade with interactive lighting display, high ceiling architecture, by Alexei Savrasov –q 2 –ar 16:9 –s 700
Prompt #14
a futuristic office building, a facade that features dynamic kinetic lighting, first-person view, Unity Engine –s 700 –q 2 –ar 16:9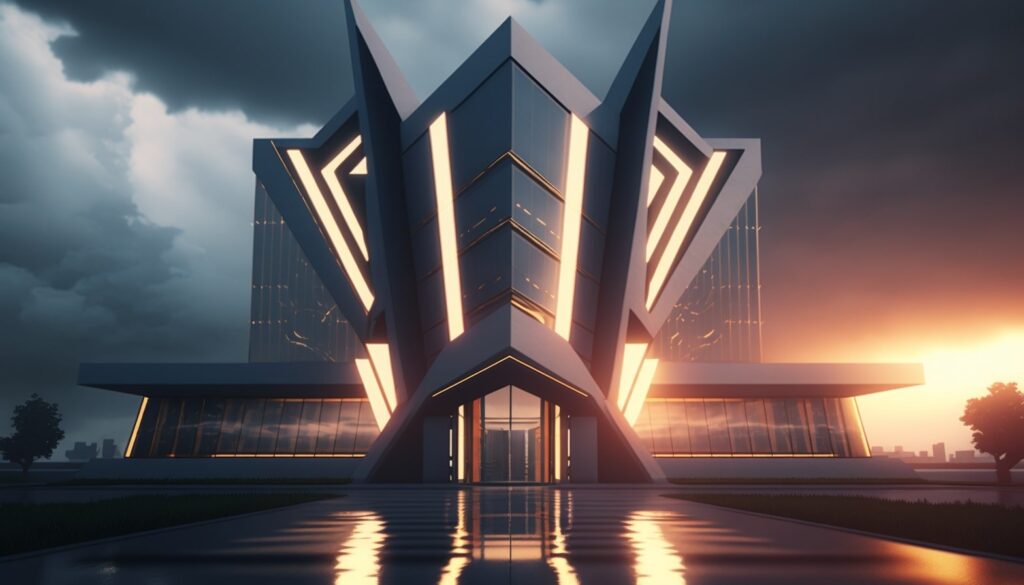 Prompt #15
luxury hotel with a facade made up of textures and materials, such as wood, metal, and glass, artstation hq, Neo-Concretism, architecture photography –s 750 –q 2
Prompt #16
residential apartment with a stepped, terraced elevation, neo-concretism, glo-fi dark-purple accents, inspired by Jeanne Gang –ar 16:9 –q 2 –s 650
Prompt #17
neo-futuristic civic building with a facade that features an abstract, geometric design pattern inspired by African-culture, dark golden accents on edges and pillars, CryEngine render by Ivan Shishkin –ar 16:9 –s 700 –q 2
Prompt #18
Editorial style photograph of sports stadium, a striking geometric facade, architecture design, gloomy colors, design by Stanley Twardowicz –s 750 –ar 16:9 –q 5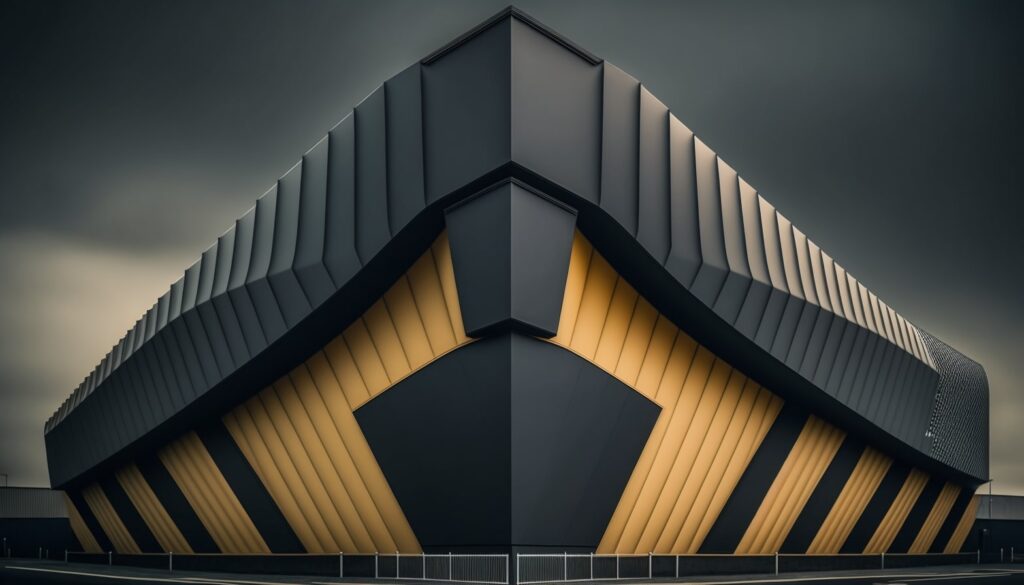 Prompt #19
a cyberpunk modern house, stylish elevations, cantilevered design, cityscape, side view, 1080p –s 500 –ar 16:9
Prompt #20
modern hotel, editorial style photo, front view, contemporary, The hotel pool area, Stone, Glass, Wood, Luxurious Finish, Neutral, Hotel Brand, Natural Light with Warm Tones, Seaside Resort, Beachfront, Sunset, Relaxing, Modernism, Minimalist –ar 16:9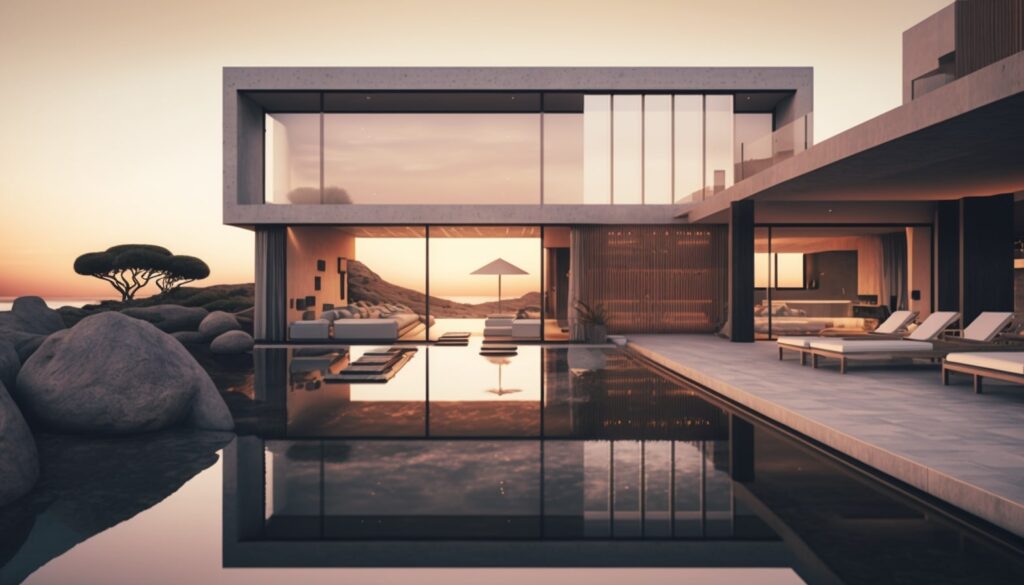 Prompt #21
a sketch of a modern home that incorporates living walls and vertical gardens, a lime-green facade, design by Atey Ghallan, rendered in SketchUp, HD –ar 16:9 –q 2
Prompt #22
an illustration of exterior architecture of a modern home that maximizes natural light, large windows, skylights, and light wells, modernism, futurism, designs by Frank Gehry, Santiago Calatrava, UHD –ar 16:9 –q 2
Prompt #23
a neofuturistic compact house, biomorphic architecture, behance contest winner, elegant patio with elevations, parking area, a digital rendering by Peter Zumthor –ar 16:9 –s 650
Prompt #24
a modern treehouse in a natural setting, Baroque architecture, materials, such as bamboo or reclaimed wood, incorporate natural light and ventilation, 1080p –ar 16:9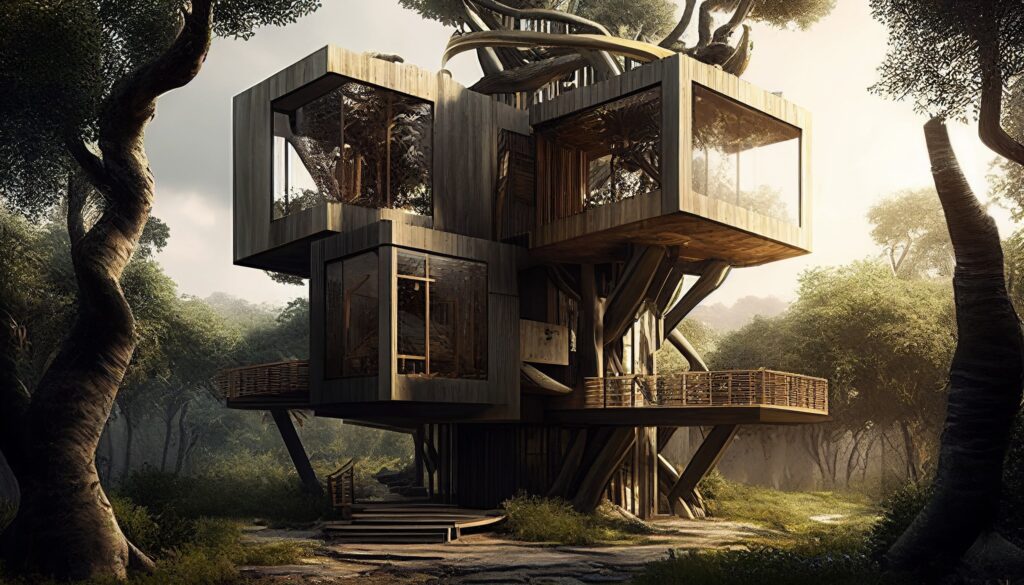 Prompt #25
Contemporary luxury house, grand facade and patio, minimal geometric patterns, glo-fi light-yellow accents, lit up at night, misty weather, rendered in Cineme4D by Peter Zumthor, 4k, UHD, Super-Resolution, 1080p –ar 16:9
Prompt #26
a one-of-a kind modern house, never seen before in history, meaningful elevations, stylish compund walls and large gate, Autodesk 3ds Max by Ivan Shishkin, realistic, view from helicopter, cloudy sky, 8k, UHD, Super-Resolution, 1080p –ar 16:9
Midjourney Mountain Embed Architecture Design
Prompt #27
a drone shot, post-modern stunning glass cliff house that hangs off the edge of a mountain, a system that allows for the house to rotate, by Frank Gehry and Frank Lloyd Wright, 1080p, Full-HD –s 650 –ar 16:9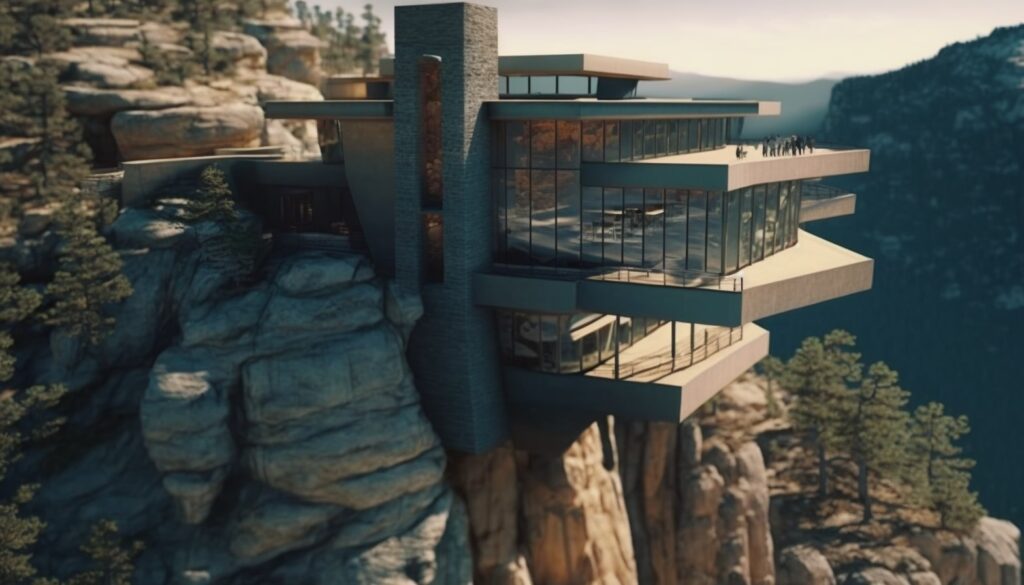 Prompt #28
a diorama of a vertical village that incorporates multi-level living spaces, outdoor terraces, and rooftop garden, striking designs, studio lighting, 1080p, Full-HD –ar 16:9 –s 600
Prompt #29
a low poly futuristic treehouse in the natural landscape of the mountain, a glass observation deck, pastel colors, design by Peter Zumthor, 32k, Full-HD –ar 16:9 –s 600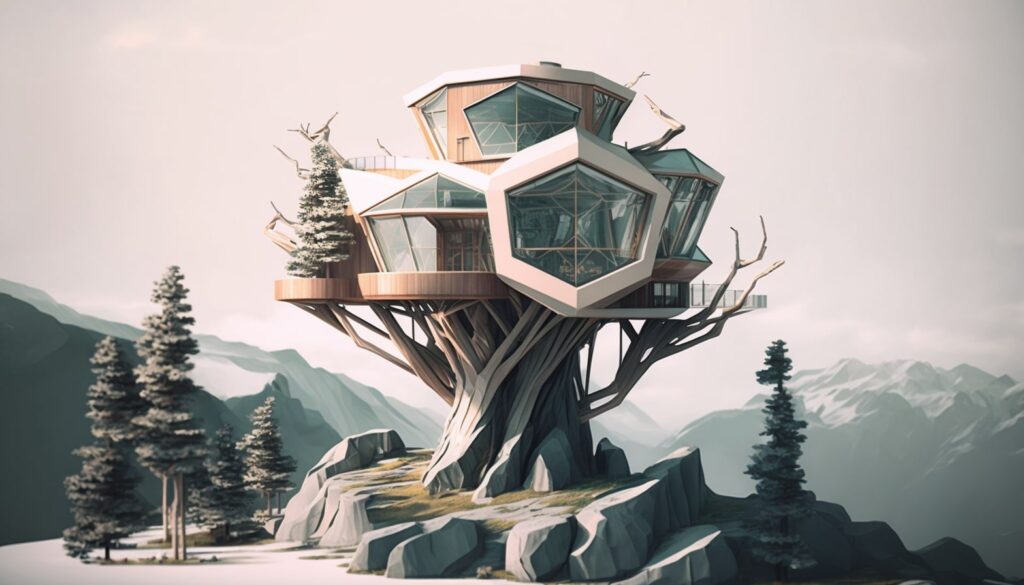 Prompt #30
a lowpoly stunning lumber wood cabins, partially embedded into the mountain, a magical and otherworldly atmosphere, first-person view, whole design by Mies Van der Rohe, clean sky, 32k, Full-HD –q 2 –ar 16:9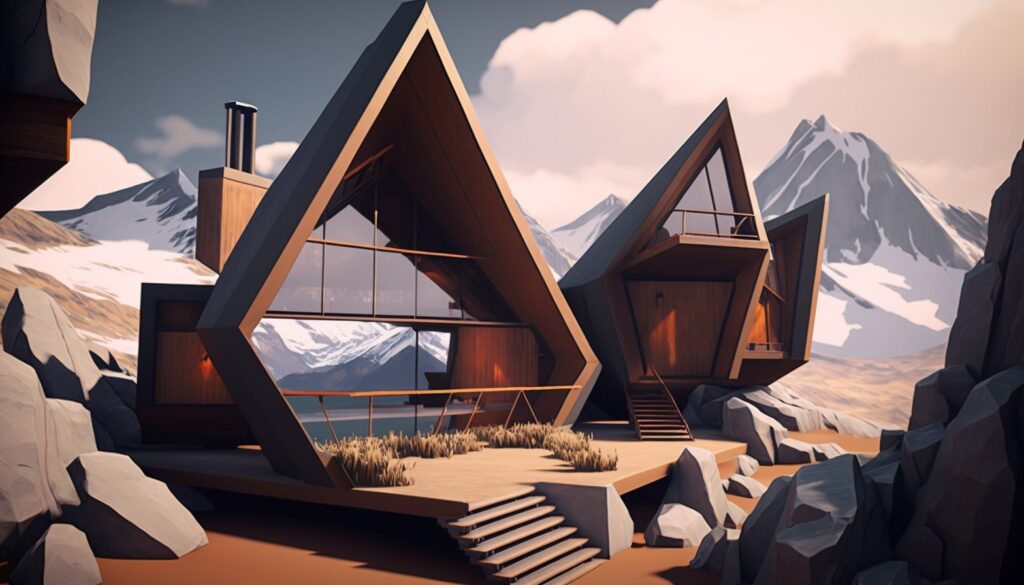 Prompt #31
futuristic living pods, float on the mountainside, futurism, vector, flat, archtecture design by Martin Deschambault, unreal engine, night, 4k –ar 16:9
Prompt #32
editorial style photography of a midcentury modern villa, perched on the edge of a cliff, symmetrical geometric style, brutalism, expensive, breathtaking, 32k, architecture photography –ar 3:2 –s 650
Prompt #33
editorial style photo of a home perched on a cliff, modern design aesthetics by Mike "Beeple" Winkelmann and Santiago Calatrava, Cyan and golden accents, sunny day, geometric pattern on the facade, 32k, architecture photography –ar 3:2
Prompt #34
editorial photograph of a highly stylish villa on the edge of the mountain, inspired by Gabriel Cecilio, morning sun, architecture photography, 32k –ar 3:2
Prompt #35
Editorial photo of cabins on the mountain, Santorini Architecture, modern, mid-century style, mocha color, inspired by Gabriel Cecilio, dusk, biomorphic –s 650 –ar 3:2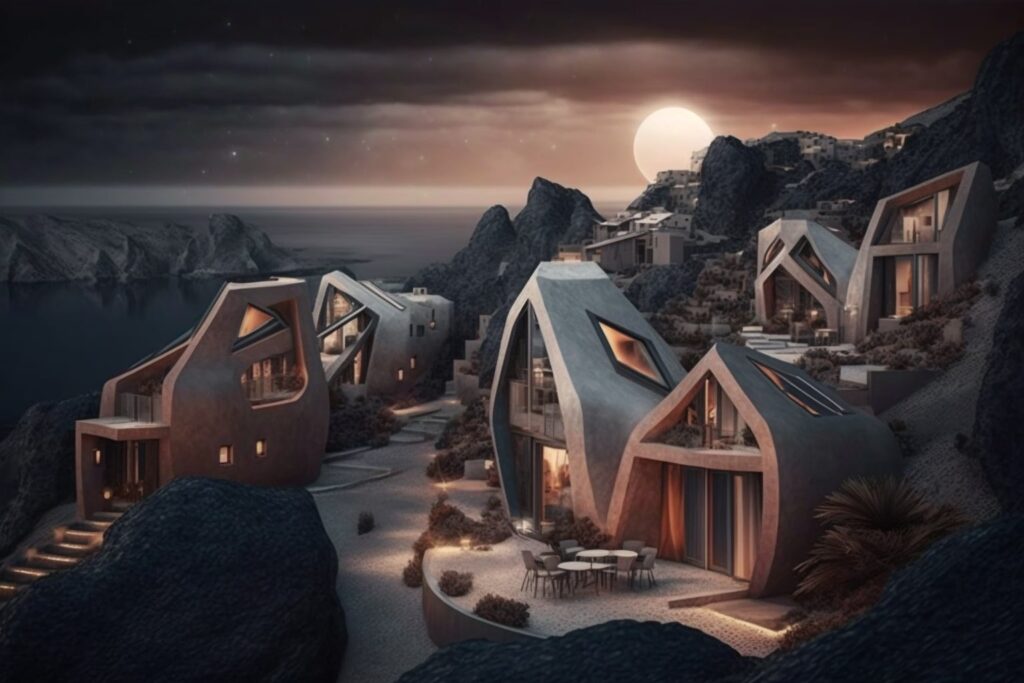 Prompt #36
Editorial photography, Archimedean spiral-shaped living space on a majestic mountain, shining exterior, luxe, black and golden colors, outer wilds, waterfalls on the background, 8k –ar 3:2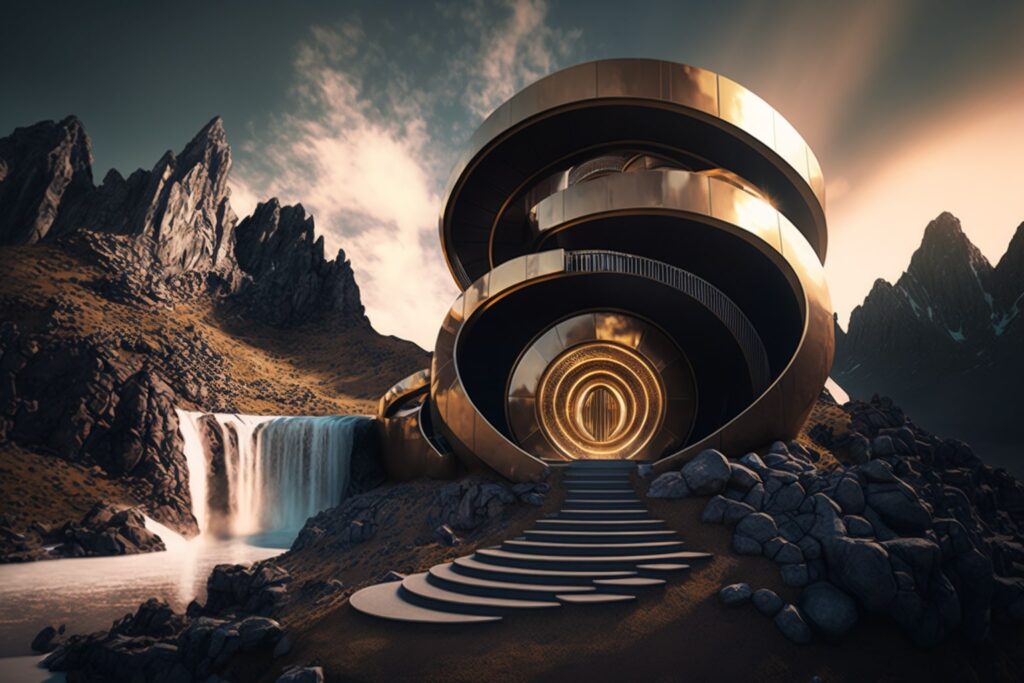 Prompt #37
Editorial photograph, saddle-like shaped hotel overlooking the lush Swiss Alps, glo-fi light pink facade, neo, night, stars on sky, architecture photography, 8k –ar 16:9
Midjourney Modern Skyscraper Prompts
Prompt #38
editorial photo from Dwell, a modern skyscraper on cityscape, helix design, inspired by ibda design, drone shot, cinematic lighting, architecture photography, cloudy sky, 8k, Full-HD –ar 3:2
Prompt #39
a 3D model of a futuristic skyscraper villa, a diamond-shaped portion in the center of the facade, studio lighting, Cineme4D render, 8k –q 2 –ar 3:2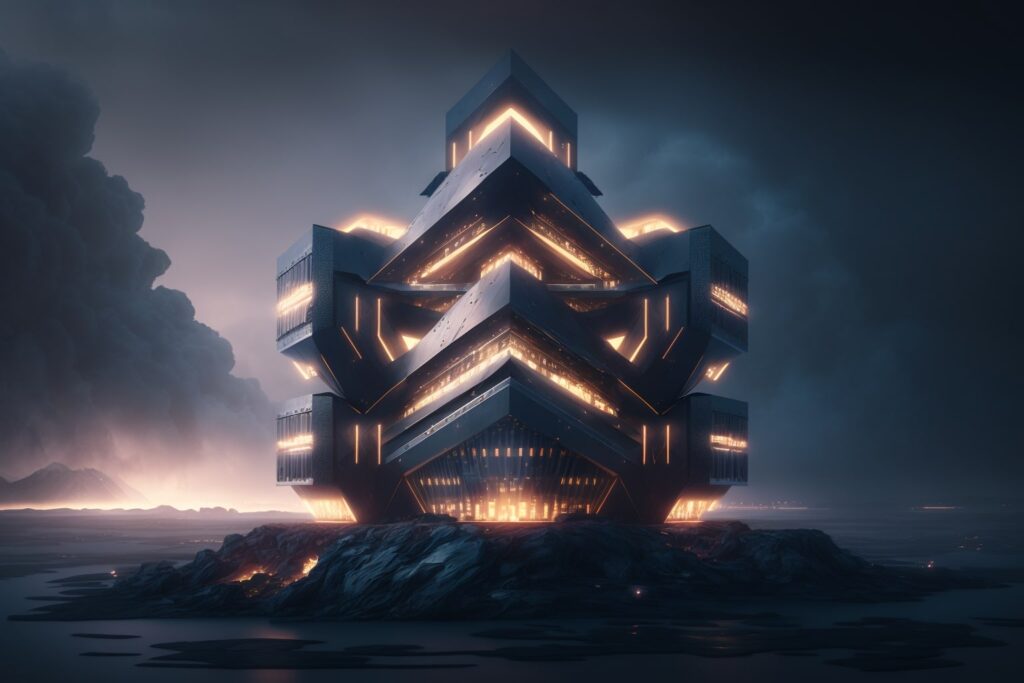 Prompt #40
a diorama of a post-modern skyscraper, helix design, inspired by Gabriel Cecilio, midday sun, glo-fi, SketchUp render, Full-HD, 8k –ar 3:2
Prompt #41
an isometric stunning skyscraper, cone-shape, minimal light-blue color glo-fi geometric wall structures, diamond-shaped elevated balconies for potted plants, by Gabriel Cecilio, drone view, Unity Engine render, Full-HD, 8k –ar 3:2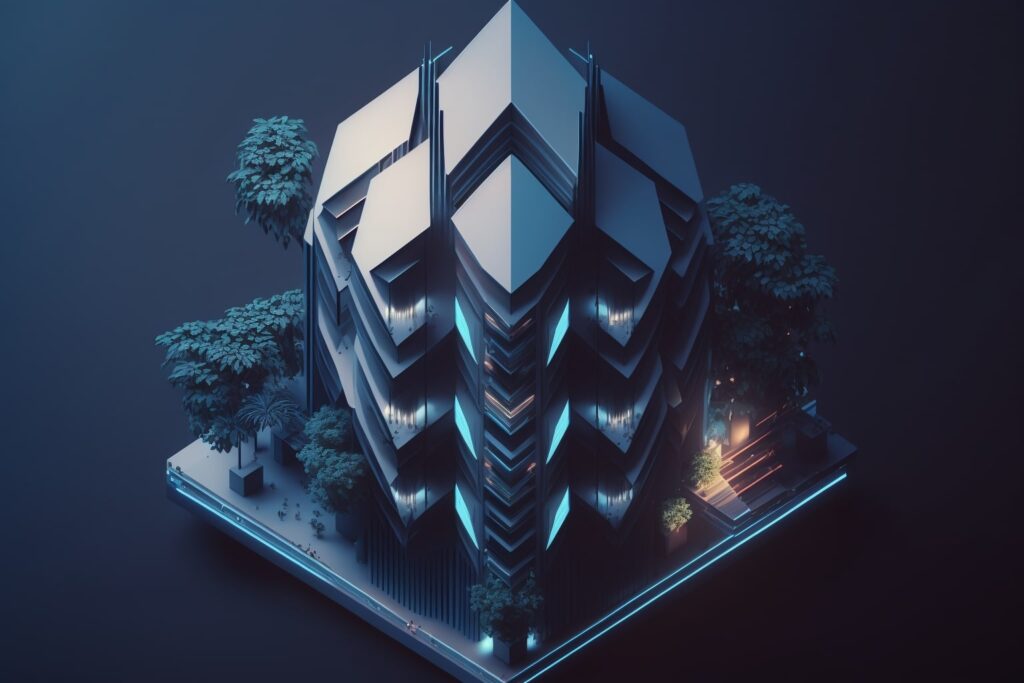 Midjourney Riverside/ Forestside Architecture Prompts
Prompt #42
a picture of a building in the middle of a lake, a digital rendering by Tahir Salahov, instagram contest winner, neo-romanticism, symmetrical, made of glass, futuristic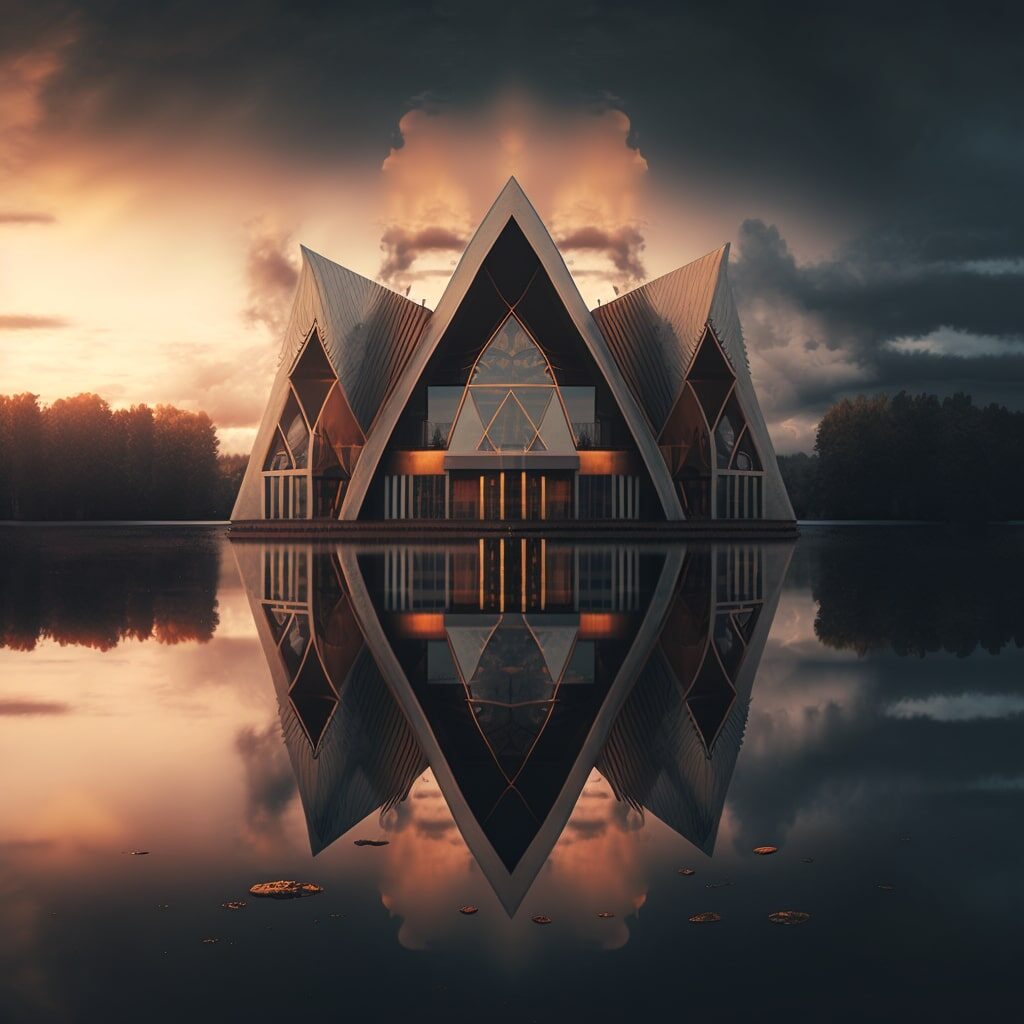 Prompt #43
Editorial photograph of a small house sitting in the middle of a snow covered forest, golden curve structure, resin coated, california, tube wave, sleek waterproof design, outer wilds, dribbble, heated coils, motel, building along a river, 8k –ar 3:2
Prompt #44
editorial photo, ephemeral wave house, nestled in a forest, designed by Atey Ghallan, secluded, architecture photography, 16k –ar 3:2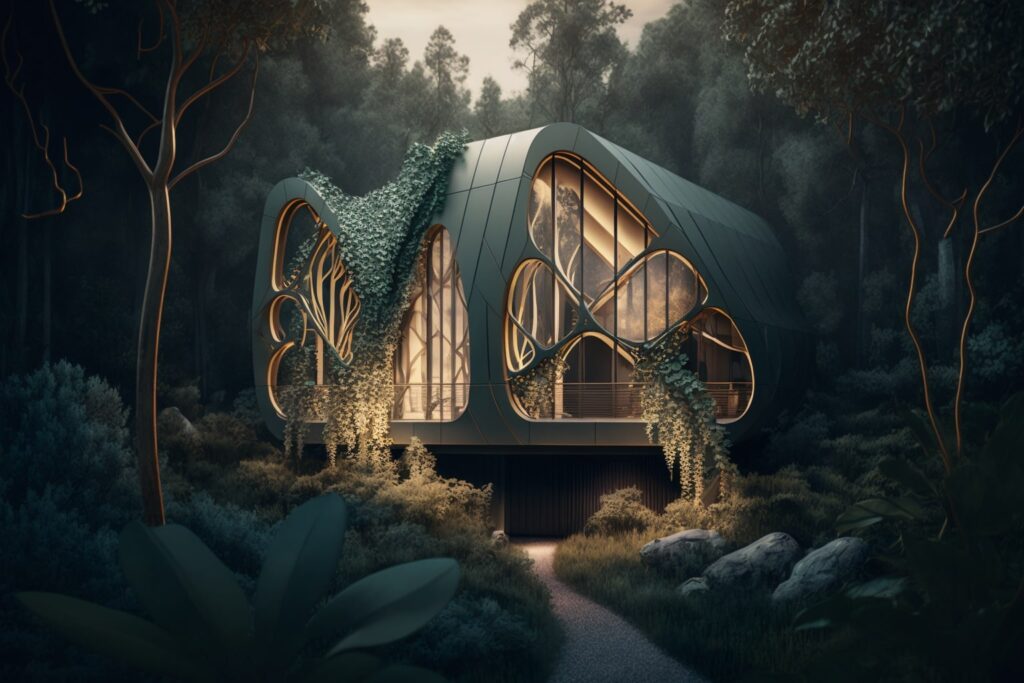 Prompt #45
editorial photo, perennial wave house, nestled in a forest, designed by Atey Ghallan, secluded, architecture photography, 16k –ar 3:2
Prompt #46
Dymaxion home community, geoship sustainable smart-homes, ecohome, pacific northwest, photorealistic, earthship biotecture, regenerative architecture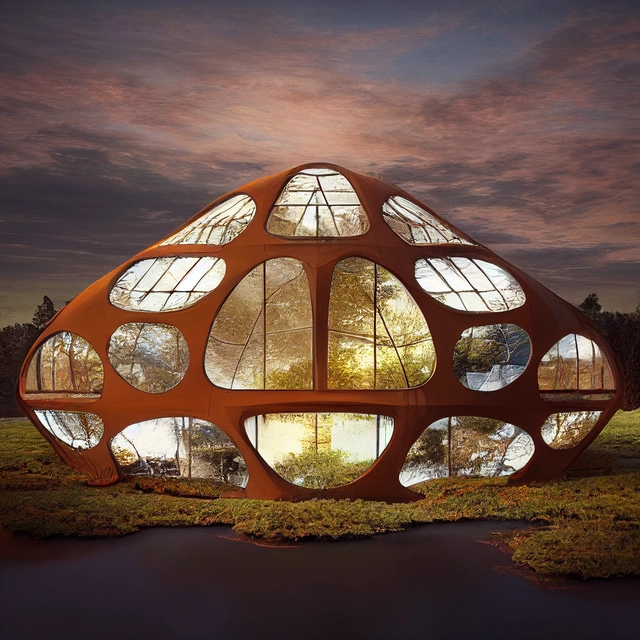 source: OpenArt
Prompt #47
inflatable architecture pavilion in city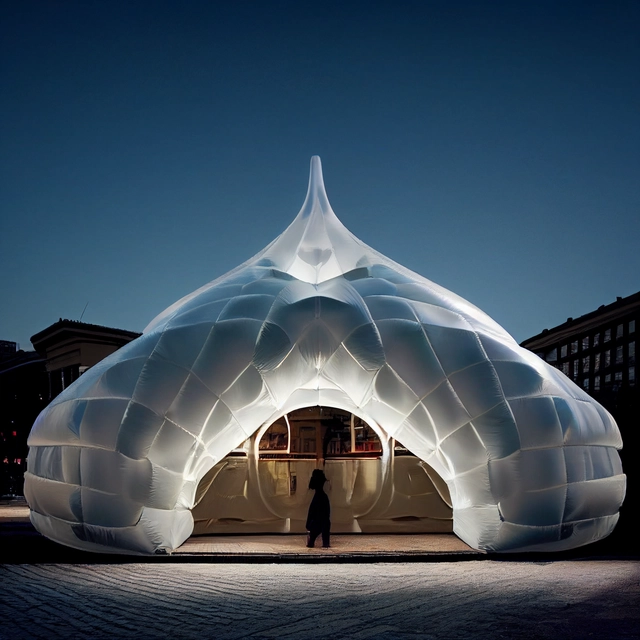 source: OpenArt
Prompt #48
Orthographic perspective, exterior, four story home with a bamboo garden, Sunny weather, house architecture, wood construction, wood house, mid-century modern design, cedar wood house, realistic, ultra-realistic, film photograph, Fujichrome Velvia 100F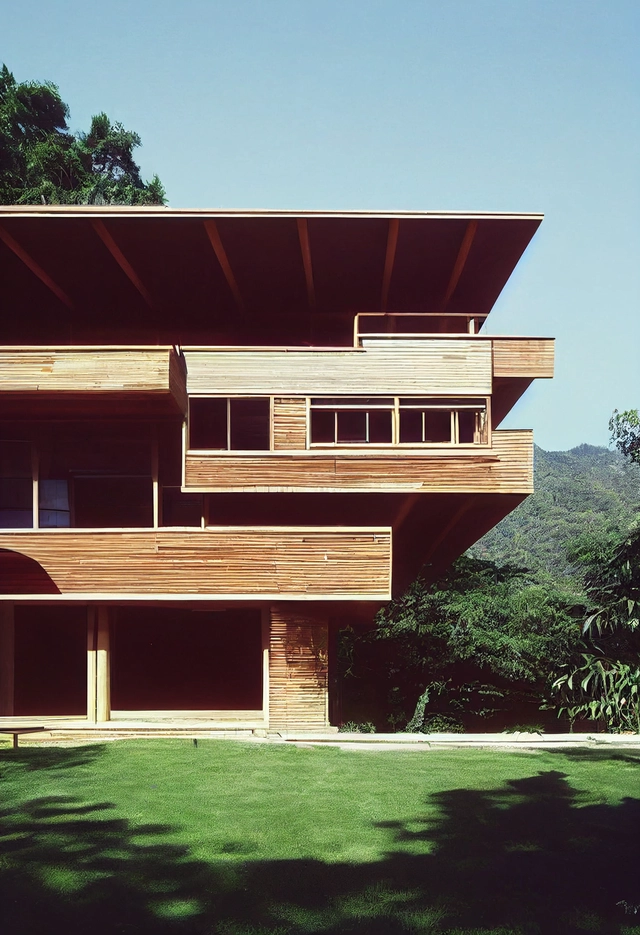 source: OpenArt
Prompt #49
Philip Johnson's Glass House in the rainforest, a sense of luxury and style, elegant, sunny, realistic, ultra-realistic, film photograph, Cinestill 800T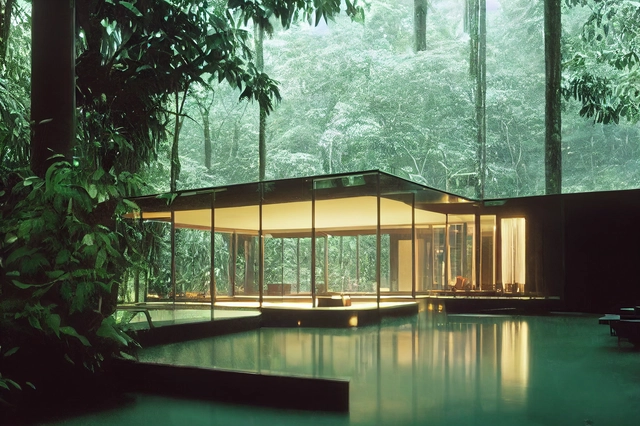 source: OpenArt
Prompt #50
a romantic overgrown oak gall-shaped solarpunk dream house boat 90 sqm, rounded, art deco, in the style of Studio Ghibli, tilt shift, very very very high quality, trending on ArtStation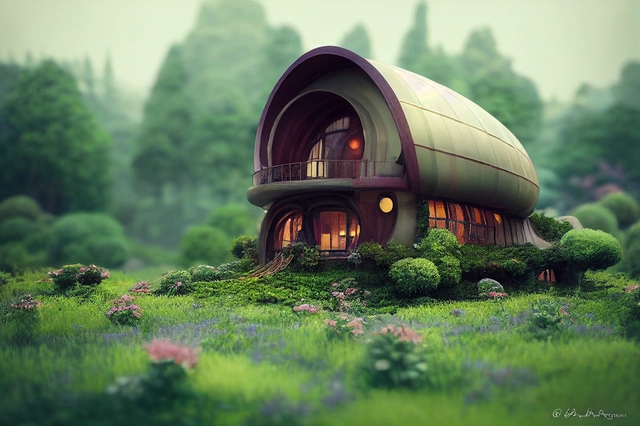 source: OpenArt