Introduction
BitClout is a new social network that is built based on the custom blockchain. This open-source project lets users speculate on creators and their posts with real money.
Its architecture is similar to Bitcoin. But Bitcoin is decentralizing money whereas BitClout is decentralizing social media.
Decoding…
Think of BitClout in terms of the stock market. Yes—it could be the social media stock market—it invites users to invest in other people's social currency called "Creator Coin"—you can even buy your own coin too.
Here in BitClout, consider,
Creators as Companies
Non-creators/ Fans as Traders/ Investors
The value of a particular coin is correlated with that person's reputation in society. For example, if Elon Musk achieves any milestone, his coin value will go up. If he fails, the value of his coin will go down. Also, the price of the coin moves through buying and selling like the stock market. i.e., Similar to the basic supply and demand law. That being said, creators can make money based on their reputation and the value of their content, rather than the conventional way like on Facebook, Instagram, Quora, YouTube, or TikTok.
Jargon Terms You Should Know
BitClout – An open-source social network.

BitClout ($CLOUT) – Also the cryptocurrency used on the platform to complete transactions and support other creators.

Decentralized – There is no central owner.

Creator Coins – Every profile gets its own coin that anybody can buy and sell using BitClout ($CLOUT).

Public key – String of characters that can be used to link people to your page or analyze your account performance on tools like BitClout Pulse (We'll cover Pulse in later posts).

Founder reward (FR) percentage – A percentage that can be credited to your BitClout wallet when someone buys your creator coin. The recommended percentage is 10.

Reclouts – It is identical to Retweets on Twitter.

Diamonds – It is a great way to show your favorite creators support without spending BitClout on their coin. The person who receives your diamond gets a tip taken from your Creator Coin.
BitClout Is Best Suited For
Creators, investors, speculators, and of course the fans of decentralization. If you are a creator of any kind, then you must check this out. Since we are in the early stage of BitClout, you may get a front-runner advantage.
Setting up a BitClout Account
Step 1: Go to bitclout.com and click on Sign Up. You will see two options,
If you choose this option, you will have to remember the seed phrase generated by BitClout. Without the seed phrase, you won't be able to log into your account. Ensure to store your seed phrase offline or through a secure
Note: In case you lose the seed phrase, nobody can help you recover it.
BitClout allows users to sign up with a Google account. By choosing this option you don't have to worry about the seed phrase. Upon choosing, Bitclout.com will ask for permission to use your Google Drive to manage its files. Click Allow.
Finally, you can see an optional message saying, "You can use this seed phrase to log in if you lose access to your Google account". Save it and Click on Continue to bitclout.com.
Step 2: Verify your phone number to get free BitClout.
Step 3: Update your profile. You either need to verify your phone number or purchase BitClout cryptocurrency in order to create a profile.
Note: Bear in mind that you will spend BitClout currency each time you update your profile!
How to Buy BitClout
Buying BitClout is easy. Either you can buy BitClout using USD or Bitcoin.
Step 1: Open BitClout and from the menu on the left, choose "Buy BitClout".
Step 2: You can go with the "Buy with USD" option if you plan to buy <=$450 of BitClout in a week.
If you want to buy more than $450 of BitClout in a week, choose the "Buy with Bitcoin" tab.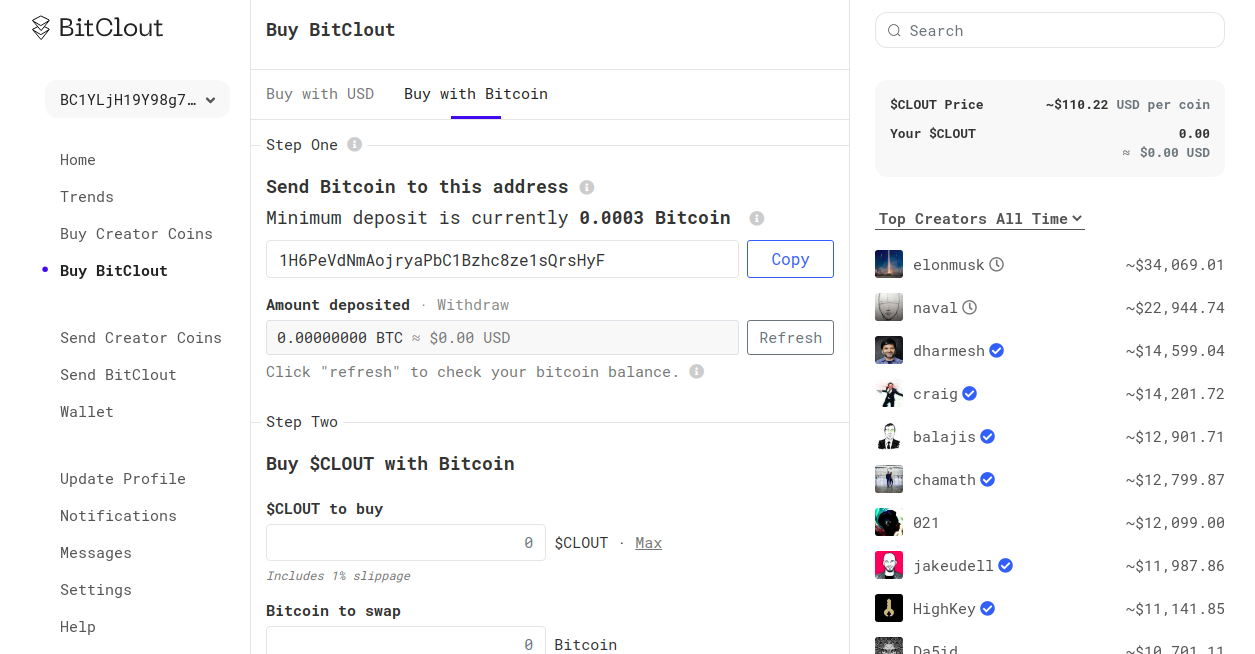 Step 3:
Buy with USD
Fill in the number of dollars you would like to spend and Hit the "Buy BitClout" button. Then, you will complete your transaction through Wyre.
Buy with Bitcoin
First, you need to transfer Bitcoin to the given address and type how many $CLOUT you want to buy. Hit "Buy BitClout".
Step 4: Wait for the confirmation and check your wallet.
What You Can Do With BitClout ($CLOUT)?
You can buy Creator Coins of any influencer/creator using BitClout ($CLOUT) in order to support them or speculate.

You can be the topper in any reply section by buying your own Creator Coin using BitClout ($CLOUT)—Yes, BitClout sorts replies by the value of a commenter's Creator Coin.

You can increase your coin value by investing in it.
Cashing Out Your BitClout
Initially, BitClout was a closed loop, which means you cannot exchange it back for Bitcoin. But recently, BitClout cryptocurrency ($CLOUT) was listed on exchange.blockchain.com. Also, they planned to list BitClout ($CLOUT) in other exchanges as well.
Is BitClout a Scam?
Back then, some people thought BitClout is a Ponzi scheme/ Scam because,
People can only participate in BitClout by exchanging Bitcoin 

There is no way to change $CLOUT back into Bitcoin

There are

rumors

– some creators pre-mined both BTCLT and Creator Coins that were deemed more valuable and they're doing it all for Bitcoin.

No cryptocurrency exchange supports $CLOUT coin
But now people can,
Participate in BitClout by exchanging USD also

Change $CLOUT back into Bitcoin

Currently,

exchange.blockchain.com

 supports $CLOUT and more to come in the future

The number of developments around the BitClout projects gives some hope too:
Media outlets – ProBitClout, Bitnews, Bitstoday, and the Cloudroom.
A Job Listing, a Chrome extension  to rate others, BitClout Pulse

to track the creator coin economy
Most of all, BitClout is backed by VC firm Sequoia Capital firm and the investor's list includes the Winklevoss Twins, Chamath Palihapitiya, and Reddit co-founder Alexis Ohanian.
Bottom Line
We haven't seen anything like BitClout before, and it could very well prove to be the next big thing. However, the project is very young hence act accordingly. Whether you dive right in or wait and see, the decision is yours. Best of luck.