OpenSea, the biggest NFT Marketplace which accounts for more than 90% of the total NFT sales transactions. In the last few months, Opensea has been scaled to millions of users and but their support team is still manual and slow. 
You may want to contact OpenSea for a myriad of reasons such as facing some technical issue with the OpenSea platform, delisting your NFT, knowing about the transaction cost, and so on 
If you have any issues with OpenSea, contacting them would be your last option. Try to fix the issue by reading their help center, googling out the issue,  talking with the community, and asking for help on Twitter. If you aren't able to solve the problem even after that, you can directly raise the support tickets.
OpenSea Contact Details
Get support via official channels.

Customer support is never as fast as we want it to be, but soliciting help on social channels or Discord, where OpenSea does not provide official customer support, can make you a target for scammers.

— OpenSea (@opensea) October 4, 2021
How to Contact OpenSea and Raise Support Tickets
You can find a solution to the problem you are facing with the OpenSea Platform in the following ways 
Visit OpenSea Help Center 
Over 99% of problems are repeated and common, for most of the problems, there will be a solution on the OpenSea Help Center page. 
Before contacting the OpenSea support team, you can google out your problem or checkout the OpenSea help center page 
On the OpenSea help center page, they have written detailed solutions to every problem faced on the platform. The good things about their support page are they have categorized each solution so that users can be able to look out for solutions as fast as possible. 
You can also search for the solution you are looking for, on the OpenSea Help Center Page.
How to raise support tickets on OpenSea 
You can raise a support ticket on OpenSea through this link 
Checkout: https://support.opensea.io/hc/en-us/requests/new
You can select the category for which you are intended to seek solutions. For example, I have selected Report a Bug or Error Message. You have to fill out all the necessary questions on the forms, Be specific, clear, concise about your problem and it would be better if you add an image attachment. 
The clearer your information and the faster your issue would get resolved.
The support team would get back to you in 48 hours to  72 hours. Sometimes it may take more than 5 days to get a reply from their support team. 
Contact OpenSea through Discord Community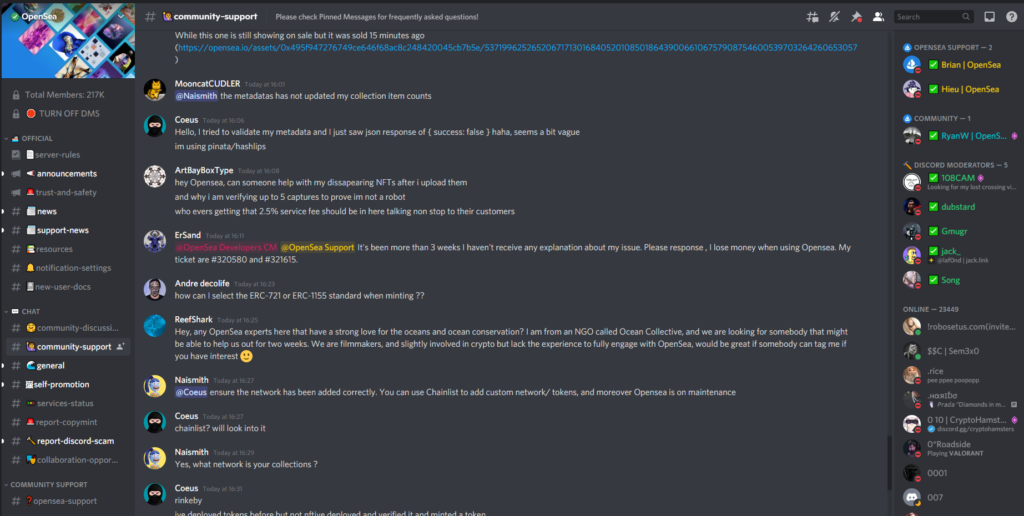 OpenSea has one of the most vibrant discord communities which has more than 217K members. You can look for a solution for your problem through the OpenSea discord community. 
There is a separate chat option in discord for community support and OpenSea-support where you can seek solutions for the problem you are facing. In community support, any discord member can able to answer your queries, and this is not someone from the OpenSea team. 
Beware there are a lot of scams are happening on discord. Never share your secret recovery phrases with anyone and even with the OpenSea support team members. 
Join their Discord Community
Contact OpenSea Through Twitter 
You can contact OpenSea support directly through Twitter. OpenSea twitter handled has been followed by more than a million followers. Raising an issue on Twitter will not only get solutions from the OpenSea support team but also from twitter community members. Beware there are a lot of scams are happening on Twitter as well. 
You can follow OpenSea Twitter Page here
Raise your issue on OpenSea Subreddit 
OpenSea Subreddit has been followed by more than 100K members. The Opensea subreddit community is vibrant and you can seek solutions and promote your NFT on the OpenSea subreddit page. Never share your secret recovery phrases on the subreddit. 
Checkout OpenSea Reddit Page
Contacting them through Direct Email 
Every day OpenSea will get 1000s of emails directly. If you are planning to contact OpenSea through email, be specific, concise, and have a proper email attachment.  My advice would be never to contact OpenSea through direct email for some common issue. Contact them through mail only if there is a serious business discussion with the OpenSea team.
OpenSea email address: contact@opensea.com, support@opensea.com