Keplr wallet is the first IBC-enabled non-custodial wallet for the Cosmos ecosystem.
Inter-Block Communication (IBC) is a protocol that bridges different blockchains of different infrastructures and algorithms for communication and transactions.
Keplr is a single wallet for over 20 blockchains.
Users can send and receive crypto tokens, stake and get rewards, access dApps, and perform IBC transfers using the Keplr wallet.
Being a non-custodial wallet, Keplr stores seed phrases and passwords on the user's machine.
Keplr is available as a browser extension (Chrome) and mobile application (Android and iOS).
In this article, you will learn how to download, install Keplr wallet extension, set up the Keplr wallet account, and use it.
Steps to Create and Use Keplr Wallet
1. Download the Keplr Wallet Extension
Keplr wallet is available as an extension for Chrome.
To download the Keplr wallet, you need to go to the Keplr website.
Click on the "two parallel lines" on the top right corner of the webpage.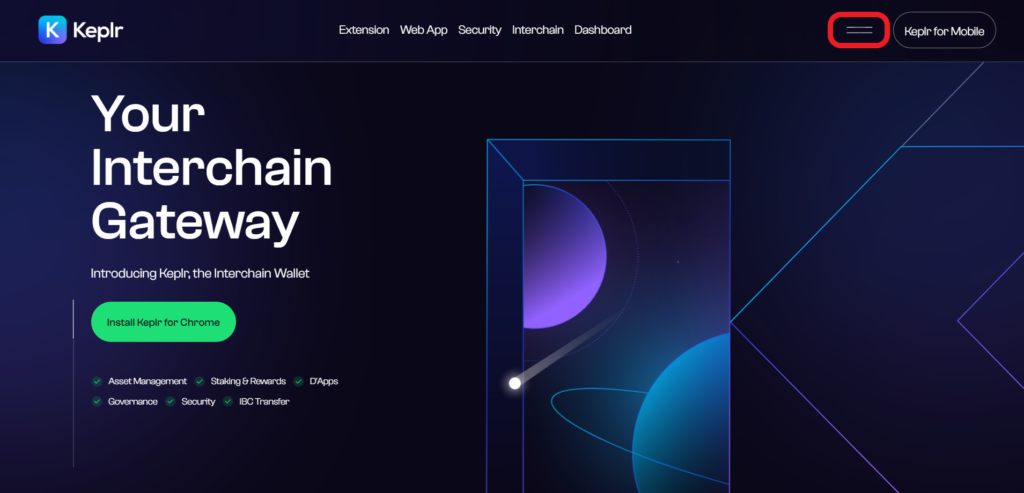 Then, you can install the wallet from the Chrome web store.
2. Click on "
Create new account
"
After the download and installation, you need to click on the Keplr browser extension.
Then, a window will open up.
On that window, you will be able to see four options, such as Sign in with Google, Create new account, Import existing account, and Import Ledger.
Click on "Create new account".
3. Backup the Mnemonic Seed and Set Password
After clicking on "Create new account", the Keplr webpage will display the Mnemonic Seed.
Note it down on a piece of paper or two and store it somewhere safe.
The mnemonic seed is the only way you could recover your account. Anyone with the mnemonic phrase/ seed phrase will have full access to your account.
Hence, it is very essential to store the mnemonic seed in a safe and secured manner. You can refer to this guide on Best Practices for Storing and Securing Your Recovery Phrases / Mnemonic Phrase.
After taking a backup of your mnemonic seed, you need to set an account name for your Keplr wallet account.
Then, set a strong password with a combination of alphanumerical and special characters.
This password will be used to sign in to your Keplr wallet on your current device.
Lastly, click on "Next".
4. Verify the Mnemonic Seed
Once you have taken a backup of your mnemonic seed phrase and set the account name and password, you need to verify your mnemonic seed phrase.
To verify your mnemonic seed phrase, you need to rearrange the mnemonic seed phrase that is shuffled.
Lastly, click on "Register".
You have successfully created your Keplr wallet account.
5. Use Keplr Wallet
After the account setup process, you need to navigate to the Keplr wallet extension and click on it to open.
Now, you will be able to see the dashboard that contains the details of the total balance, available and staked tokens.
You can send tokens by clicking on the Send button and receive tokens by clicking on the Deposit button.
You can also stake your tokens and earn up to 18.9% by clicking on the Stake button.
To change the network in Keplr wallet, click on the network dropdown button.
To sign out from your Keplr wallet account, click on the "three parallel lines" in the top left corner of your wallet extension.
Conclusion
Keplr wallet installation and account creation are simple and straightforward tasks.
The account setup process and functioning of the Keplr mobile application are more or less the same.
Keep in mind that the mnemonic seed phrase/ secret recovery phrase is the key component that generates the public/ private key pair for your account.
Hence, if anyone has access to your mnemonic seed/ secret recovery phrase, they will have full access to your Avalanche Wallet account.
In case of a lost mnemonic seed phrase, you will not be able to recover your assets.