Avalanche Wallet is an easy-to-use and non-custodial wallet for the management of Avalanche assets.
Non-custodial wallet refers to wallets that store information, such as private key, and seed phrase/ recovery phrase on the local device rather than a centralized server.
Since Avalanche wallet is a web wallet, there is no need for a password to log in. Each time you need to enter your mnemonic key phrase, private key, Keystore file, or ledger to access your Avalanche Wallet.
In this article, you will learn how to set up the Avalanche Wallet account, and use it.
Steps to Create and Use Avalanche Wallet
1. Click on "
Create New Wallet
"
Since Avalanche Wallet is not available as an extension, you need to visit https://wallet.avax.network/ to access it.
After visiting the website, you will be able to view two options: Access Wallet and Create New Wallet.
Since you need to create an Avalanche Wallet account, click on "Create New Wallet".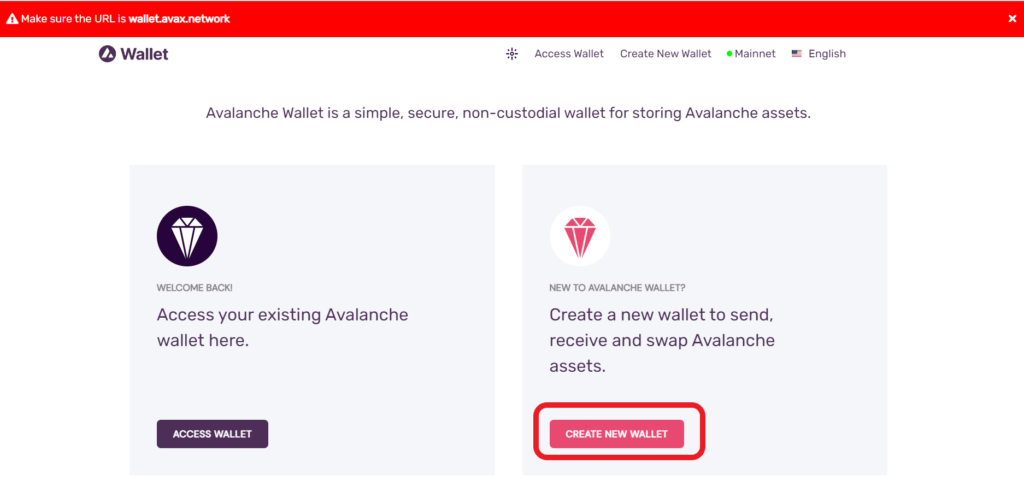 2. Backup the Key Phrase
After clicking on Create New Wallet, you are all set to generate key phrases for your account.
Read the Terms of Use and click on "Generate Key Phrase".
Now, the webpage will display the 24-word mnemonic key phrase.
Make sure to note it down on a piece of paper and store it somewhere safe. You can refer to this guide on Best Practices for Storing and Securing Your Recovery Phrases / Mnemonic Phrase.
After noting the key phrase, select the checkbox at the bottom of the page and click on "Access Wallet".
3. Verify the Key Phrase
Once you have backed up your mnemonic key phrase, you need to verify it before accessing your wallet account.
Now, the webpage will display a few options of your mnemonic key phrase and ask you to select a word in a particular position.
Select words and click on "Verify".
In the event of successful mnemonic key phrase verification, you will get to see the Congratulation message and Access Wallet button.
Click on "Access Wallet".
4. Use Avalanche Wallet
After the successful verification, you will land on your Avalanche Wallet dashboard.
There you will be able to see your tokens purchased or received, the wallet balances, and NFTs.
Your wallet will have three addresses for Avalanche X-chain, Avalanche P-chain, and Avalanche C-chain.
To send AVAX tokens to the recipient address, you need to click on "Send" located on the left sidebar.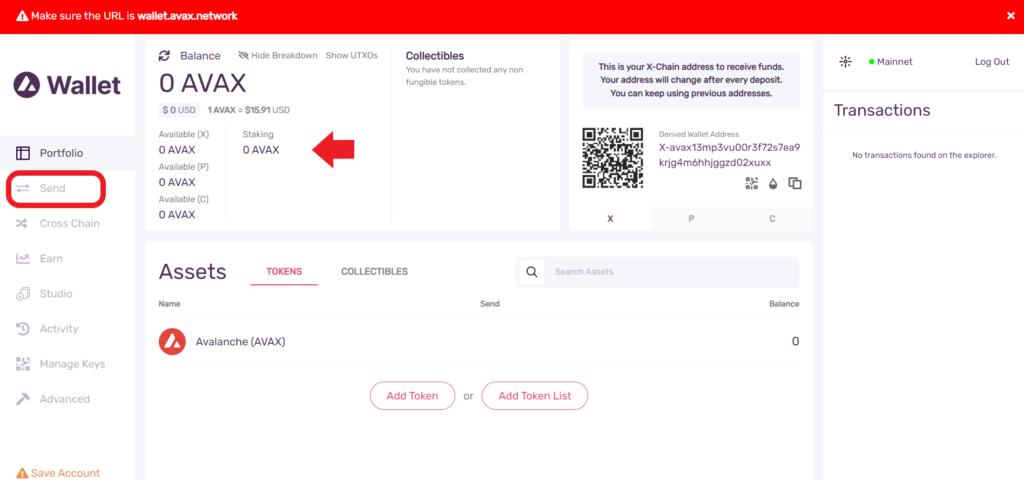 Then, select the chain X or C.
Next, enter the amount and paste the address.
Lastly, click "Confirm".
Apart from the transactions, you can also stake your AVAX tokens and earn more AVAX tokens.
To do so, you need to click on "Earn" on the left sidebar.
Conclusion
Avalanche Wallet creation and account setup process is a simple and easy task.
The mnemonic key phrase/ secret recovery phrase is the key component that generates the public/ private key pair for your account.
Hence, if anyone has access to your mnemonic/ secret recovery phrase, they will have full access to your Avalanche Wallet account.
Once you are done with your Avalanche asset management or transaction, you can log out from your account by clicking on "Log Out" at the top right corner of the web page.
The next time you want to access the wallet, visit the website and click on "Access Wallet" instead of "Create New Wallet". Then, use the mnemonic key phrase or private key to access it.
FAQ
1. Does Avalanche Wallet have password settings?
No, Avalanche Wallet does not have a password option so far. Since the team doesn't want to save data by their wallet, they are looking for other ways.
Hence, users need to use their mnemonic key phrase, private keys, or Keystore files to log in each time.