TokenPocket Wallet is a multi-chain crypto wallet that is a gateway for web3.
TokenPocket allows users to send, receive, buy, and swap tokens on multiple chains. Users can also store and transfer NFTs.
With the TokenPocket Wallet, you can interact with decentralized finance (Defi) apps, decentralized exchanges (DEXs), non-fungible token (NFT) marketplaces, and games on the supported blockchains.
It is available as a browser extension (for Chrome, Brave, Firefox, and Opera), mobile application (for Android and iOS), and a desktop application.
TokenPocket supports hard wallets such as KeyPal, Ledger, and Trezor.
How to Create TokenPocket Wallet?
To use TokenPocket Wallet, you need to download the extension, mobile application, or desktop application.
Then, you need to create your wallet account.
The account creation process includes setting a new password and backing up the secret recovery phrase.
Steps to Create and Use TokenPocket Wallet
1. Download the Extension/ Application
TokenPocket is available as an extension for Chrome, Brave, Firefox, and Opera. 
It is also available as a mobile application for Android and iOS and as a desktop application.
To download TokenPocket Wallet, you need to go to the TokenPocket website.
Choose any option, mobile or extension, and install it.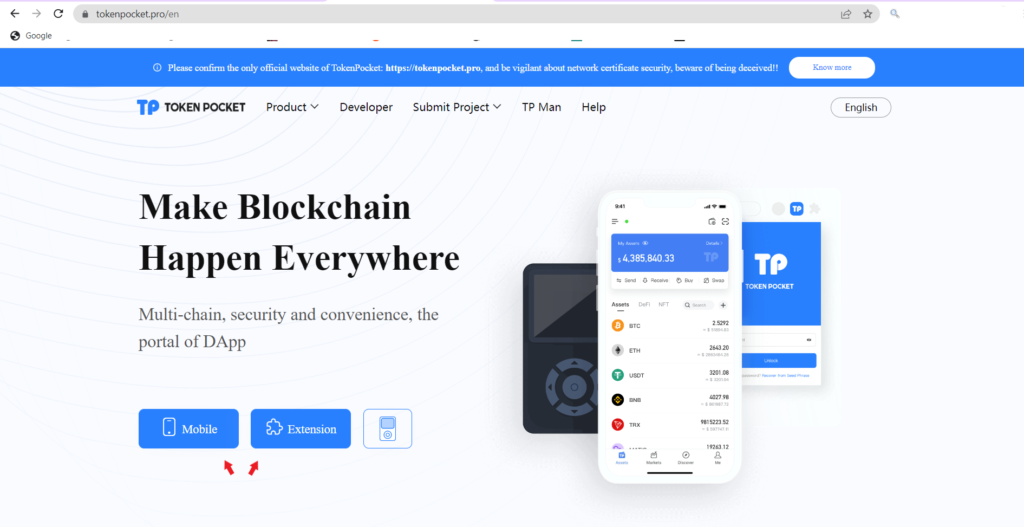 2. Click "
Create Wallet
"
After completing the download and installation, you need to open the TokenPocket extension.
To open the extension on Chrome, you need to click on the "puzzle icon" at the top right corner of the web browser.
Then, navigate to TokenPocket and click on it.
Now, you are ready to connect to the blockchain. Click "Start".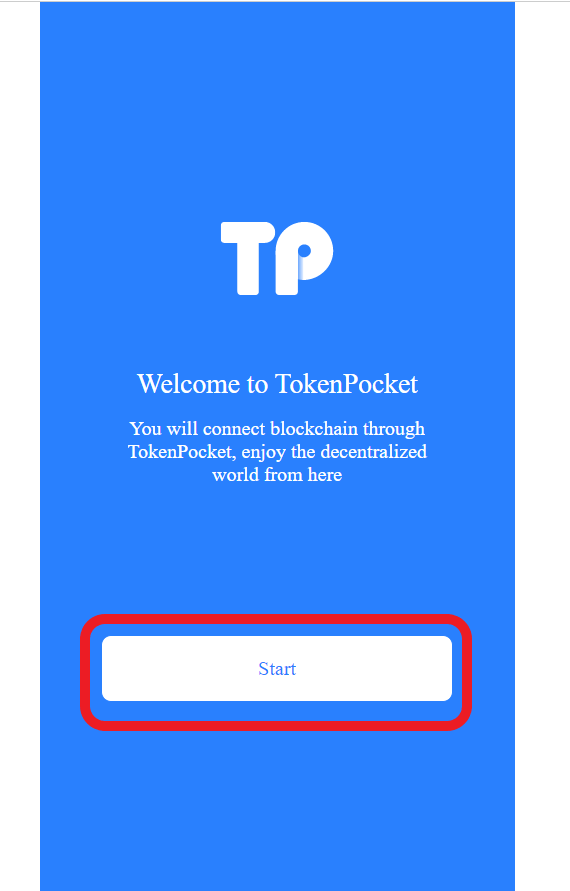 Next, click "Create Wallet" since you are new to this wallet. 
3. Set Password
As a part of the wallet creation process, you will be asked to set a password.
Set a password with a minimum of 8 characters along with special characters and numbers.
Then, click "Create".
Bear in mind that this password is only for the device that you are using right now. And, it gets stored on your device only, not on the server of TokenPocket.
Hence, take a backup or remember your password. However, you can reset the password if you have forgotten it.
4. Backup the Recovery Phrase
Next, you need to back up your secret recovery phrase.
The secret recovery phrase has full control over your wallet account. And, it is not stored on the servers of the wallet.
Since TokenPocket Wallet is a decentralized/ non-custodial wallet, users are responsible for their secret recovery phrase. This is what non-custodial means.
Due to the non-custodial property of the wallet, you need to safely store your secret recovery phrase with best practices.
After setting the password, the webpage shows instructions about the secret recovery phrase.
Give it a read and click "Understood, next".
Your secret recovery phrase will now be displayed. 
Carefully note it down on a piece of paper rather than storing it in a digital format.
Once you have taken the backup, click "Next".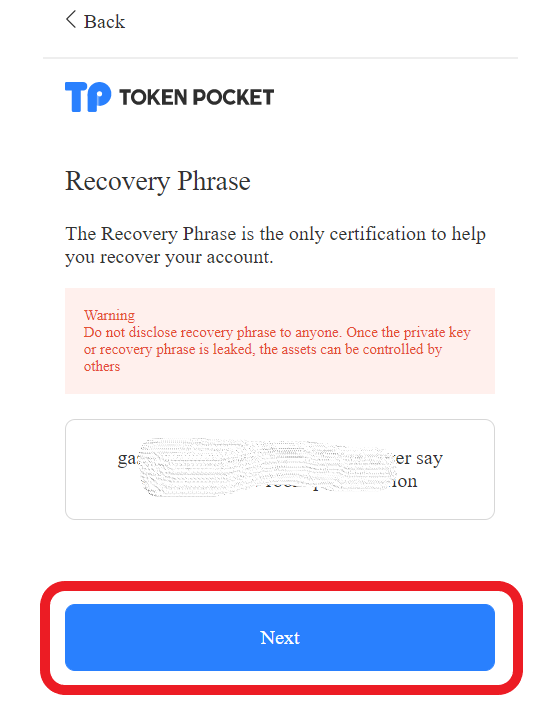 5. Verify the Secret Recovery Phrase
In this verification phase, you need to arrange your recovery phrase in the correct order by selecting each word given.
After arranging your recovery phrases in the correct order, you need to click "Confirm".
You have successfully created your TokenPocket Wallet account.
6. Use TokenPocket
Now, you can start using the TokenPocket with your account.
As mentioned earlier, you can send, receive, buy, and swap supported tokens. You can also transfer and store NFTs over supported networks.
To switch over to another network or add a custom network, you need to click the "network dropdown" box located in the top left corner of the wallet.
To see the recent transactions, navigate to the "History" tab.
To lock the TokenPocket Wallet, you need to click the "three parallel lines" in the upper right corner of the wallet extension. Then, click "Lock".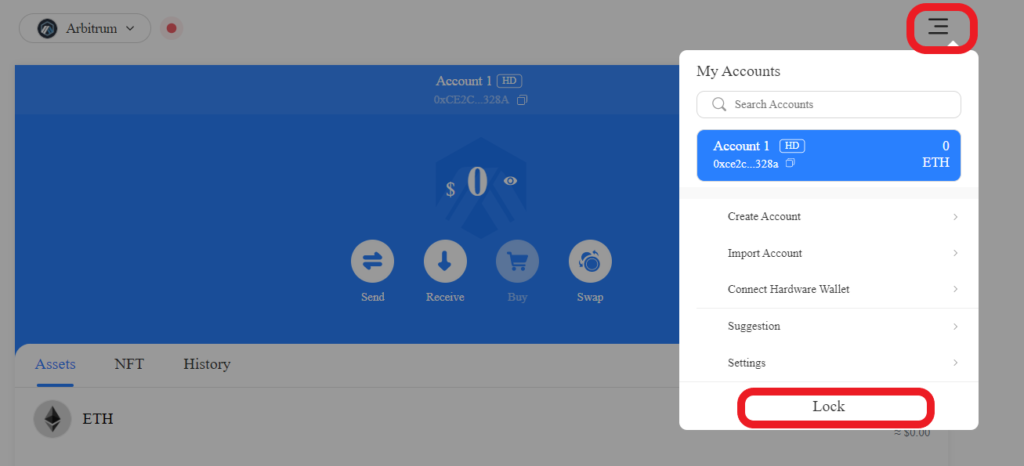 Conclusion
Installing and creating a TokenPocket Wallet account is a simple task.
Setting up the password and backing up the seed phrase are the two essential steps involved in creating the TokenPocket account.
Anyone with your secret recovery phrase can access all your assets.
Hence, always remember to store your seed phrase in multiple physical places to prevent it from being lost. If you lose them, nobody can access your account—even TokenPocket developers.
Beware of phishing attacks! Under any circumstances, TokenPocket will never ask for your secret recovery phrase.
FAQ
1. Which network does TokenPocket support?
TokenPocket supports all leading chains, such as:
Bitcoin

Ethereum

Binance Smart Chain

TRON

HECO chain

Polygon

Avalanche

OKEx Chain

KCC mainnet

BitTorrent Chain

Harmony

GateChain

Fantom

Klaytn

HALO network

Arbitrum

Aurora

Optimistic Ethereum

Hoo Smart Chain

Conflux eSpace

PlatON network

Moonbeam network

Gnosis chain