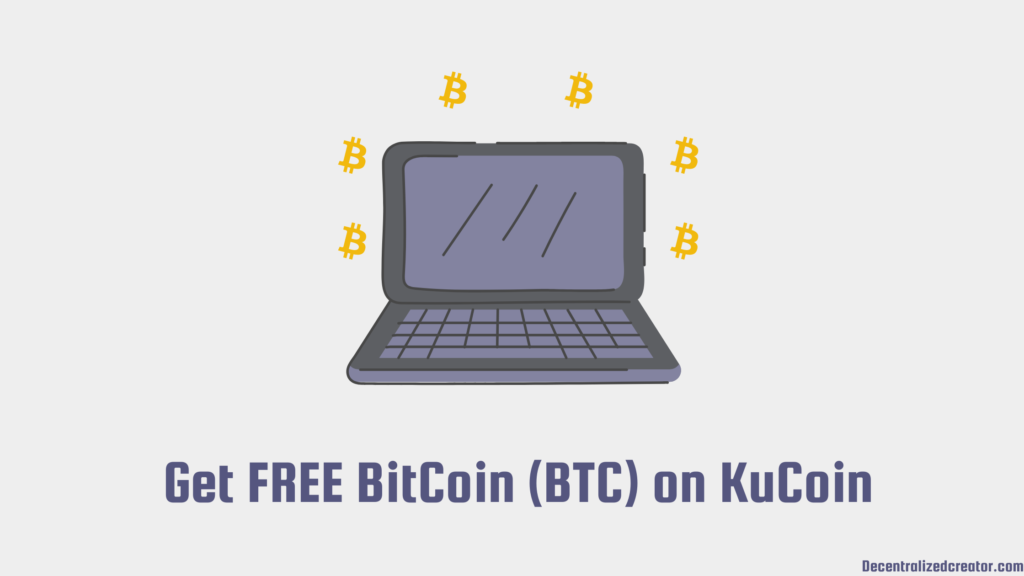 KuCoin is one of the most popular cryptocurrency exchanges out there. This centralized exchange (CEX) is used by millions of people for its stringent security measures and easy to use user interface.
KuCoin is not only unique in implementing security measures but also in introducing multiple programs that reward its users in cryptos.
In this article, we have written about one such unique program of KuCoin that rewards the participants in Bitcoin.
You must be familiar with the referral programs offered by CEXs, where you will be given a unique referral code immediately after the sign in process. In order to benefit from the referral program, you need to share your referral code with someone who might be interested in getting into any of the CEX's to start his/her journey in the crypto world.
If any person uses your referral code, you will be rewarded with some amount of cryptocurrencies.
You might also be familiar with affiliate programs in which you will earn commissions if the target audience sign in via your referral link. Anyone with a social media community, website, or other resources could become an affiliate.
In both the referral and affiliate programs, you need to depend on the mercy of a third person apart from your own effort. Also, you might need to wait for weeks, months, or in the worst case even years to get rewarded.
Get Free Bitcoin (BTC) on KuCoin
What if you will be rewarded with $500 in Bitcoins for your effort and creativity in the short span of time?
Yes, this is possible with KuCoin's Content Creator Program.
What is KuCoin's Content Creator Program?
KuCoin's Content Creator Program is a reward program that incentivizes the content creators of all forms. This monthly program will roll out events with different topics to choose from.
To get free bitcoin, as a participant, a content creator needs to choose a topic from the monthly event and submit a high-quality article or video based on the requirement.

The content piece selected by KuCoin will be rewarded with $500 in Bitcoin (BTC). A creator can earn free BTC for up to three pieces of content.
Prerequisites for KuCoin Content Creator Program
A KuCoin user: You need to give your KuCoin user Id and referral code during the submission.

A creator of any kind: Can be a writer or Video content creator.

Languages: English (KuCoin will accept more languages in the future).

A website/ Medium blog or a YouTube channel: Participants need to insert an anchor text with a backlink to KuCoin.
Content Evaluation Process in KuCoin's Content Creator Program
The content evaluation process in KuCoin's Content Creator Program is based on the readability, accuracy, creativity, quality, conversion rate, and impact/ influence across Social Media channels.
How to Join the KuCoin's Content Creator Program
Step 1
: Select the Topic
Visit the KuCoin Content Challenges Page and choose one of the topics from the list of topics for the current month.
Then, click on that particular topic that you have chosen to see the rules and requirements.
Step 2
: Start Creating Content
After viewing the rules and requirements, you can start your content creation process.
Content can be in any form, such as videos, articles, images, infographics, and podcasts.
Step 3
: Publish the Content
After the content creation process, you need to publish that content across Social Media channels with the hashtag #GetFreeBTCwithKuCoin.
Step 4
: Submit the Content
Then, submit the content on the submission form and fill in other necessary details, such as contact information, KuCoin user Id, and referral code, etc.
Step 5
: Get Ready to Collect free Bitcoin (BTC) Reward
Winner will be revealed via email by the 10th of the following month and the rewards will be distributed on the 15th of the month.
Additional Perks for Content Creators
Additional free bitcoins for a top creator of each month.

The KuCoin social channels will feature excellent creators.

Excellent content creators will be certified and become long-term contributors to KuCoin.
Conclusion
KuCoin's Content Creator Program is a great opportunity for content creators out there to showcase their skills and get free Bitcoin.
With this program, participants don't have to wait for the dip with FOMO to buy BTC; they can simply earn BTC with their skills.
To increase the chance of winning this KuCoin's content game, refer to these tips and tricks.
Another great tip from our end is to use the Jasper and leverage its features. Jasper can increase the winning probability of KuCoin's Content Creator Program by 10x faster.  With Jasper, you can participate in this program each month with countless extensive researched articles.
FAQs
1. Where can I find my Bitcoin reward?
You can find your KuCoin's Content Creator Program reward in your Main Account on the asset page. You can expect the result on the 10th of the month following the event and BTC rewards on the 15th.
2. Who can participate in the Content Creator Program offered by KuCoin?
Anyone with the passion for creating content can participate in the Content Creator Program offered by KuCoin. Even the participants of KuCoin's referral or affiliate program are eligible for this program.