The amount of people getting into the cryptocurrency market is rapidly increasing after the excessive increase in the price of major cryptocurrencies such as Bitcoin (BTC) and Ether (ETH) as well as meme coins such as Dogecoin, Shiba Inu, and more in the year 2021.
Amidst Bitcoin and other cryptocurrencies' tremendous bull run in the past year, some of you might have confusion about whether to enter now or not.
According to Cathie Wood, CEO of Ark Invest, Bitcoin will reach $500,000 in five years. If Bitcoin does, definitely a few other coins also will join in the rally.
So you are not late for the party.
If you are an Indian or you want to buy cryptocurrencies in India, that too in Indian Rupees (INR), then this article is for you.
In this article, we have covered how to buy cryptocurrencies from India and the KYC process.
To start investing in crypto or to trade, you need to open an account in any of the cryptocurrency exchanges.
There are plenty of cryptocurrency exchanges available in India. One of the best amongst all is WazirX.
WazirX is famous for its world's first peer-to-peer (P2P) solution. WazirX is founded in 2018 by Nischal Shetty.
Soon after its inception, Binance, the world's largest cryptocurrency exchange, acquired WazirX, for its impressive technical background with an aim to cover the Indian market. As a result, If you have a WazirX account, you can transfer your assets to Binance free of cost.
Features of WazirX
Simple and easy to use UI

Reasonable trading fees: 0.4% for buying and 0.4% for selling

No trading fee for P2P transactions

Native P2P solution speeds up transactions

Supports over 200 coins

Available on five platforms: Web, Android and iOS, Windows, and Mac
Steps to Open WazirX Account
With WazirX, you can start trading with INR 100.
1. Download the WazirX application
You can download the WazirX mobile application here. After downloading the application, you can click this link or enter this code: b7tnsrsp to get an additional discount.
2. Enter your email address
After downloading the WazirX application, you will get to see the screen in the below image.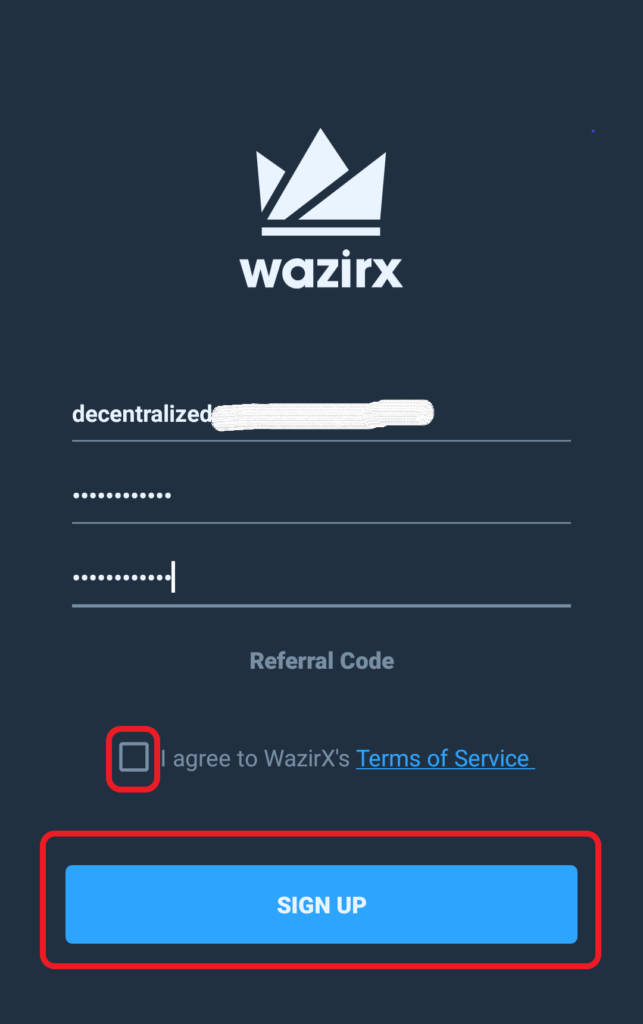 Enter your active email address and set a password with a combination of alphanumeric and special characters.
You will need to re-enter your password in the according field. Then, select the checkbox near "I agree to WazirX's Terms of Service.
Then, tap SIGN UP.
Immediately after the sign-up, you will receive an email from WazirX with a link that you need to click.
3. Update the security settings
Next, is the security setup.
The application will show three options: Authenticator App, Mobile SMS, and None.
You must choose either Authenticator App or Mobile SMS option to keep your account secure. This security will be used whenever you log in or withdraw.
If you choose Authenticator App, you need to install it and open it to see the verification code whenever you log in or withdraw.
If you choose Mobile SMS, an OTP will be sent to you. Enter it and tap Next. Every time you log in or withdraw, you will receive an OTP, which you need to enter to complete the specific task.
If you are done with the security setup, you can see the screen in the below image.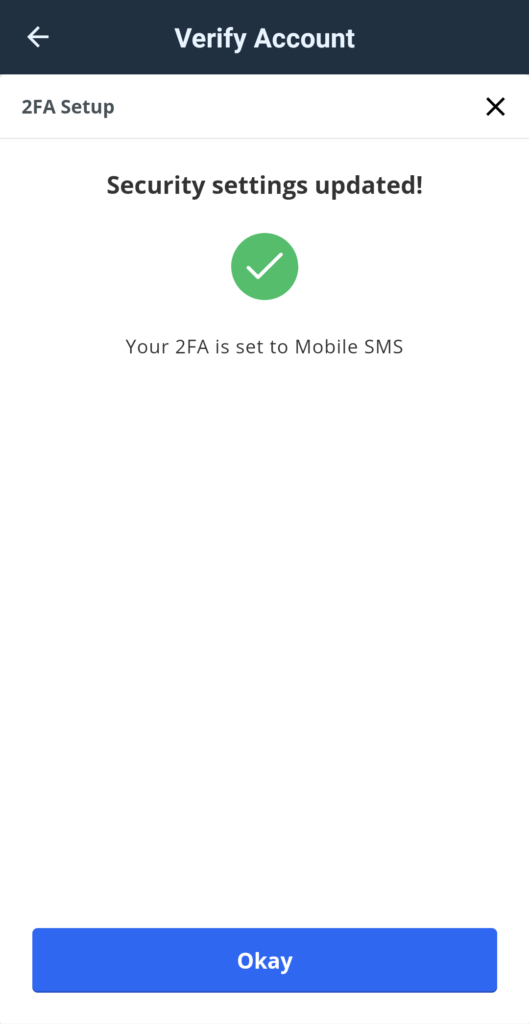 4. Fill in the KYC details
Now, you need to fill in the KYC details.
Without KYC, you only have access to deposit crypto and trade. You can't access the other features such as deposit INR, P2P, and withdraw.
Before going into the KYC, ensure you have the right country and Type of KYC details filled in as in the image below.
Then, tap COMPLETE KYC.
In KYC details,
Firstly, you need to fill in the personal details such as your name, date of birth, and address.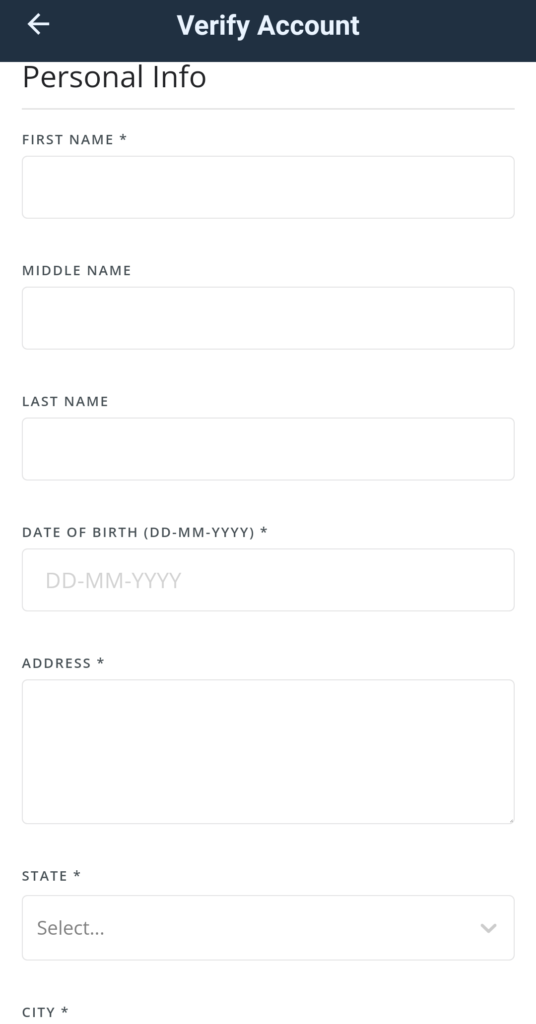 Secondly, enter your PAN card number in the respected field. You need to type it twice. Also, you need to capture your PAN card and upload it.
Thirdly, enter your Aadhaar number. As like PAN, you need to type it twice. Also, you need to capture your Aadhaar card and upload it.
Lastly, you need to upload your selfie with holding your Aadhaar card.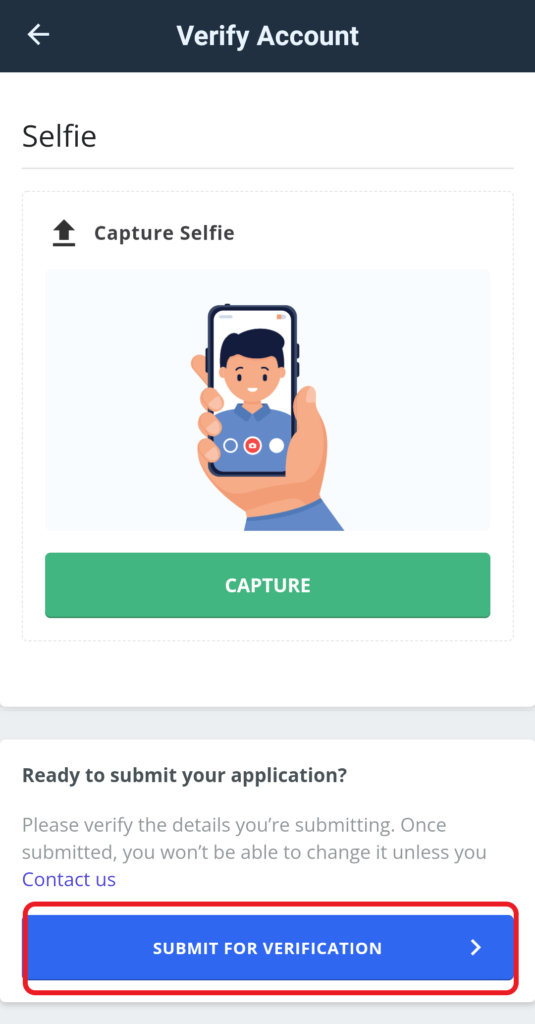 5. Submit your application
After filling in all these details, verify one more time and click SUBMIT FOR VERIFICATION.
It may take up few hours to 72 hours to verify your KYC details.
After the verification, you will receive an email from WazirX.
That's it. Congratulations on taking the first step in your crypto journey.