The Midjourney generative AI has been improving with each new version, becoming more powerful over time.
One of the most incredible accomplishments in human history is the ability to create designs and artwork from the text. This is all thanks to the hard work of AI professionals and data scientists who have developed generative AI models like Midjourney, DALL.E 2, Stable Diffusion, Adobe Firefly, and many more.
If you are interested in using Midjourney to create fashion designs, you are in luck! This article will teach you how to create fashion design inspirations with over 50 fashion design prompts.
You don't have to spend money on prompt marketplaces to explore fashion design – this article has everything you need to get started!
The Need of Midjourney for Fashion Designers
Fashion designers, like other artists and creatives, can experience mental blocks where they struggle to come up with new designs. These blocks can be caused by a variety of factors, such as creative burnout, self-doubt, lack of inspiration, or feeling overwhelmed by the pressure to constantly produce new and innovative work.
Creative burnout occurs when a designer has been working long hours without adequate breaks or time to recharge. This can lead to a lack of motivation and a feeling of exhaustion that makes it difficult to come up with fresh ideas.
Self-doubt is another common cause of creative blocks. Designers may start to doubt their abilities and feel like they are not good enough, leading to a fear of failure that can prevent them from taking risks or trying new things.
A lack of inspiration can also lead to a mental block. When designers feel like they have exhausted all of their creative ideas, they may struggle to come up with new and exciting designs.
Lastly, feeling overwhelmed by the pressure to constantly produce new and innovative work can also lead to a mental block. This pressure can be external, such as from clients or the industry, or internal, as designers set high expectations for themselves.
To overcome these mental blocks, usually, designers may need to take a break, seek inspiration from different sources, try new techniques or materials, collaborate with others, or engage in other activities that can help them recharge their creative energy.
But, nowadays, with the advent of AI models, they only need a one-stop solution, which is nothing but a generative AI Midjourney.
Tips to Write Midjourney Fashion Prompts
Midjourney Fashion Plates Prompts
The fashion plate prompts allow you to describe the fashion of a specific time period.
Prompt #1
three men in different 21st century clothing, fashion plates, deconstructed tailoring, rendered in cinema4d –q 2 –ar 3:5
Prompt #2
mannequins wearing corset, in the style of light azure and dark amber, modern design, fashion catalog photography, fine lines, delicate curves –ar 3:5 –q 2
Prompt #3
girls with different colored hoodies, in the style of unreal engine 5, afro-caribbean influence, minimalist, fashion plates –ar 3:5
Prompt #4
realistic mannequins wearing different color sarees, unreal engine 5, dutch angle view, minimalist, fashion plates –ar 3:5 –q 2
Prompt #5
mannequins wearing Zara sweater vest and jeans, unreal engine, dutch angle view, minimalist, fashion plates –ar 3:5 –q 2
Midjourney Fashion Catalog Shot Prompts
Prompt #6
3d model of a grey trench coat, in the style of soft, dream-like quality, feminine affluence, tonal, matte photo –ar 21:50
Prompt #7
pale green palm printed midi dress on a white surface, product catalog photography, studio lighting, listing thumbnail –ar 3:5 –q 2 –no mannequin
Prompt #8
balenciaga hoodie with dual color on a white background, product catalog photography, soft spot lighting, depth of field, 4k –ar 3:5 –q 2
Prompt #9
lavender color airy tulle dress against a white background, fashion product photography, front and back, clothing, soft lighting, fine composition, depth of field, 4k –ar 3:5 –q 2
Prompt #10
professional product photograph of grey pouch with a gold zipper, gossamer fabrics, crochet, product catalog, studio lighting, fine composition, depth of field, 4k –ar 3:5 –q 2
Midjourney Fashion T-Shirt Design Prompts
Prompt #11
batman's silhouette painting on an abstract background in t-shirt, in the style of muted watercolor palettes, splattered/dripped, character-driven, t-shirt design, colourful, gamercore, marvel comics –ar 12:23
Prompt #12
a white t-shirt:: abstract art of girl wearing sunglasses and a flower hat on a t-shirt, colorful graphic, vector, flat, 4k –ar 3:4 –q 2
Prompt #13
a t-shirt with illustration of a tree, in the style of minimalist palette, split toning, light maroon and light blue, environmental, animated gifs, minimalistic drawings, symbolic nature, t-shirt design –ar 3:5 –q 2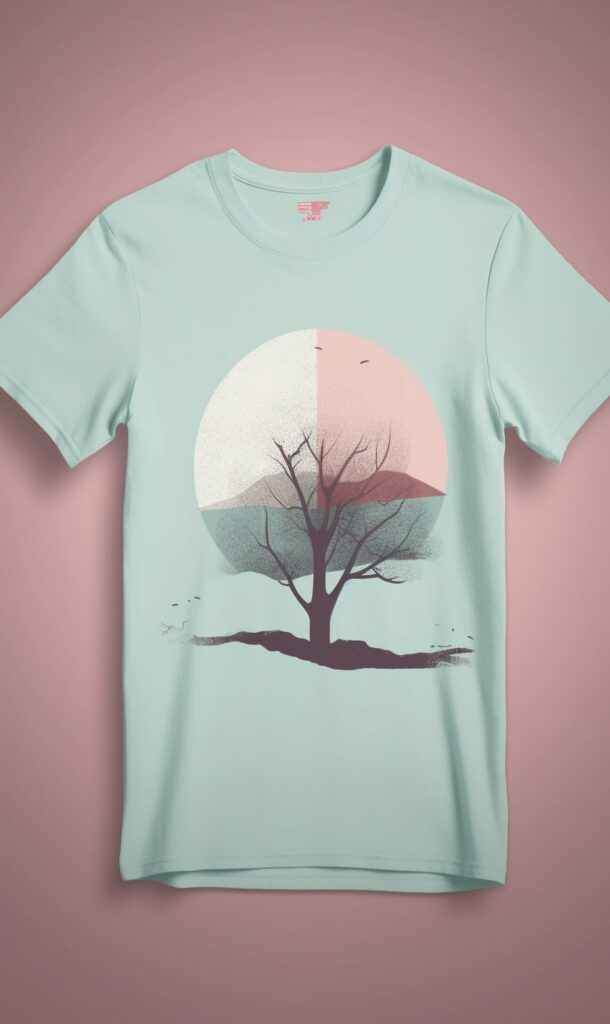 Prompt #14
t-shirt features an illustration of a robot king, in the style of inkblots, dark white and amber, t-shirt design –ar 3:5 –q 2
Prompt #15
a black tshirt with peace symbol printed on it, split toning, light blue and light purple, kintsugi lines, minimalistic, symbolic, tshirt design –ar 5:7 –q 2
Prompt #16
a full sleeve knitted tshirt with girih patterns, golden and light black color, dual color, smooth gradient, 4k, tshirt design –ar 5:7 –q 2
Prompt #17
a full sleeve tshirt celtic maze pattern, beige and light azure, striking design, dual color, smooth gradient, 4k, tshirt design –ar 5:7 –q 2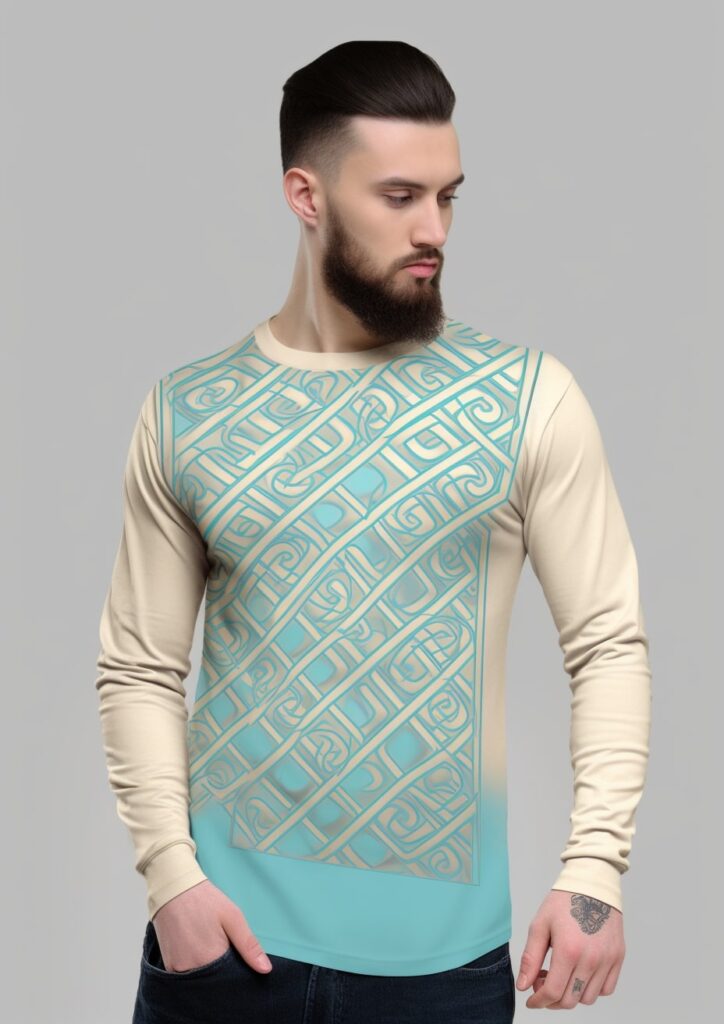 Prompt #18
a full sleeve tshirt with lionel messi signature celebration illustration, halftone, striking design, dual color, smooth gradient, 4k, tshirt design –ar 5:7 –q 2
Prompt #19
a full sleeve hoodie with pinstripe and polkadot pattern, halftone, striking design, dual color, smooth gradient, 4k, tshirt design –ar 5:7 –q 2
Midjourney Streetwear Fashion Prompts
Prompt #20
knolling of 21st century streetwear: jacket, shoes, water bottle, bag, cap, tshirt, warmcore, light yellow and light gray, depictions of urban life, luxe, UHD –ar 3:2 –q 2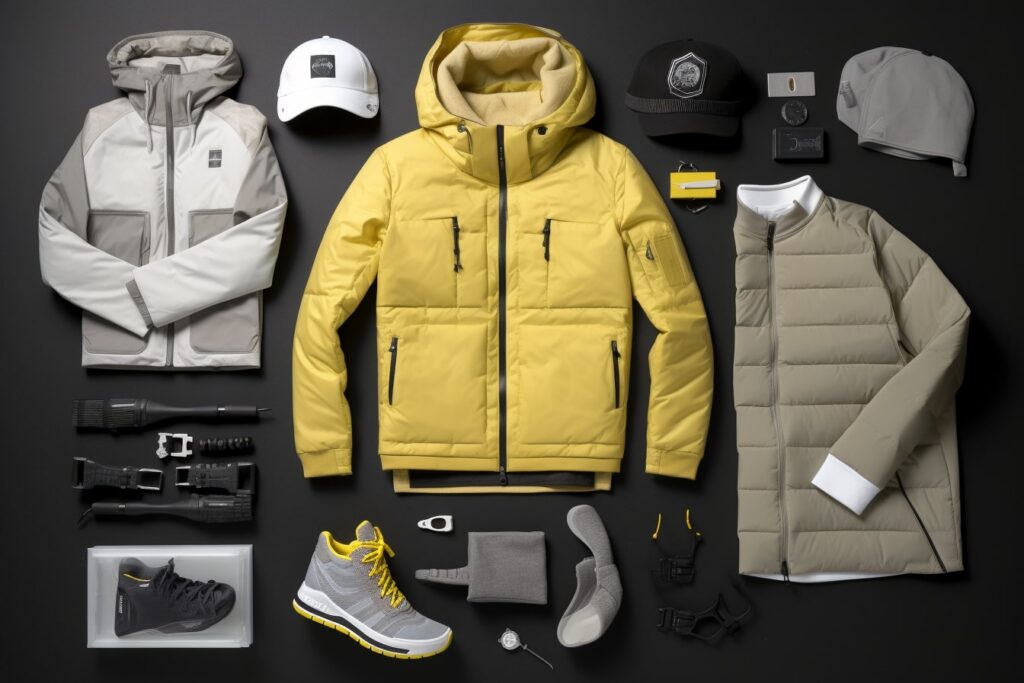 Prompt #21
hyperrealistic oil painting of a man in a jacket carrying a dual color backpack, in the style of double tone effect, both jacket and the backpack are designed by stella mccartney, beige and blush colors, UHD –ar 3:5 –q 2
Prompt #22
street style photo of a woman with a mossy green linen sweatshirt and a golden color legging, 35mm lens, neutral palette, natural lighting –ar 16:9
Prompt #23
street style photograph of a young woman wearing biker shorts made up of polyester and spandex, an oversized blush color tshirt, elegant fashion shot, fashioncore, 70mm lens, natural lighting –ar 3:5 –q 2
Prompt #24
editorial photograph of young Latina girl wearing futuristic streetwear, designed by artificial intelligence, highly comfort wear, never-seen before dress, one-of-a kind, premium soft fabric, studio lighting, 85 mm lens –s 750 –ar 3:5 –q 2
Prompt #25
a masculine Asian man wearing funky streetwear made up of tansukh cloth in the streets of Paris, highly comfortable wear with bold graphics, delicate, fashion photography –ar 3:2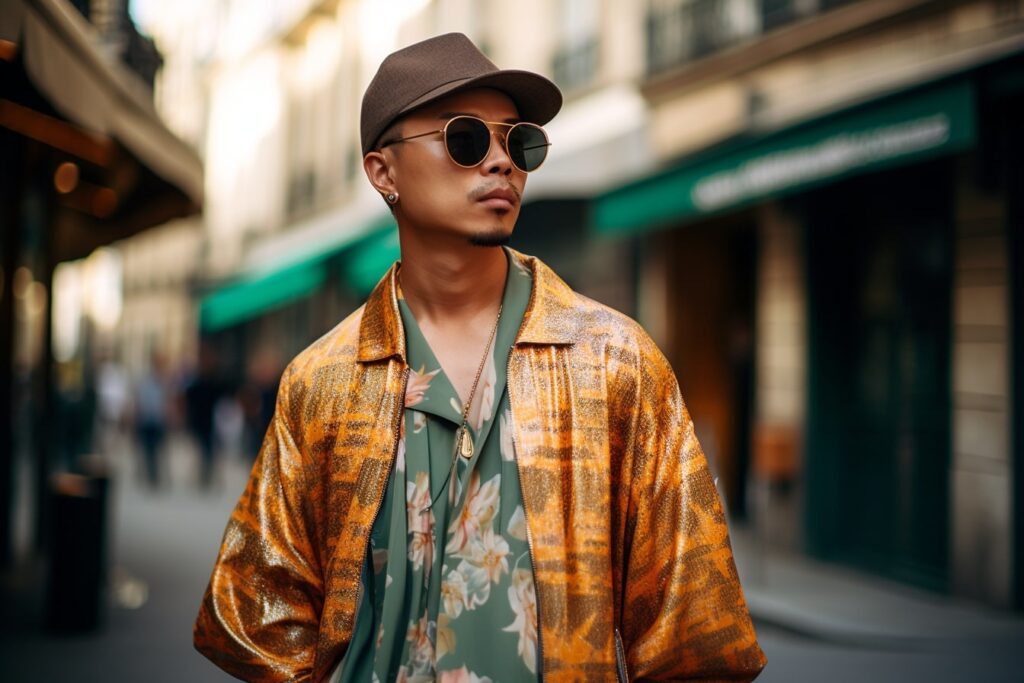 Prompt #26
a young French woman with a cotton tshirt and a knitted cotton overcoat, blush and scarlet colors, the knitted overcoat is short and has oval-shaped bottom, ultra comfort wear, sunny day, natural lighting, depth of field, fashion shot –ar 3:2 –q 2 –s 1000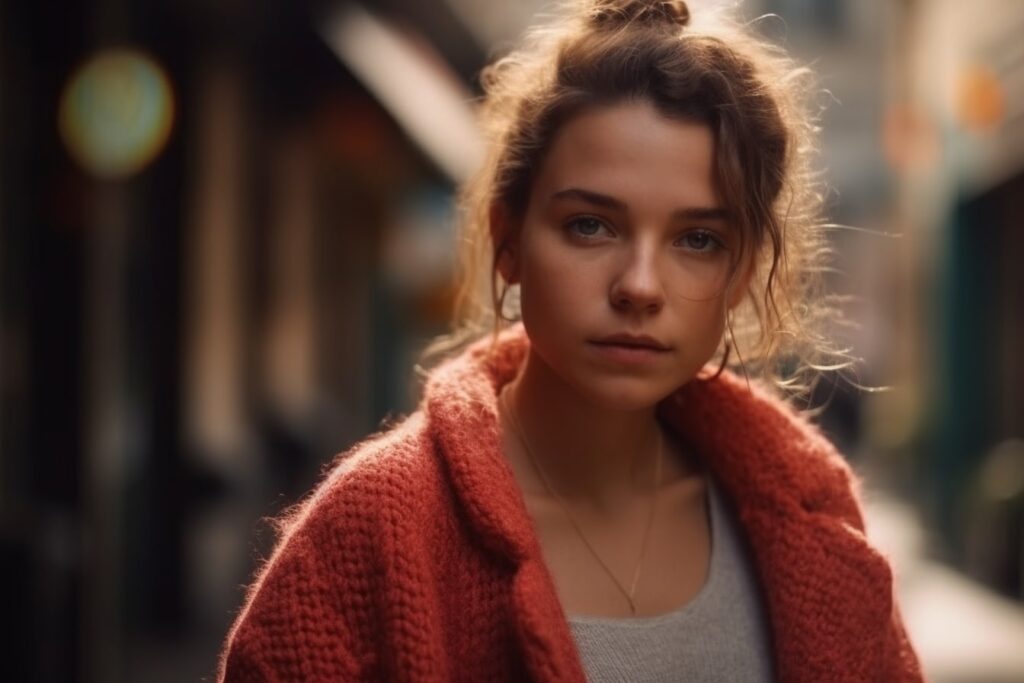 Prompt #27
a dual color knitted sweatshirt with oval-shaped bottom, in the style of luminous 3d objects, dark white and gold, unreal engine 5, split toning –ar 2:4
Prompt #28
a floral skirt streetwear, in the style of 3D object, earthy tones, subtle shading, unreal engine 5, dreamcore design –ar 2:4 –s 1000
Prompt #29
a young student wearing a jogger that features a bold graphic print inspired by urban street art, with bright colors and unique shapes, a comfortable, lightweight fabric, a tapered leg for a modern, streetwear-inspired silhouette, street style fashion photography by Kodak Potra 800 –ar 3:2
Prompt #30
young German girl with a symmetrical body featured in a windbreaker, retro and modern elements, the windbreaker would feature bold typography inspired by classic skatewear brands, along with unique industrial accents for a modern twist, the girl is standing in the archways, Canon EOS R, 35mm lens, rule of thirds, depth of field –ar 3:2 –q 2
Prompt #31
an oversized tracksuit with a cropped, fitted pants. The tracksuit would be made from a comfortable, velour fabric, a bold graphic print inspired by streetwear and hip-hop culture, in the style of luminous 3d objects, unreal engine 5 –ar 3:5 –q 2
Prompt #32
a high-top sneakers with classic design, bold graphics and colors inspired by Japanese streetwear brands, high-quality materials, metallic accents and exaggerated shapes, in the style of 3D objects, Unity Engine –ar 3:5 –q 2 –s 1000
Prompt #33
an oversized T-shirt with an abstract print inspired by modern art, bold octagon shapes and colors arranged in a unique, eye-catching pattern, soft and comfortable fabric, geometric shapes, unreal engine 5 –q 2 –s 900 –ar 3:5
Prompt #34
a middle-aged woman wearing a metamorphic dress with futuristic design patterns, dual colors, peace symbol motif, delicate curves, soft and rounded, full-body portrait –ar 3:5 –s 800 –q 2
Prompt #35
a 3d illustration of a cardigan with maxi boho style, designs from future, one-of-a kind dress, unreal engine 5 –s 750 –q 2 –ar 3:5
Prompt #36
a man walking down the streets of Australia wearing a bomber jacket made up of satin, chic futuristic symmetrical patterns, paired with denim shorts, full-body portrait, in the style of 3D objects, 3ds max auto render –s 900 –q 2 –ar 3:5
Prompt #37
a man walking on new york street wearing a waist bag and sunglasses, knitted shorts with blue and white color, dual color, full-portrait, candid shot –s 800 –q 2 –ar 3:5
Prompt #38
a futuristic bagpack in the style of neo-cubism, light yellow and teal, depictions of urban life, sandalpunk, groovy –s 900 –q 2
Prompt #39
a hat in the style of neo-cubism, enchroma, sandalpunk, groovy –s 900 –q 2 –no human, mannequin
Prompt #40
a man walking down the streets wearing a pastel color furry bomber jacket, beige color Denim pants, candid shot, depth of field, 4k –ar 3:5 –q 2
Prompt #41
an illustration of futuristic whimsical streetwear, dreamcore design, y2k aesthetic, higly comfortable wear, Autodesk 3ds Max render, UHD –s 750 –q 2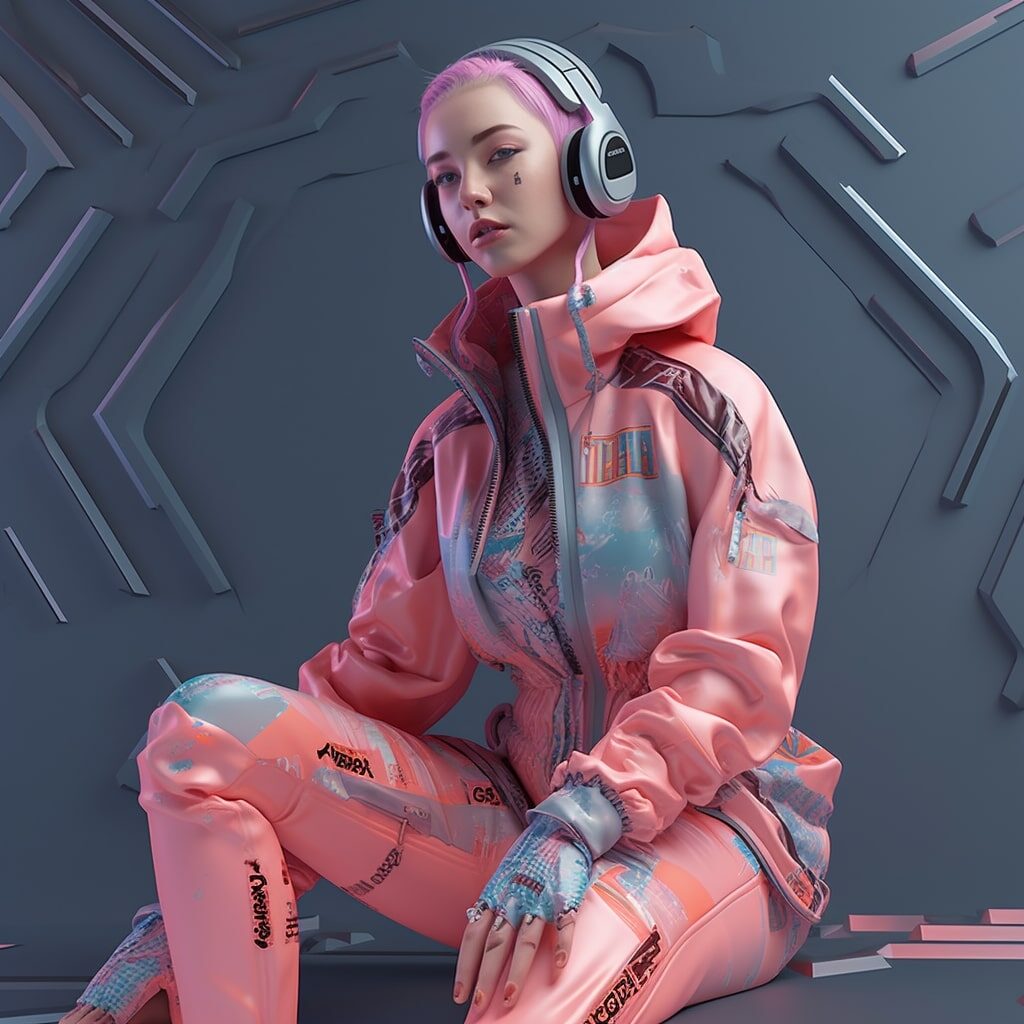 Prompt #42
an illustration of futuristic cross cami top streetwear, dreamcore design, y2k asethetics, fashion from future, higly comfortable wear, unreal engine 5 render, UHD –s 750 –q 2 
Prompt #43
an illustration of laceup tank top and lavender leggings, rim lights, glofi, futuristic attire, fashion from future, houdini render, UHD –s 900 –q 2 –ar 3:5

Midjourney High-Fashion Prompts
Prompt #44
a man wearing full sleeveless armor and goggles walking on a runway, in the style of dark gray and black, slumped/draped, elite, sharp, rim light, grain, UHD –ar 3:5 –q 2
Prompt #45
a illustration of laceup pullover t-shirt, designed by a person from 4th dimension, redshift rendering, fashion product photography, color grading, UHD –s 900 –q 2 –ar 3:5 
Prompt #46
an ultra-realistic woman athlete wearing a funky-looking strap jogger with long slits on sides, designed by a person from 5th dimension, redshift rendering, fashion product photography, color grading, UHD –s 900 –q 2 –ar 3:5
Prompt #47
exotic woman in a transparent lace dress, visible bold curves, dark white and light gold, exotic realism, cinema 4d render, studio portrait, high fashion design, color grading, 4k –ar 2:3 –q 2
Prompt #48
a women's cloak with highly ornamented design, royal look, rose gold and white colors, princesscore, unreal engine rendered, UHD –q 2 –s 900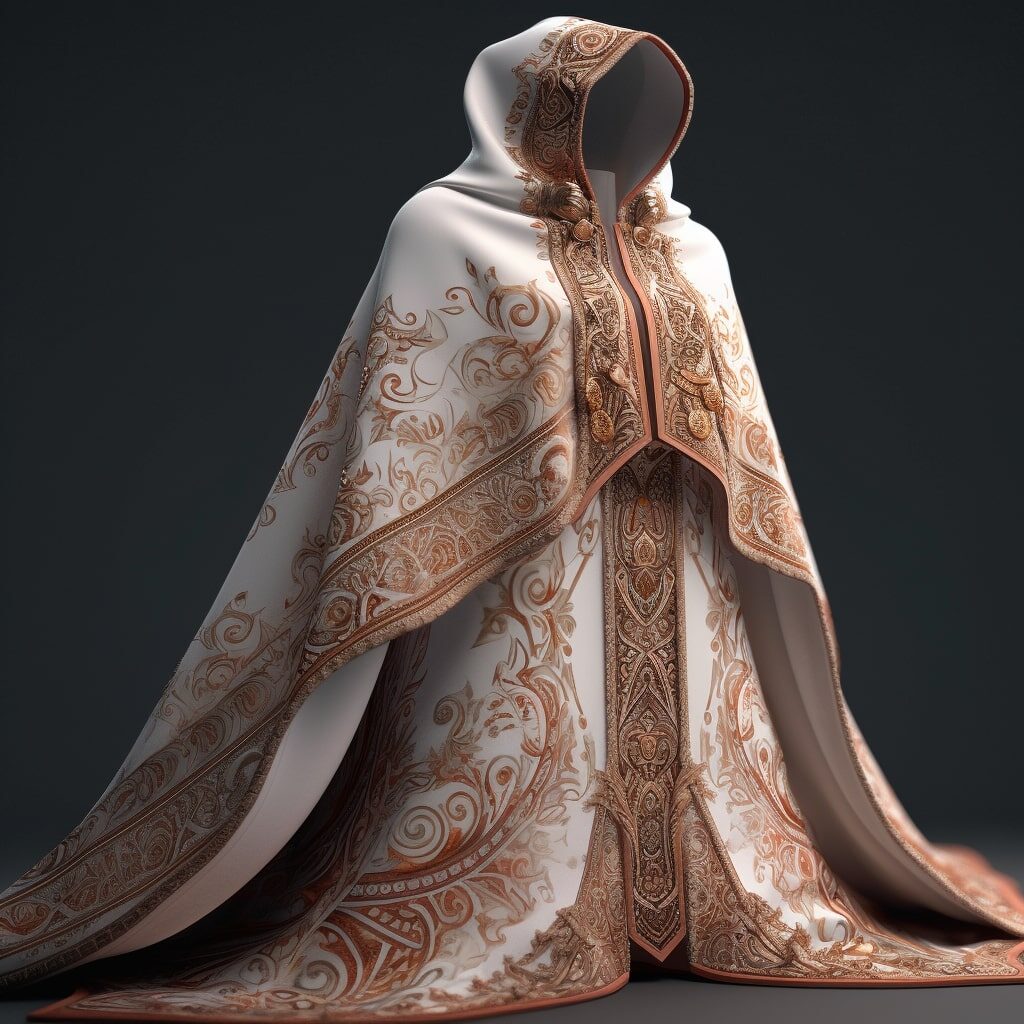 Prompt #49
a white gown with gold and silver embroidery, symmetrical compositions, princess line, sketchfab render, sharp designs, royal fabric –q 2 –s 900
Prompt #50
a pixar charater wearing a transparent quilted gilet with futuristic brain texture, color grading, UHD –ar 2:3 –q 2
Prompt #51
a charming pixar character wearing crochet top with reflective detailings, crochet designed by Helmut Lang, color grading, unreal engine 5, UHD –q 2 –ar 2:3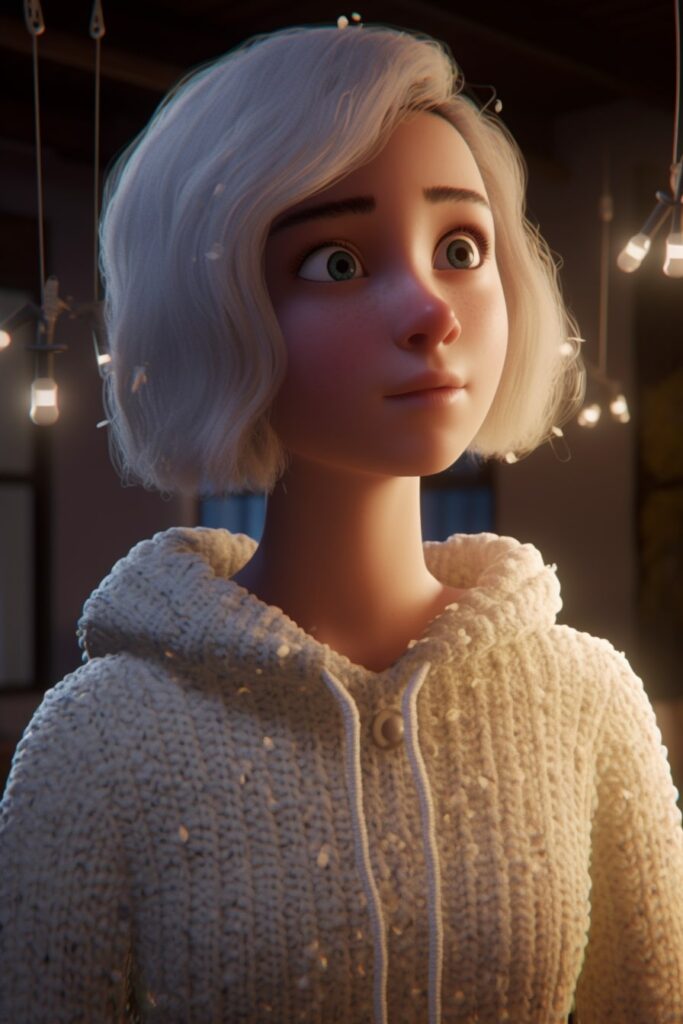 Prompt #52
a Labanese model in an ultra mini draped dress with retro-inspired color block, dual colors, candid shot on Kodak potra 800, 35mm lens, color grading, 4k, UHD –ar 3:5 –q 2
Prompt #53
a latin man with kintsugi styled white puffer jacket with plenty of gold lines to reflect the outfit, High Quality, Editorial, future cool style, depth of field, norwegian nature, serene and tranquil scenes, depictions of inclement weather, bluecore, color grading –ar 16:9 –s 750 –q 2
Prompt #54
product photography of rain boots in azure accents with rim lights, dual color and bold edges, in the style of y2k aesthetic, sleek geometric patterns, 3D object, layered translucency, flowing fabrics, vfx, exquisite clothing detail, unreal engine 5 –ar 3:5
Prompt #55
micro shot of dainty high heels with ankle strap, romanesque design, complex, beautiful, luxury, gorgeous, color grading, 4k