AI-generated food photography is a fascinating emerging trend that allows you to create stunning images of your dishes without ever picking up a camera.
With generative AI models like Midjourney, you can simply provide a text description of your dish and watch as the platform generates a beautiful image that accurately reflects its characteristics.
To help you get started with AI food photography, we've compiled a list of 50 free Midjourney food photography prompts that you can use to inspire your creations.
Whether you're a food blogger, chef, or just someone who loves to capture the beauty of culinary creations, these prompts are sure to ignite your imagination and take your AI food photography to the next level.
Note: These prompts are compatible with all AI models. In case you want to use it in other AI models than Midjourney, remove the parameters and their value at the end of the prompts (for example, –q or –ar) if any.
Tips to Write Ultimate Midjourney Food Prompts
There are a few key tips to keep in mind when writing AI food prompts to truly capture the essence of your dish. Here's what you need to know:
Mention the cuisine: First things first, specify the type of cuisine you want your image to reflect. By doing so, you'll enable the prompt to generate images that accurately depict the dish's cultural roots and unique flavors.
Describe the dish in detail: To truly bring your dish to life through AI-generated images, provide a detailed description that includes the main ingredients, colors, textures, and any special features you'd like to showcase. This information will help the prompt generate images that accurately reflect the dish's characteristics.
Specify the camera angle: The angle at which your food is photographed can make a significant impact on the final result. By specifying the desired angle for your dish, you can ensure that the prompt generates visually striking images that highlight the dish's best features.
Mention lighting: Lighting is crucial when it comes to capturing the perfect shot of your dish. Whether you prefer natural light or something more dramatic, specifying the type of lighting you want will enable the prompt to generate images that are well-lit and visually appealing.
Note: For better image quality, you can click on the prompt.
Midjourney Internation Cuisine Prompts
Prompt #1
knolling of south indian cuisine, professional food photography, realistic, depth of field, 4k, highly detailed, the smell permeated in the air –q 2 –ar 4:3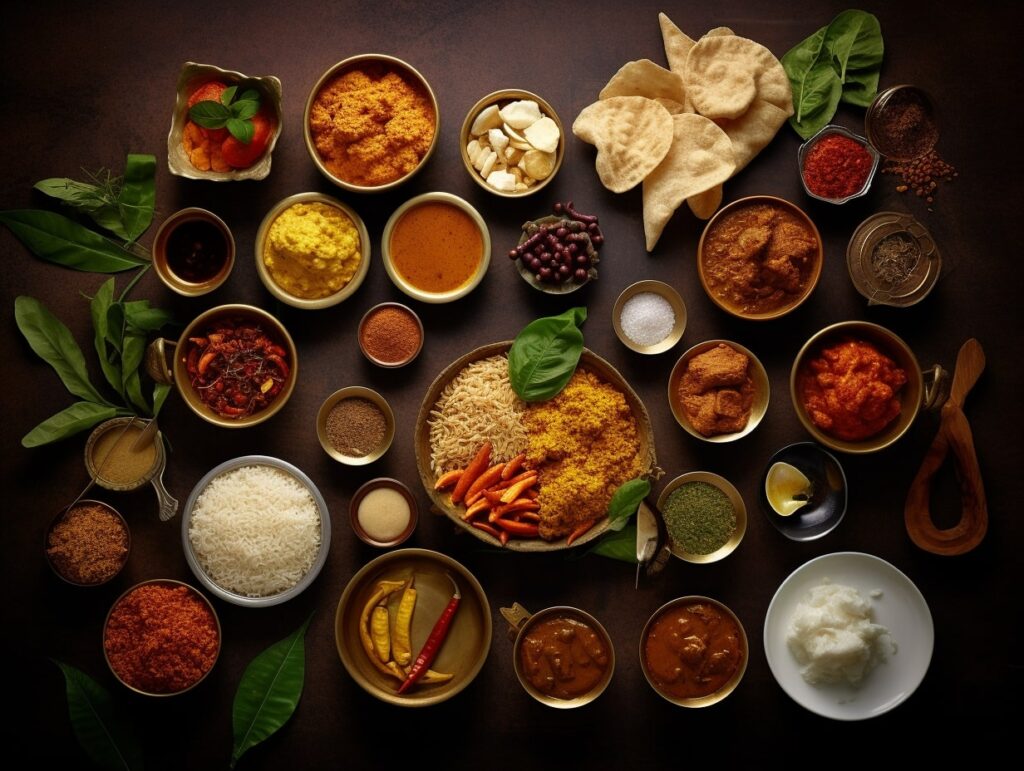 Prompt #2
knolling of north indian cuisine, professional food photography, realistic, depth of field, 4k, highly detailed, heat of the food in the air, close-up shot –q 2 –ar 4:3
Prompt #3
knolling of Japanese cuisine, professional food photography, realistic, depth of field, 4k, highly detailed, the smell permeated in the air –q 2 –ar 4:3
Prompt #4
Teppanyaki, japanese cuisine, professional Michelin Star gourmet food photography, depth of field –q 2 –uplight –ar 16:9
Prompt #5
Chicken Teppanyaki, thinly sliced chicken mixed with a base of soy sauce, roughly grounded red chili, japanese cuisine, professional Michelin Star gourmet food photography, depth of field –q 2 –ar 16:9
Midjourney Dessert Prompts
Prompt #6
professional food photography of an avocado ice cream, dukkah crust, close-up shot, depth of field, shot on Sony ZV-1, gourmet dessert –q 2 –s 800 –ar 3:4
Prompt #7
assorted pistachio baklava, epic food photography, shot on 80mm lens, depth of field, tilt blur, f/5.6, white balance, 4k, super-resolution, vignetting –q 2 –ar 3:4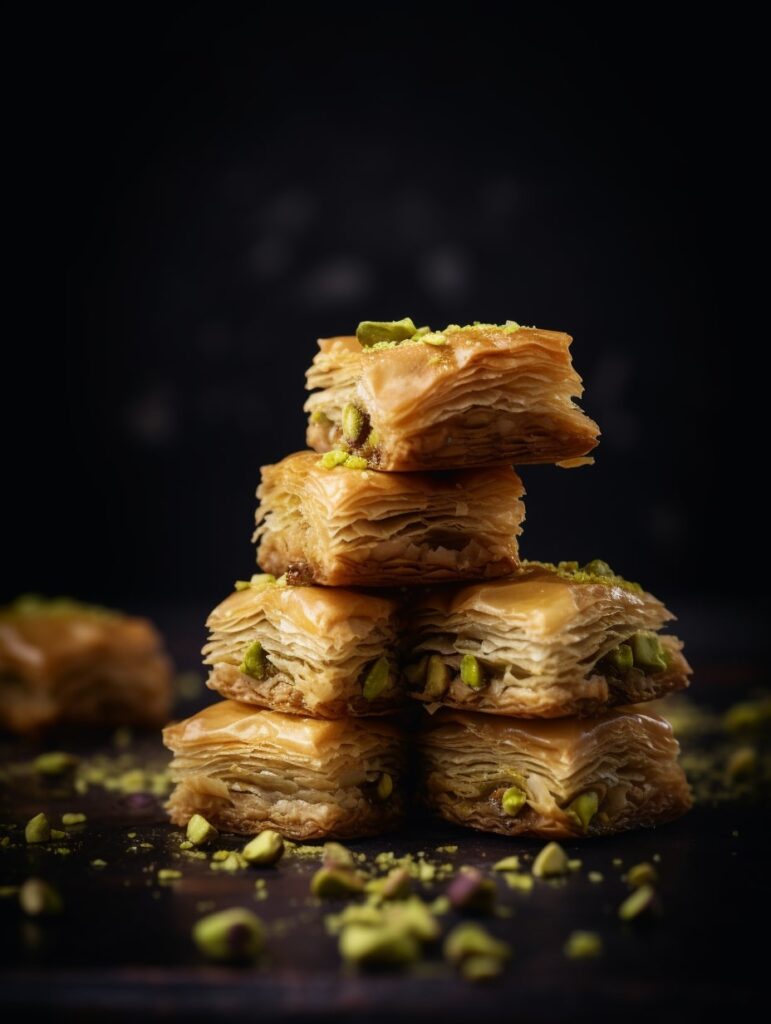 Prompt #8
mouthwatering egg tarts served on a grilled plate, pan asian food, gourmet style presentation, stunning food photography, shot on 90 mm lens, depth of field, tilt shift, f/8, white balance, 4k, super-resolution, vivid –q 2 –ar 3:4
Prompt #9
Sheep's milk mousse, pandan curd and caramelised puffed rice, gourmet, food photography, extreme close-up shot, f/1.2, depth of field, tilt shift, color grading, 32k, super-resolution, vivid –q 2 –ar 3:4
Prompt #10
Sheep's yoghurt mousse and pandan sponge with caramelised puffed rice, food photography, extreme close-up shot, f/1.2, depth of field, tilt shift, color grading, 32k, super-resolution, vivid –q 2 –ar 3:4
Prompt #11
Elon musk sculptor made up of dark chocolate, dessert, smooth, realistic food photography, depth of field, 32k, super-resolution, vivid –q 2 –ar 3:4
Prompt #12
Caramelised banana and puffy/ jingly cheese cake, professional Michelin Star gourmet food photography, contemporary, depth of field, 32k, super-resolution, vivid –q 2 –ar 3:4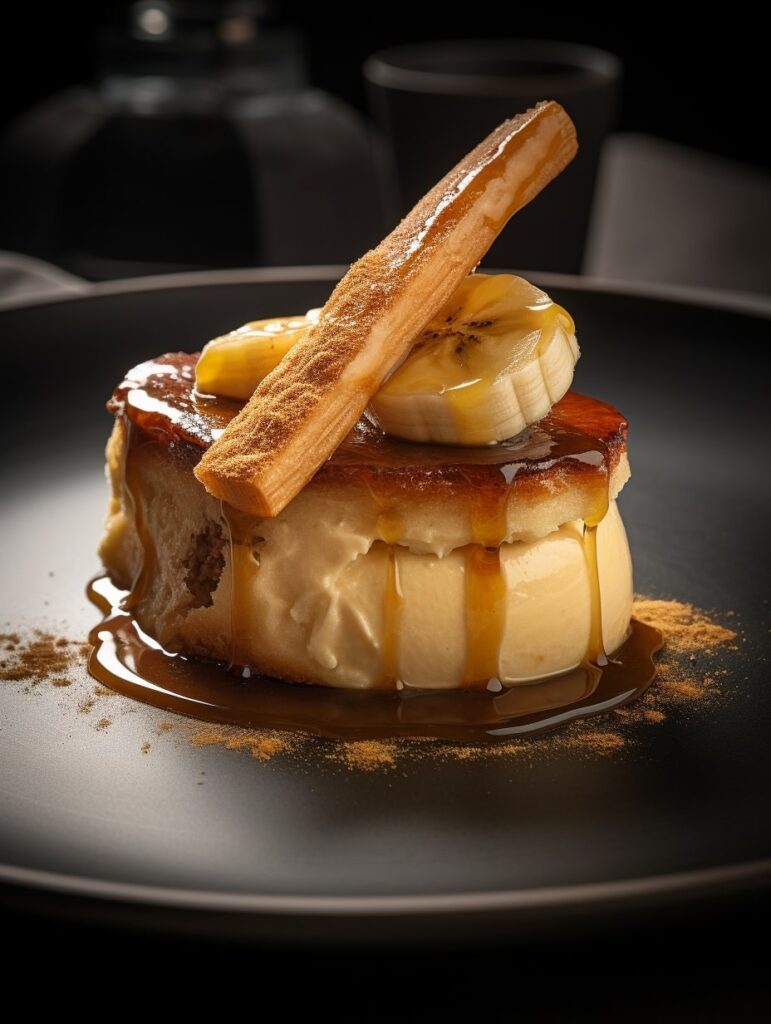 Prompt #13
Panna cotta, Italian dessert, Contemporary, professional Michelin Star gourmet food photography, depth of field –s 300 –q 2 –ar 16:9
Prompt #14
Ultra-realistic Italian desserts line-up, professional Michelin Star gourmet food photography, intricate textures, realistic, depth of field –q 2 –ar 21:10
Prompt #15
mango sorbet, served in a sniffer glass, professional Michelin Star gourmet food photography, macro shot, realistic, depth of field –q 2 –ar 16:9
Prompt #16
a dessert with ice cream, fruit and other things, in the style of vibrant illustrations, smooth lines, minimal –ar 3:4
Midjourney General Food Prompts
Prompt #17
product shot of a burger, floating ingredients, food photography style, professional photo shooting, shot on Sony A7R IV camera, 4k, dynamic –q 2 –s 1000 –ar 4:3
Prompt #18
overhead food photography, Bibimbap, Korean restaurant, professional shot on Nikon Z7 II –q 2 –ar 3:1
Prompt #19
A fiery grilled steak being flipped mid-air, with flames and sparks erupting around it, High-speed photography, food photography, captivating, exciting, Apple iPhone 14 Pro –s 700 –q 2 –ar 3:4
Prompt #20
Bruschetta with chard, spinach, poached egg and dukkah plate, on the table outside, shot on Sony Alpha A7R IV, food photography style, macro lens, close up shot, 50mm lens f/ 1.4 –q 2 –ar 3:4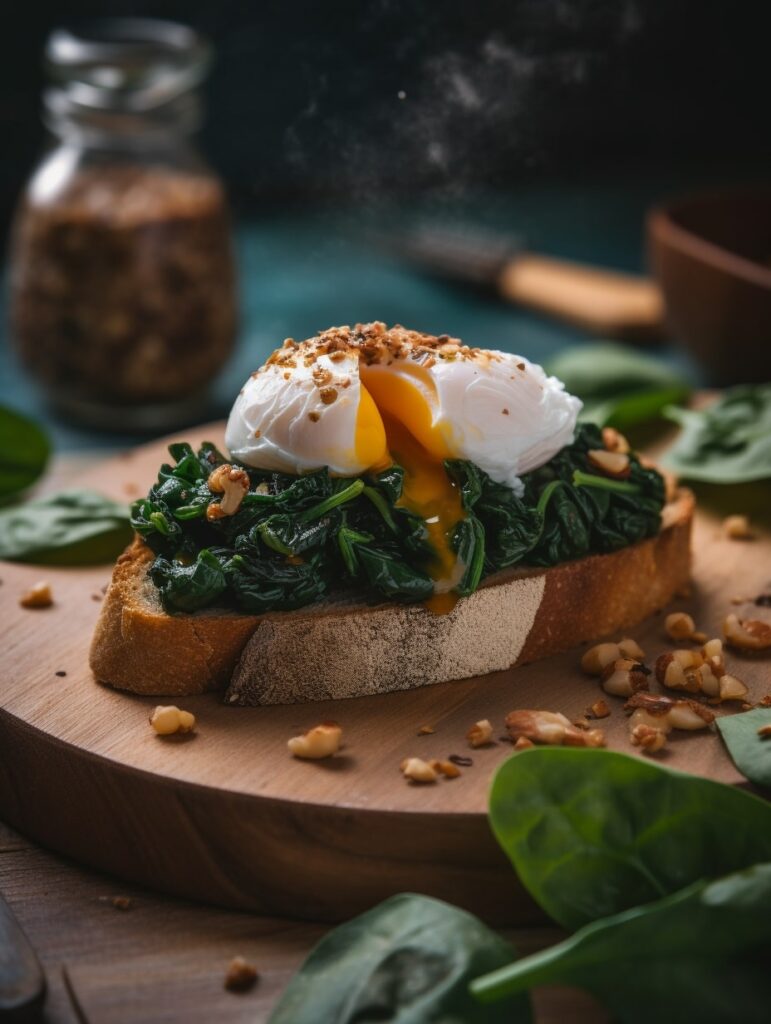 Prompt #21
intentional camera movements, spaghetti pasta in the air, bolognese, professional food photography, realistic, delicious, pasta, food, 4k –q 2 –ar 3:4
Prompt #22
a close-up shot of sushi with wasabi, intricate details, ultra-realistic food photography, luxe –q 2 –ar 3:4 –s 900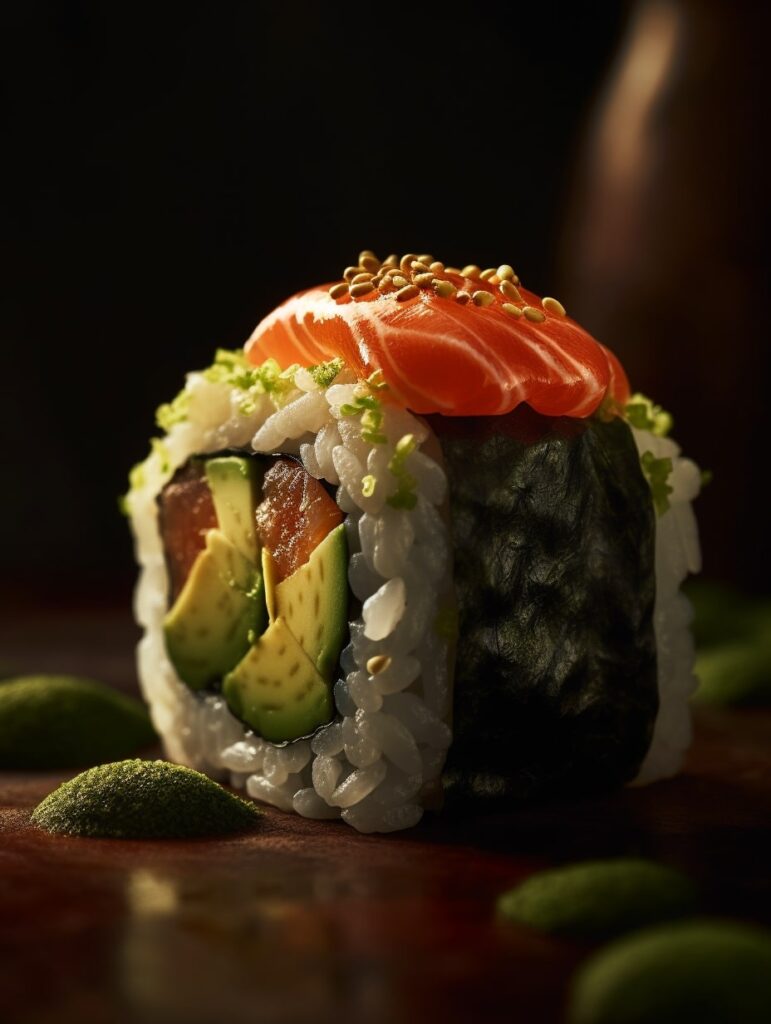 Prompt #23
fish bbq in banana leaf, stunning food photography, shot on 105mm lens, depth of field, tilt shift, f/2.8, accent lighting, 4k, super-resolution, vivid –q 2 –ar 3:4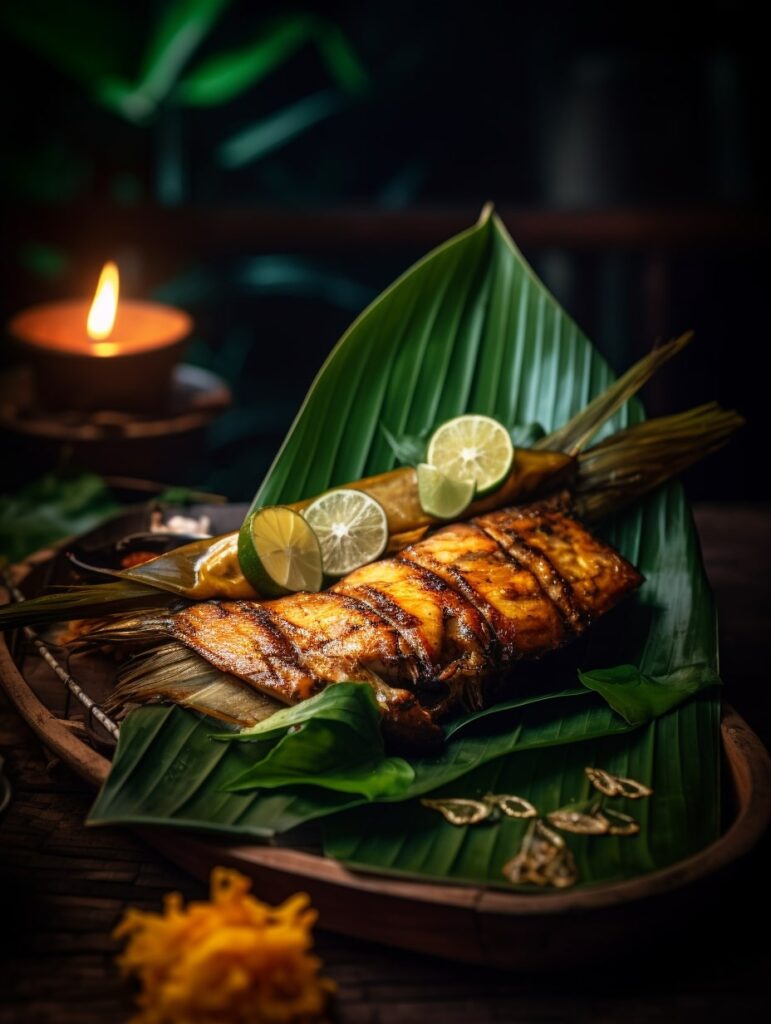 Prompt #24
a dutch angle close-up shot of large quantity of chicken briyani on a banana leaf, onion raita, water droplets on the leaf, intentional camera movements, shot on Nikon Z7 II, depth of field, tilt shift, f/8, 4k, super-resolution, vivid –q 2 –ar 3:4
Prompt #25
a pickle served in a spoon from a luxury glass jar, Indian fermented food, ultra-realistic food photography, shot on Sigma 28-70mm lens, f/2.8, 32k, super-resolution, vivid –q 2 –ar 3:4
Prompt #26
kobe beef served in the style of salt bae, olive oil, roasted garlic and rosemary leaves, gourmet style presentation, stunning food photography, shot on Tamron 28-75mm lens, f/2.8, depth of field, tilt shift, color grading, 32k, super-resolution, vivid –q 2 –ar 3:4
Prompt #27
dutch angle shot of steak Diane, finely chopped beef pieces, mushrooms, and broccoli, green beans, food photography, f/2.8, depth of field, tilt shift, color grading, 32k, super-resolution, vivid –q 2 –ar 3:4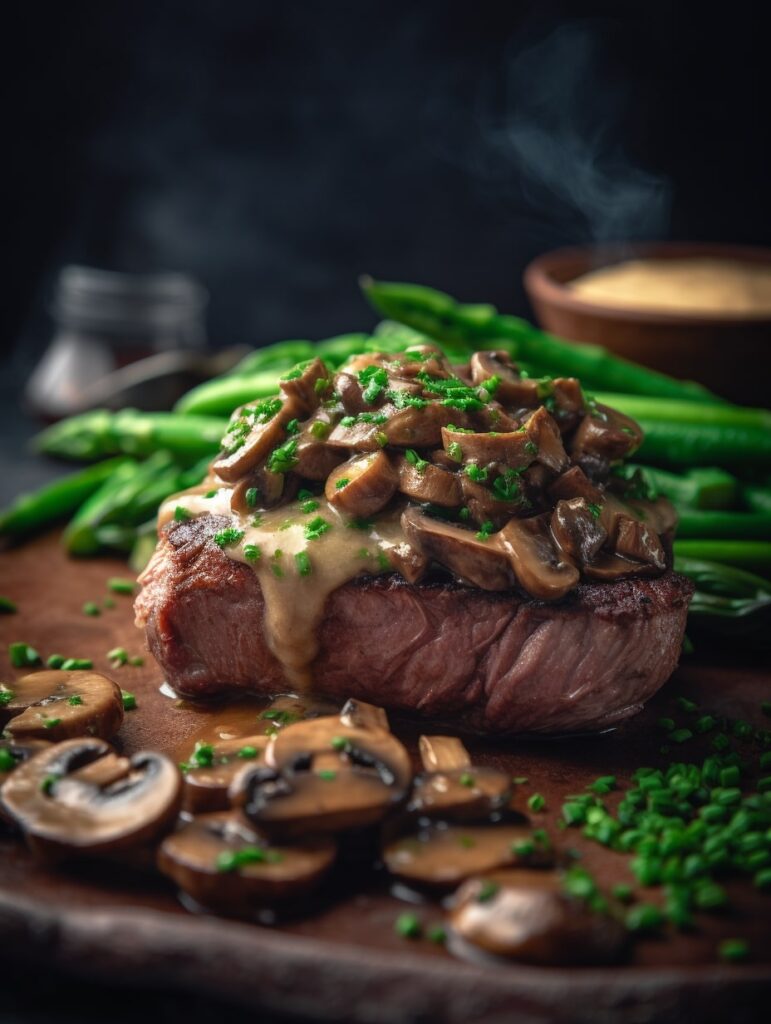 Prompt #28
healthy bowl recipes, assorted, vegetarian food, UHD, 4k, super-resolution, top angle shot, food photography –q 2 –ar 5:3
Prompt #29
person making pizza in the kitchen preparing ingredients, timeless artistry, dark teal and dark brown, realistic food photography, depth of field, color grading, 32k, super-resolution, vivid –q 2 –ar 3:4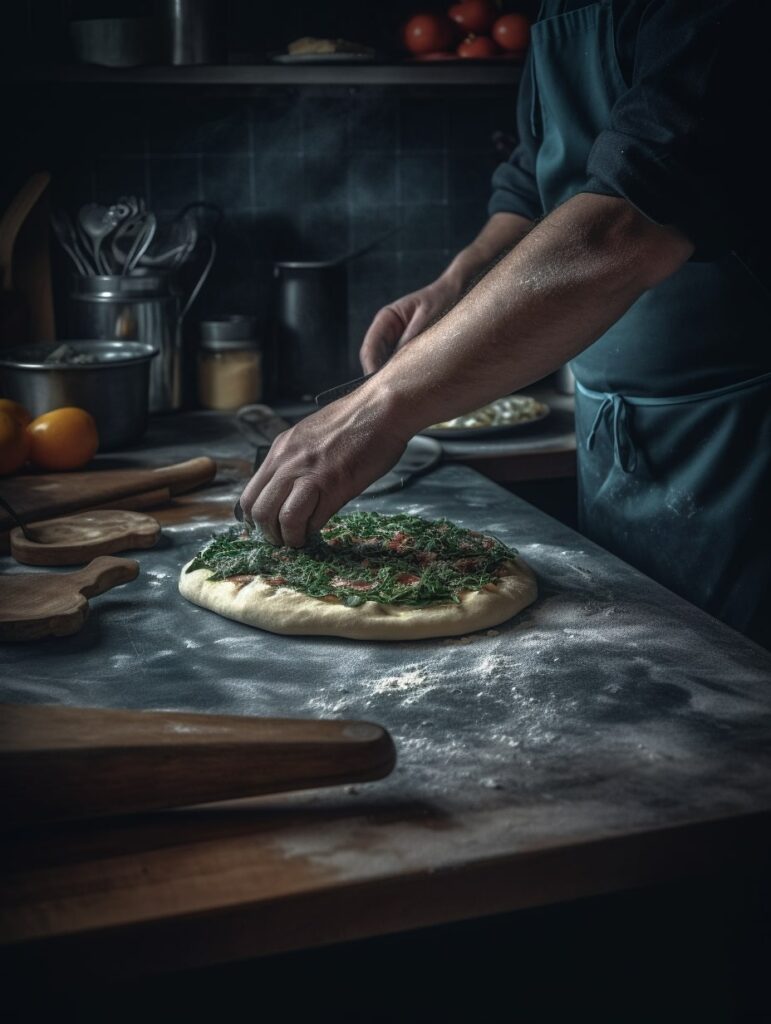 Prompt #30
bacon-wrapped enoki mushroom, served on an elegant platter, Korean food, food photography, backlight, depth of field, 32k, super-resolution, vivid –q 2 –ar 3:4
Prompt #31
a dozen of colorful assorted macarons, chocolate cascading from top, dynamic, food photography, dim lighting, depth of field, 32k, super-resolution, vivid –q 2 –ar 3:4
Prompt #32
an edible food art of sonic hedgehog, made up of fruits and vegetables, soft lighting, intricate detailing –q 2 –ar 5:3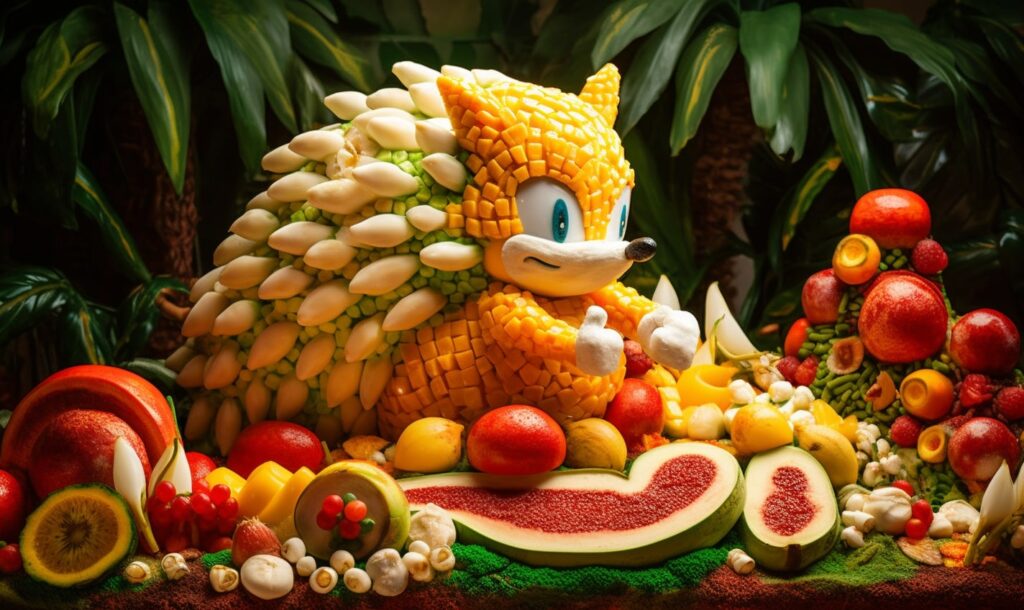 Prompt #33
Overhead food photography, bbq pork with over easy egg rice, Michelin Star restaurant –ar 16:9 –q 2
Prompt #34
finely cooked beefsteak, served with broccoli, ginger sauce, mashed potatoes, chopped leeks toppings, chopstick, Japenese steak house, soft lighting, ultimate food photography, extreme close-up shot, 32k, UHD –q 2 –ar 16:9
Prompt #35
chinese style fish broth, swirlings, intricate detailing, spoon, top close-up shot, professional Michelin Star gourmet food photography –s 800 –q 2 –ar 16:9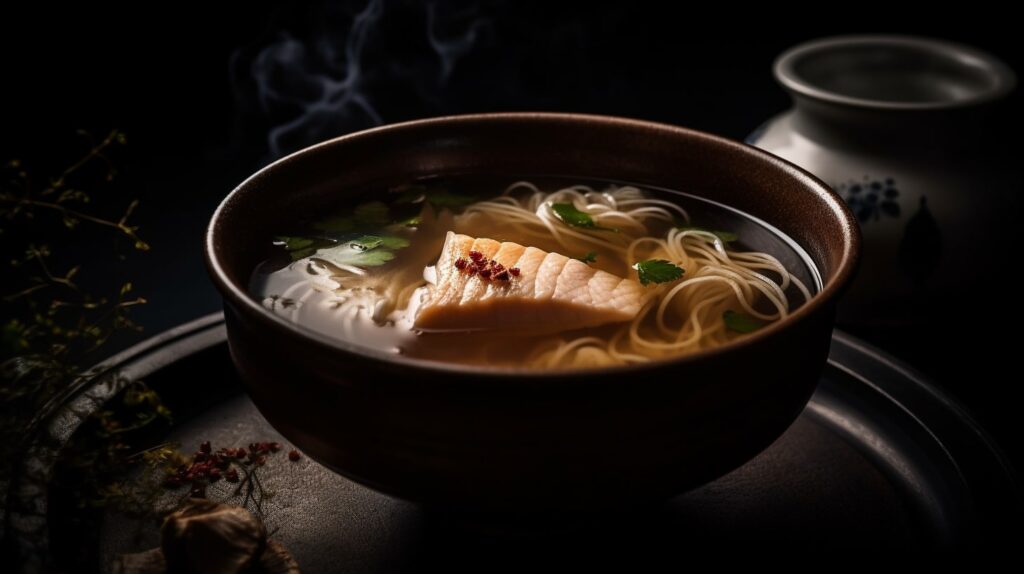 Prompt #36
food photography of food subscription box, depth of field –q 2 –ar 16:9
Prompt #37
breakfast plate with eggs and vegetables, vector illustration, in the style of colorful fantasy realism, light gray and crimson, 32k uhd, illustration, isometric –ar 3:2
Prompt #38
yakiniku being grilled on bbq, smoke, dutch angle shot, Canon PowerShot G7X III, macro shot, natural day lighting, UHD –q 2 –ar 3:2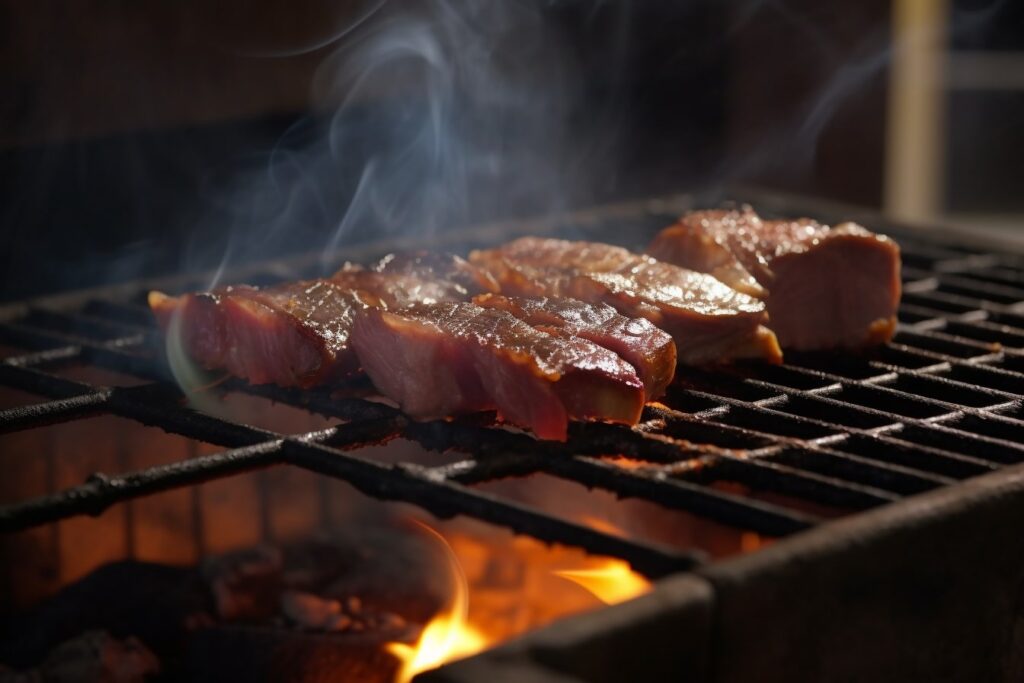 Prompt #39
canape dishes on a canape tray, molecular gastronomy, professional Michelin Star gourmet food photography, extreme close-up shot, Fujifilm X-T30 II, 70 mm lens, color grading, super-resolution, 32k –q 2 –ar 3:2
Prompt #40
a dozen of fusion sushi rolls served on an elegant platter, professional Michelin Star gourmet food photography, extreme close-up shot, Nikon Z7 II, color grading, super-resolution, 32k –q 2 –ar 3:2
Prompt #41
a tenderly roasted stuffed duck cut into slices, The lemon, broccoli, garlic, and rosemary leaves falling from top, ultra-realistic food photography, slow shutter, super-resolution, UHD –q 2 –ar 3:2 –s 700
Prompt #42
salmon fillets in delicious creamy spinach, olives, and sun-dried sauce, surreal food photography, top angle shot, Sony A7 IV camera, color grading, super-resolution, 32k –q 2 –ar 3:2
Prompt #43
an edible food art of Homer Simpson, made up of meat, backlighting, intricate detailing –q 2 –ar 5:3
Prompt #44
Food photography of fermented Jalapeños, Sony A7R IV camera, depth of field, super resolution, dramatic spotlight, 32k –q 2 –s 750 –ar 3:2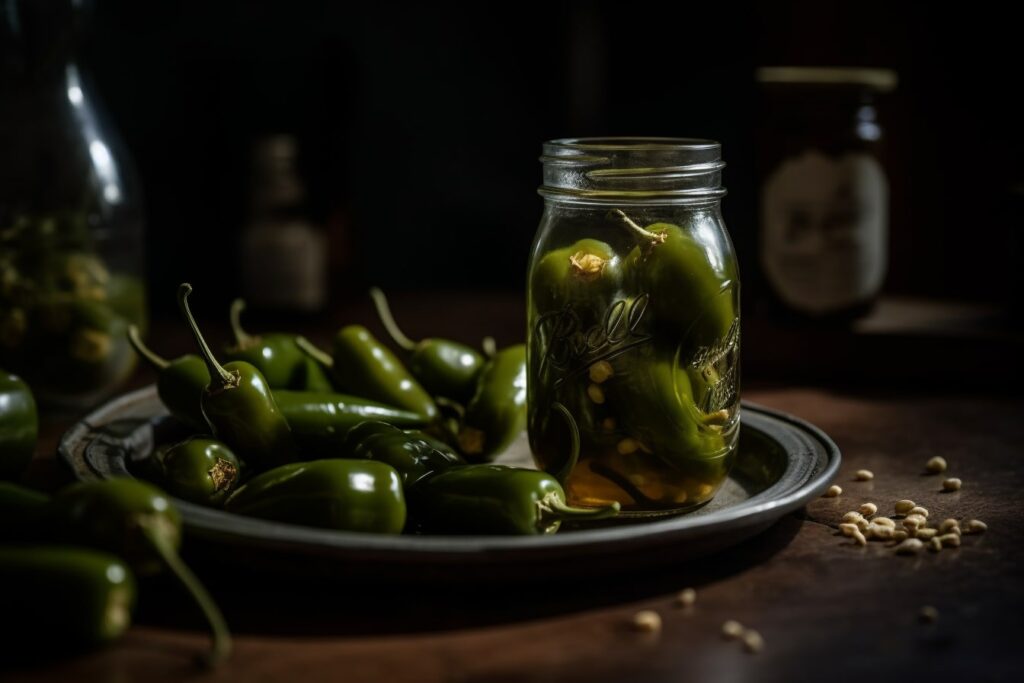 Prompt #45
extreme close-up shot of sticky Natto served with chopstick, Japanese traditional food, Sony A7R IV camera, depth of field, super-resolution, dramatic spotlight, 32k –q 2 –ar 3:2 
Prompt #46
shiokara, Japanese food, professional Michelin Star gourmet food photography, depth of field, diffused lighting, super-resolution, vivid –q 2 –ar 3:4
Prompt #47
Juicy grilled turkey seasoned with herbs and spices, baste it with butter, professional Michelin Star gourmet food photography, depth of field, diffused lighting, super-resolution, vivid, perfect baste –q 2 –ar 3:4
Prompt #48
edible gold wrapped pork pie stacked on each other, gourmet food photography, depth of field, soft, diffused lighting, super-resolution, vivid –q 2 –ar 3:4
Prompt #49
gold sushi, edible food, expensive food, gourmet food photography, depth of field, soft, diffused lighting, super-resolution, vivid –q 2 –ar 3:4
Prompt #50
Oysters Topped With Passion Fruit Caviar, professional Michelin Star gourmet food photography, editorial style, warm, golden lighting, super-resolution, vivid –q 2 –ar 3:4