Gone are the days of looking for wallpapers on random sites; welcome the era of AI-powered imagination, where text descriptions breathe life into captivating wallpapers.
Artificial Intelligence (AI) has rapidly evolved, revolutionizing various industries with its transformative capabilities. Particularly, Midjourney, one of the most popular generative AI models, has a higher user base compared to OpenAI's DALL.E 2 and Adobe's Firefly.
In this article, I explained how I created 12 types of wallpaper using the optimal Midjourney parameters and aspect ratios. Also, I have included the exact Midjourney wallpaper prompts that I used in the process.
Remember, these prompts were tested in the latest Midjourney version, 5.2. Hence, these prompts can generate slightly different aesthetics and styles in the other version of Midjourney.
If you want to modify the prompts that I have given here, replace the square bracket with your own input. Otherwise, use the prompt as it is after removing the square brackets.
Midjourney Wallpaper Aspect Ratios and Parameters
Midjourney has a variety of aspect ratios and parameters that perform various tasks. 
Many users of Midjourney felt overwhelmed by these options. But when it comes to wallpapers, you only need to be familiar with a few aspect ratios and parameters.
Let's look at those.
To create wallpapers for desktops, you can use aspect ratios of 16:9, 21:9, or 3:2 according to your device's screen resolution.
To create wallpapers for your iPhones or Android mobile devices, you must use the aspect ratios of 9:16 or 2:3.
To talk about Midjourney parameters for wallpapers, there are a few you need to take note of:
–tile

: You can use the "tile" parameter to get seamless, repeatable patterns.

–stop <value>

: The "stop" parameter can be used when you want a certain kind of texture look. The "stop" parameter actually stops the job partway.

–s <value> or –stylize <value>

: The "stylize" parameter brings an artistic feel and creativity to your outcome. But, in order to align with your prompt, you need to use the minimum values of 200-500. Otherwise, the outcome might deviate from your prompt.

–no <text>

: No parameter of Midjourney allows you to exclude the unwanted watermarks and the color or objects in the generated images.

–style raw

: It reduces the influence of the default Midjourney aesthetic and adds more photographic quality to images.
As a general tip, feel free to hit the "reroll" option or variation buttons v1, v2, v3, or v4 to try different results for a single prompt.
Types of Wallpapers You Can Create in Midjourney
Though the possibilities of creating various types of wallpaper in Midjourney seem boundless, I have tried and tested the most commonly used wallpaper categories. Here's the list:
Color Gradient

Sceneries

Abstract Wallpapers

Game Assets

Minimalistic

Lofi Wallpapers

Background for Children 

Floral and Botanical

Vintage and Retro

Space and Galaxy

3D and Illusion

Layered paper art
Let me walk through them one by one.
1. Color Gradient Wallpapers
Color gradient wallpapers have been quite popular in recent years and continue to be a preference for many users. Color gradient wallpapers look soothing and appealing at the same time.
Due to its minimalistic aesthetic and calming and relaxing properties, this is the majority of people's go-to choice. It also compliments the overall feel and look of app icons.
Though you can find many color gradient wallpapers on stock websites, Midjourney allows you to create your own color gradient wallpapers. On top of this, it gives you the feeling of cultivating your own food.
Prompt 1: wallpaper of fluid abstract [multi-colors], smooth gradient, [soothing colors, mind relaxing colors], 8k resolution –ar 16:9
You can use the above prompt as it is to get multiple multi-color gradient wallpapers. In the case of a specific color or a couple of colors, you need to replace the values in the square bracket.
If you prefer more texture, you must try the below prompt, as it gives both fine texture and smooth gradients of colors. 
Prompt 2: digital background of color gradients, 3d effect, soft light, low contrast, minimalistic, [foil holographic] –ar 3:2 –stop 75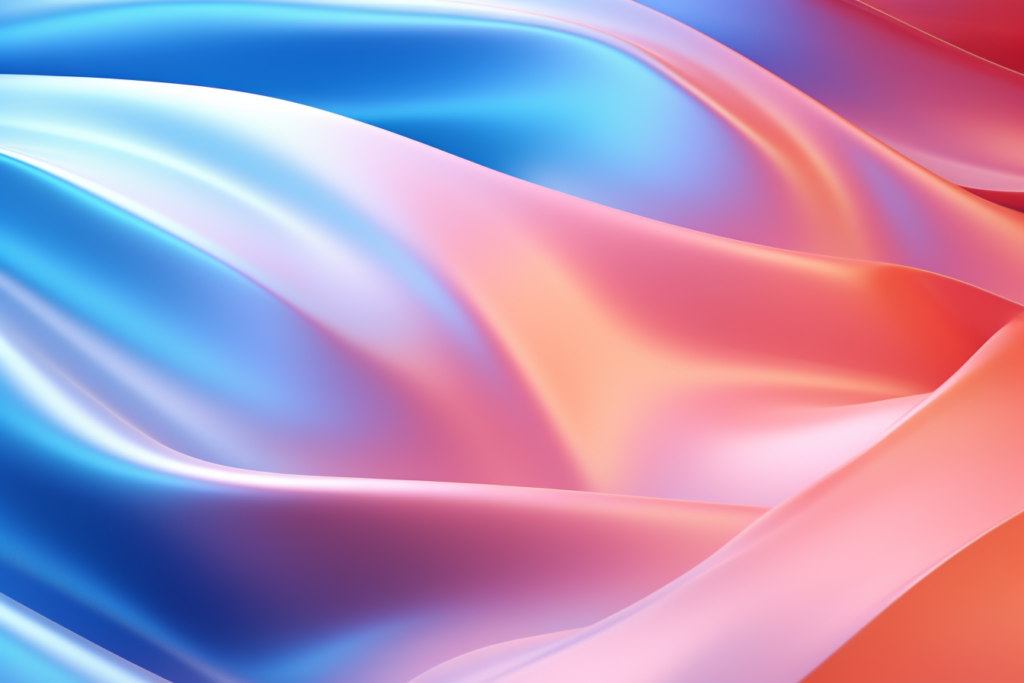 In the above prompt, you can replace the "foil holographic" with other material tokens, such as holographic glitters, rainbow or prism foils, and things like these.
Overall, cool results. Isn't it?
2. Sceneries Wallpaer
Sceneries are the universal wallpapers on the gadgets of both millennials and Gen Z. Wallpapers featuring beautiful landscapes, scenic views, and nature's wonders like mountains, beaches, forests, and sunsets are perennial favorites.
Let's take a look at how Midjourney performs in this category.
Prompt 3: wallpaper of [mount fuji], [haze], hyperrealistic photograph, shot on Sony A7 IV camera, high quality, 4k –ar 3:2
I must say that I am flabbergasted after seeing this particular result. How realistic and calming this scenic wallpaper is!
In this scenic wallpaper prompt, you can change the subject and atmospheric conditions of your choice. You can even change the type of camera and experiment with different outcomes.
3. Abstract Wallpapers
People with artistic taste prefer to stick with abstract wallpapers. As the name suggests, abstract wallpapers rely on shapes, lines, colors, and patterns to create unique, imaginative visuals.
Abstract wallpapers are non-representational, artistic, creative, use bold colors, and convey emotions. Hence, you do not have to stick with my tokens in the prompt. Instead, you can use any token that has these characteristics to generate wonderful, artistic abstract wallpapers. 
Prompt 4: abstract shape of [fox face], perfect use of negative space, surrounded by minimalistic frenetic line work, high resolution wallpaper, minimalistic, 4k –ar 16:9
Again, a good result from Midjourney. As usual, just replace the subject "fox face" with your own input token for personalization. Be ready to hit "reroll" a few times if you don't get the expected result.
Next, I have experimented with the token "geometric shapes" for this abstract wallpaper type. My quest for the best abstract wallpaper has never let me down.
Prompt 5: A geometric representation of [energy], flat vector wallpaper, super resolution, apt color palette, 4k –ar 16:9
Prompt 6: a geometric representation of [nano particles], flat vector wallpaper, super resolution, apt color palette, 4k –ar 16:9
I know this is the same prompt template that I previously showcased. I Just wanted to share this since this one is my favorite.
4. Game Asset Wallpapers
To all the game fanatics out there, imagine having a captivating game wallpaper with epic landscapes of your favorite virtual worlds or featuring the iconic characters you've come to know and love.
With the Midjourney prompts I have disclosed here, you can have personalized gaming wallpapers.
Prompt 7: [luminescent caverns of eldoria], [ancient passageways], [otherworldly light], in the style of [roblox], unreal engine, volumetric lighting –ar 16:9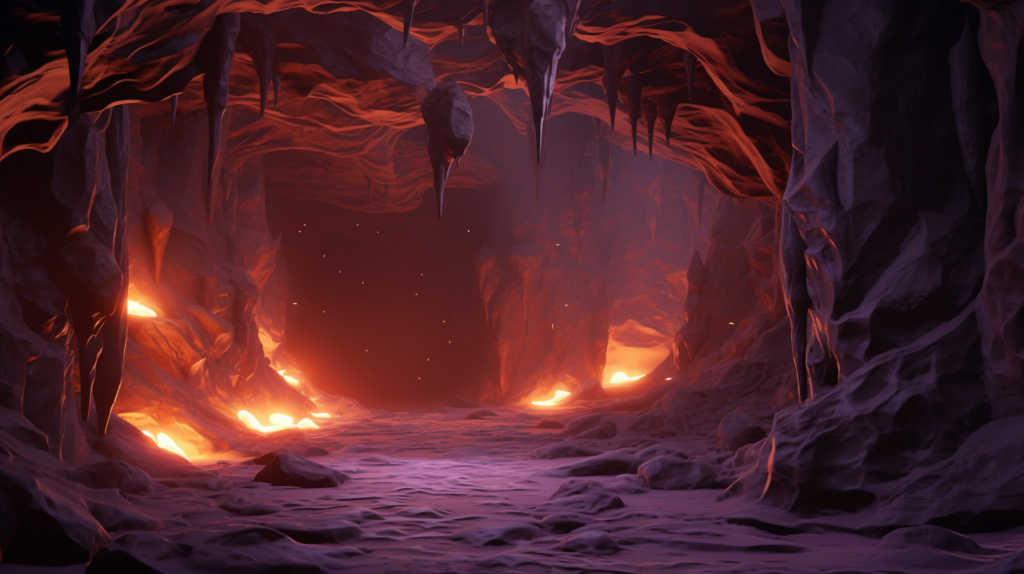 As mentioned in the opening of this wallpaper type, you can highly customize this prompt as it allows you to specify the subject with an adjective, lighting, and the type of game you like.
Prompt 8: [luminescent caverns of eldoria], [ancient passageways], [otherworldly light], in the style of [minecraft], unreal engine, volumetric lighting –ar 16:9
I repeated the same prompt template here, to showcase how effective and sensitive this prompt is. As you can see from the outcome, Midjourney handled this prompt wisely after I only changed the type of game of my choice.
Game on!
5. Minimalistic Wallpapers
People who love clutter-free and elegant aesthetics will opt for minimalistic wallpapers. When it comes to minimalistic wallpapers, I should say that Midjourney nailed it.
Prompt 9: [a small house with a single tree above it on a hill], in the style of monochromatic minimalist portraits, dreamy feel, light –ar 3:2
Minimalistic at its best!
Prompt 10: [an alien coming out of a portal], in the center of the screen, in the style of minimalistic wallpaper, subtle use of colors, clean, minimal, 4k –ar 21:9
This is one of my favorite prompts, as it is tailored to generate effective minimalistic marvels.
6. Lofi Wallpapers
Lofi wallpapers are a perfect choice for those who are seeking a cozy and relaxed ambiance while on their desktop or mobile.
A lo-fi wallpaper is often characterized by soft, muted colors and grainy textures, these wallpapers evoke a sense of simplicity and warmth that can't be replicated by modern digital visuals.
So, immerse yourself in the gentle embrace of Midjourney's lo-fi wallpapers, where time seems to slow down and worries fade away.
Prompt 11: [a couple enjoying solitude in snowland, long trail], in the style of lo-fi, lofi wallpaper, soft focus, [cool breeze], lofi color palette –ar 3:2
Prompt 12: [a girl with her goat], [ruined windmill house] in the backdrop, in the style of anime aesthetic, warm tones, monochromatic serenity, lofi color palette –ar 3:2
You can execute this prompt in "niji" mode of Midjourney to get the complete anime aesthetics.
7. Background for Children
Wallpapers for children are a wonderful way to create a playful and imaginative atmosphere in kids' bedrooms, playrooms, or even on their digital devices. 
When choosing wallpaper for children, it's essential to strike a balance between their interests and a design that can grow with them over time. With the prompts that I've enclosed here, you can achieve this versatility effortlessly.
Prompt 13: a splash page anime of [Katara from Avatar The Last Airbender], reaching out towards the camera, feeling of connection, in TIFF format –ar 21:9 –niji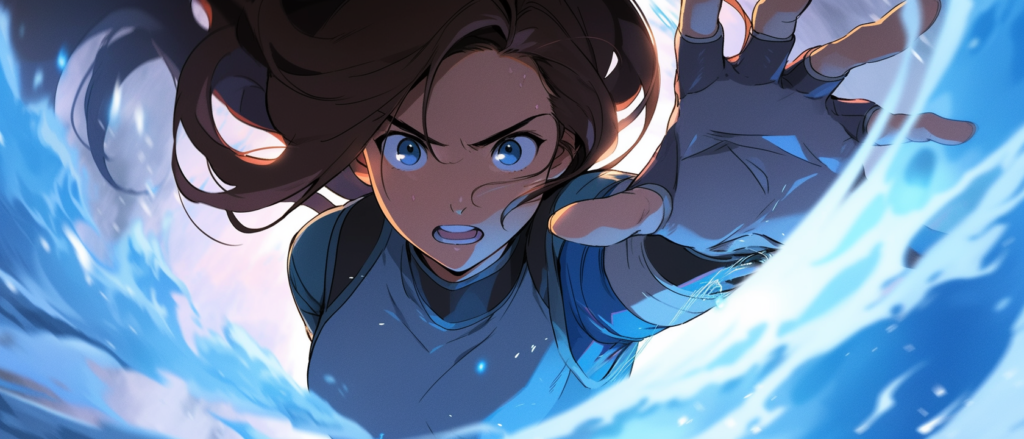 I personally spent more time crafting this prompt to create this 3D kind of effect. I'm sure your kids will love it.
Prompt 14: plasticine illustration of [Goku with a jacket and denim bottom], colorized, sculpture, unreal engine 5, white background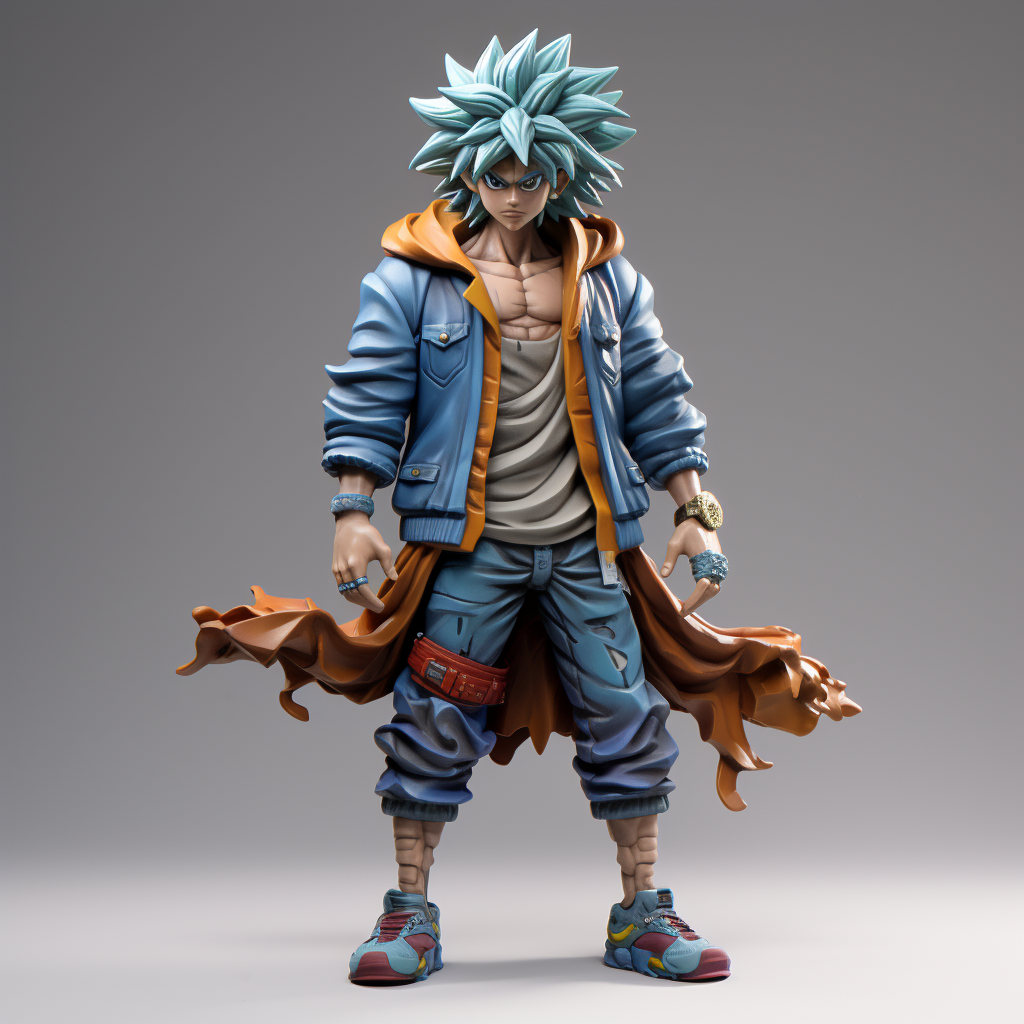 Using this prompt, you can create the wallpaper of your kid's favorite character effortlessly.
Prompt 15: [cute owl sitting on a twig], in the style of cartoonish illustration, depiction of energy surrounds it, dark mode, white background –ar 3:2
8. Floral and Botanical Wallpaper
Wallpapers featuring flowers, plants, and botanical elements add a refreshing and calming atmosphere to a space.
All the anthophiles out there must try these Midjourney prompts to create their own floral and botanical wallpapers.
Let's start with the simple one.
Prompt 16: botanical illustration of [sunflower], intricate detailing, hyperrealistic illustration, clean white background –ar 9:16
For these kinds of prompts, you must use the "–tile" parameter of Midjourney to create a seamless pattern of the subject.
You can check whether your image has seamless tile or not here at Seamless Texture Checker.
Prompt 17: geo landscape of [tulip plantation], in the style of digital illustration, high quality abstract wallpaper, ultra minimalistic, clean, super resolution, perfect use of soothing colors –ar 3:2
In this prompt template, I have added the abstract property to give it a new feel for anthophiles.
Prompt 18: silhouettes of a [couple being intimate], in the style of naturalistic depictions of flora and fauna, clean background, neutral color palette –ar 3:2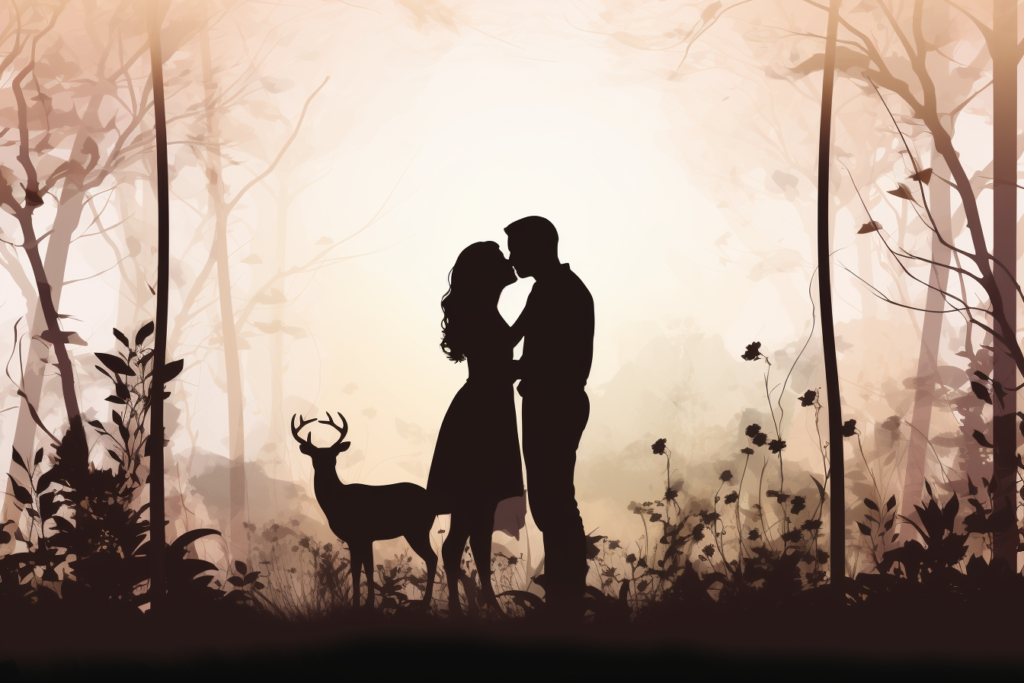 9. Vintage and Retro
Those who love a touch of old-world charm will appreciate retro-themed wallpapers with nostalgic elements or vintage illustrations.
Prompt 19: [a man with spacesuit landing on the earth surface], in the style of vintage graphics, super resolution wallpaper, hd –ar 3:2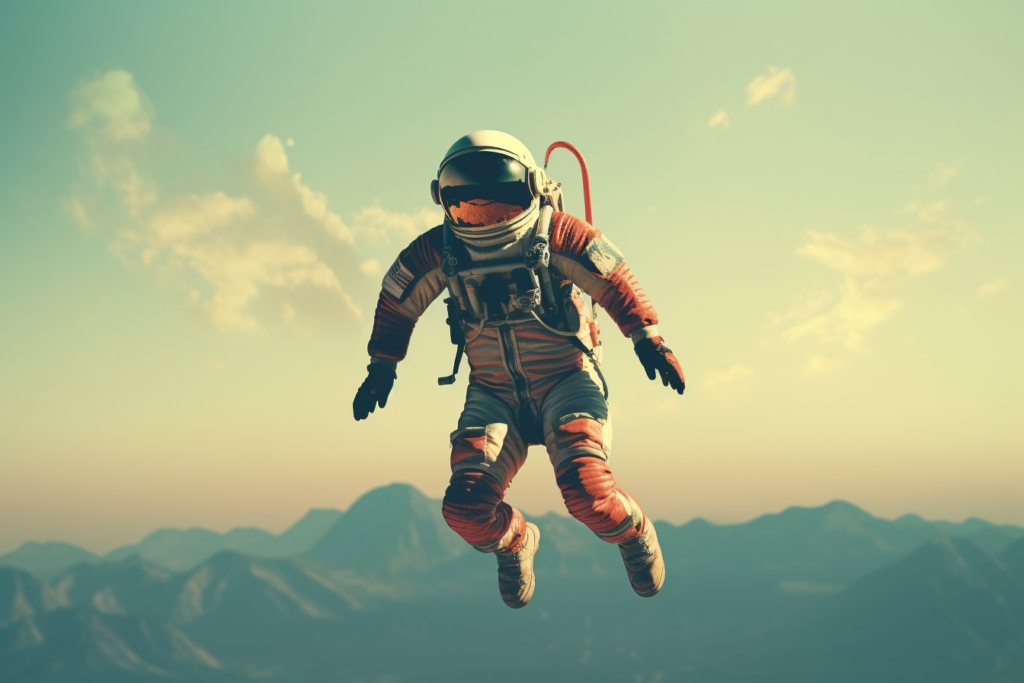 Prompt 20: [chic with retro fashionwears], in the style of retro pop art, minimal linear linework in the backdrop, vibrant colors, high resolution, 4k –ar 3:2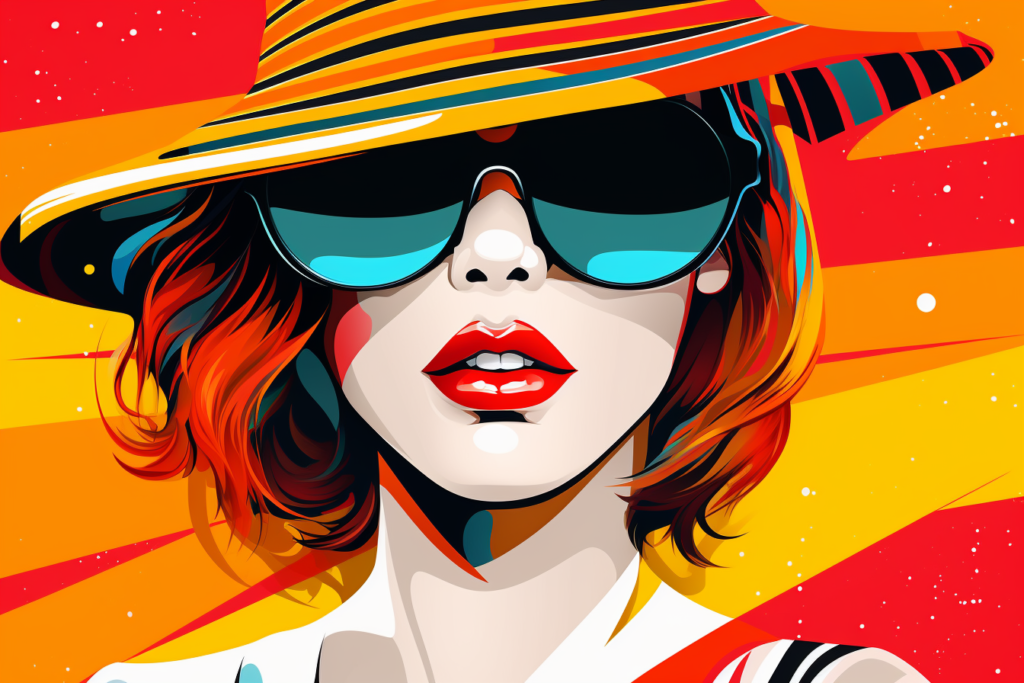 Sorry for the use of the word "chic" here. Please don't take it offensively. I just tried it to see the perspective of Midjourney.
10. Space and Galaxy Wallpapers
Space-themed wallpapers, including images of galaxies, stars, and planets, are popular choices for those who enjoy a cosmic and otherworldly vibe.
All astrophiles can vibe with your personalized space and galaxy wallpapers with the help of the Midjourney prompts given below.
Prompt 21: [a whale] in the style of galaxy nebulae, fantasy art, high quality wallpaper, frenetic explostion, UHD –ar 21:9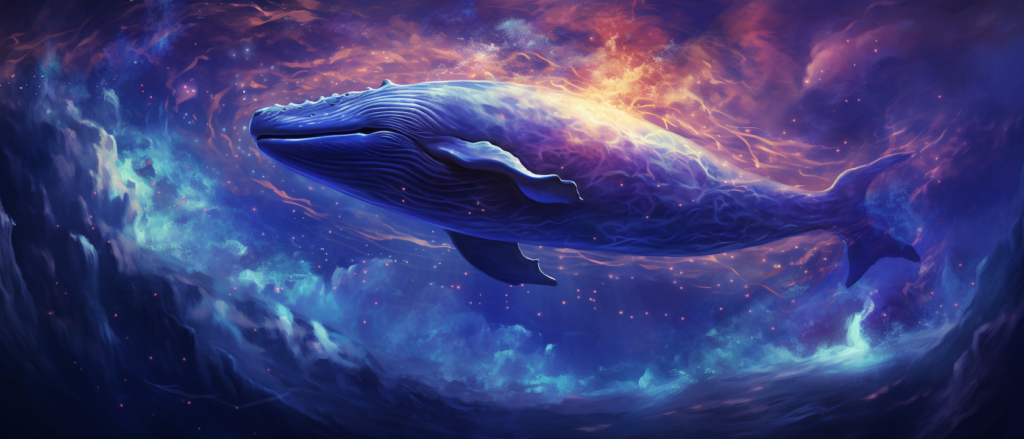 Prompt 22: [moon] as seen via telescope, [craters], abstract illustration, natural color palette, high resolution –ar 3:2
Ensure to change the characteristic of the subject while you are trying to modify the prompt.
11. 3D and Illusion Wallpaper
Wallpapers that create an optical illusion or simulate a three-dimensional effect have gained popularity for their eye-catching appeal. Midjourney never fails to create such wallpapers.
Prompt 23: [power punch of hulk], 3d style, colorful animation, black background, iphone wallpaper –ar 9:16
Prompt 24: abstract explosion of [color blue], 3d effect, three dimensional animation, black background, ultra high resolution –ar 9:16
Here, you can not only input colors but anything of your choice. Your imagination is the only limitation.
12. Layered paper art
Layered paper art wallpapers are a fantastic choice for those looking to add a touch of creativity, artistry, and depth to their living spaces or digital screens.
Layered paper art has gained popularity in contemporary art circles due to its versatility and ability to create visually stunning compositions.
Prompt 25: Multi-dimensional paper kirigami craft of [mountain landscape], vector illustration, minimalist, perfect use of natural colors, 3D relief –ar 3:2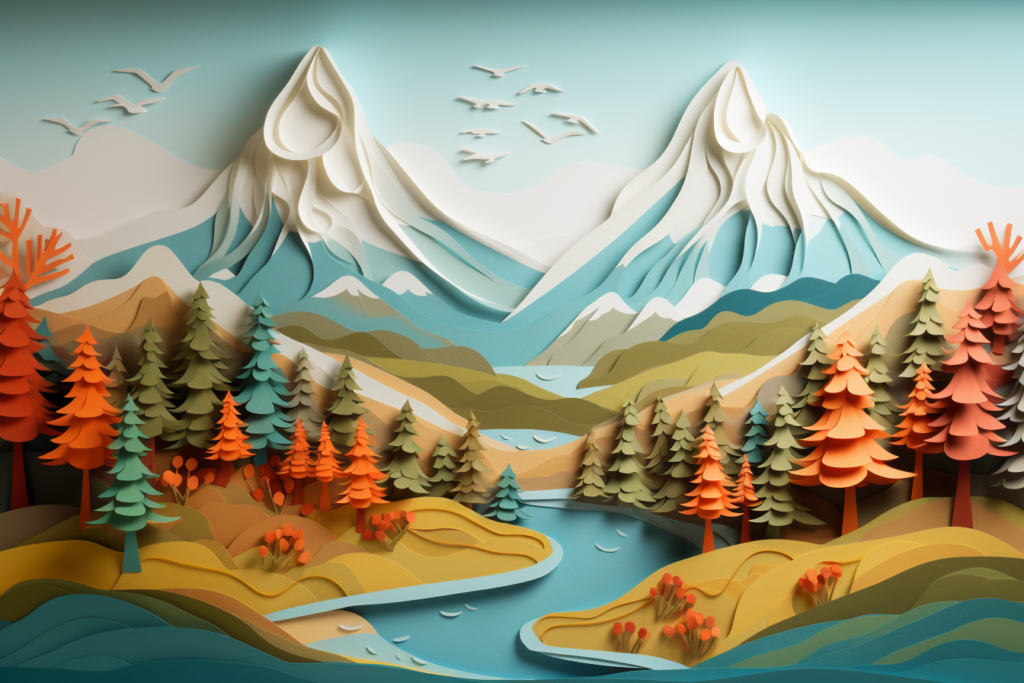 Conclusion
I really impressed with the potential of Midjourney when it comes to wallpaper. What about you? Let me know in the comment section.
Since the copyright infringement of AI-generated images is controversial, I have not / barely used any organization or artist names in my prompt. If you are okay with the uncertainty of this issue, feel free to experiment with different artists, organizations, or software names to achieve a variety of different results.