If you are a crypto artist looking for an inspiration or a  community that helps you to launch your dream crypto project then you have come to the right place. 
Discord communities are the right place where the major activities are taking place without making noise. You have to join the right community to know what is happening in the overall Crypto artist space. 
Check out: Best NFT Discord Server.
Why you need to Join a Crypto Artist Discord Community
To draw inspiration from other successful Crypto artists 

To be a part of the community 

Promote your Crypto Art with the fellow artist and collectors 

Get feedback for your Crypto Arts. 
Beware of the scams that are happening on the Discord server. Never share your private key or password with anyone and report any suspicious DM to admins/moderators. 
Best Discord Server for Crypto Artist
We have curated the best discord server for Crypto artists based on community activity, artist credibility, and much more. Here is the list. 
1. XCopy 
XCopy is a top-rated crypto artist who sold his NFTs for millions of dollars.  You can check out his Crypto Art on SuperRare, Knownorigin, Async.art, NiftyGateaway, and Opensea. He has sold more than 9000 artwork with a total volume of 96 million dollars. 
XCopy discord server has more than 16000 members which are more than for any Crypto Artist. 
If you already own XCopy Crypto art you can connect with other XCopy Collectors on the #trades channel.
For general conversation, you can check out the #bar channel. 
You can Join the XCopy discord server channel by clicking on this link: https://discord.gg/y3TFzusNkt
2. Hackatao 
Hackatao is one among the early artist who firmly believes in the future power of crypto art by never leaving and never quitting, against all odds.
Hackatao is the artist behind Queens+King's interchangeable NFT traits, randomly allocated and algorithmically generated.
The Hackatao discord server has more than 15K members where you can have general conversations with the community members. 
You can Join the Hackatao discord server channel: https://discord.com/invite/hackatao
3. Tyler Hobbs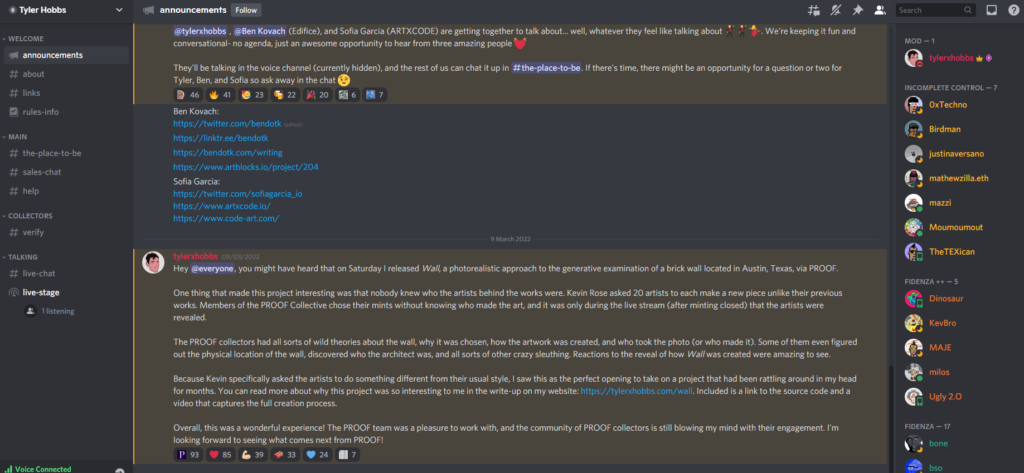 Tyler Hobbs is a visual artist from Austin, Texas who works primarily with algorithms, plotters, and paints. His artworks focus on computational aesthetics, and how they are shaped by the biases of modern hardware and software. 
The Discord community of Tyler Hobbs has more than 1.9K members. By joining the Discord server you can directly communicate with Tyler Hobbs through live chat. 
If you are an aspiring Generative Artist then joining the Tyler Hobbs Discord channel would be the ideal option. 
You can check out Tyler Hobbs Discord Server: https://discord.com/invite/D5QUQMncA7
4. Art Blocks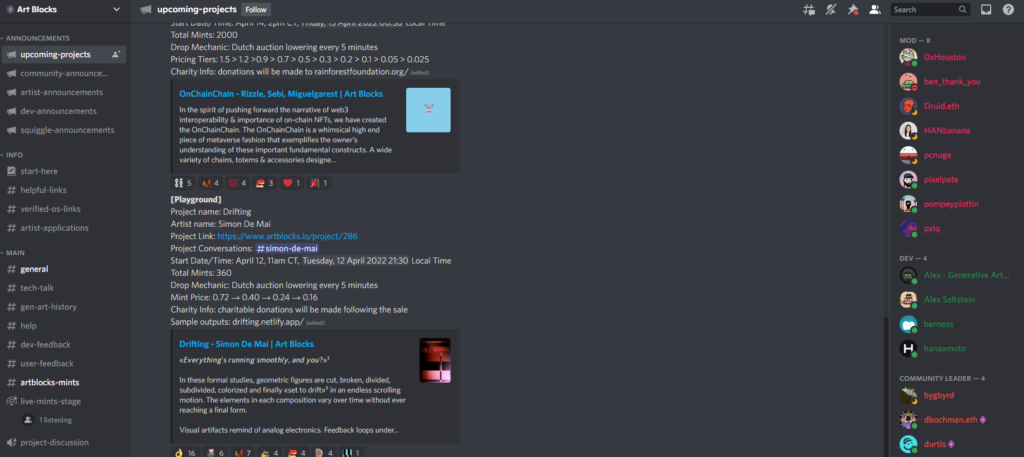 Art Blocks is a platform focused on genuinely programmable on-demand generative content that is stored immutably on the Ethereum Blockchain. 
Art Blocks is hosting projects from today's most innovative digital artists. The art is created by the combination of creative coding with blockchain technology to establish a new paradigm for the creation of arts. 
The discord community of Art Blocks has more than 42K members and they have separate channels for future announcements, tech talk, user feedback, and much more. 
You can check out Art Blocks Discord Server: https://discord.com/invite/artblocks
5. Fewocious 
Fewoicous is a young rising star of the crypto art world. His art represents snapshots of his memories and a mirror into his heart, his passion for creating shines through every piece. 
Through a series of successful NFT drops which have grossed over $17 million in just under a year. 
By joining the Discord community, you have the opportunity to interact with the Fewocious himself. 
You can check out the Fewocious discord channel: https://discord.com/invite/wfHtcz5Pm5
6. TBOA Club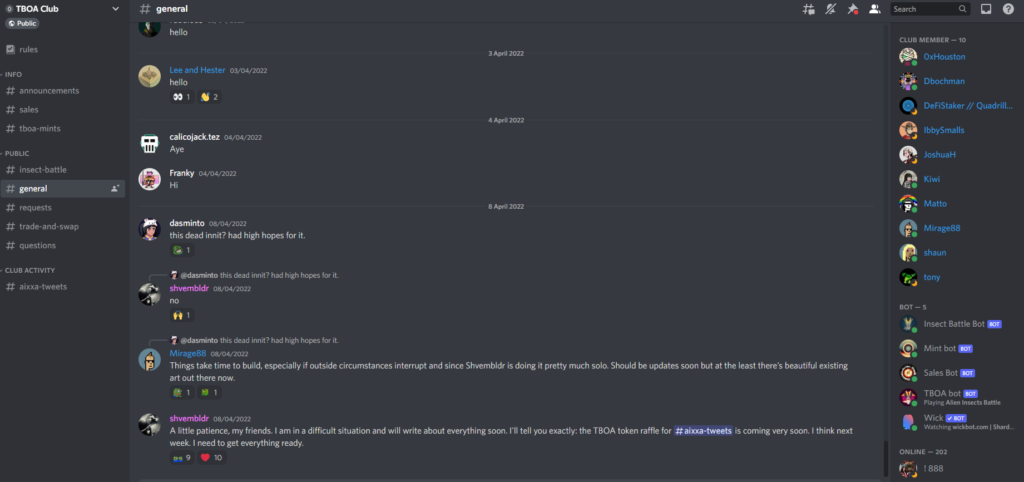 TBOA Platform was founded for those who are admirers of Shvembldr's creativity. It was created in partnership with Art blocks. 
TBOA Club is not just an NFT Platform. It is a club of people who are interested in generative art and art in general. 
By joining the Discord community, you can directly interact with the Shvembldr. 
You can check out the  TBOA discord channel: https://discord.com/invite/ryB4GV3MYx
7. SuperRare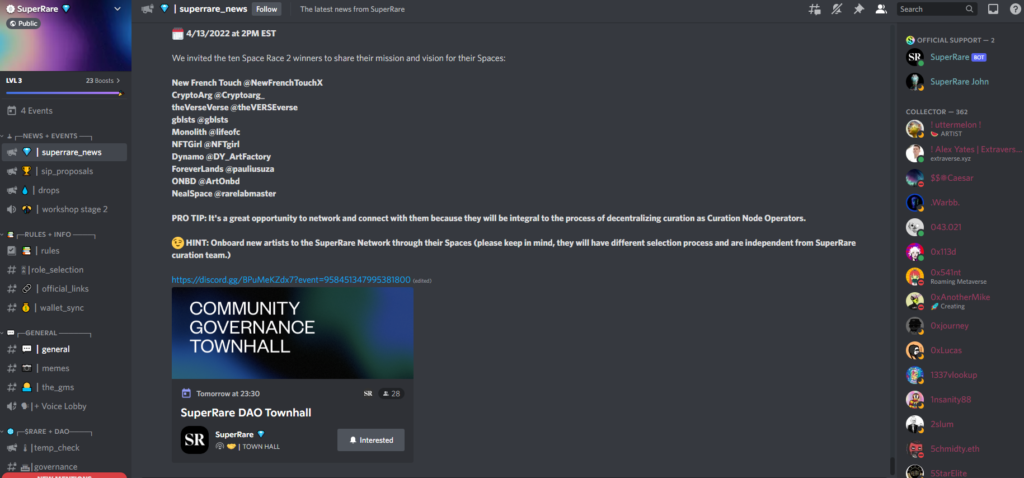 SuperRare is artist-focused NFT Marketplace to collect and trade unique digital artwork. If you are a crypto artist and if you are looking for the community you definitely check out the most happening NFT Marketplace community. 
SuperRare discord community has more than 37K members.  
Joining the SuperRare discord community helps you know about the upcoming $RARE drop. In general, the section is where you can intro with other artists or promote your NFT Art. 
You can join the SuperRare discord community: https://discord.com/invite/HYB4YKZbga
8. FVCKRENDER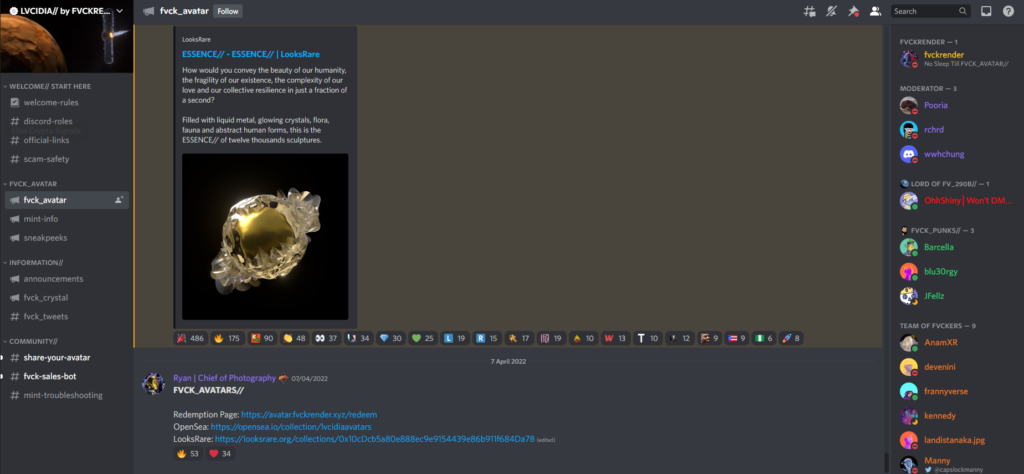 Frederic Duquette aka FVKRENDER is one of the most well-known artists in the NFT space. A self-taught artist in Vancouver focuses on 3D Arts. 
He had worked with marque clients like Supreme, Softest Hard, Columbia Records, Lil Nas X, Epic Records, Harpers Bazaar China, Tokimonsta, Puma, Spotify, Instagram, Dior, and many more. 
If you are an aspiring 3D Render Artist then joining this discord server would be your number one priority. 
By joining his discord server you get to know his future announcement,  a sneak peek of his upcoming work, and the opportunity to interact with the artist himself. 
You can join the FVCKRENDER discord community: https://discord.com/invite/nh8hSa3J8q
9. Matt Kane 
Matt Kane is a Chicago-born, gallery exhibited artist in his early twenties. The average painting of his work consists of over a million unique shapes, and 100+ layers, and spend 12+ hours of my time while I make literally thousands of changes to hundred of design variables across the user interface of his software. 
If you are excited about computer-generated crypto art, then following his discord community would be the ideal decision. 
You can Join the MateKane Discord Community:  https://mattkane.com/about/
10. Async Art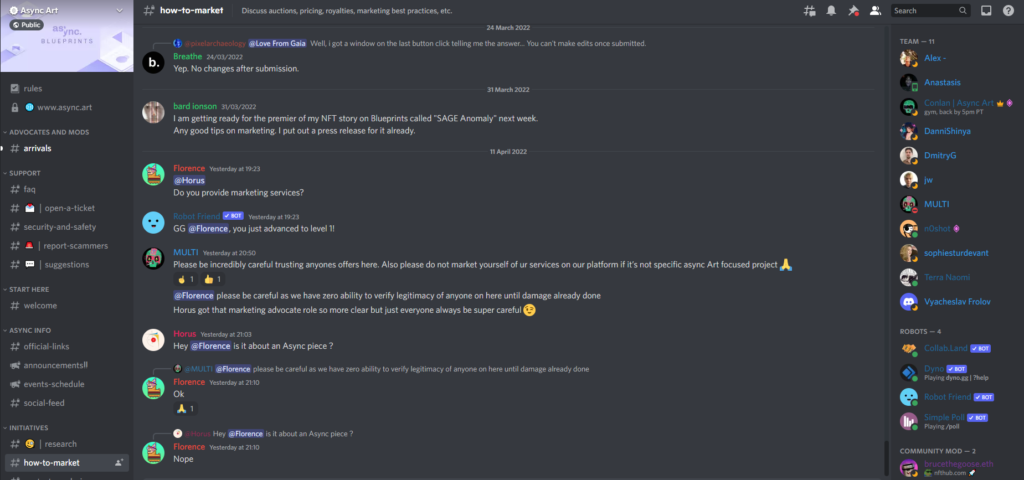 Async Art is a generative art-focused marketplace built on the blockchain where you can create, collect, and trade programmable art. 
They have more than 7.5K members in their discord community. Their discord server has a separate channel for general discussion, suggestions, research, and even for raising support tickets.
You can join Async Art Discord Community: https://async.art/discord