Just like GPT-3 empowered copy writers and content writers, Stable Diffusion empowers artists as well as ordinary people. Stable Diffusion, the text-to-image generative AI, can generate anime, architecture design, photorealistic images, etc. This list also includes tattoo design.
Users who know prompt engineering can easily command Stable Diffusion to generate tattoo designs.
If you are looking for a shortcut to create tattoo prompts, you can steal prompt ideas from other artists as well as from the below list of prompts. Alternatively, you can use TattoosAI, which is a paid product made by Danny Postmaa. TattoosAI helps you turn your ideas into a wonderful tattoo design. Just describe your requirement in a few phrases and select style and color. That's it, your design will be ready within a few seconds.
The pricing of TattoosAI begins with $14.99 to $49. It also offers a free trial. 
50 Best Stable Diffusion Tattoo Prompts
Prompt #1
megan fox face blended with beautiful mountain scenery in the style of dan mountford, tattoo sketch, double exposure, hyper realistic, amazing detail, black and white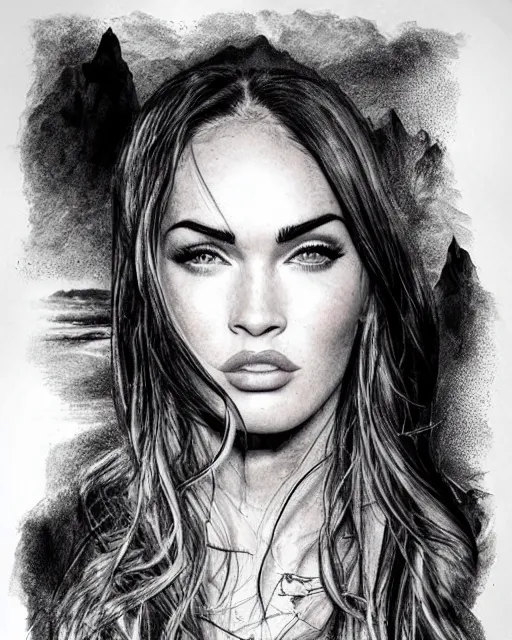 source: OpenArt
Prompt #2
a tattoo of a husky dog, detailed, tattoo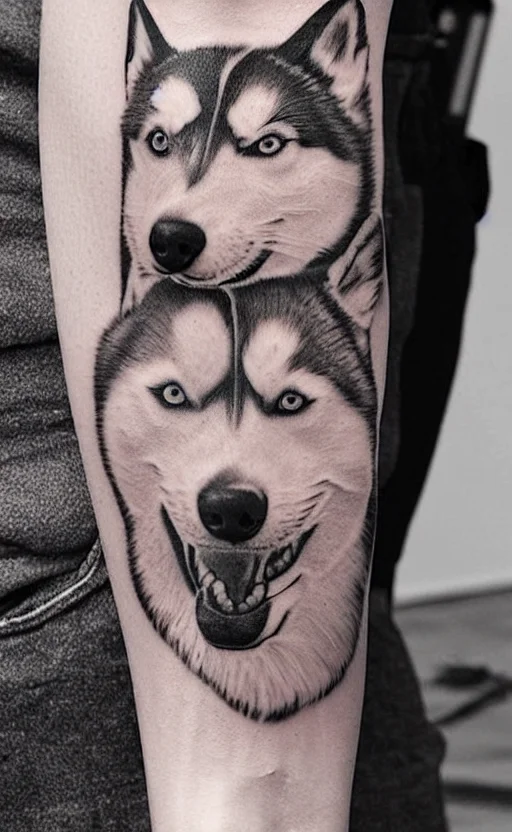 source: Lexica
Prompt #3
tattoo design, stencil, stencil on paper, tattoo stencil, traditional, beautiful portrait of a traditional Japanese girl with flowers in her hair, upper body, by artgerm, artgerm, artgerm, digital art, cat girl, anime eyes, anime, sexy, super model-s 100
source: Lexica
Prompt #4
spermwhale, white whale, cachalot, awardwinning elegant modern tattoo design, peyote colored sketch, white background
source: OpenArt
Prompt #5
picture of a brand new tattoo on my glutes of pikachu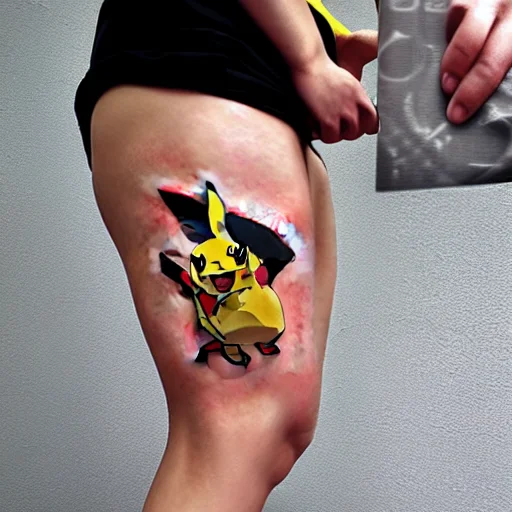 source: Lexica
Prompt #6
photograph of a sleeve tattoo, black ink, intricate celtic pattern in the shape of a raven, highly-detailed, beautiful, award winning, 8k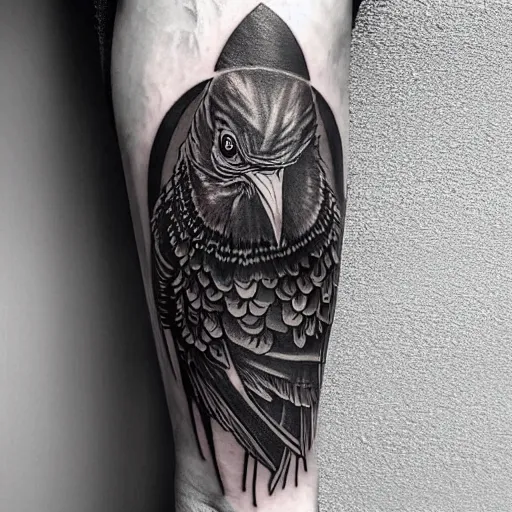 source: OpenArt
Prompt #7
a tattoo of a spiritual fractal by bang bang, highly detailed, intricate, line work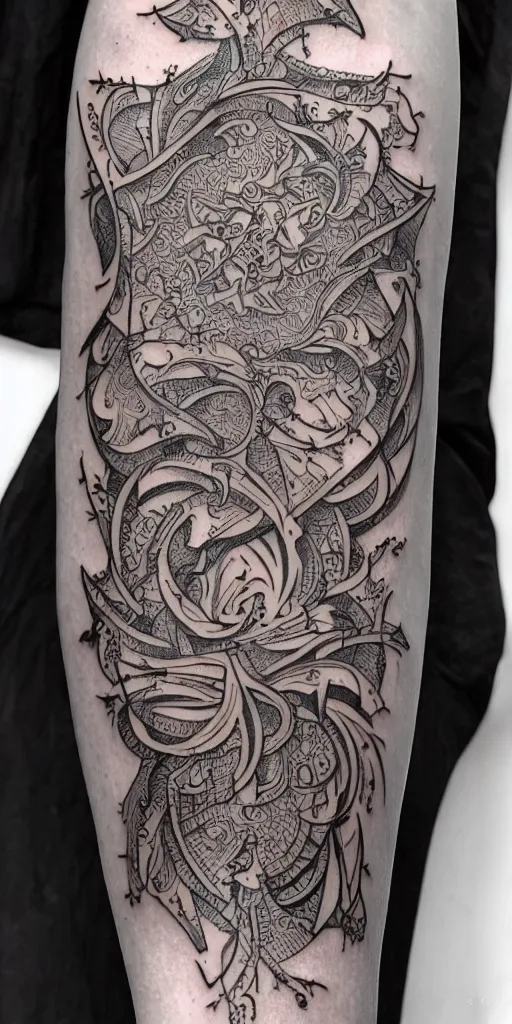 source: OpenArt
Prompt #8
a simple tattoo design of birds flying in a 2 spiral, black ink, logo
source: OpenArt
Prompt #9
lightning strikes the heart, tattoo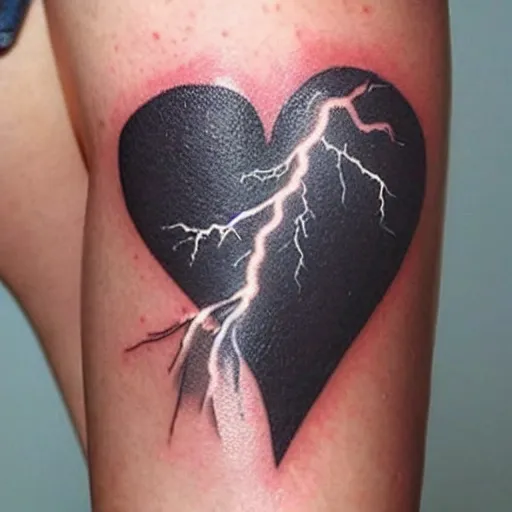 source: OpenArt
Prompt #10
a tattoo drawing of an owl and a butterfly
source: OpenArt
Prompt #11
tattoo of owl flying at night through fog in the forest lit by the full moon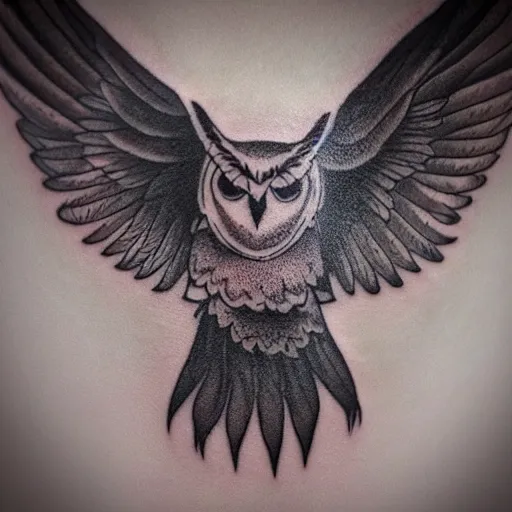 source: OpenArt
Prompt #12
a ultradetailed beautiful concept art of a an intricate wooden mask of an owl painted with beautiful colors, but the mask seems to hide some dark secret, photorealism, concept art, sharp details, high resolution 4 k, by tom bagshaw, greg rutkowski, charli bowater and artgeem
source: OpenArt
Prompt #13
traditional American tattoo of an eagle with a fish in its talons by Samuele Briganti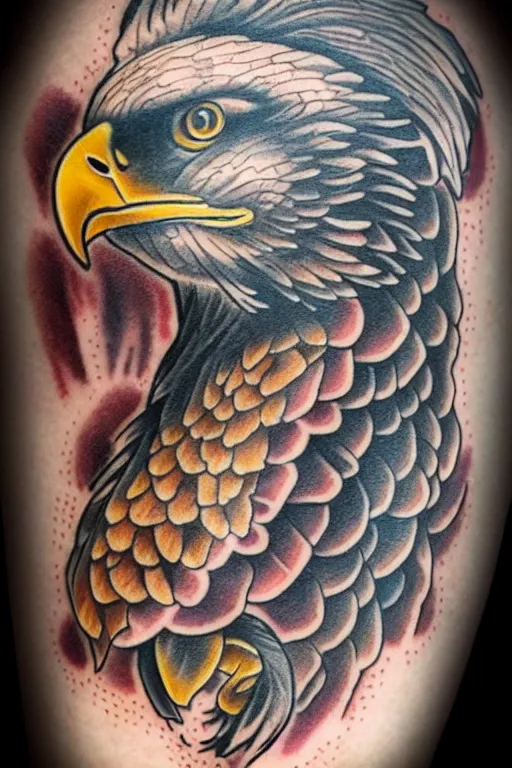 source: OpenArt
Prompt #14
black tattoo design, neotribal style, complicated, highly detailed
source: OpenArt
Prompt #15
deep learning tattoo
source: OpenArt
Prompt #16
photograph of a mandala tattoo depicting a monsters leaf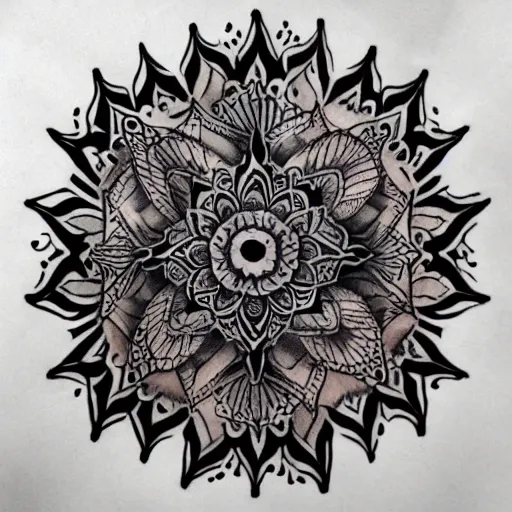 source: OpenArt
Prompt #17
mirrored delicate minimalist art nouveau tattoo, intricate detail, clean lines
source: OpenArt
Prompt #18
delicate black and white flower, insect and leaf tattoo covering a female arm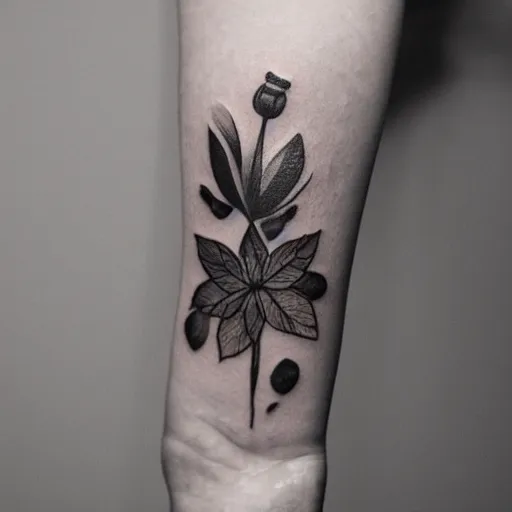 source: OpenArt
Prompt #19
fine detailed gold leaf prismatic tattoo with realistic shadows leaving the body
source: OpenArt
Prompt #20
yin yang, tree, water, wave, tattoo design, black and white, line art
source: OpenArt
Prompt #21
by Caspar David Friedrich, by Kim Tschang Yeul, Ink
source: OpenArt
Prompt #22
tattoo design stencil. pencil sketch, black and white, hawk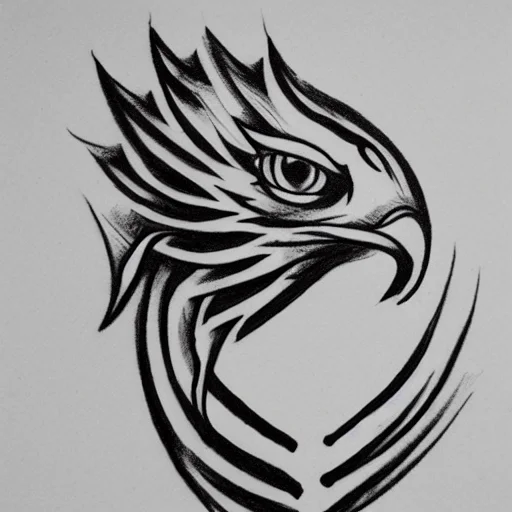 source: Lexica
Prompt #23
illustration of a sugar skull day of the dead girl, art by igor scherbakov
source: Lexica
Prompt #24
a stunning character design by a professional artist, hyper-detailed pencil drawing
source: Lexica
Prompt #25
tattoo design, stencil, traditional, beautiful portrait of a Asian girl with flowers in her hair, upper body, by artgerm, artgerm, digital art, cat girl, sexy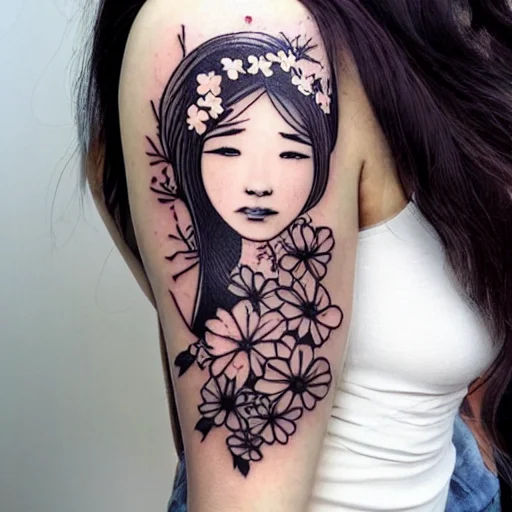 source: Lexica
Prompt #26
tattoo design, stencil, portrait of a princess by artgerm, symmetrical face, beautiful, daisy flower source: Lexica
zen sunyata ink elegant
source: Lexica
Prompt #27
tattoo sketch of Tree, high detail
source: Lexica
Prompt #28
tattoo design, beautiful portrait of a girl by artgerm, artgerm
source: Lexica
Prompt #29
a jellyfish tattoo, intrincate, delicate, clean lines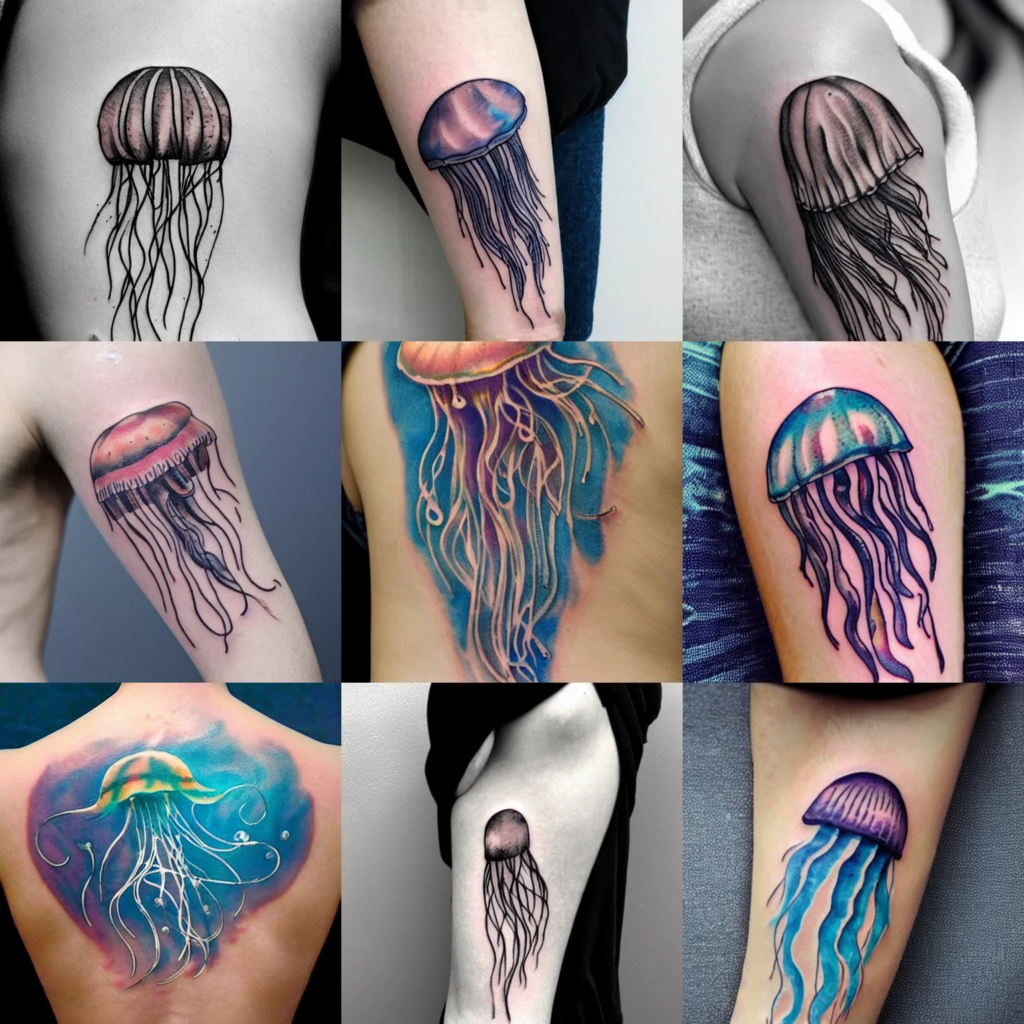 source: Lexica
Prompt #30
beautiful watercolor clouded leopard tattoo design, vibrant colors, by Javi Wolfe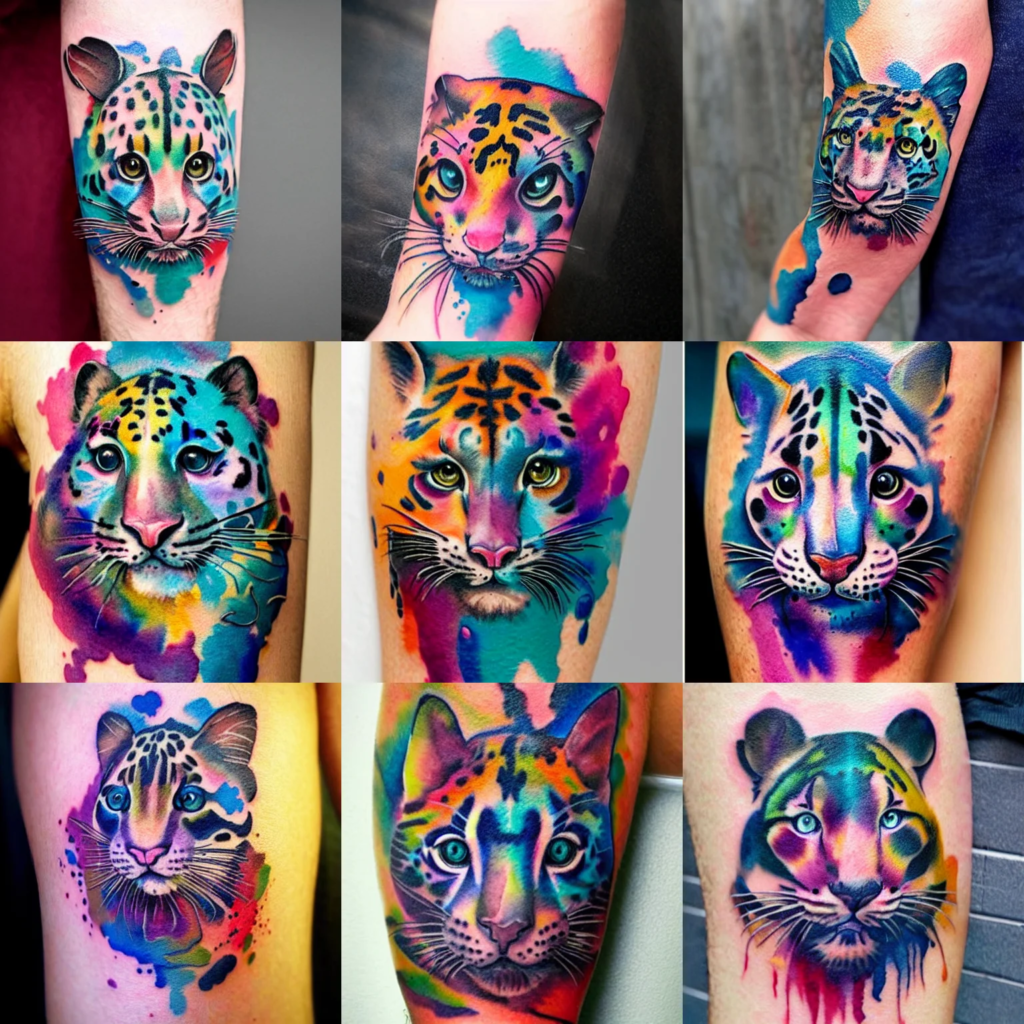 source: Lexica
Prompt #31
black cat halloween tattoo on forearm by anton pieck, intricate, extremely detailed, digital painting, artstation, concept art, smooth, sharp focus, illustration, intimidating lighting, incredible art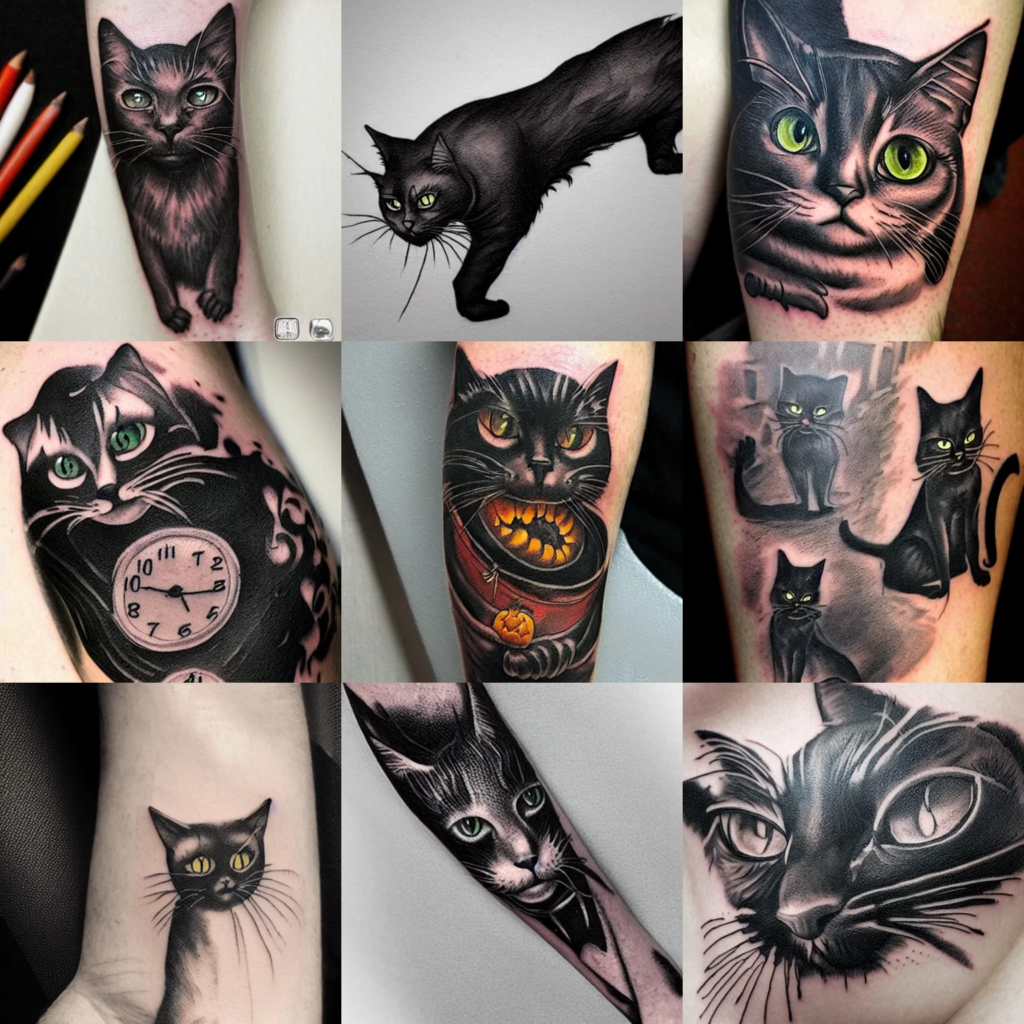 source: Lexica
Prompt #32
mermaid tattoo
source: Lexica
Prompt #33
Tattoo on arm of blue heart, cinestill, 800t, 35mm, full-HD
source: Lexica
Prompt #34
tattoo design, stencil, beach photography, tattoo stencil, traditional, beautiful portrait of a traditional Hawaiian girl with flowers in her hair, upper body, by artgerm, artgerm, artgerm, digital art, cat girl, anime eyes, anime, sexy, super model-s 100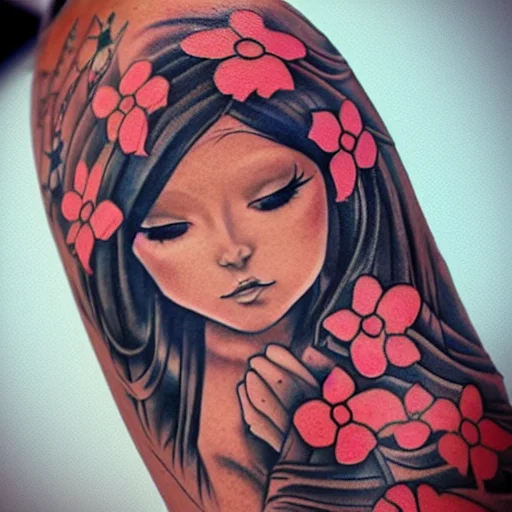 source: Lexica
Prompt #35
tattoo design of a hyper realistic beautiful girl warrior, hyper detailed, inspired by eliot kohek, on white background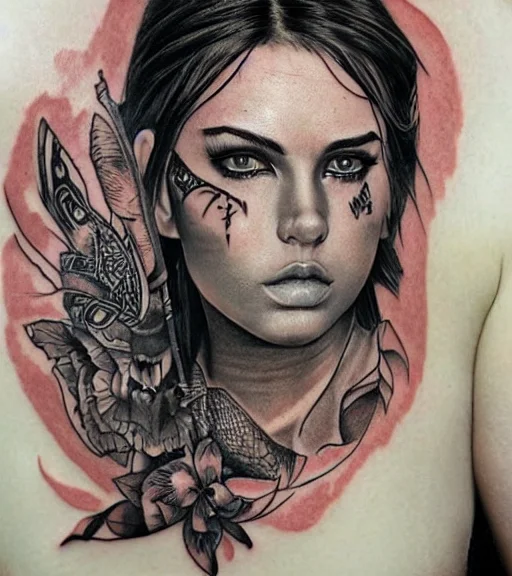 source: Lexica
Prompt #36
tattoo design, stencil, beautiful neptune girls face, roses and ivy surrounding by artgerm, artgerm, cat girl, anime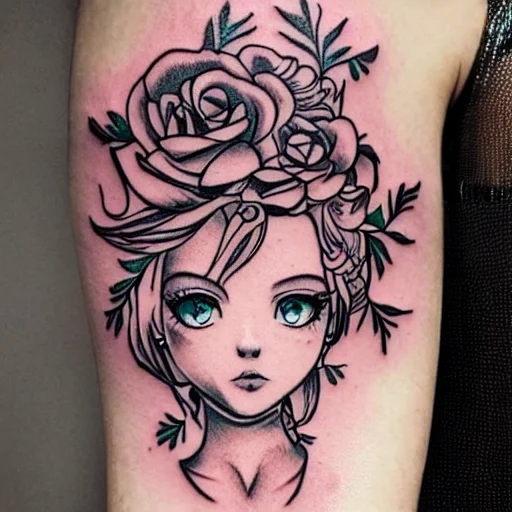 source: Lexica
Prompt #37
 girl face with colourful tattoo, volume light, by cutiicosmo, trend on artstation
source: Lexica
Prompt #38
tattoo design, stencil, photography, tattoo stencil, traditional, beautiful portrait of a traditional Hawaiian girl with flowers in her hair, upper body, by artgerm, artgerm, artgerm, digital art, cat girl, anime eyes, anime, sexy, super model-s 100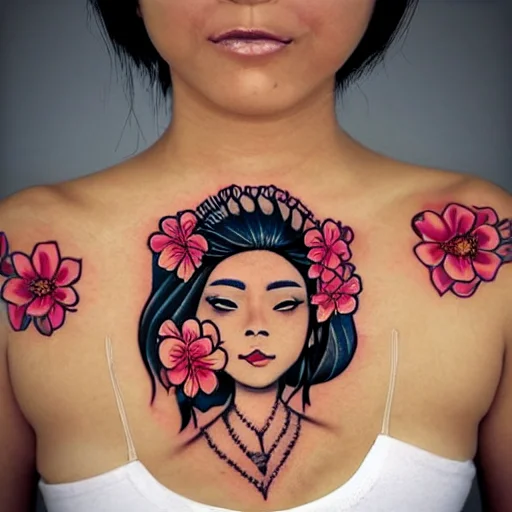 source: Lexica
Prompt #39
A galaxy wolf shaped nebula watercolor tattoo, advanced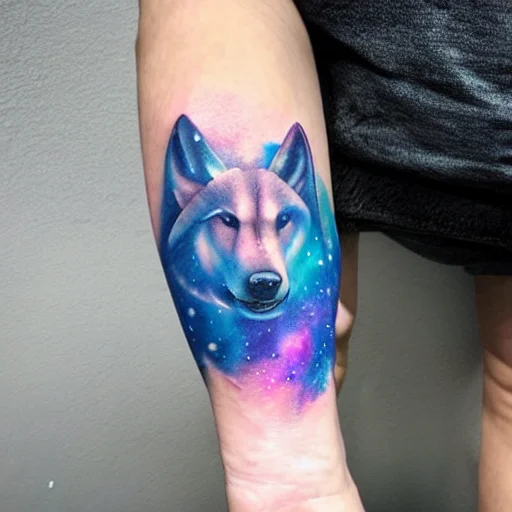 source: Lexica
Prompt #40
Digital art. NGC7293 Helix Nebula in intrared by VISTA telescope, Chile. tattoo, Super Mario Bros by Zhang Kechun, by Henri Fantin-Latour imposing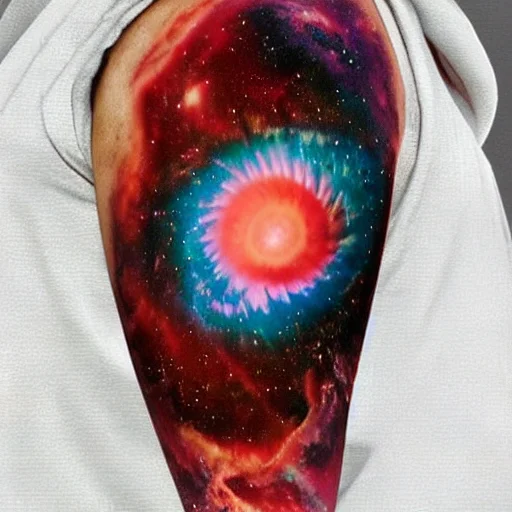 source: Lexica
Prompt #41
chest tattoo of a 3 d hole in the skin with a shiny multicolored metallic gears and tubes and futuristic robotic mechanics inside under the skin, insanely integrate
source: Lexica
Prompt #42
great, beautiful painting tattoo watercolor cornflower, light, transperent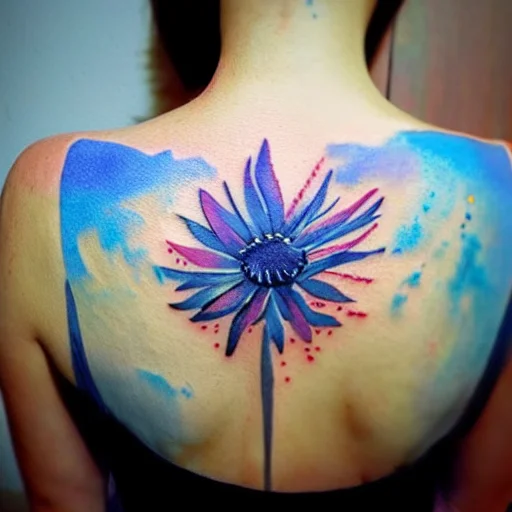 source: Lexica
Prompt #43
extremely psychedelic tattoo, glowing halo, cliffside, ocean, orgeon, dramatic lighting, outdoors, elegant, highly detailed, lifelike, photorealistic, digital painting, artstation, illustration, smooth, sharp focus, art by collier, albert aublet, krenz cushart, artem demura, alphonse mucha
source: Lexica
Prompt #44
dark geometric isometric pixel art crystaline stag head, tattoo on forearm
source: Lexica
Prompt #45
botanical tattoo, lavender, verbena, hibiscus, dandelion, circle design, tattoo design, inking on skin, art by ghibli studios
source: OpenArt
Prompt #46
japanese tattoo sketch on shoulder by anton pieck, kanagawa japanese wave, intricate, extremely detailed, digital painting, artstation, concept art, smooth, sharp focus, illustration, intimidating lighting, incredible art
source: Lexica
Prompt #47
adorable bunny tattoo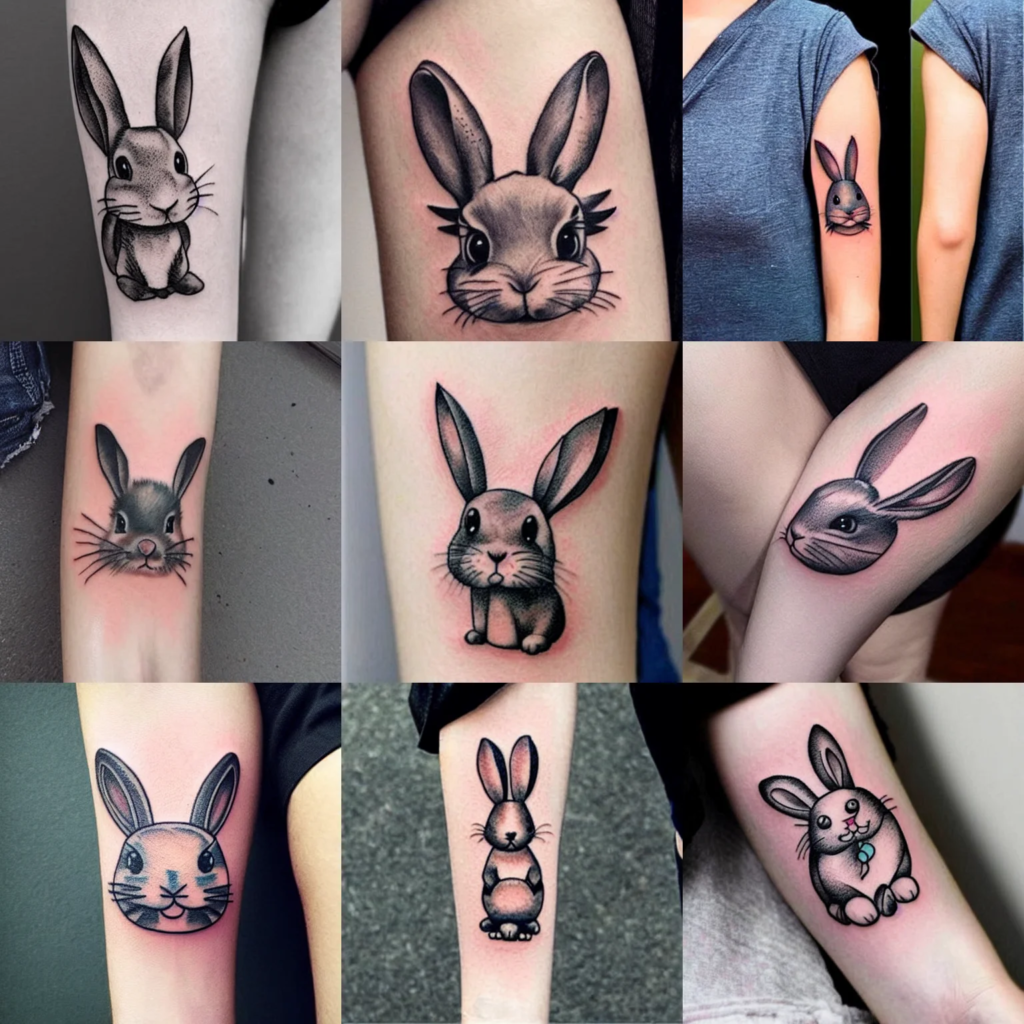 source: Lexica
Prompt #48
tattoo design, stencil, traditional, beautiful portrait of a Asian girl with flowers in her hair, upper body, by artgerm, artgerm, digital art, cat girl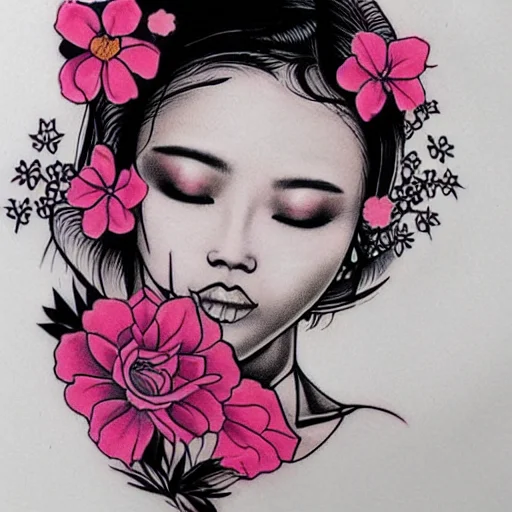 source: Lexica
Prompt #49
orange half slice tattoo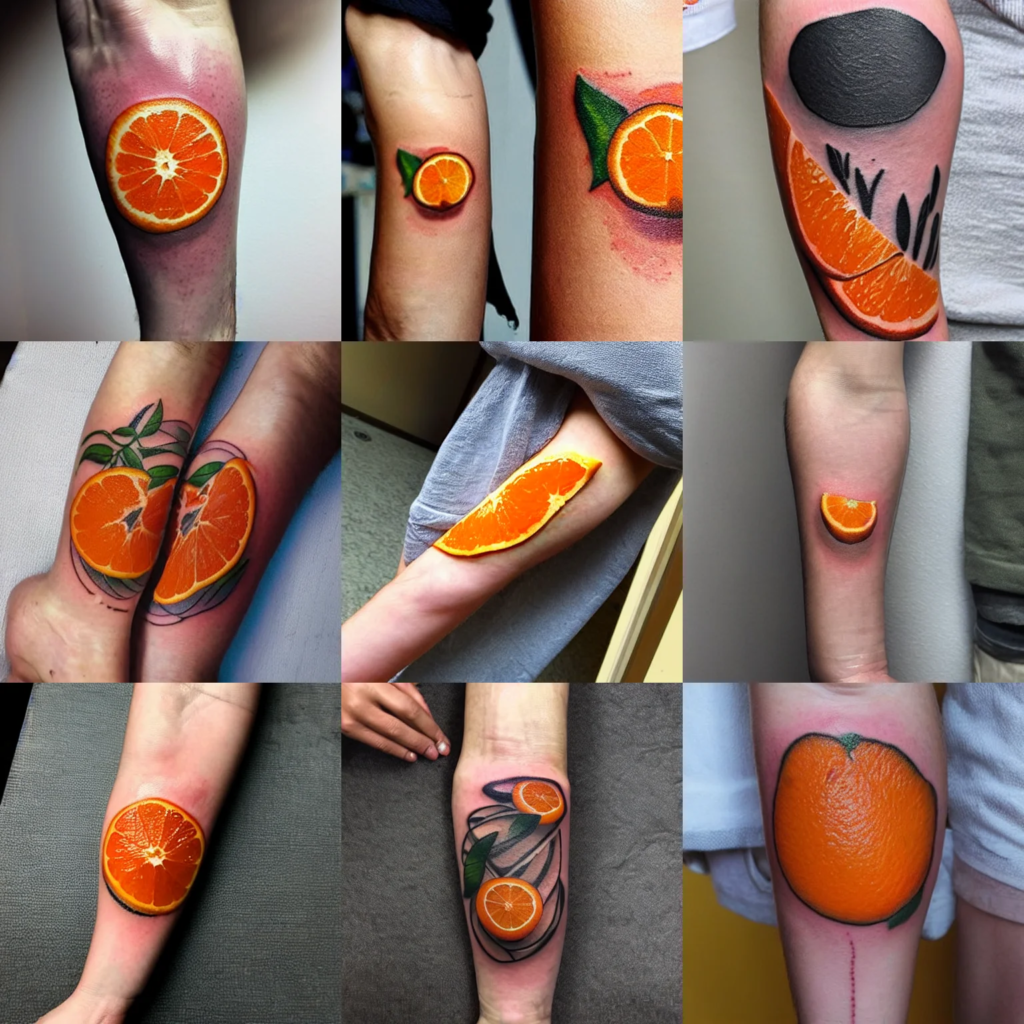 source: Lexica
Prompt #50
shoulder back tattoo of a multicolored hallucinogenic cute bush baby dj with 2 recordplayers, eyes are colorful spirals, surrounded with colorful magic mushrooms and rainbowcolored marihuana leaves, insanely integrate
source: Lexica