Buying FTM in MetaMask is a fast and secure way. It reduces the number of steps involved in the conventional way of buying FTM from any cryptocurrency exchange and transferring it to the wallet.
You can easily bypass the transfer part of FTM with this method of buying.
Why Do You Need to Buy FTM in MetaMask?
Buying FTM directly inside MetaMask is the quickest way (instant transfer) to get your FTM into the MetaMask wallet. The delivery time of the Transak is fast.
Buying FTM inside MetaMask saves you time; you don't need to buy somewhere else and transfer it to the wallet.
In this article, we've explained how you can buy FTM inside the MetaMask wallet with Transak.
Before starting, in case you've not added the Fantom Network to MetaMask, you need to add it to buy and store FTM inside MetaMask.
You can refer to this step-by-step guide to this guide: How to Add Fantom to MetaMask.
In this guide, we will be using the MetaMask Wallet extension for speed and smooth interaction. You can also use the MetaMask mobile application since the whole process is almost the same.
How to Buy FTM in MetaMask
You can buy FTM in MetaMask via Transak. 
MoonPay does not support the FTM cryptocurrency.
Buy via Transak
Transak in MetaMask is a payment gateway that allows users to buy crypto via fiat currency. Transak accepts Google Pay, Apple Pay, card payments as well as bank transfers.
Transak is available in more than 114+ countries with over 60 local currencies support.
Steps to Buy FTM via Transak
1. Click Buy
Open your MetaMask wallet extension.
Tyep your password and click Unlock.
Now, you will land on the front page.
Make sure you are on Fantom Network.
You will find three buttons under your wallet balance: Buy, Send, and Swap.
Click Buy.
2. Navigate to Buy FTM with Transak
After clicking the Buy, you will be able to see Buy FTM with the Transak option.
Click Continue to Transak.
3. Enter the Amount
Upon clicking Continue to Transak, a new browser tab will get open.
Enter the amount of FTM that you want to buy and select the currency.
Then, select Apple Pay, Google Pay, or VISA.
You can see fee details just below the amount you've entered.
Slippage price denotes the difference between Transak's FTM price and the market FTM price.
After entering the amount, click Buy Now.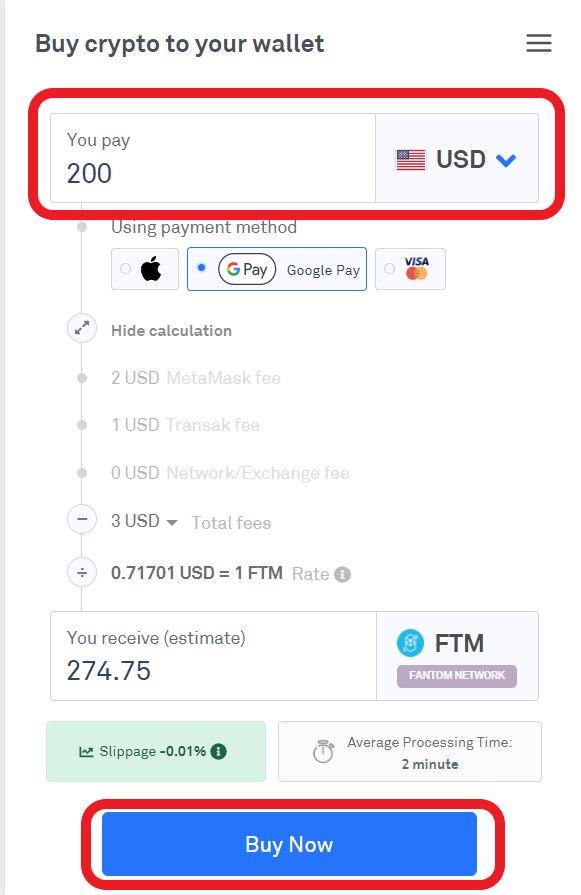 We have chosen Google Pay since it has a low fee compared to Apple Pay and VISA Card.
4. Check the Wallet Address
Next, your browser window will show you the MetaMask wallet address and order details.
Since you are placing an order from inside the MetaMask, it will automatically fetch your wallet address.
Just cross-check your order details and click Buy FTM.
5. Enter your Email Address
Next, Transak will ask for your email address to send the verification code.
Enter the verification code that you have received and click Continue.
Now, enter your verification code and select the little check box.
Click Continue.
6. Complete the KYC
This 4-step KYC process of Transak will take 2-4 mins and you will need your SSN number and address/ ID proof to be uploaded.
KYC step 1: enter your name, mobile number, and DOB, and click Continue.
KYC step 2: enter your address and click Continue.
KYC step 3: enter your SSN number and click Continue.
KYC step 4: upload address/ ID proof and selfie
Click Continue.
Usually, the Transak KYC process takes a maximum of 5-10 minutes.
7. Make Payment
Next, follow the remaining prompts such as OTP verification at the payment gateway.
8. Check your MetaMask Wallet
Typically, the average processing time of Transak is 2-5 minutes.
Wait for a few minutes and head back to your MetaMask wallet.
There you can see your FTM balance.
Conclusion
This is how you can buy FTM inside MetaMask.
Compared to buying in centralized exchanges, such as Binance, Coinbase, and etc, buying via Transak is expensive.
However, this eliminates both the number of steps in buying in the centralized exchanges and transferring process of crypto to the MetaMask wallet.
The fee in Transak to buy FTM is 3 USD; 2 USD for MetaMask and 1 USD for Transak.
Using VISA Cards or Apple Pay will result in a higher fee.