NFTs everywhere! Non-fungible tokens (NFTs) have attracted artists, gamers, celebrities, and ordinary people. It has created new possibilities:
An artist can create and sell his/ her own NFTs for thousands or millions of dollars

A gamer can make money via play-to-earn NFT game like Axie Infinity

A celebrity can release NFTs to connect deeper with his/ her fans
A minted jpeg file literally changing the way we live and communicate.
You don't need to be Beeple, a NFT artist who sold his work for $69 million or a celebrity like Paris Hilton, who sold 3 NFTs for over $1 million to make money in the NFT world.
You can be a part of this amazing NFT rally even as an ordinary person. If you miss it, you will regret it in the future.
To buy NFTs, you need a cryptocurrency, a crypto wallet, and enough funds.
Buying Cryptocurrency
In order to buy NFTs, you need Ethereum cryptocurrency. Why Ethereum only? Because most of the NFTs are Ethereum-based tokens and most of the marketplaces for NFTs accept only Eth tokens as payment.
However, there are Solana, Cardano, and Polkadot based NFTs available in the marketplace as well.
In this article, we will be explaining How to Buy Ethereum-based NFTs due to its market dominance. 
You can read our ultimate step by step guide to buy your cryptocurrency: How to Buy Your First Cryptocurrency
After the successful purchase of Ethereum, you need an Ethereum-compatible wallet to store your Ethereum coins; go for MetaMask, a famous Ethereum wallet and accepted by most of the marketplaces.
Read our article How to create and set up MetaMask Wallet
How to Buy NFTs
Once you have all these, you need to connect your wallet with any one of the NFT marketplace.
After connecting the wallet with a marketplace, you can choose and buy NFTs from different projects such as Bored Ape Yacht Club, CryptoPunks, The Sandbox, and more.
There are many marketplaces available to trade NFTs. Different marketplaces hold different varieties of NFT art.
OpenSea

Nifty Gateway

SuperRare

Rarible

NBA Top Shot Marketplace

Foundation
are some famous NFT marketplaces. In this article, we will be covering OpenSea due to its market dominance and size. 
Step-by-step instructions to buy NFTs
Step 1: Go to the OpenSea marketplace and click profile icon
Step 5: Checking your NFT in the MetaMask wallet
1. Go to the OpenSea marketplace and click profile icon
Head to the OpenSea marketplace and click the profile icon on the top right corner.
2. Connect your wallet
Connecting MetaMask with the OpenSea marketplace is easy. After clicking the profile icon, you could see Connect your Wallet window. OpenSea will show you wallet options such as MetaMask, Coinbase Wallet, WalletConnect, and more.
Since we are going with OpenSea, you need to click that.
After clicking the MetaMask option, a prompt will popup. You need to type your password to unlock the wallet.
3. Get browsing
Once you enter your password, you will be signed in into the OpenSea marketplace.
Now you can search for NFTs to buy.
You can directly type your search keyword in the Search box or click on Explore tab to find NFTs category wise.
If you click on the Explore tab, you could see many categories listed. Click on what you are interested in.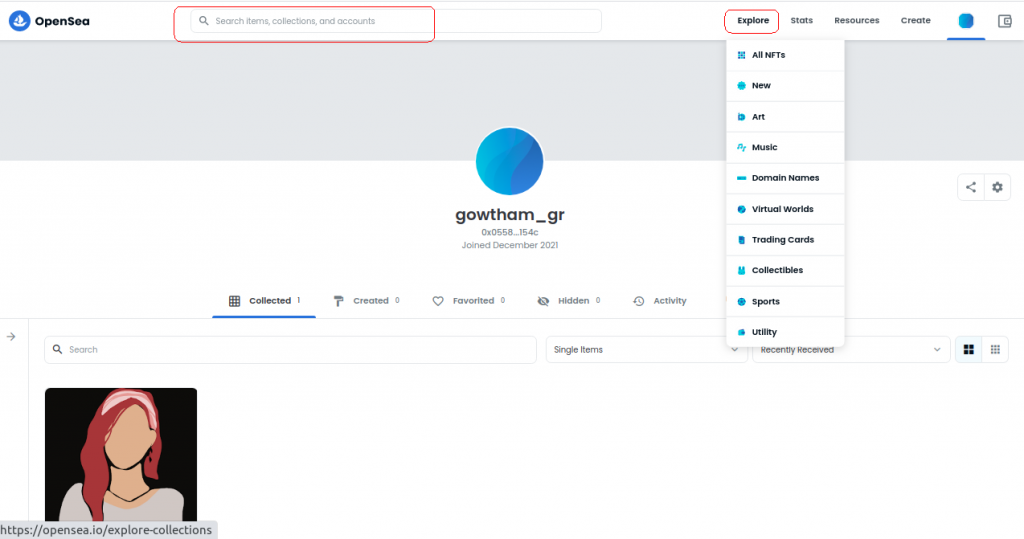 After clicking particular category, you could see the results.
Choose single items or bundles in the All items dropdown box. Also, you can sort items by price, new arrivals, and more.
4. Buying a NFT
When its come to buying NFTs, there are two ways:
You can buy at fixed price

You can make an offer
Sometimes, the seller would have enabled both the options. At that time, you can choose whatever you want.
Once you've found any interesting NFT, just click on it to view further details. You can check the price history and some properties of that particular NFT.
After reviewing the details, you can make a purchase by clicking Buy Now.
If you have enough funds in your wallet, you can complete your purchase by clicking Confirm checkout. Otherwise, you need to click Add Funds.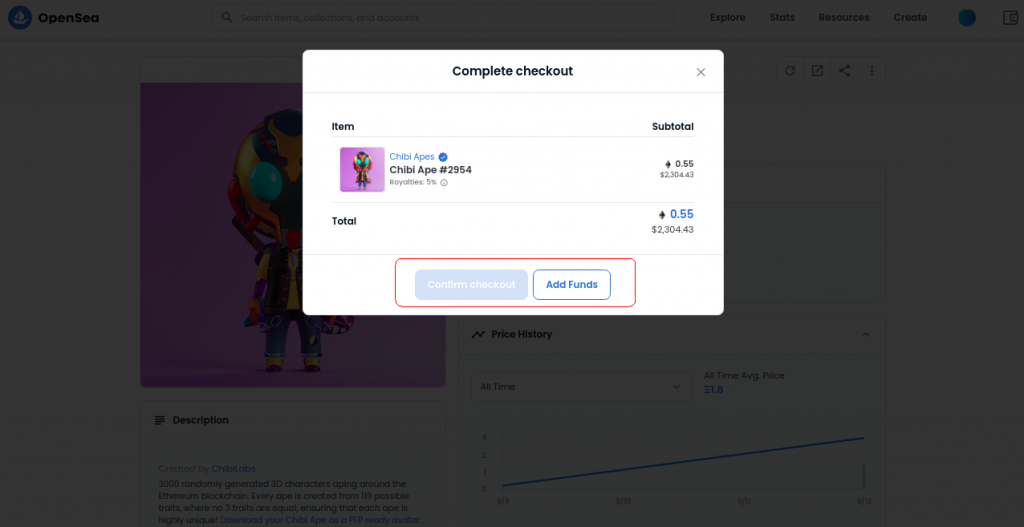 This is a way of selling NFTs in the auction format. Most of the marketplaces work in auction format. Auction-based NFTs prices are highly volatile due to demand and supply.
In this case, the seller sets a minimum price threshold and lets buyers bid against each other.
Click the Make Offer button, you will be prompted with the details of the particular NFT that you've selected.
You can select the currency of your choice for some NFTs.
Note that the new bids must be 5% higher than the previous bid.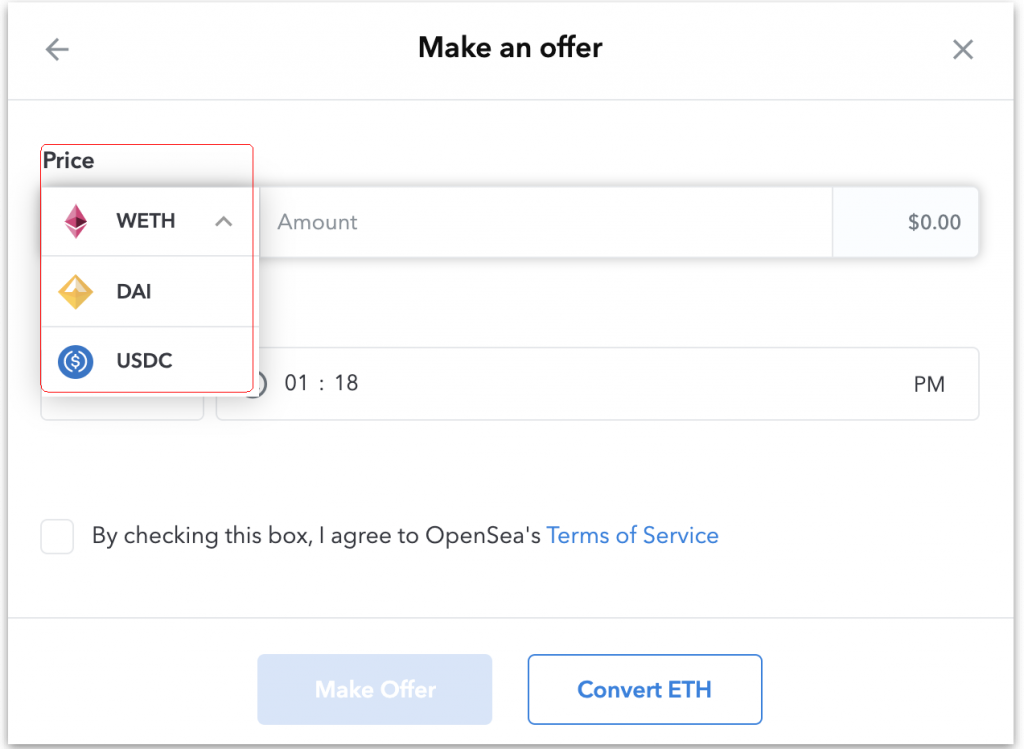 FYI, If the ETH is denoted by a purple logo, it means the item that you are going to purchase is a Polygon item. 
You might be asked to pay a gas fee (network transaction fee) if you're making an offer in a currency you've never purchased before, like WETH.
You can now enter your offer amount in the appropriate currency, along with the expiration date.
Click Make Offer. or If you want to convert the currency hit Convert ETH.
You've successfully made an offer. Now, it's time to wait for the seller to approve your offer. Make sure to stick around in the case of popular NFT to update your offer.
5. Checking your NFT in the MetaMask wallet
In the case of Fixed Price: See the NFT that you've purchased, click the wallet icon on the top right corner of your OpenSea window.
In the case of Make Offer: See your active offers, head back to your profile page and click Offers tab.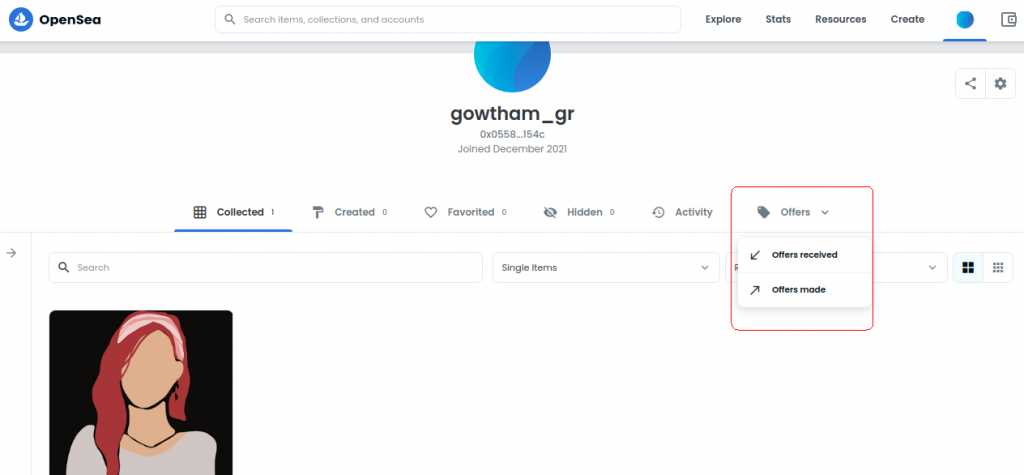 You've purchased your NFT successfully. You can include it into your collections or hold it for sometimes and flip it.
FAQs
What is WETH?
WETH or Wrapped ETH refers to an ERC-20 compatible version of ether. After this wrapping, the ETH can be easily used across a wide range of dApps.
WETH is equivalent to ETH. i.e. there is no price difference between them. One of the important aspects of the ERC-20 token standard is that it is fungible; it means each of the tokens has the same value.
Ether can be wrapped with other ERC standards as well.
What Can I Do with NFTs?
You can own domain name as an NFT to build decentralized website

Fantasy sports – Buy players as NFTs, position them, and earn money. Eg: MLB Champions and Sorare

You can play NFT-based play-to-earn games such as CryptoKitties, Axie Infinity and CryptoBlades

You can use certain NFTs as a VIP pass if artist permits

You can buy any NFT music album (emerging) and get a chance to receive few percentage of its ad revenue