SAITAMA is an ERC-20 token that runs on the Ethereum blockchain. It is launched on May 31, 2021, by Saitama—a community-driven platform that promotes financial well-being.
SAITAMA is a meme coin such as SafeMoon, Dogecoin, Shiba Inu, and Baby Doge. However, SAITAMA standout among other meme coins by introducing DeFi features.
Update: SAITAMA has been migrated from V1 to V2. Though the buying process remains the same, the contract address has been changed (see Step 3).
Fast Facts of SAITAMA
How to Buy Saitama Inu (SAITAMA)?
To buy SAITAMA, you need to buy ETH. And then, with ETH, you can purchase SAITAMA.
I.e., ETH->SAITAMA
SAITAMA can be purchased in two ways:
Via Decentralized Exchanges (DEX) such as Uniswap, SushiSwap, and ShibaSwap.

Via Centralized Exchanges (CEX) such as LBank, BKEX, Coinsbit, and Bilaxy.
Here, we are going to buy SAITAMA in Uniswap using MetaMask.
In case you don't have an account in MetaMask wallet, you can create it by reading this article.
Step-by-Step Guide for Buying SAITAMA on Uniswap
1. Buying and Transferring ETH
As mentioned earlier, to buy SAITAMA, you need to purchase ETH.
You can purchase ETH on Coinbase or Binance or any other exchanges. You can even buy ETH directly inside MetaMask.
If you have already bought ETH, you can focus on the Transfer part discussed below.
Once you bought ETH, you need to transfer that into MetaMask.
Send ETH from Coinbase to MetaMask or Send ETH from Binance to MetaMask.
2. Connect your MetaMask wallet
Go to the Uniswap website.
Once you are on the Uniswap website, your MetaMask wallet will connect with it automatically.
If it didn't, you can manually connect it by clicking the Connect button, which is inside the MetaMask wallet or on the Uniswap website.

If the connection has been established successfully between Uniswap and MetaMask, you can see the indication shown in the below images.

3. Import SAITAMA contract
After establishing the connection between Uniswap and MetaMask, you need to import the SAITAMA contract.
This is where you need to be very careful. Ensure to copy and paste the correct SAITAMA contract, or else you could buy the wrong token.
SAITAMA Contract Address: 0x8b3192f5eebd8579568a2ed41e6feb402f93f73f
SAITAMA has been migrated from V1 to V2. Check out the new contract address.
You can even copy and paste it from their official website.
To paste the SAITAMA Contract address on the Uniswap website,
Click on

Select a token

Type as 'Saitama' in the Search box

Click on

Import

(Upon clicking

Import,

the site will automatically pull the SAITAMA contract address. If it didn't, copy and paste it manually)
4. Enter the amount
You can enter the amount of ETH that you want to swap.
Or
You can enter the amount of SAITAMA you want.
Make sure to leave some ETH for the gas fee. Otherwise, your transaction will fail.
5. Tune-up Uniswap setting
Immediately after importing the SAITAMA contract, Uniswap will fetch the best price for the swap.
In case you have been prompted with a "No Liquidity" message,
Click on

Trade Using V2

Click on the wheel icon top right corner of the Swap window

Set Slippage Tolerance between 5-15%

6. Swap ETH for SAITAMA
Now, you can see Uniswap fetching the best swap price for you.
Review the gas fee and then click Swap.
7. Confirm Swap
Immediately after clicking the Swap, you can see the confirmation pop-up.
Review your transaction details and click Confirm Swap.
Note: Since the price gets updated every few seconds, you need to be fast while reviewing the details. And always keep an eye on the gas fee; if the total order amount (along with the gas fee) exceeds your total ETH balance, your transaction will fail.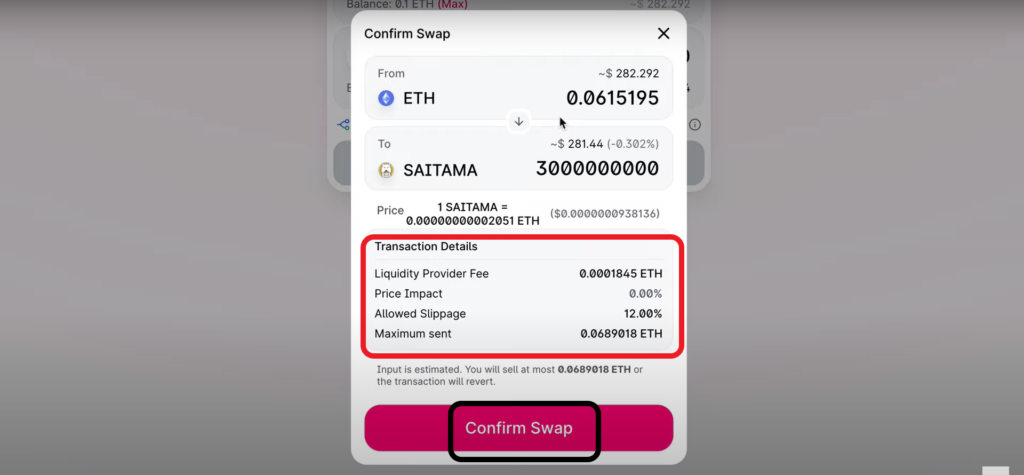 8. Add SAITAMA to MetaMask wallet
After clicking the Confirm Swap, Uniswap will show a prompt with Add SAITAMA to MetaMask.
To add SAITAMA to your MetaMask wallet, simply click on it.
9. Check your MetaMask wallet
Once you see the transaction notification successful, you need to go to your MetaMask wallet extension and check your wallet balance.
That's it. Congratulations on buying SAITAMA.
Note: We are not financial advisors and this is not an investment recommendation.
FAQs
Where can I buy Saitama Inu (SAITAMA)?
You can buy SAITAMA in DEXs such as Uniswap, SushiSwap, and ShibaSwap using MetaMask or Trust wallet. Or you can buy ETH and swap it for SAITAMA in the Coinbase wallet.
Should I buy SAITAMA only by swapping ETH?
Yes and no. You can buy SAITAMA by swapping USDC and USDT. But you could face low liquidity risk. Hence, it is always recommended to buy SAITAMA by swapping ETH.