What is ChatGPT?
ChatGPT is another large language model that is released by OpenAI. The firm OpenAI is well-known for its GPT models and DALL.E 2, a text-to-image AI.
ChatGPT is a fine-tuned large language model that is fine-tuned to function as a chatbot. It is capable of answering your queries seamlessly.
Unlike the other language models, ChatGPT is optimized to perform in a conversational way. As the name suggests, it acts as a chatbot. It can follow up and answer your questions, as well as reject inappropriate requests.
GPT Models vs ChatGPT
Though ChatGPT is powered by GPT-3.5, it is different from all GPT models. Generative Pre-trained Transformer 3 (GPT-3) is a language model that uses deep learning to produce human-like text. GPT-3 is a successor of GPT-2 and is famous for its use cases.
The core difference between GPT models and ChatGPT is the ability to act as a chatbot. I.e., the ChatGPT has the ability to interact in a conversational way.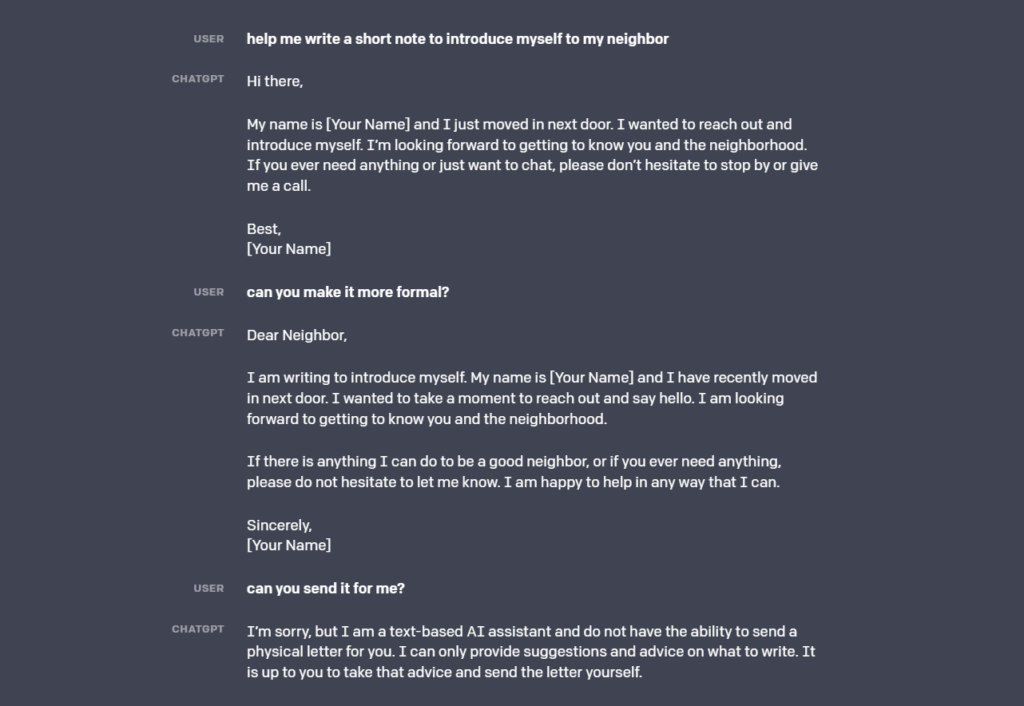 Is ChatGPT Free to Use?
Earlier this month, the OpenAI released the ChatGPT as a research preview, and the company is actively looking for user's feedback to optimize the model.
Therefore, the ChatGPT will remain free until its strengths and weaknesses are understood. A charge will be assessed after enough feedback is collected.
How to Use ChatGPT
First, create an OpenAI account using any email address. Log in to ChatGPT and type in your query, which can be conversational in nature. You can edit your query or reset the whole thread to start a new conversation.
Steps to Use ChatGPT
1. Sign in or Log in to your OpenAI Account
OpenAI has a dedicated website for ChatGPT model. But, to access ChatGPT, you need to have an OpenAI account.
If you don't have an OpenAI account, you need to create one. To do so, head to the website and click "Sign up".
Now, you have options for easy signup. You can continue with your Google email account or Microsoft email account.
Apart from this, you can use any email address for the signup. During the signup process, you need to enter your mobile number and verify the OTP received.
In case you already have an OpenAI account, just click "Log in" and continue with your email address.
2. Use ChatGPT
After the sign-up/log-in, you will get to see the goal, limitation, data collection, and feedback collection of ChatGPT as a series of previews. It means your registration for ChatGPT is successful and you are all set to use it.
Now, you will land on the user interface of ChatGPT and can see a few examples, capabilities, and limitations of it. Just below these instructions and examples, there will be a box, where you need to give your input.
Type your queries in the natural human language and click the arrow for the response. After clicking the arrow, you will see the response from ChatGPT.
You can ask ChatGPT anything, such as:
Coding regardless of the programming language

Marketing plan for a product

Solving puzzles and math problems

Simple layman explanations, etc.
3. Edit Input or Use "
Reset Thread
"
In case you are not satisfied with the output, click "Try again" option located just above the input query box.
You must try fine-tuning your input query if you are still not receiving an optimal result.
To edit your input, click the "edit icon" beside your input query.
After fine-tuning your query, click "Save & Submit".
Since the ChatGPT has the ability to follow up, you can continue chatting and optimizing the input query until you get the expected result.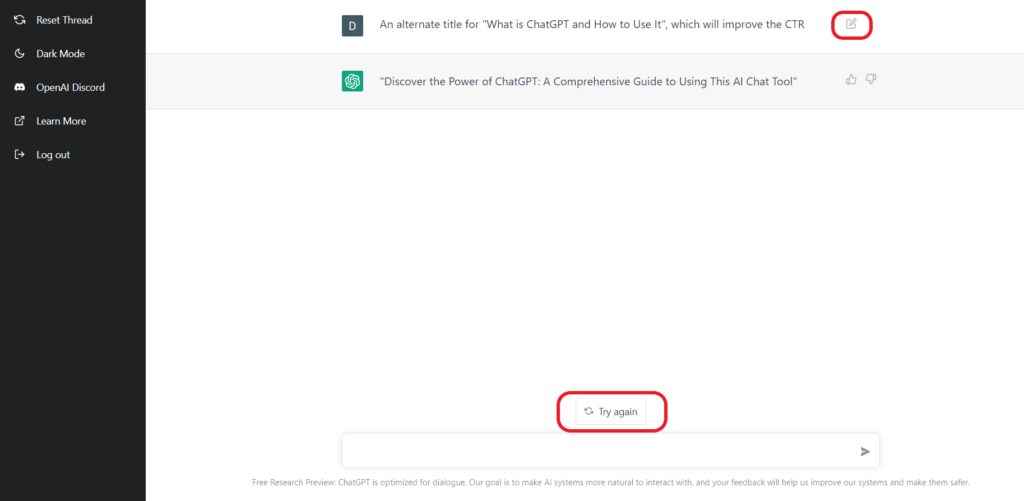 If you wanted to start a new query, click "Reset Thread" located in the left side menu.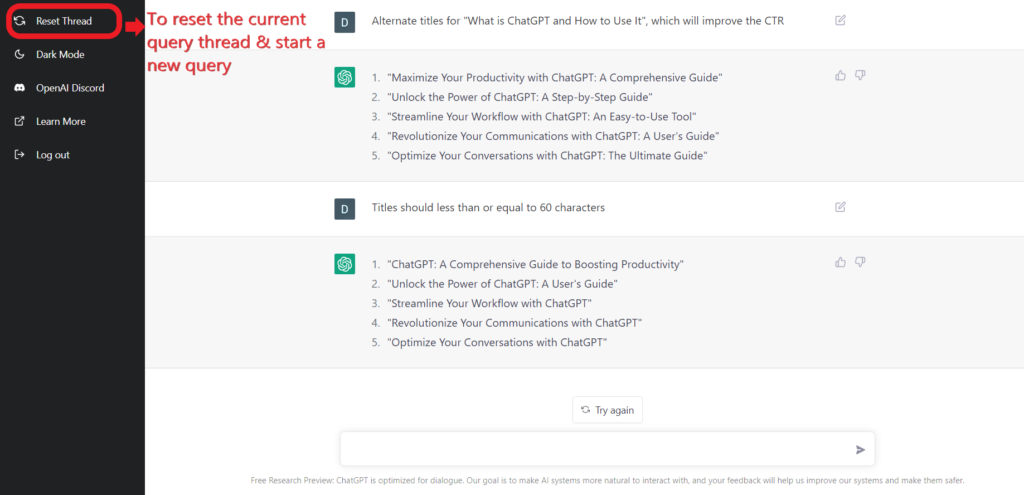 Conclusion
ChatGPT is a powerful and revolutionary AI chatbot that crosses the one million users mark in less than a week after its launch.
Accessing ChatGPT is simple and all you need is an OpenAI account. Just follow the instructions given in this article for easy handling of ChatGPT.
ChatGPT has a cool dark mode feature for users who loves it. To enable dark mode, click "Dark Mode" on the left side menu just below the "Reset Thread" option.