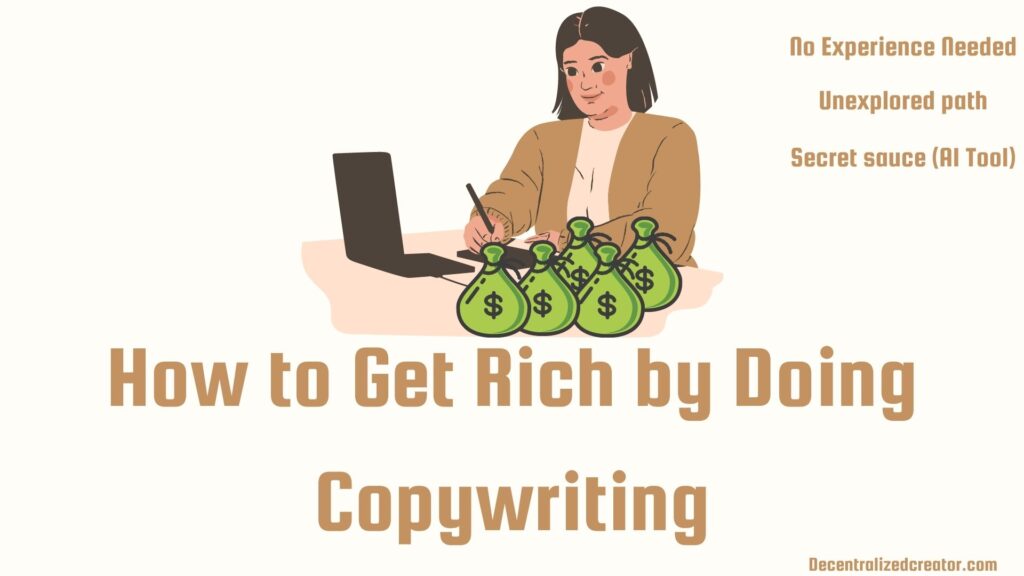 I have been running a digital marketing agency for several years where we are helping eCommerce, online businesses to increase their sales. We use to design a landing page for their website, email marketing, sales emails, and even run social media ads for our clients. What we found during all our marketing campaigns was better copy leads drive more results.
The more we double down on our copywriting skills the more sales we generate for clients and that leads to more clients and that creates flywheel effects for us.
Want to increase your Facebook ad conversion? Learn Copywriting 
Want to increase your CTR for your post? Learn Copywriting 
Want to increase your revenue with less Google search ad spend? Learn Copywriting 
Want to increase your percentage of CTA? Learn Copywriting
Learning copywriting will help you to 
Land in a high paying copywriting jobs 

Offer a high paying freelancing gigs 

Improve your conversion rate for your own business 
As the GDP of the internet is growing day by day, there is more demand for Copywriting than ever before.
What is Copywriting?
Copywriting is a form of marketing that helps to increase brand awareness and persuade an individual or a group to take a particular action. It is a critical part of digital marketing. In copywriting, the end result is known as copy or sales copy.
A copywriter needs to come up with clear and engaging text for different advertising channels such as websites, social media, print ads, and catalogs.
Copywriting vs Content writing vs Proofreading 
As mentioned above, copywriting is for advertising purposes. It is usually short-form content.

Eg

: ad copies, landing page content, slogans, and taglines.

Content writing is to educate, entertain, or instruct readers. It is usually long-form content.

Eg

: articles, blogs, newsletters, e-books, and reports.

Proofreading is the process of examining the final draft. It is an indispensable step in the writing process, which helps to preserve credibility. Oftentimes, people assume proofreading and copyediting are the same, but they aren't.
Copywriting is for marketing and advertising purpose and the major purpose of copywriting is to convert visitors, users, into buyers.
Proofreading is primarily identifying fonts & format issues and layout along with spelling errors, grammar, and punctuation errors. It doesn't include any re-writing or changing the form of the sentences. It is carried out after the Copy Editing phase.
Copyediting on the other hand is an in-depth process that involves rectifying the sentence construction, rewriting wordiness, jargon and bringing language clarity.
Copywriting, content writing, and proofreading all are interconnected and coexist. For example, take a look at this article,
The headline/ Pinterest post draws attention and made you click—that's a copywriting

Then, you are going through the content paragraph by paragraph—that's a content writing

This whole article is less prone to error—that's a copyediting and proofreading
How Much Does a Copywriter Make?
Usually, copywriters are getting paid more than content writers. About 1 in 10 freelance copywriters makes 6 figure income per year; anywhere between $100,000 and $125,000.
Top 1% copywriters make around $500,000 to million dollars in a year. On the other hand, the average full-time copywriter salary in the US ranges from $50,000-$60,000 per year.
Keep in mind that in order to make good money with copywriting, you have to stand tall amongst a pool of copywriters. Once you level up your skills by enrolling in a legit copywriting course and gaining knowledge about the tools mentioned below, you will definitely be able to make 6 figure income per year gradually.
Demand For A Copywriter?
Demand for Copywriters will exist as long as businesses exist. With the internet and ever-growing content and competition, only great copy can capture attention. Attention is the new currency for the business as it is getting harder to capture. Businesses are always looking for a great copywriter to write ad copies, sales copies, and even content copies. Demand for a copywriter is higher and the supply of great copywriters is lower in the market.
How Long Does It Take To Become a Copywriter
Though it is subjective, usually, it takes 3-6 months to become a professional copywriter. In the journey to become a copywriter, you need to learn a few things such as how to sell, to use powerful verbs and emotional language, marketing metrics, and understanding buyer psychology.
But we have introduced a whole new path to become a professional copywriter in this article. By using the tools and course we have mentioned below, you could be able to become a copywriter within less than 1 month.
Skills Needed For Copywriter
Creative thinking: Copywriting is extremely creative. Anything that is creative takes a lot of imagination and creativity. If you really need to be in the top 1% of Copywriters you need to enhance your Creative thinking. Creative thinking is the ability to think in a way that is new and novel and finding an innovative way to promote brands and business. 
Writing Skills: Copywriting demands strong writing skills with the words that directly hit the brain cells of readers to take necessary actions. Improve your grammatical and punctuation and explore words that drive human emotions such as empathy, persuasion.
Research Skills: Any tom dick and harry could be able to write content and generate copy. Only the people who have done research could be able to produce unique insights that drive readers' imaginations. 
One Tool Needed to 10x Your Copywriting Output (The Secret Sauce)
You can generate multiple copies in a matter of a few seconds. Yes, you read it right. We are going to reveal the future of writing that is already used by 30,000+ copywriters, entrepreneurs, and agencies.
The advent of AI has led to so many creative software and AI copy/ content writers are one of them. Jarvis is the only tool that you need to have in order to make an impact in the copywriting field. Jarvis is the AI copy/ content writer software that is built based on OpenAI's (Founded by Elon Musk) GPT-3.
1 writer with AI Copywriting tool = 10 writers
Did You Know?
Top companies such as Google, IBM, Airbnb, Autodesk, Logitech, Canva, and more are using

Jarvis.ai
JPMorgan Chase used Persado's AI copywriting tool to make marketing messages more effective.
As a result, the AI copywriter tool beat the human-made copy's outcome. It generated 47 weekly applications whereas human copy generated 25.
Features of Jarvis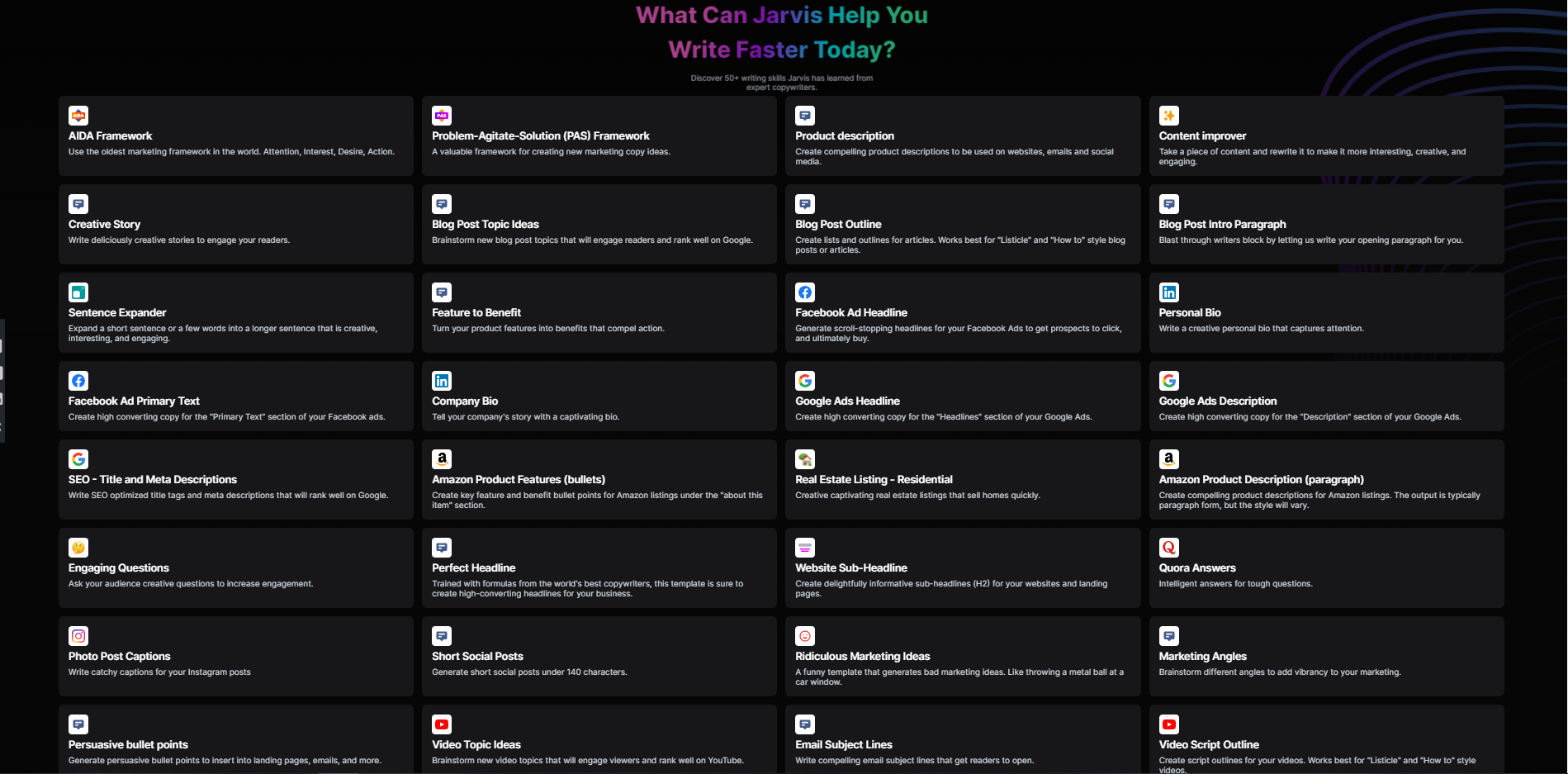 50+ copywriting skills including AIDA, Problem-Agitate-Solution (PAS), Facebook ad headline, product description, SEO optimization, and more. 

Multilingual—supports more than 25 languages

Boss Mode—helps to create unlimited words with

voice command

; people have even created many books.

Generates more than 10 different copies for a single input given in a matter of a few seconds.
If you want to be in the top 10% of copywriters, you need to go the extra mile, which means you need to use the latest emerging technology. What are you waiting for? Leverage the Jarvis.ai and move ahead of the competition.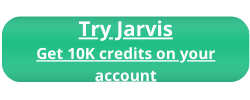 Best Place to Find Copywriting Gigs
We have curated a list of legit websites that help you find your next copywriting gigs. You can analyze each and every platform we have listed below and choose the project and platform based on your interest and flexibility.
Upwork is the world work marketplace where you could find any freelancing jobs from programming to copywriting gigs. It is one of the highly-rated freelancing services so that your potential clients would be big corporations and brands. 
Fiverr is the go-to place for finding freelancing works. Register in Fiverr and list your copywriting services on the platform. You can offer not only copywriting services but also content writing and proofreading.
Flexjobs is the best place for finding remote and work-from-home jobs. In Flexjobs you are able to discover a lot of requirements related to copywriting services.
Linkedin is a professional social network where you are able to connect with industry leaders. Establish your connections with business leaders, founders, decision-makers. Offer them your services and build a good rapport with them. Play the long game and you will definitely win on LinkedIn.
Peopleperhour is yet another freelancing platform where you are able to find copywriting jobs that are relevant to your skills and levels.
Another place to find your Copywriting jobs:
Roadmap to Your Copywriting Jobs/Gigs
Take an Online Course:

  Taking a course will help you to understand the foundation of Copywriting that is needed to become a better copywriter.

Register on all freelancing platforms:

If you are just getting started it is always better to register on all freelancing platforms. Having a lot of options is good at the beginning.

Create a personal portfolio blog:

Create a personal portfolio blog and share your experience through writing blog posts. This not only stands apart from other copywriters and this helps you gain trust among your client. You can create your portfolio with

Journo

in minutes.

Leverage LinkedIn:

You can leverage LinkedIn by creating content and reaching out to small businesses and startups that are looking for your Copywriting services through email or messages.

Leverage Twitter

: Twitter is only a palace where founders and leaders share their thought process constantly. You can reach out to any founder and leaders that are looking for your services.

One tool to 10x your Copywriting Productivity:

Jarvis is the go-to tool for all Copywriters. With Jarvis, you are able to generate 10 variations of Copy in a single click. Jarvis supports more than 50+ Copywriting templates that are all needed for a Copywriter.

Inspire other Copywriters through blogs and Social Media:

Establish yourself as a brand by continuously posting about the work that you are doing. Share your work, achievement, progress on social media. This will make you stand out among the crowd of Copywriters.