Creating content for advertising or any form of marketing is not an easy task. A copy content needs to be strong enough to create Brand Image, sharp enough to convey Value, intrigue enough to generate leads, and improve Conversion Rate (CR); along with this, writer's block and Turn Around Time (TAT) would be a nightmare for copywriters in an agile environment.
Many copywriters would have thought of automation at some point in their work-life to focus on important tasks other than mundane tasks such as welcome emails and SEO meta descriptions. Well, it's possible nowadays.
Thanks to the AI-powered best copywriting tools. Come for a closer look, let's find out how it can transform your marketing strategy.
What is AI Copywriting
AI Copywriting is computer-generated copywriting that is created utilizing natural language processing models such as Open AI's GPT-3. GPT-3 is trained on a huge set of pages from the web, Wikipedia data, and a large number of books and it consists of over 175 billion parameters, and that is why it is creating human readable content.
How AI Copywriter Works
Go to the particular AI copywriter's site.
Step 1: Choose templates such as landing pages, ads, etc
Step 2:Write a short description of your brand or product.
Step 3: Hit the Generate button to get a dozen high-converting copy variants. 
Step 4: Edit, share, and launch your generated copy.
Why do you need AI Copywriting Software? 
AI copywriters are capable of generating a copy in a matter of seconds. Whether you are an organization or freelance writer, AI copywriters will save hours of writing time.

Overcome writer's block.

Write 10x faster than ever before.

Gives you a variety of marketing copy that you don't even think of.

Increases rate of call-to-action (CTA) dramatically.
Did You Know?
JPMorgan Chase used Persado's AI copywriting tool to make marketing messages more effective.

As a result, the AI copywriter tool beat the human-made copy's outcome. It generated 47 weekly applications whereas human copy generated 25.
Difference between AI Copywriting and AI Content writing
Copywriting is a form of writing to make things sell better. Social media ads, PPC landing pages, sales copy, and sales email are examples of copywriting.
Content writing is a form of writing to educate or entertain people. Although it can drive sales, that's not its primary purpose.
In other words, copywriting generates leads, whereas content writing generates traffic.
The purpose of this post is to discuss the best AI Copy Writer that can create marketing campaigns and sales copy for you. In case you are looking for specialized AI tools to help with your long-form SEO-friendly content, it would be best to read Best AI Copywriting tools article.
Overview of Best AI Copywriting Tools
| Software | Our Review  | Ideal For | Free Plan | Pricing  |
| --- | --- | --- | --- | --- |
| Jasper (formerly Jarvis) | 5/5 | SEO optimized copy-writing  and content production at scale  | 7 Days money-back guarantee | Starts at $29/month |
| Writesonic | 5/5 | SEO optimized better marketing copy | 10 Credits | Start at  $15/month |
| Scalenut | 5/5 | SEO optimized copy-writing  and content production at scale  | 7 days free trial | Starts at $29/month |
| Copy.ai | 4.9/5 | Overcoming writer's block | 7 days free access | Start at $35/month |
| Copysmith | 4.8/5 | SEO optimied content & Better workflow | 3 days free trial | Starts at $19/month |
| Snazzy AI | 4.7/5 | Landing page copywriting | Free Forever | Starts at $25/month |
| Anyword | 4.6/5 | Effective marketing copy | 7 days free trial | Starts at $19/month |
| Closerscopy | 4.6/5 | SEO optimized effective sales copy | No Free Plan | Starts at $49/month |
| Outranking | 4.2/5 | SEO optimized long-form content | 30 days Free trial | Starts at $39/month |
Want to scale your copy-writing and content production in your organization? Then Jasper would be the optimal solution. 
Jasper is the leader in AI Copywriting and content generation software used by 40000+ copywriters, entrepreneurs, and agencies. The YCombinator backed startup was previously known as conversion.ai, Jarvis.ai, and is now renamed as Jasper. It is named after a famous Marvel comic character. They even acquired similar AI copywriting tools Headlime and Shorty.ai that will definitely improve Jasper performance in the long term.
In Boss Mode, you can command Jasper to write long-form content such as "Write a paragraph about bitcoin" within a matter of seconds Jasper writes high-quality content. Sometimes it won't produce you exact copy that you are looking for but you can regenerate and improve the content based on your needs. With Jasper Boss Mode you can write high-quality content that is 100% original and SEO optimized.
I've personally used Jasper daily to generate high-quality content and to send personalized emails to our clients. You can check out our detailed Jasper review
Features
Uses AI to write proven, high converting copy for increased conversions.

Instantly generate high-quality copy for ads, emails, websites, listings, blogs, and more.

You can translate your content to more than 25 languages. 

Supports more than 50+ Copywriting Skills including Attention-Interest-Desire-Action (AIDA) and Pain-Agitate-Solution (PAS).

Built on top of the world's most advanced AI language model GPT-3.

Jasper AI is trained by copywriters and experts.

99.99% original content and it passes the plagiarism test.
Pricing
Jasper comes with two pricing models one is Starter and Boss Mode.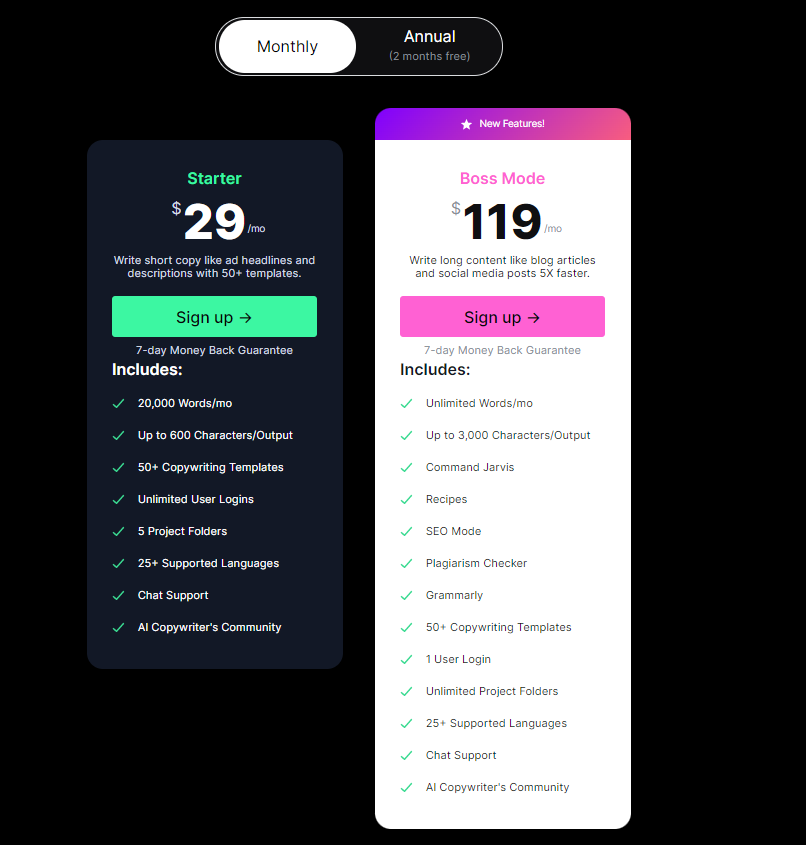 Starter: $29/month, Good for short copy like ad headlines and description with 50+ Copywriting skills
   Boss Mode: $119/month, Good for long-term content such as blog posts, books, scripts with 5x faster.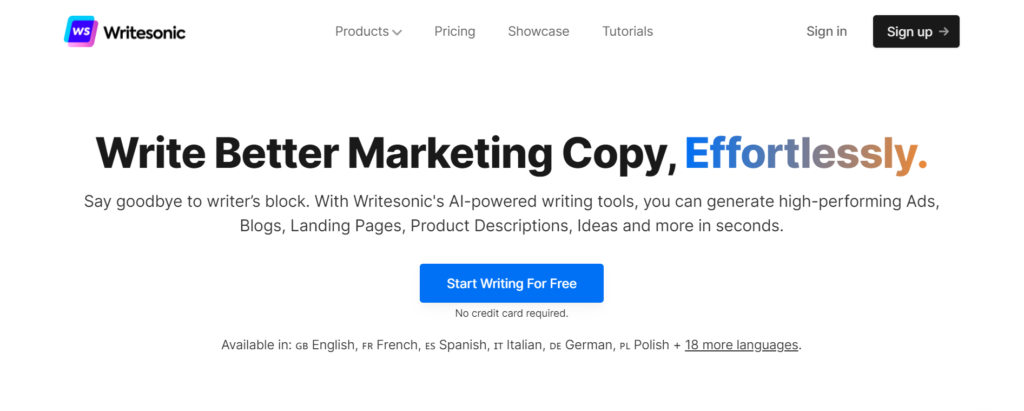 Need a better marketing copy? Check out Writesonic. 
A Writesonic AI copywriter was developed in response to the need to create landing pages that were optimized for conversion. Available in 24 languages, it can help you generate everything including landing pages, blogs, Facebook ads, product descriptions, and more.
Thousands of marketers, agencies, and entrepreneurs choose Writesonic to automate and streamline their content marketing. You can check out our detailed Writesonic review.
Features
Uses AI to write copies that resonate with your audience.

Uses AIDA and PAS copywriting formula to generate copies for websites, digital ads, articles/blog, eCommerce, press releases, YouTube videos, and more.

20+ Copy types are available.

Provides plagiarism-free content.

Built on top of the world's most advanced AI language model GPT-3.

With the Writesonic product descriptions generator, you can generate high-quality product descriptions for more clicks, conversions, and sales.
Pricing
Writesonic comes with five pricing models. Starts with the free trial, Basic that is good for new marketers, Professional good for freelancer, Startup for startup and small business and finally Agency that is best suitable for businesses and agencies who need copywriting at scale.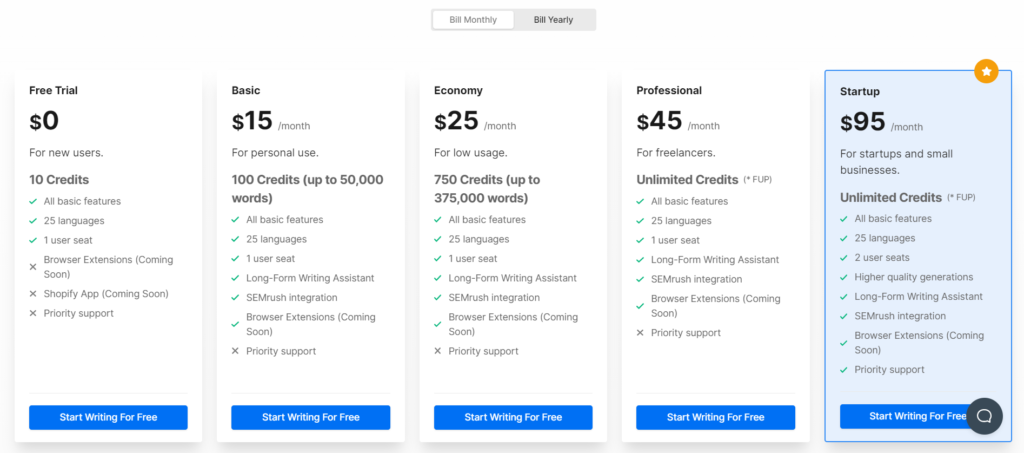 Free trial:$0/ month, Best suitable for new users, 10 credits to explore the product features.
Basic: $15 /month, Ideal for personal use, 100 Credit limit (up to 50,000 words). 
Economy: $25 /month, Ideal for low usage. 750 credits (up to 375,000 words). 
Professional: $45/  month, Ideal for freelancers, Unlimited Credits.
Startup: $95/month, Ideal for Startups and small businesses who need copywriting on a large scale, Unlimited credits, 2 user seats.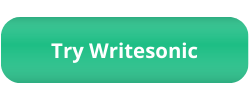 As the name suggests, if you want to scale your content creation process, fasten up the research phase and generate fresh unlimited content ideas for marketing copies? Then, check out Scalenut.
Scalenut is undoubtedly one of the most powerful AI copywriters and it is used by over 200 businesses across 10 countries.
Cruise Mode in Scalenut, allows its users to write SEO-optimized blogs in 5 minutes. SEO Hub in Scalenut optimizes all the SEO ranking factors, such as H tags, image frequency, and NLP terms. 
Scalenut is used by content strategists, content creators, founders, and agencies. It can write long-form copywriting, SEO blog writing, descriptions, and even generates content ideas.
Features
Faster content creation with Cruise Mode.

SEO Hub: The SEO Hub in Scalenut helps in creating SEO-focused content outlines. It gives feedback, such as keyword terms, readability score, word count, SEO reports, etc.

A human content professionals available for help. 

A Chrome extension of Scalenut is available.

Versatile Writing: Generates content ideas for ad copies, blogs, product descriptions, email headers, and more.
Pricing
Scalenut comes with three pricing models: Individual, Growth, and Pro. It also provides a 7-day free trial.
Individual pack is suitable for individual creators and consultants. Growth is for startups and growing businesses. Pro is ideal for large teams, businesses, and agencies.
Individual: $29/ month. 100,000 AI words, 5 SEO reports, 24X7 email and chat support.
Growth: $79/ month. Unlimited AI words, 30 SEO reports, Cruise Mode, Paraphrasing, SERP facts, and Collaboration.
Pro: $149/ month. Unlimited SEO reports, dedicated customer success manager, 100 topic clusters, 2 users; add more @49/ user.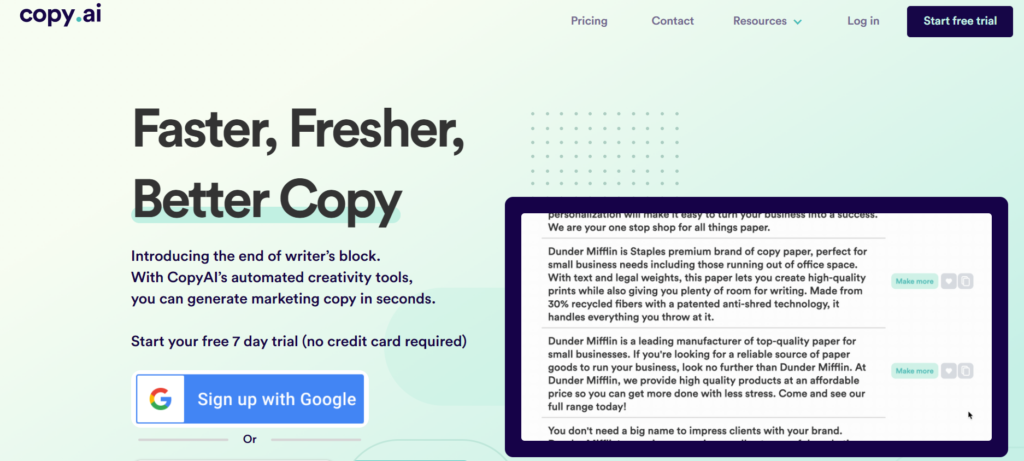 Want to end writer's block and want to generate marketing copy in seconds? then Copy.ai would be an ideal solution for you.
Initially started as Tagline.ai, it helped users create slogans and taglines for their business. When the customer started asking for the long-form copy, they realized its potential and started copy.ai. They even raised $2.9 Million from craft ventures to improve the product much faster and democratize access to powerful AI to empower people to start their own businesses. More than 250000+ marketers have been using Copy.ai for their regular marketing copy needs. Check out our detailed Copy.ai review
Features
With Copy.ai you can create Digital Ad Copy, Social Media Content, Website Copy, eCommerce Copy, Blog Content, and Sales Copy.

Built on top of the world's most advanced AI language model GPT-3.

Currently supports 25 languages.

A chrome extension is available for Copy.ai.
Pricing 
Copy.ai comes with three pricing models. Starts with a free trial and it is suitable for testing the product. Solo and it perfect for small businesses and freelancers. If you are an agency or large organization then choosing Multiple seats that comes with custom pricing would be the best plan.
Free Trial: Perfect for testing, 7 days of free access
Solo: $35/Month, Perfect for small businesses, Translate into 25+ languages.
Multiple Seats: Custom Billed Yearly, Unlimited runs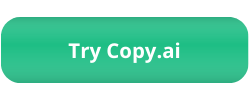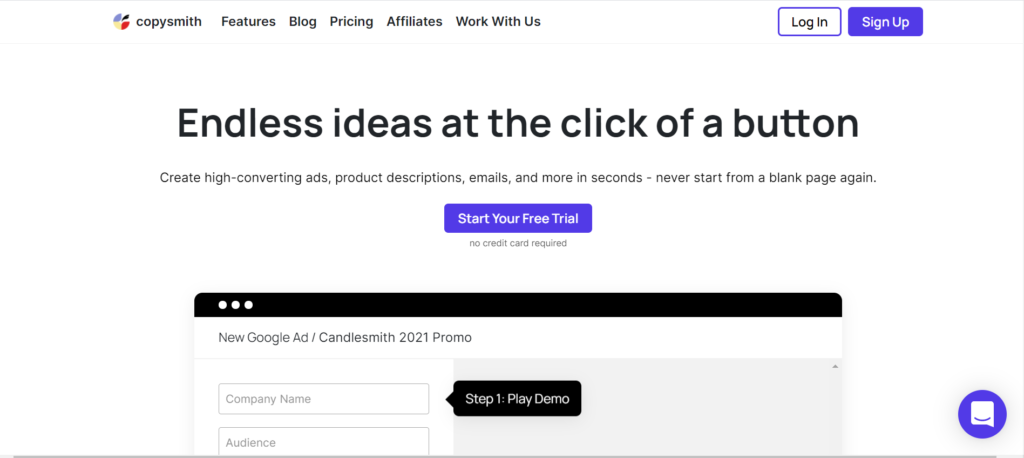 Want to scale your marketing content infinite times over? Go for Copysmith.
Copysmith is powered by AI and trained on a high-performing copy and will help you to create content at a massive scale. Copysmith is used by Marketing Agencies, In-house marketing teams, Freelancers, and E-commerce owners. They have raised 10 million dollars to further continuously build out more features to make the workflow more accessible. 
Features
With Copysmith you can create amazon product descriptions, Facebook ads, Google ads, Article Writing Assistant, Blog Outline, Blog Post, and many more cases for your business needs.

One Platform to manage all your copy from organizing, editing, mocking up a copy in its final form, importing and exporting CSVs, and Sharing and collaborating with teammates. 

Supports Chrome extension.

A Shopify app so that you can develop a high-quality product description.

Built on top of the world's most advanced AI language model GPT-3.
Pricing 
Copysmith comes with four pricing models, Starts for individuals who are looking to get started, Professional for power users taking their copy to the next level, Teams for small teams, and collaboration across projects, and Enterprise for business looking for unlimited creation and control.
Starter: $19/month, 50 credits/month,20 Plagiarism checks
Professional: $59/month, Unlimited Credit, 100 Plagiarism checks
Teams:$118/month, Supports Teams & Collaboration, Unlimited Credits, 500 Plagiarism checks per month.
Enterprise: Custom, Unlimited Credit, Unlimited Plagiarism checks, Unlimited Long-Form Blog Generations, Supports for Team collaboration with workflow, bulk important import and export.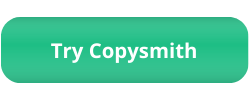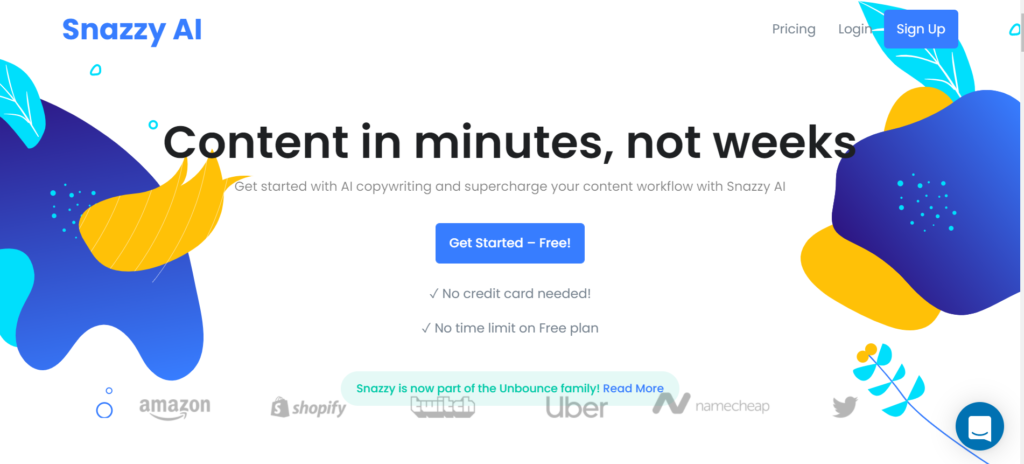 Want to create marketing content at scale? Snazzy AI might be for you.
Snazzy AI built on the top of the world's most powerful AI Algorithm GPT-3. You can create content in minutes using Snazzy. Snazzy Ai was acquired by the world's best landing page builder Unbounce. By integrating Snazzy AI into Unbounce will soon be able to generate the highest converting copy for you in a fraction of time. Snazzy is currently named Unbounce Smart Copy. 
Features
Support chrome extension so that you can copywriting to any webpage.

Generate high-quality content for more than 90 use cases.

Supports Chrome extension.

Built on top of the world's most advanced AI language model GPT-3.
Pricing 
Snazzy comes with two pricing models, Starter suitable for someone who is testing their products, and the other with Growth suitable for freelancer and business owners.
Starter: $0/year, Limited to 5 generations per day
Growth: $49/month, Unlimited Content, Profile Switching 
Do you want to generate effective marketing copy? Anyword can help you.
Anyword is the first AI copywriter that offers a predictive performance score to make smarter choices. With its preset keyword library and Predictive Performance Score forecast, it helps to create high conversion and optimize copy. Anyword is used and trusted by companies like RedBull, CondeNast, and NBC. 
Features
With Anyword agencies, b2c marketing teams, and social media teams can create ad copy for multiple channels, landing pages, blog posts, email, and more.

Marketers witnessed a 30% increase in conversion rates.

Generate High performing copy for every Channel and Format.

Built on top of the world's most advanced AI language model GPT-3.

With Custom mode, You can train your AI Copywriting tool to write copy in your brand voice, similar to your competitors or similar to your top-performing live ads.
With Continous Optimization, you can optimize on-site copy to display the right message to the right audience at the right time.
Pricing
Anyword comes with three pricing models; Starter for the new marketer who is getting started. Business is for the small and medium business and Enterprise is for Large organization.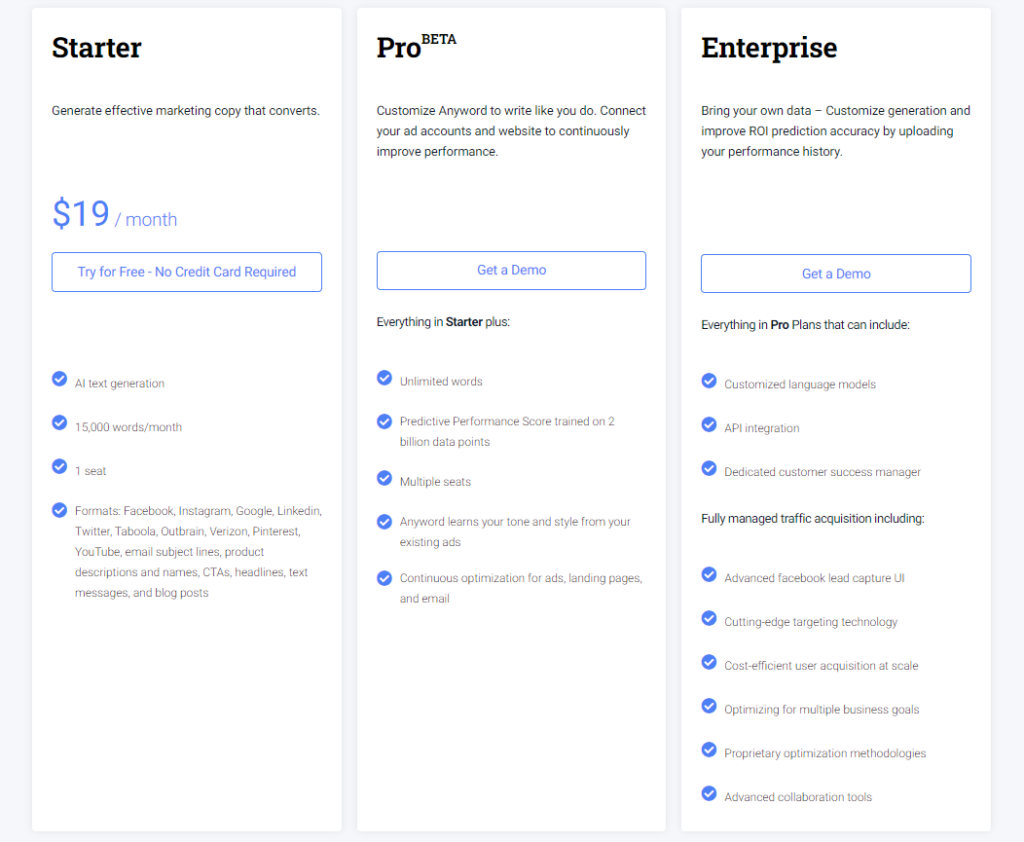 Starter: $19/ month, AI text generation, 15,0000 words/month, 1 seat. 
Pro Beta: Get a Demo, unlimited seats, multiple seats, Anyword learns your tone and style from your existing ads. 
Enterprise: Get a Demo, Customized language models. API-integration, Dedicated customer success manager, Predictive Performance score based on your data and trained on 2 billion data points
Want to write great advertising and sales copy? Choose Closercopy 
Closercopy is AI Copywriting software that specializes in sales messages trained on real-world examples. Closercopy is especially for digital marketers and salespeople and its trusted and loved by thousands of companies. 
Features
Write long-form sales pages, blogs, and articles 

Use 200+ plug  & play marketing framework

Fill our a text box and let AI write your ads, outline, social media posts, and a lot more 

Write a full sales letter in minutes. Hand-curated templates enhanced with insights and experts advice

Supports team collaboration 

Support more than 127 languages.

Sales-AI writes sales pages, ads, and email campaigns.

Blog-AI writes top-ranking blog articles.
Story-AI writes compelling stories.
Pricing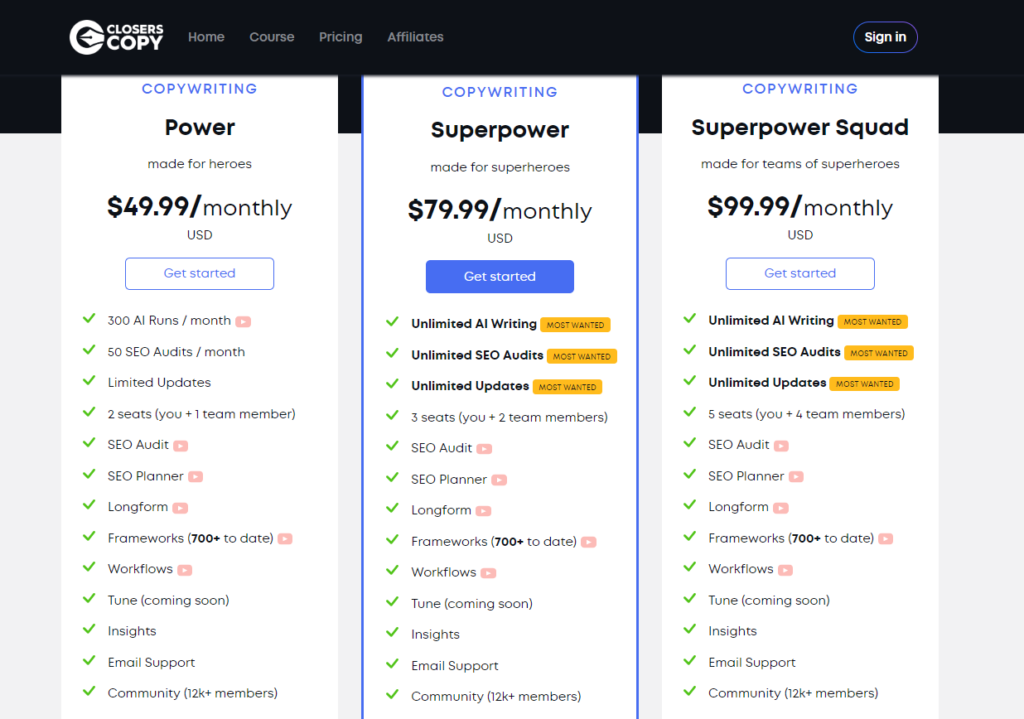 Starter: $49.99/month, AI Copywriting 300 runs, 50 SEO audits, etc..
Professional: $79.99/month, Unlimited AI writing and SEO audits, etc. 
Unlimited: $99.99/month, Unlimited AI writing and SEO audits, etc.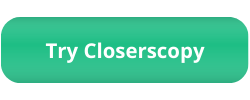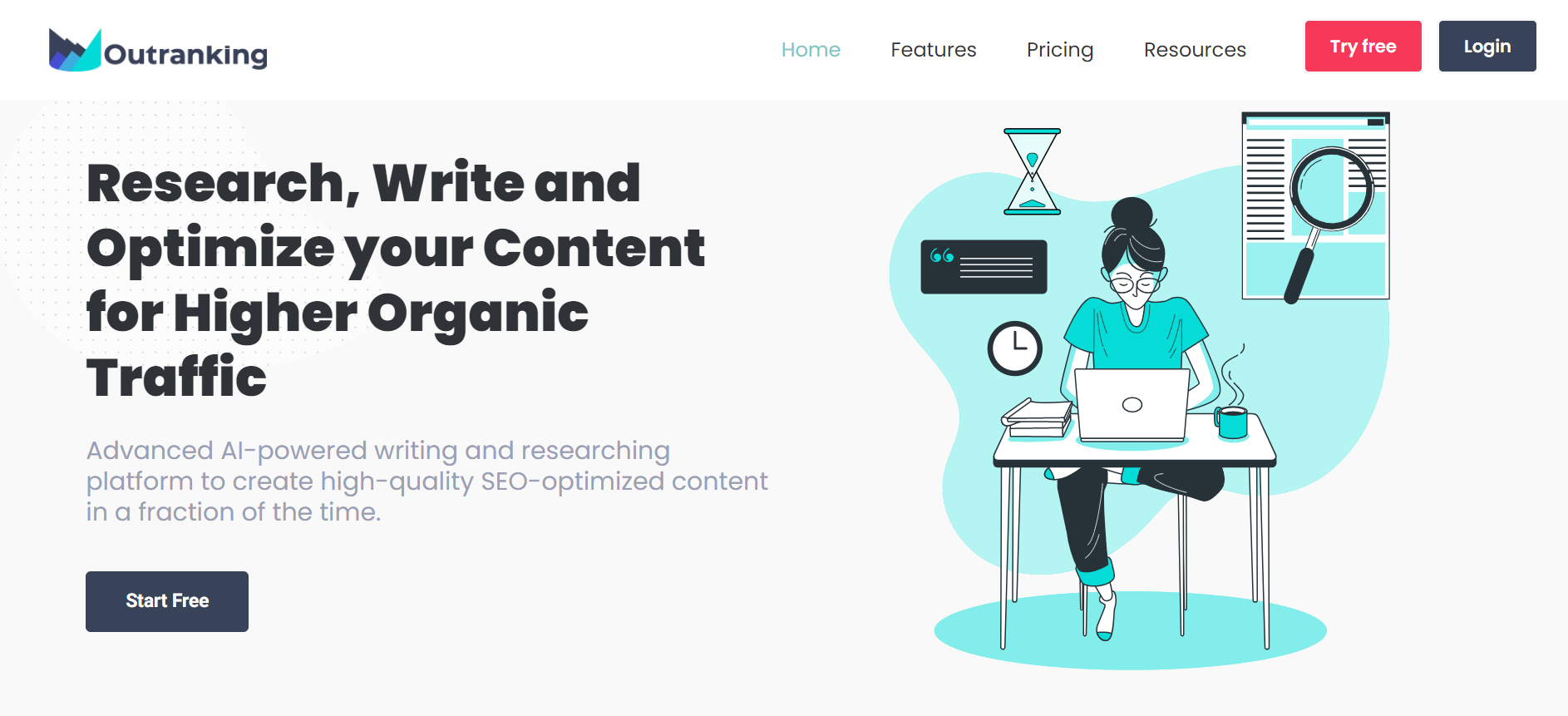 Want to generate SEO-optimized content? Check out Outranking.
Outranking is an advanced AI-powered writing and researching platform to create high-quality SEO-optimized content in a fraction of the time. If you are looking for an AI Content Creation tool that optimizes content for higher ranking and SEO, this is the right tool for you. Outranking is the platform for Content Writers and SEO Managers. 
Features
AI Wizard to generate Title and Outline in under 15 Minutes.
Collects and writes facts from ranking pages.
Writing workflow and automation.
Google docs and WordPress integrations.

Predict Content Success with instant SEO Scoring.

Empower yourself to write SEO Content with Step by Step SEO optimization. 

An AI Assistant with SERP (Search engine ranking pages) analysis to help copywriters create content outlines, paragraphs, answer questions, auto-build paragraphs and create killer content that Google loves.
Pricing
Outranking comes with three pricing: Starter, Growth, and Professional.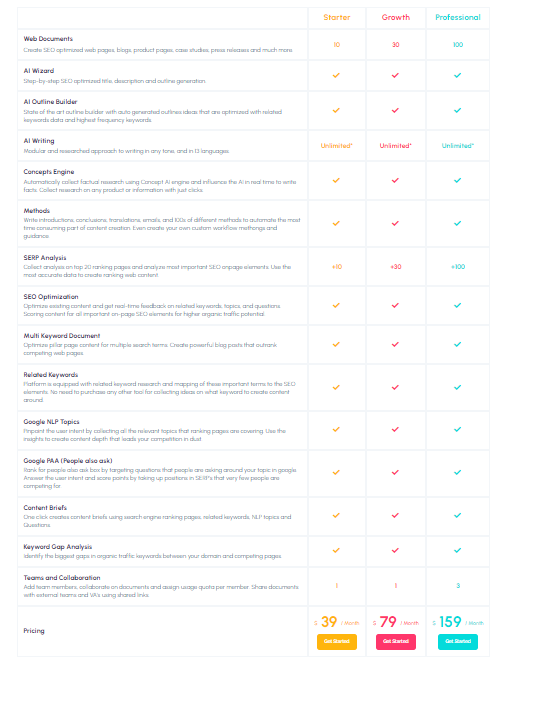 Starters:$39/month  10 SEO Document/ Search,.Unlimited AI Writing, 10+ SERP Analysis
Growth:$79/month 30 SEO Document/ Search, Unlimited AI Writing, 30+ SERP Analysis
Professional: $159/month, 100 SEO Documents to create web pages, blogs, product pages, case studies, and much more. 100+ SERP Analysis, Supports Team and Collaboration up to 3 Members.
Conclusion
Whether you are a freelance copywriter, marketer, or any agency, AI copywriting tools can help you achieve your business goals in an agile manner.
Since the above all AI copywriting tools are built on the autoregressive language model GPT-3, we have ranked tools based on the quality of the content it generates, ease of use, and pricing. However, it's important to check out a free trial or samples written by these tools before you make a purchase.
Which AI copywriting tool should you pick?
We recommend Jasper since it covers all use cases from Copywriting to Long-form content and it is the front-runner in AI Copywriting tools.