Jasper (Fomerly Jarvis.ai) is an AI copywriter software and  AI content writer software that is used by 40,000+ copywriters, entrepreneurs, and agencies. The recent acquisition of similar AI writing tools Headlime and Shorty.ai made Jasper the leader in AI copywriting. The YCombinator backed startup was previously known as conversion.ai, Jarvis.ai (named after a famous Marvel comic character), and is now renamed as Jasper.
Jasper not only creates high-quality copy for ads, emails, websites, blogs, but also generates long-form content as well.
Why Do You Need AI Copywriting Software?
Saves hours of writing time: We all know that how much time is needed to generate content, with the support of AI we can generate content much faster than ever before that is with 10x improvement. These AI tools generate multiple copies of content in a matter of a few seconds and that it would take a few hours for humans to do so. This saves a lot of time and we can use it somewhere else much more productively. 
End writer's block: We have all been there blinking on the blank screen without writing a single word sitting idly. You can stir up your inspiration with AI and that generates dozens of copies that kick your writer's block out of you.
Generate dozens of relevant headlines: Input a little about your product and AI would create dozens of relevant headlines. You can use a catchy headline or title for your product that will increase the call to action (CTA) dramatically. These in-turns generate a lot of revenue just by placing the right keyword.
Saves a lot of money: As a business owner or startup, we hire writers to create marketing copies for us that are much more expensive than having AI copywriting tools. AI tools will 10x your productivity that means 1 writer with AI Copywriting tools = 10 writers. This will definitely save you a lot of money.
Solves multipurpose copywriting needs: Most AI tools support multiple copywriting use cases and generate long-form content. In this case, you can use it for both marketing copy and blog posts. So it is better to choose the tools that offer you multiple solutions.
Jasper Features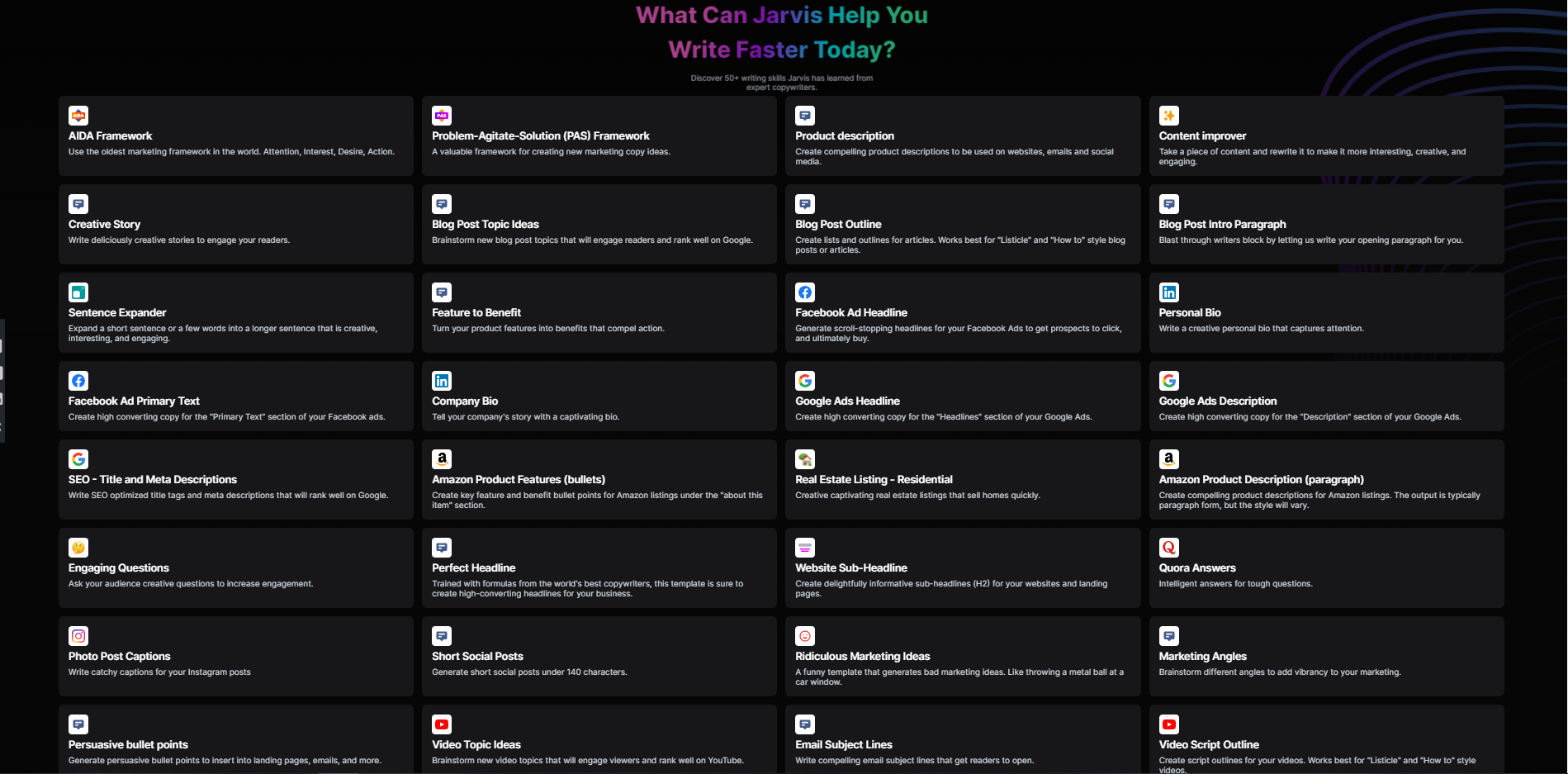 Jasper supports almost all necessary copywriting skills that are needed for business use cases such as product description, content improver, creative story to blog post topic ideas. Jasper supports more than 50+ copywriting skills that you can incorporate in your regular content production. We showcased some of the copywriting skills below:
AIDA Framework

: The historical marketing framework in the world uses five stages as Attention, Interest, Desire, and Action to attract interested parties.

Problem-Agitate-Solution (PAS) Framework

: A valuable framework for creating new marketing copy ideas.

Product Description

: Create a compelling product description to be used on websites, emails, and social media.

Content Improver

: Take a piece of content and rewrite it to make it more interesting, creative, and engaging. 

Creative Story

: Write engaging creative stories to engage your readers 

Blog Post Topic Ideas

: Brainstorm new blog post topics that will engage readers well on Google.

Blog Post Outline

: Create lists and outlines for articles. Works best for "listicles" and "How to" style blog posts or articles.

Blog Post Intro Paragraph

: Blast through writer's block by letting Jasper write your opening paragraph for you. 

Sentence Expander

: Expand a short sentence or a few words into a longer sentence that is creative, interesting, and engaging.

Feature to Benefits

: Turn your product features into benefits that compel action.

Facebook Ad Headline

: Generate Scroll-Stopping headlines for your Facebook ads to get prospects to click and ultimately buy.

Personal Bio

: Write a creative personal bio that captures attention.

SEO

– Title and Meta Description: Write SEO Optimized title tags and meta descriptions that will rank well on Google.
You can check more templates by clicking on the below button.
Multilingual 
Jasper supports more than 25 languages and they keep on adding more languages in the future. They support translation for long-form content as well. Supported languages are mentioned below the image:
Boss Mode 
Using Boss Mode you can write unlimited words. There is no limitation to it and that too is 2x faster than the pro plan. You can use voice dictation to command Jasper to create content for you. How cool is that right? Some of the Jasper Command you can try yourself are "Write some blog post title about [topic]", "Write some FAQ about [blog post topic]"," Rewrite the above to explain to a 5th grader". Jasper is always improving and learning more and more commands every day.
Jasper in boss mode can now read back 2,000-3,000 characters of your document. This eventually improves your outputs and the content you will create is more relatable to the previously written content.
Reason to activate Boss Mode:
Finish your draft 5x Faster that will definitely speed your content pipeline
Create original content that ranks for SEO
Original content that is 100% plagiarism-free
Jasper commands is speed-up your process
Jasper read your past 3000 characters every time before writing, so it could be able to generate higher quality outputs with better context.
Grammarly included for mistake-free writing.
To know more about the Boss Mode. Click the below button.
Jasper Pros
Easy to use UI

More than 25+ languages are available

It generates 99.99% percent original and unique content

50+ copywriting skill templates

Supports long-form content

Jasper commands to speed up the writing process (available only on Boss Mode)

Team collaboration

Integrated with Surferseo.com that enhances AI to create content that ranks for valuable keywords

Dedicated email support and chat support are available 

Regular Live Training helps to learn the best practices
Access to AI Copywriter's Community (20,000+ copywriters)
Jasper Cons
Credit cards are needed to access even the free trial.

Sometimes it generates irrelevant content.

No Chrome extension is available.

Only limited integration is available.
Jasper Use Cases
Blog Content: Write an original, high-quality blog post
Social Media:  Create your weekly social media content in a few hours
Paid Ads: Improve your conversion rate using great marketing copy generated by Jasper
Email Marketing: Write engaging emails so that improves your conversion rate
SEO: Write long-form content that is keyword rich and easy to rank
Affiliate Marketing: Write product reviews and marketing copy for affiliate products fast.
Website Copy: Improve compelling product descriptions exciting features and benefits.
Marketing Strategy:  Discover creative ways to describe your feature and benefits
Amazon Listing: Optimize your Amazon listing with more persuasive copy
Facebook Group: Grow your Facebook Group with engaging posts and helpful answers
Video Content: Script out your video content so it grabs viewers attention
Customer Support:  Respond fast to emails and reviews with an empathic voice
Books: Go from blank page to first draft 5x faster
What Users Are Saying about Jasper
After analyzing a slew of user reviews on the official website, Product Hunt, and G2, we have summarized their experience.
Most of the users feel that Jasper saves them a lot of time along with the sheer volume of content. In fact, one of the users completed the 2-week copy project in 2days.

With Jasper, some feel that they have employed a full-time copywriter for only 10% of the cost!

Some of them took a step forward and used Jasper creatively to publish books.

More than 10,000 reviews rate 4.9/5 stars, 4.6/5 in Product Hunt, 313 out of 331 gave 5 stars in G2.
You can check out the below image where you can see raving reviews from users.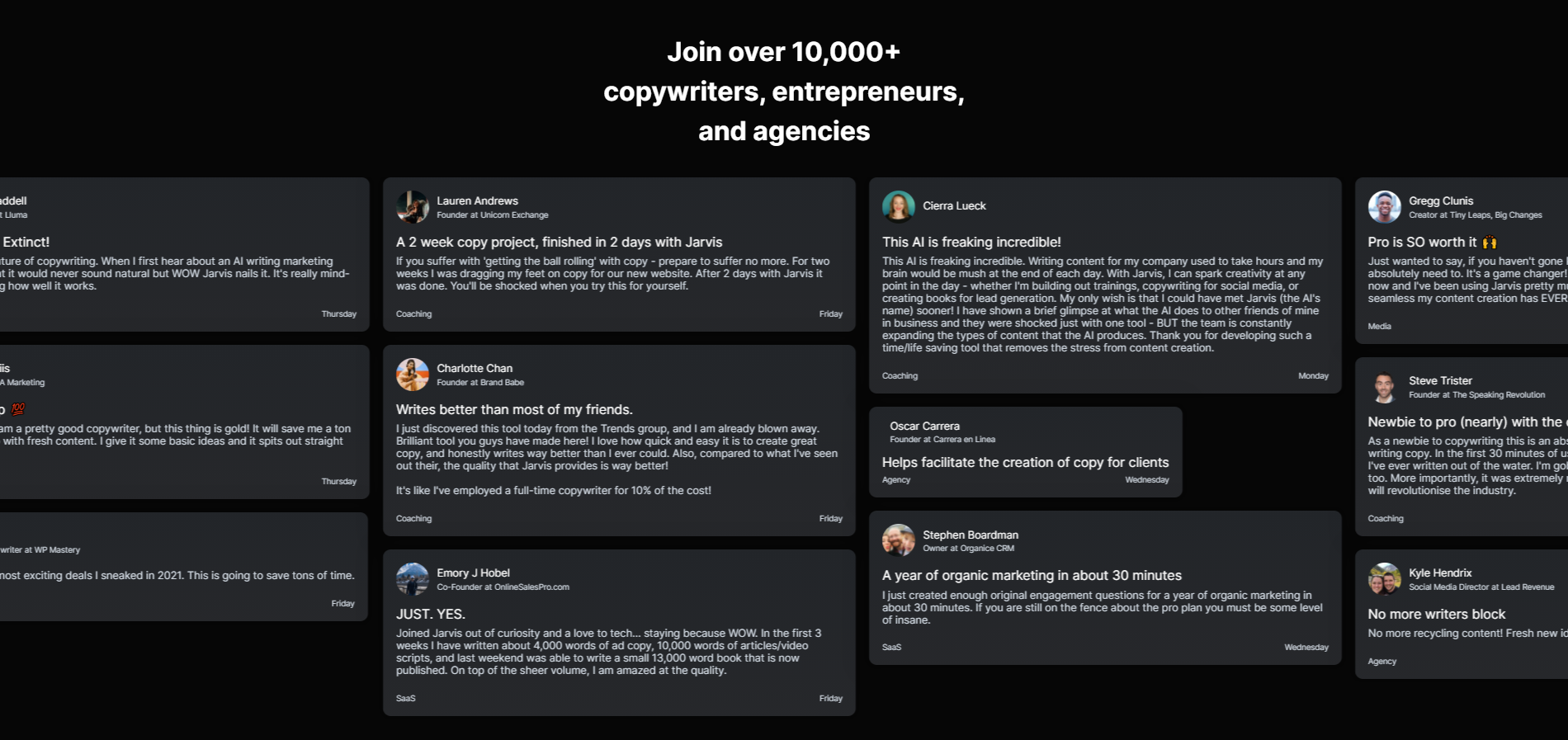 Did You Know?
Top companies such as Google, IBM, Verizon, AT&T, Airbnb, Zillow, Shopify, Canva, The Home Depot, and Scott's Cheap Flights are using Jasper.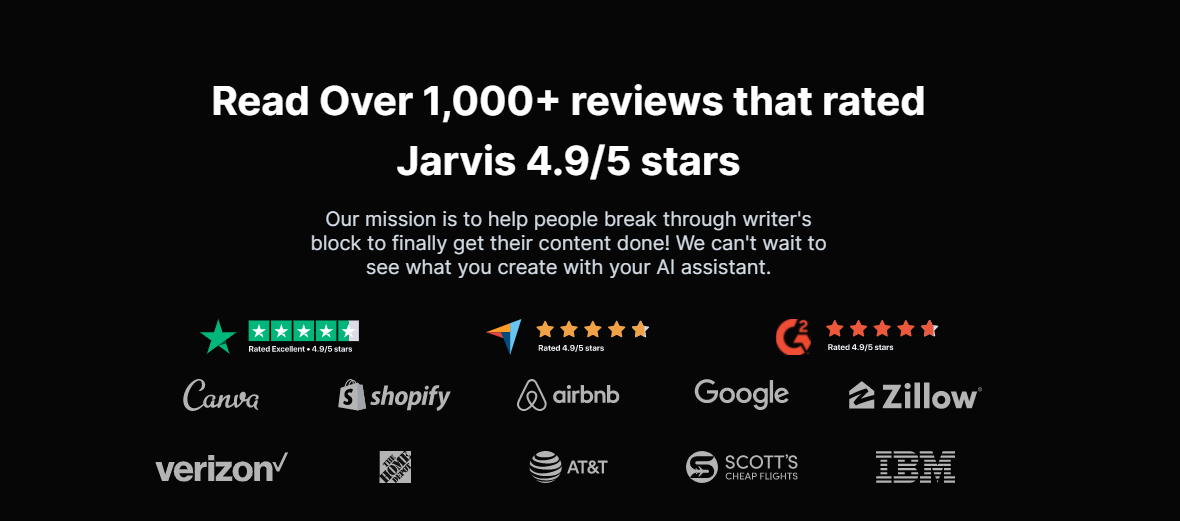 Jasper Pricing
There are two packages Starter and Boss Mode. As a user, you can opt to pay monthly as well as yearly. You can get 2 months free with yearly billing. Offers 7-day Money Back Guarantee.
Starter (Perfect for short-form copies creation): By choosing a monthly option you will pay $29/month. Includes chat support, 20,000 words, unlimited users, unlimited user logins, and access to AI Copywriter's Community.
Boss Mode (Write 2x faster with Jasper Command): By choosing a monthly option you will pay $99/month (Starts at $59/month). Includes chat support, 100,000 words, unlimited words and runs, Long-Form assistant, Jasper Commands, and access to AI Copywriter's Community.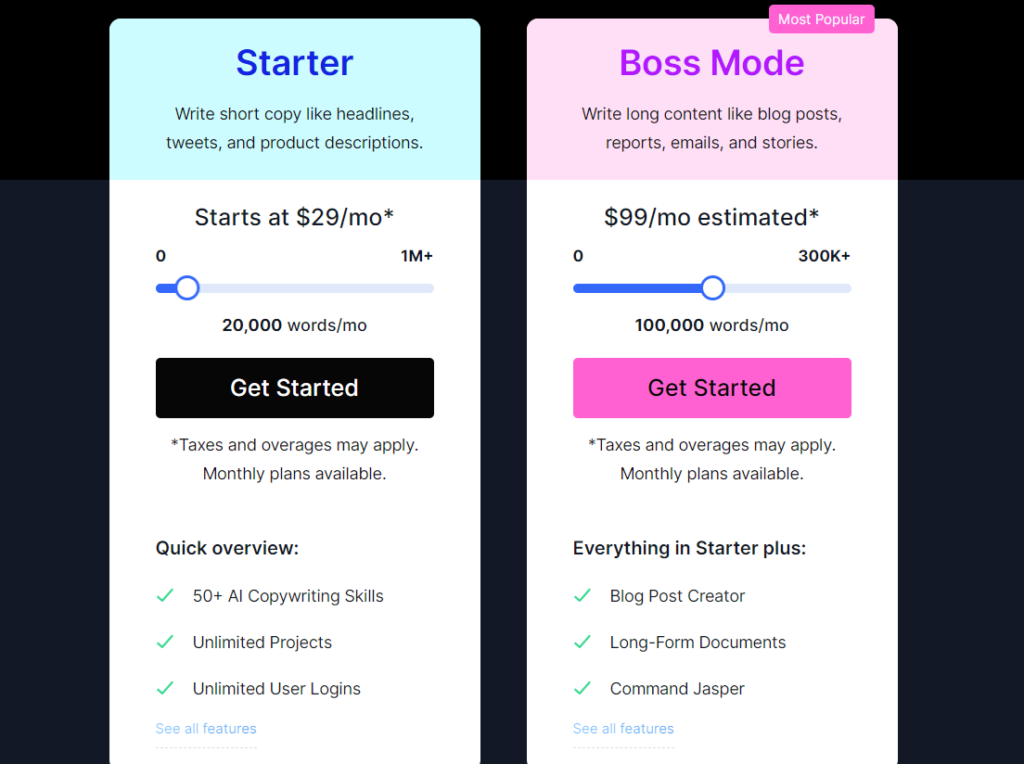 Who is Jasper perfect for?

Blogger who create content 

Freelancer who writer content for their client 

Entrepreneurs to create high-quality content fast 

Marketers want to boost conversion through writing high-quality conversion copy.

Authors who want to write their own books

Agencies to deliver work to your client at speed 

Brands that want to improve their social ads' conversion 

Ecommerce brand that wants to write a high-quality product description 

Almost all big corporations that produce content
Anyone who wants to produce content wants to get out of writer's block and 10x their content output production.
How to use Jasper?

Step 1: Choose a Skill – Jasper is trained by copywriters and conversion experts with rules to follow and models to mimic. 
Step 2: Input your product data – Type information about your brand. Even add instruction or rules to get a more effective copy. 
Step 3: Generate AI Content –  Jasper generates multiple outputs at a time for you to save delete or use.
Example 1. Generating Amazon product feature copy using AI
Step 1: Choose a Skill "Amazon product feature".
Step 2: Input the Product name, Product info, Key benefits/features, Tone of voice, and Example( that is optional ). More specific and detailed your input and AI would generate much relevant content to your needs. Click on the Generate AI Content 
Step 3: AI will generate multiple copies for Amazon Product Feature. You can use whatever copies that are suitable for your needs.
Example 2: Generate Facebook Ad Headline using AI
Step 1: Select the template "Facebook ad headline".
Step 2: Input the Company/Product Name, Product Description, and Tone of voice. The more specific your description Jasper would generate more relevant content based on your input, So be specific on your input.
Step 3: The AI-generated outputs will appear on the right. You can choose whatever copy is relevant for you.
Jasper (Fomerly Jarvis) Alternative
In case you are not fully convinced that Jasper AI is the tool for you, here are some alternatives.
Copy.ai:

Though it is not optimal for long-form content, it could be a good alternative if you are looking to create effective copies in a matter of seconds. Also, the other thing that Copy.ai stands apart from Jasper is the Chrome extension.

Writesonic:

Like Jasper, it fulfills both your needs to create marketing copy as well as content generation. If you are looking for a more affordable option, you can go for Writesonic. At the same time, you will be missing a few features that are available in Jasper.

Copysmith:

Though it is not optimal for long-form content, it could be a good alternative if you are an agency that is looking to create effective copies in a matter of seconds. As most of the features in Copysmith are built with the mind for the agency, it is one of the best for team collaboration. It has import and export the CSV option to maximize your workflow.
Conclusion 
Jasper (Formerly Jarvis) comes with 50+ copywriting skills and you can write long-form content as well. If you are a freelancer, marketer, agency, copywriter, and entrepreneur Jasper would be the go-to solution for the content-creation.
Want to create a persuasive Facebook ad copy?

Want to create 100%  original and unique content?
Want to create a compelling product description?
Want to create a creative LinkedIn/ Twitter/ Clubhouse personal bio that captures attention?
Want to create high-converting Google ads copy?
Want to create compelling email subject lines that get readers to open?
Want to create an outline for the blog and write content that Google loves?
Want to create a Landing page that converts visitors to users?
Want to speed up your book writing?
If you answer any of the above questions is Yes. You should definitely need Jasper for your content production needs.
You can use our invitation link to get a Free trial + 10,000 free word generation credits.
FAQs
Who owns Jasper AI?
Jasper is owned by the Useproof company.
Is Jasper AI value for money?
Before Jasper AI it would take a lot of time to create a long-form blog post and right now it will only take half of our time. If you are a freelance content writer, author, marketer who generates content on a regular basis then Jasper is definitely worth the money.
Does Jasper have a free plan?
No, Jasper doesn't provide any free plan. But we have partnered with them to give you 10,000 free word generation credits when you sign up through our partner link.
Does Jasper replace a content writer?
No, it won't replace content writers, but it will definitely enhance the productivity and quality of the content. It is like an add-on for a content writer.
Is content generated by Jasper unique?
Yes, Jasper generates 99.99% percent plagiarism-free and unique content.
Does Jasper provide an API?
Right now they don't have any support for API, but soon they will support it in the near future.
How many languages does Jasper AI Support?
Currently, Jasper supports 25 languages.
Are there any alternatives to Jasper?
Yes, there are plenty of alternatives available in the market. However, it is the king of all copywriting skills. You can checkout Copy.ai or Writesonic.
Does Jasper offer a lifetime deal?
No, Jasper is not providing a lifetime deal. You may see a lot of copywriting software is providing lifetime deals and almost most of them are low quality and you won't get expected results. Giving a lifetime deal won't be sustainable for business in the long term that leads to poor product quality and poor customer support. 
Does Jasper have an affiliate program?
Yes, Jasper has a generous affiliate program where you will be earning 30% commission as long as your referral stays as their customer.
What's Jasper's refund policy?
Jasper offers a 7-day money-back guarantee.
How does Jasper work?
Jasper is built on the world's advanced AI algorithm GPT-3 developed by OpenAI. Jasper is trained by copywriting experts and content writing experts.