It's no wonder you landed here, you are trying to find an AI product description generator. We got you covered.
Having good product descriptions needs a good copywriter/ marketer. That would be very hard if you are a small eCommerce store. The AI Copywriter helps you to write different product descriptions but you can also use it in landing pages, About us, FAQ, personalization of email messages and even generating intriguing social media posts for your eCommerce business. You can extend the AI Copywriter to solve different use-cases based on your preference. Having the same product description for all your similar products may affect SEO. Google may find that the content is duplicated may lead to affect search ranking.
The global eCommerce market size is expected to grow at a compound annual growth rate (CAGR) of 14.7% from 2020 to 2027. eCommerce sites experience an increase in customers due to an increase in internet usage. The larger the customer, the bigger the profit and also the demands. Catering to a large base of customers is always a difficult task. Everything needs to be done quickly. From generating product descriptions to creating content for your site would be done faster with AI Content Generator.
To fulfill the needs of customers and future demands, eCommerce industries should opt for AI content generators. We have curated a list of the best AI content generators below.
Why Does eCommerce Need an AI Content Generator?
Landing Page:

This is where the user sees your eCommerce store, good UI and eCommerce headlines will compel users to stay and make purchase decisions.

Product Headline

: An intriguing product headline will lead users to click on the product and make further steps.

Product Description:

Clear and concise product description always stands out. Same product description for all products may affect SEO.

Blogs:

Great blogs generate traffic. Traffic to your site generates sales. 

Newsletter

: Almost all great brands have newsletters to keep updated on their upcoming product to their customers. A newsletter is an effective way of promoting your product without even spending a penny.

Attractive Sales Emails

: Almost all stores send sales offers, exciting offers, and abandon cart email notifications to users to further drive their sales.

Personalized Email Marketing:

Never miss out on your customer's special days such as birthdays and wedding anniversaries, send personalized emails to your customers.

Personalized Mobile Notification

: Personalized notification may pull users into your app thus driving more sales.

Social Media

: Great e-commerce brands will have social media presence across all platforms from Instagram to Tiktok. Each social media must have catchy content to drive up engagement.

Customer Review Response

: Responding to your customer review is crucial in understanding your customer and thus building great relationships and further improving your product quality.

Social Proof Text:

Great social proof increases trust among the customer thus increasing your sales. Including testimonials, customer reviews increase your conversion rate. 

Social Ads:

Every eCommerce brand promotes its product through social media from Facebook to Instagram. Catchy social media ads may drive up your sales.

Video Scripts:

Right now most consuming media is video. If you are not in short-form video formats like Instagram reels or Tiktok and long-form videos like Youtube you are missing out huge. Great video script elevates your brand image thus driving higher sales.

About us Page

: Most eCommerce brands have an about us page thus explaining why they started this brand. You can generate compelling about us page content using AI.

FAQs:

Good FAQ solves most of the customer issues so they won't call up customer support thus saving huge amounts of time.
AI content generators are not only limited to product description writing, but it also covers all the above use cases and makes your productivity skyrocket. Since it covers all the important use cases, saves a lot of time and expenses, it is indispensable for eCommerce industries to have AI content generators on their side.
Overview of Best Product Description Generator
| | | | |
| --- | --- | --- | --- |
| Software | Our Review | Free Plan | Pricing |
| Jarvis (Conversion.ai) | 5/5 | 7 Days money-back guarantee | Starts at $29/month |
| Copysmith | 4.9/5 | 3 Days free trial | Starts at $19/month |
| Writesonic | 4.7/5 | 10 Credits | Starts at $15/month |
| Rytr | 4.7/5 | 5,000 characters per month | Single plan $29/month |
| Copy.ai | 4.5/5 | 7 days of free access | Starts at $35/month |
| Snazzy AI | 4.2/5 | Free Forever is limited to 5 generations per day  | Starts at $49/month |
Jarvis is the leader in AI Content Writing software and AI Copywriting software used by 40,000+ copywriters, agencies, and entrepreneurs. The YCombinator backed startup was previously known as Conversion.ai and is now renamed Jarvis.ai. Jarvis can generate effective marketing copy as well as long-form content generation. So if you are into eCommerce Jarvis would be an ideal solution for all of your business needs from content generation, product headline, push notification to product description. You can check out our detailed Jarvis review
Features
Multilingual: Every eCommerce needs to support multilingual caters to their global geographical customers. Jarvis supports more than 25 languages and you can create marketing copy and content based on your customer's preferred languages.
Supports 50+ Copywriting skills: 
Product Description: Helps you to create a compelling product description for your product that may increase your sales. 
Facebook Ad Headline: Generate scroll-stopping headlines for your Facebook ads to get the user to click and buy.
Facebook Ad primary text: Create a powerful copy for the Primary Text section of your Facebook ads.
Google Ad headline: Create a high converting copy for the headline section of your Google ads.
Google Ad description: Create a highly converting copy description section of your Google ads.
Amazon product feature: Create key features and bullet points for the amazon listings "about this item" section.
Amazon product description: Create a compelling product description for Amazon listings. You can use this for your Shopify site as well.
Instagram photo post caption: You may have generated a catchy Instagram caption for all of your posts that drive engagement and sales.
Marketing Angles: Brainstorm different marketing angels to add vibrancy to your marketing.
Persuasive bullet points: You need persuasive bullet points on your landing page, sales email to drive sales.
Blog post: Jarvis supports a variety of templates from blog post name generator to outline generator.
Youtube video script: For your eCommerce, you may produce video content. Using Jarvis Youtube video script you can able to generate it in a second
Review Responder: Write a response to your product reviews that are winsome, professional, and delightful. 
Check out all Jarvis Features and they support more than 50+ Copywriting skills that are needed to run your regular e-commerce operation.
Boss Mode: You can command Jarvis to write long-form content such as "How lemon increases your natural beauty" within a matter of seconds Jarvis writes high-quality content. With boss mode, you can generate original and unique content 10x faster, So that you can generate content at a faster rate than would bring you to search traffic that in turn increases your product exposure and revenue. With Boss Mode, you could able to speed up your content pipeline by 5x by creating original content that ranks for SEO.
How much does Jarvis Cost?
Jarvis comes up with two pricing options: Starter which is good for writing short copy like ad headlines and descriptions with 50+ templates and Boss Mode which is good for writing long content like blog articles and social media posts.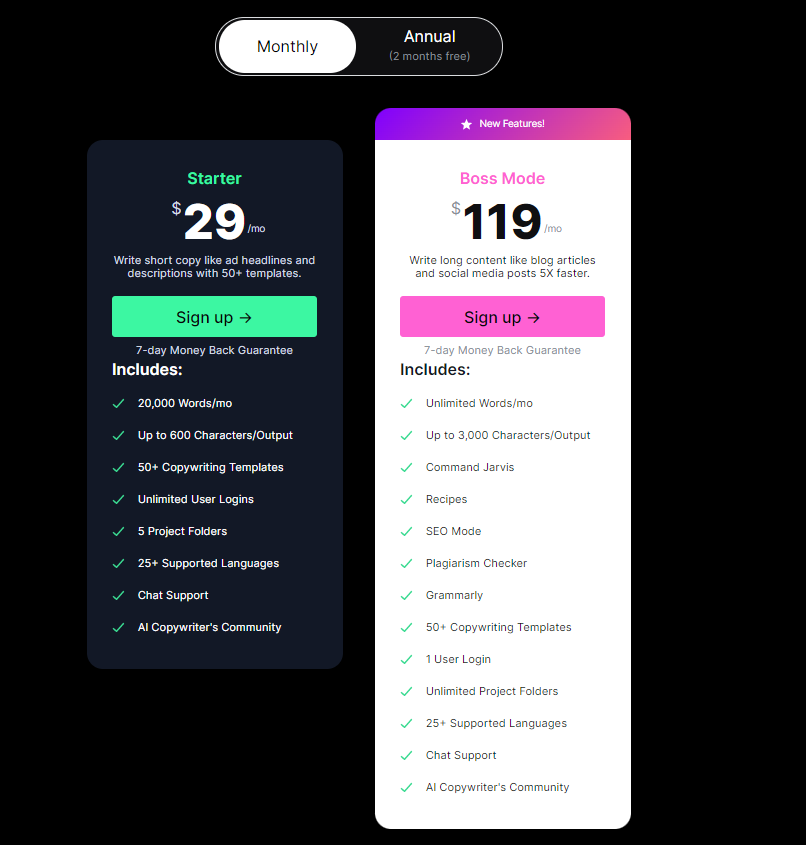 Starter: $29/month, Good for short term content, 50+ Copywriting skills (Choose Boss Mode, If you want to produce long-form content)
Boss Mode: $119/month, Write 2x faster, Jarvis Commands
What Other People Are Saying about Jarvis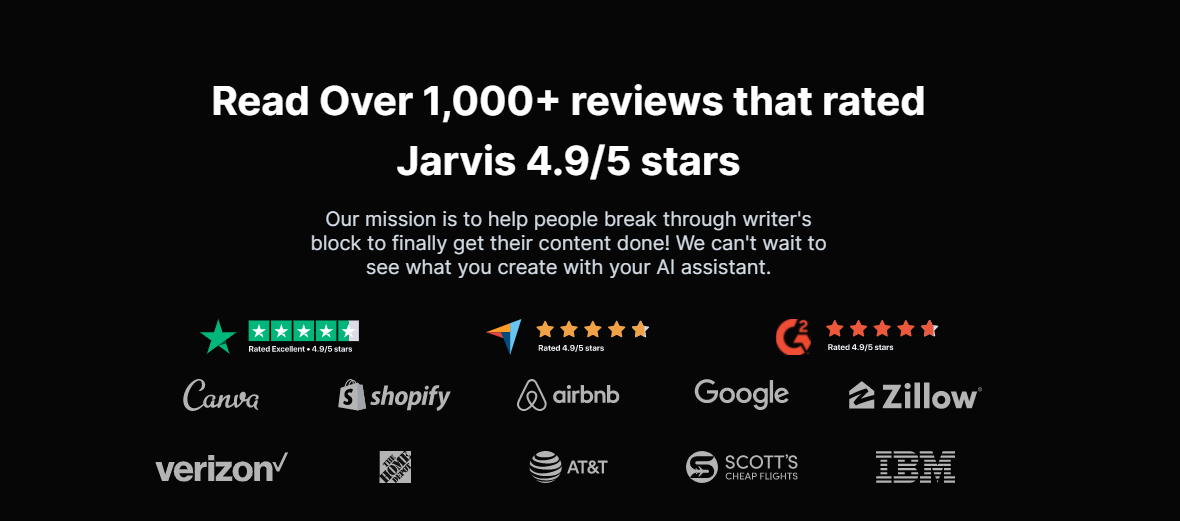 Jarvis is used by more than 40,000 users regularly. It is used by marquee companies such as Canva, Shopify, Google, Autodesk, and Airbnb. Users praised its long-form content, SEO-friendly content output, and writing speed.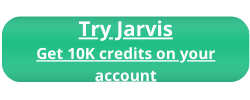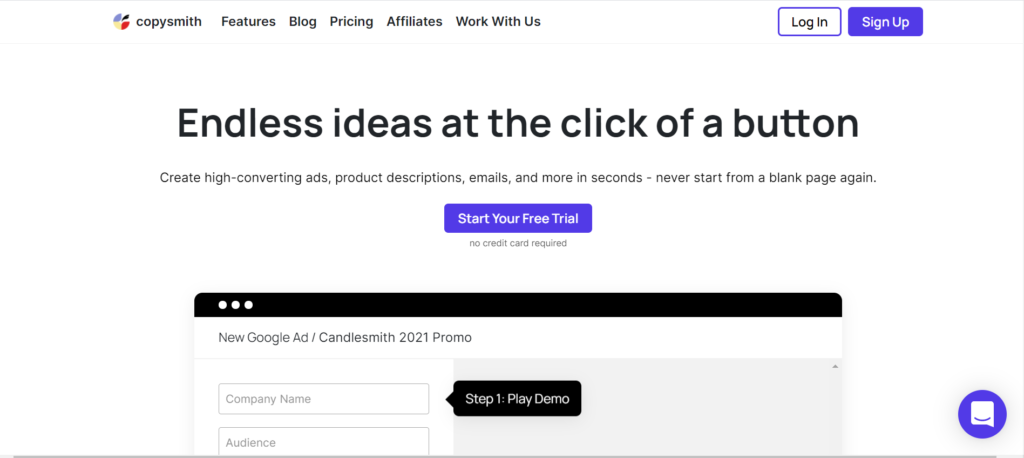 Copysmith is powered by AI and trained on a high-performing copy and will help you to create content at a massive scale. Copysmith is used by marketing agencies, In-house marketing teams, Freelancers, and E-commerce owners.
Features
30+ Copywriting Template 
They have more than 30+ copywriting templates that are not only suitable for your eCommerce product description but also you can use it your regular business operation listed below 
Amazon Product Description:

Craft a caption for your product 

Carousel Ad:

Showcase your product 

Facebook Ad:

Craft the perfect headline and primary text.

Google Ads:

Generate high converting ad copy at volume pro headline, pro description pro result.

Instagram Ad:

Pro headline, pro copy, pro results. 

Instagram Product Description:

Craft a caption for your product.

Product Description:

Craft beautiful descriptions worthy of your products.

Landing Page:

An entire landing page from a few inputs. It's simple. 

Short Sales Email:

Convert customers in one click.
Supports Chrome extension
A chrome extension is available that enables you to transfer ideas between browser & workspace wherever you are.
Supports Shopify apps 
Create beautiful and engaging product content for your Shopify store – at the fraction of the cost of an in-house writer. 
Integration
Copysmith integrated with Frase, Google ads – so that you could able to generate and launch Google ads in record time, Shopify and Google Chrome. This integration is specifically designed to make your life easier, launch campaigns faster, and deliver results.
Team Collaboration 
Copysmith supports team Collaboration so that you can collaborate with other team members share projects with other teams or customers to streamline content feedback and approval processes.
How much does Copysmith cost?
Copysmith has four pricing models: Starter for individuals looking to get started, Professional for the power user, Teams for small team collaboration across projects, and Enterprise for businesses looking for unlimited creation and control.
Starter: $19/month, 50 credits/month,20 Plagiarism checks
Professional: $59/month, Unlimited Credit, 100 Plagiarism checks, 100 Long-Form Blog Generations
Team: $118/ month, Unlimited Credit, 500 Plagiarism checks, Copy in 60+ languages.
Enterprise: Custom, Unlimited Credit, Unlimited Plagiarism checks, Unlimited Long-Form Blog Generations
What Other People Are Saying about Copysmith
Companies such as STACKMATIX, GUITAR, Marshalls, change.org, and Profitboss are using Copysmith. Users are saying that Copysmith played a major role in time reduction (up to 80%).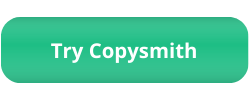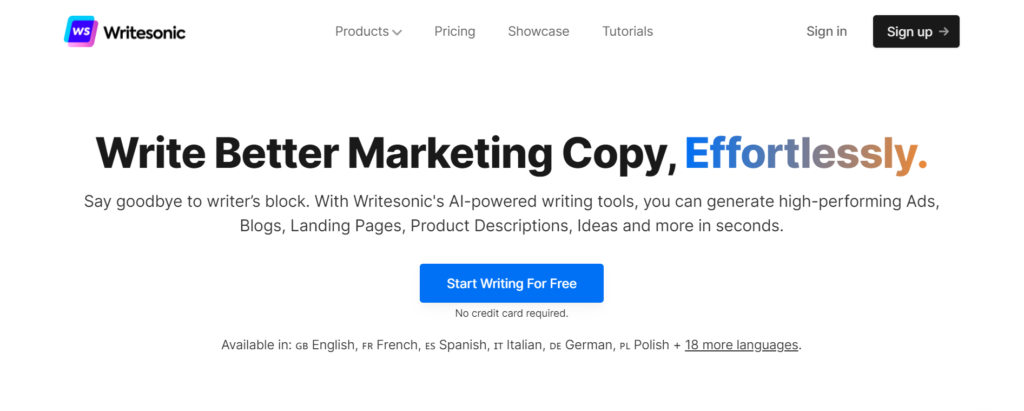 Writesonic offers two products one is for Marketing copy generation and the other one is for AI articles and blog writers. Available in 24 languages, it can help you generate everything including landing pages, blogs, Facebook ads, product descriptions, and more.
Thousands of marketers, agencies, and entrepreneurs choose Writesonic to automate and streamline their content marketing. You can check out our detailed Writesonic review
Features
20+ Copy Types
Writesonic supports website to copy, digital ads copy, article/blog copy, and eCommerce copy that are helpful in your daily business needs. Here we mentioned some of the eCommerce copy skills that WriteSonic Support 
Amazon Product Titles: Helps you to generate catchy product titles. 

Amazon Product Descriptions: Generate attention-catching product descriptions

Amazon Product Features: Generate features for your products.

Amazon Sponsored Ads: Generate catchy ad phrases that make people buy. 

Sales Emails: Generate an email for sales.
Multilingual 
Supports more than 24 languages that help your brand to resonate with local audiences by generating marking copies in the local language.
AI Article and Blog Writer 
Writesonic AI article writers generate 100% original content that reads like it was written by a human and does it in seconds.
Product Description Generator 
With Writesonic AI product description generator, you can create unique, creative, SEO Optimized descriptions for your eCommerce stores and sites within seconds.
How much does Writesonic cost?
Writesonic comes with five pricing options: Free trial for new users, Starter for new marketers, Professional for freelancers, Startup for small businesses, and Agency for business and agencies who need Copywriting at scale.
Free trial: $10 / month, Ideal for new users, 10 Credits
Basic: $15 /month, Ideal for personal use, 75 Credits
Professional: $45 /month, Ideal for Freelancers, Unlimited Credits, 25 languages
Startup: $95/ month, Ideal for startup and business, Unlimited Credits, 2 user seats.
Agency: $195 /month, Ideal for medium businesses who need copywriting on a large scale, Unlimited Credits, 4 user seats.
What Other People Are Saying about Writesonic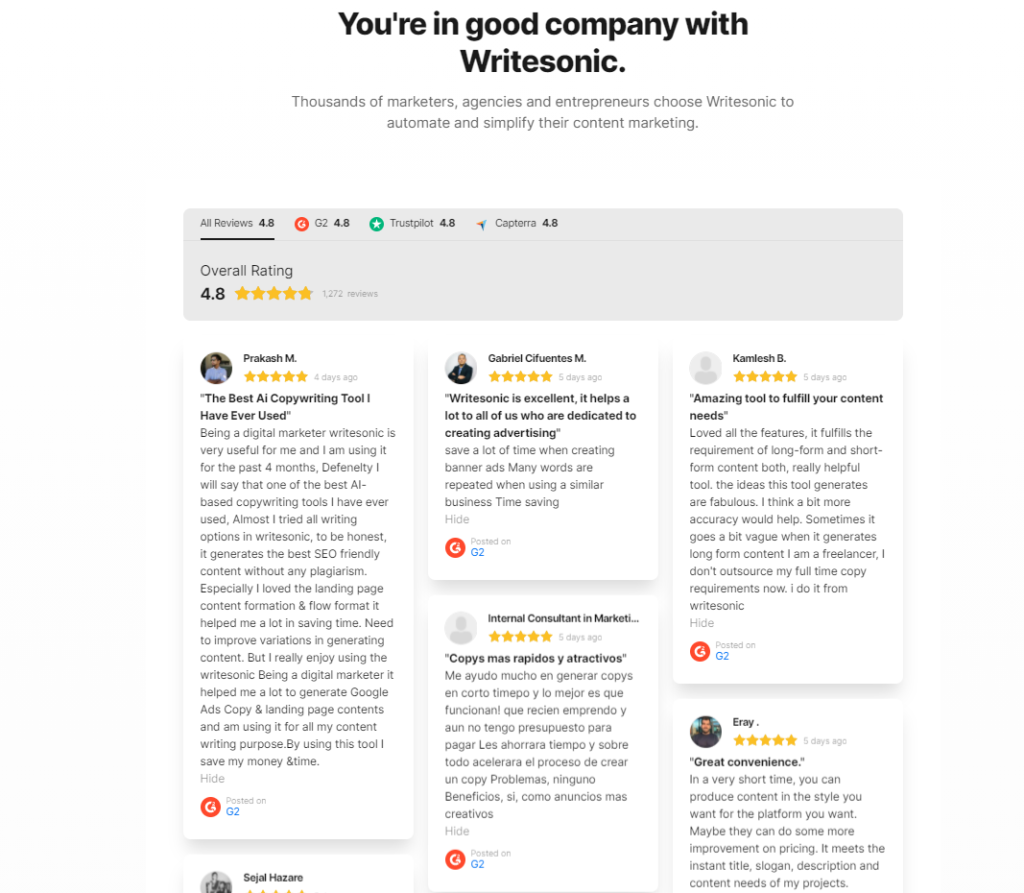 Entrepreneur, TNW, VentureBeat, TechRadar, and Financial Post are using Writesonic. Most of the users praised its user-friendly interface and SEO-optimized content output.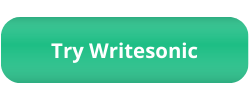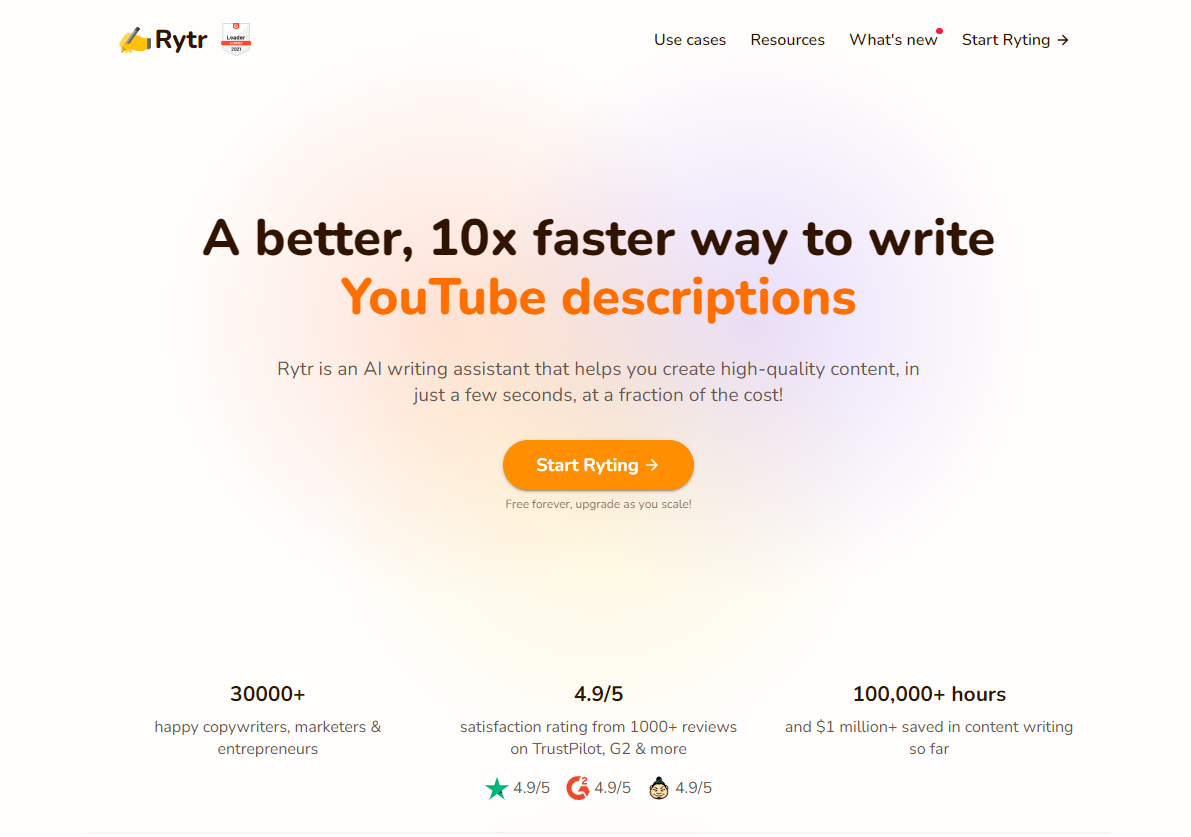 Rytr is an AI content writing and copywriting assistant that helps you create high-quality content in just a few seconds, at a fraction of the cost. It is used by 250,000+ users and has a high rating among other copywriting tools. Rytr got more than a 4.9/5 rating from more than 1000+ reviews across all reviewing sites from Trust pilot, G2, and App Sumo. 
Features
30+ use cases and templates to choose from to cover all your writing needs 

Choose from 25+ languages  to write in your own or other languages for your client 

Write anything with the right emotion through 20+ tones of voice 

Built-in plagiarism checker 

Supports multiple projects by providing seamless collaboration, team billing, and robust project management features.

Supports chrome extension that saves you time

SEO Analyzer to find optimal keywords and create a well-written content brief 

Supports API – you can integrate into your existing apps and get content on the fly. 
Pricing
Rytr has a single pricing model, in that you access almost all necessary features that are needed to run your business.
$29/ month ($290/ year) – unlimited characters, 20+ use cases & tones, and dedicated account manager.
What Other People Are Saying about Rytr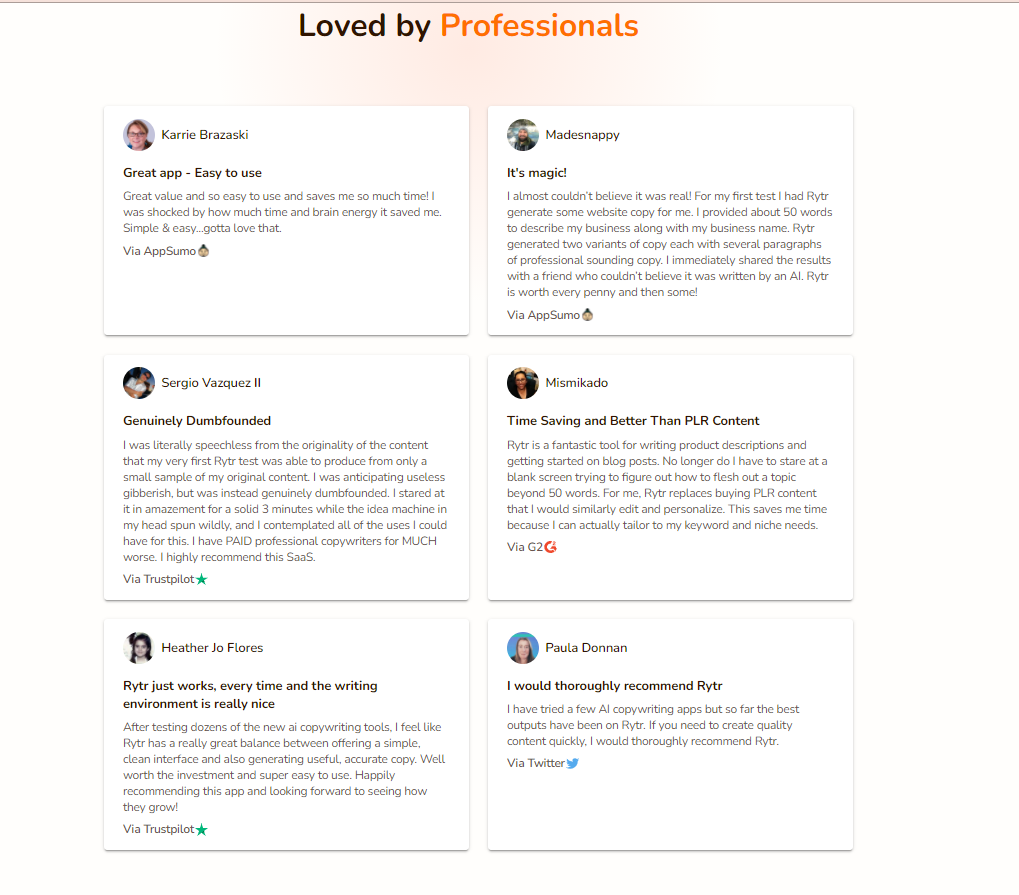 Rytr has 30,000+ customers around the world. Easy to use, professional tone, workflow management, and SEO analyzer are the factors that are reverberated in the review section.
Copy.ai is an AI Copywriting software that is used by more than 250,000 users. It creates an effective copy in 30 seconds. You can create digital ad copy, website copy, eCommerce copy, sales copy, social media content, and blog content using Copy.ai. You can check out our detailed Copy.ai review
Features
90+ Copywriting templates: They have all the templates for almost all of the business needs. A few templates of eCommerce are:
Product Descriptions

Product Benefits

Microcopy
Multilingual: Copy.ai supports 25+ languages.
Chrome Extension: Switching between tabs is no longer a tedious task. A chrome extension of Copy.ai comes in handy so that you can work simultaneously with your own work tools such as google docs, Gmail, Facebook ad manager, and content management tools.
How much does Copy.ai cost?
Copy.ai comes with thee pricing model: Free trial for getting started, Solo for small businesses, Multiple seats perfect for larger teams.
Free Trial: Perfect for testing, 7 days of free access.
Solo: $35/Month, Perfect for small businesses, Translate into 25+ languages, 2 free seats, Unlimited run, Access to the premium community. 
Multiple Seats: Custom Billed Yearly, Unlimited runs.
What Other People Are Saying about Copy.ai
250,000+ marketers including top companies such as eBay, Nestle, Ogilvy, and Zoho are using Copy.ai. After analyzing more than 100 reviews, we found that Copy.ai has really improved user productivity and created really good marketing copies that convert.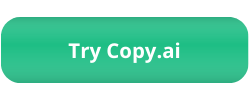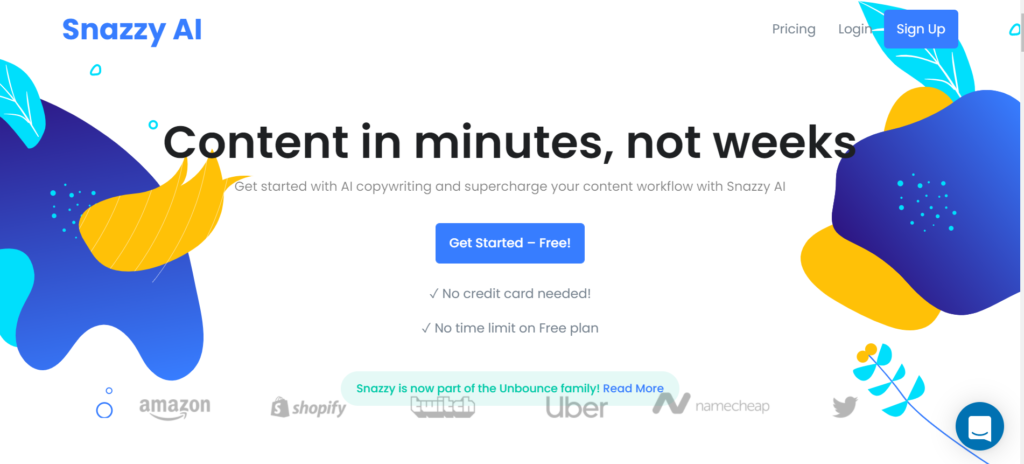 Snazzy AI built on the top of the world's most powerful AI Algorithm GPT-3. You can generate product descriptions to digital ad copy to grow your eCommerce business. Snazzy AI was acquired by the world's best landing page builder Unbounce. By integrating Snazzy AI into Unbounce will soon be able to generate the highest converting copy for you in a fraction of time. 
Features
28+ Copywriting templates 
Snazzy supports more than 28+ templates but here we mentioned the templates that help to grow your eCommerce business. 
Amazon Listing

: Quickly generate a dozen new titles for your latest product- ready to post on Amazon 

Amazon Ads

: Amazon Ads template will definitely boost your sales through the right placement of catchy words.

Facebook Headline

: Capture more attention with compelling Facebook headline capped at 40 Characters per Facebook ad guidelines 

Product Description

: Launching a new product? Let's couple it with a catchy product description

Google Ads

: Create Google Ads From Scratch with exact requirements and layout required for use

Facebook Ads

: A limitless supply of original Facebook ad Copy
Support Chrome Extension 
A chrome extension is available that will save you a lot of time. 
How much does SnazzyAI cost?
Snazzy AI Comes with two pricing options; Starter for getting started, Growth for generating unlimited copy creation for every personal and professional writing needs.
Starter: $0/year, Limited to 5 runs per day
Growth: $49/month, Unlimited Content, Profile Switching
What Other People Are Saying about Snazzy AI
Snazzy AI is used by marquee companies like Amazon, Shopify, Twitch, Uber, Namecheap, and Twitter. After analyzing 100+ Snazzy AI reviews across all platforms we found that it has really improved the conversion rate.
Conclusion
It is time to choose the right AI product description for your eCommerce business. Before making any purchasing decision you can try the free version of their software. Almost all product description software has a free plan so you can feel free to try it out.
With AI Content and Copywriting software, you are not only going to generate product descriptions for your e-commerce, but you may also need it for your Facebook ad campaigns, Google ads, and you can use it to generate social media posts, email marketing, newsletter, and even review responder. With fully leveraging AI Capability you can easily increase your e-commerce sales by 10x. 
We have explored many AI product description software. We would recommend Jarvis.ai as it covers almost all use cases to run an eCommerce business. You can sign up using this link to get free 10,000 credits.
FAQs
What is an AI Product description writer?
An AI product description writer uses an advanced GPT-3 model to generate product descriptions in seconds. The software helps you write multiple and unique product descriptions and thus saves a lot of time for you.
Is there any AI software for writing product descriptions?
Yes, there are many AI product description writers such as Jarvis.ai, Copysmith, and Writesonic.
Which is the best AI Product Description Writer?
Jarvis.ai is the best AI product description writer for all eCommerce needs. Not only it is a good product description writer but it also generates 40+ marketing copies and long-form content. 
Which is the best Shopify AI product description writer App?
Copysmith is the best Shopify AI product description writer app available in the Shopify App Store. It helps to create beautiful and engaging product content in a matter of seconds for your Shopify store.