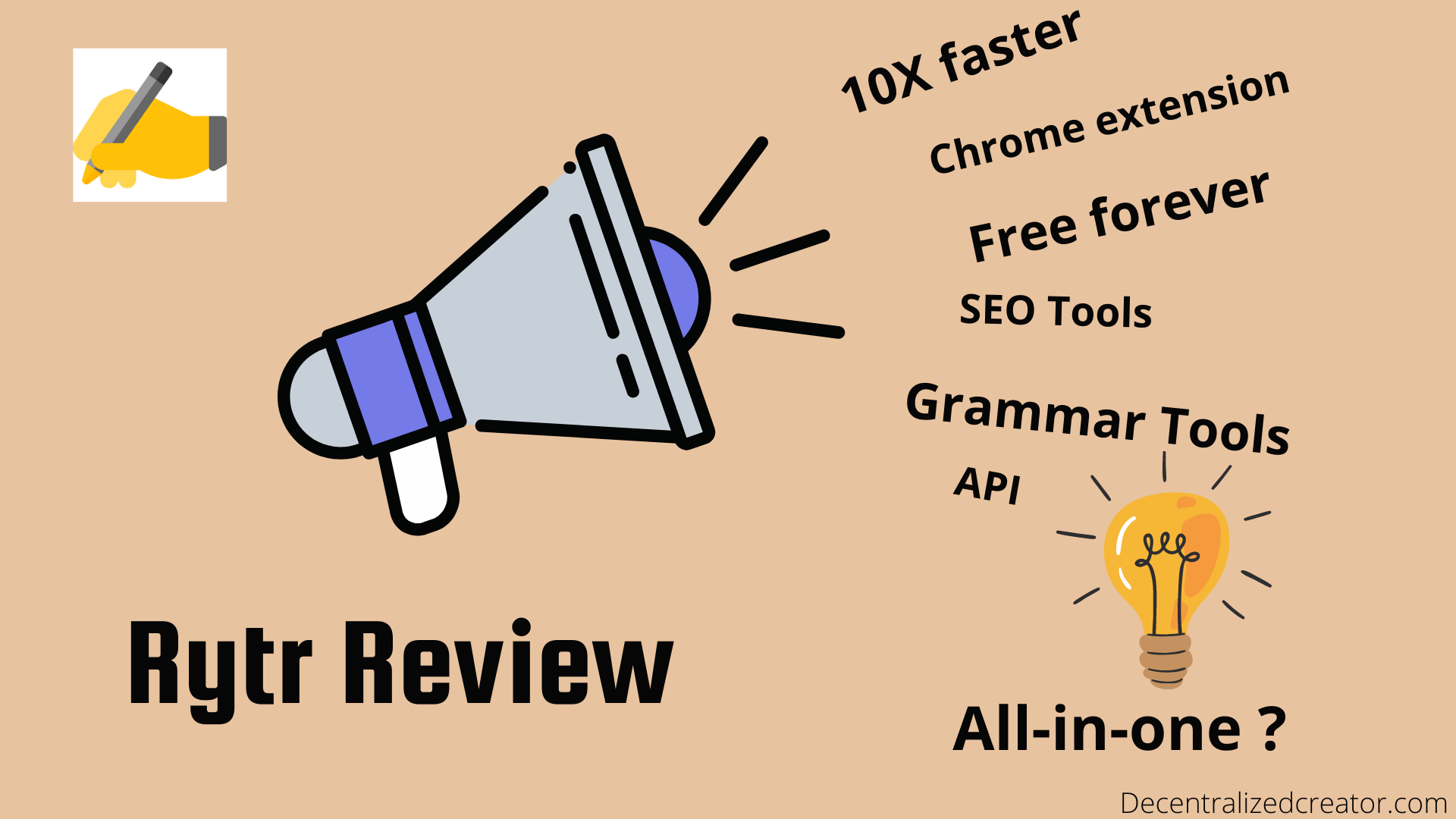 Rytr is an AI writing assistant that helps you create high-quality content, in just a few seconds, at a fraction of the cost and it is used by 60,000 copywriters, marketers, and entrepreneurs. It garnered over 4.9 ratings across all review platforms such as G2, Trustpilot, and more. Overall Rytr has saved over 100,000+ hours and 1 million dollars saved in content writing so far. Rytr's all-in-one writing platform provides powerful features to manage everything from one place. 
Why do you need an AI Writer?
Saves a lot of time
Along with research work, creating content usually takes a lot of time. But with the advent of AI, we could bypass the conventional way of writing and produce content in a matter of seconds. This saves a lot of time and we can use it somewhere else much more productively.
Saves money
Opting for an AI writer is always cheaper compared to hiring a copy or content writer. Though it doesn't completely replace copy or content writers, you can simply reduce the manpower. AI writers will 10X your productivity, meaning 1 writer with AI Tools = 10 writers.
Helps to overcome writer's block
Writer's block is only for humans not for machines. Destroy your writer's block with AI-generated multiple variations of content.
Solves multipurpose needs
Most AI writers support both marketing copies and long-form content. Hence, whether it is a copy for your landing page, product description for your eCommerce product, writing a persuading sales email, or writing long-form content, AI writers can fulfill all your needs.
Rytr Features
30+ Use cases 
Rytr supports all necessary copywriting skills needed to run your business from creating social ads copy, blog idea & outline, blog section writing to product description.
30+ languages
Rytr supports  30+ languages from Arabic, Chinese to Hindi, and Indonesian. You can check out the list of languages supported by Rytr in the below image. They will support more languages in the future.
20+ tones of voice 
Rytr supports more than 30+ tones from Assertiveness, formal, passionate, and thoughtful. You can leverage Rytr's tone in most scenarios in day-to-day business operations. In the below image you can check out almost all tones supported by Rytr.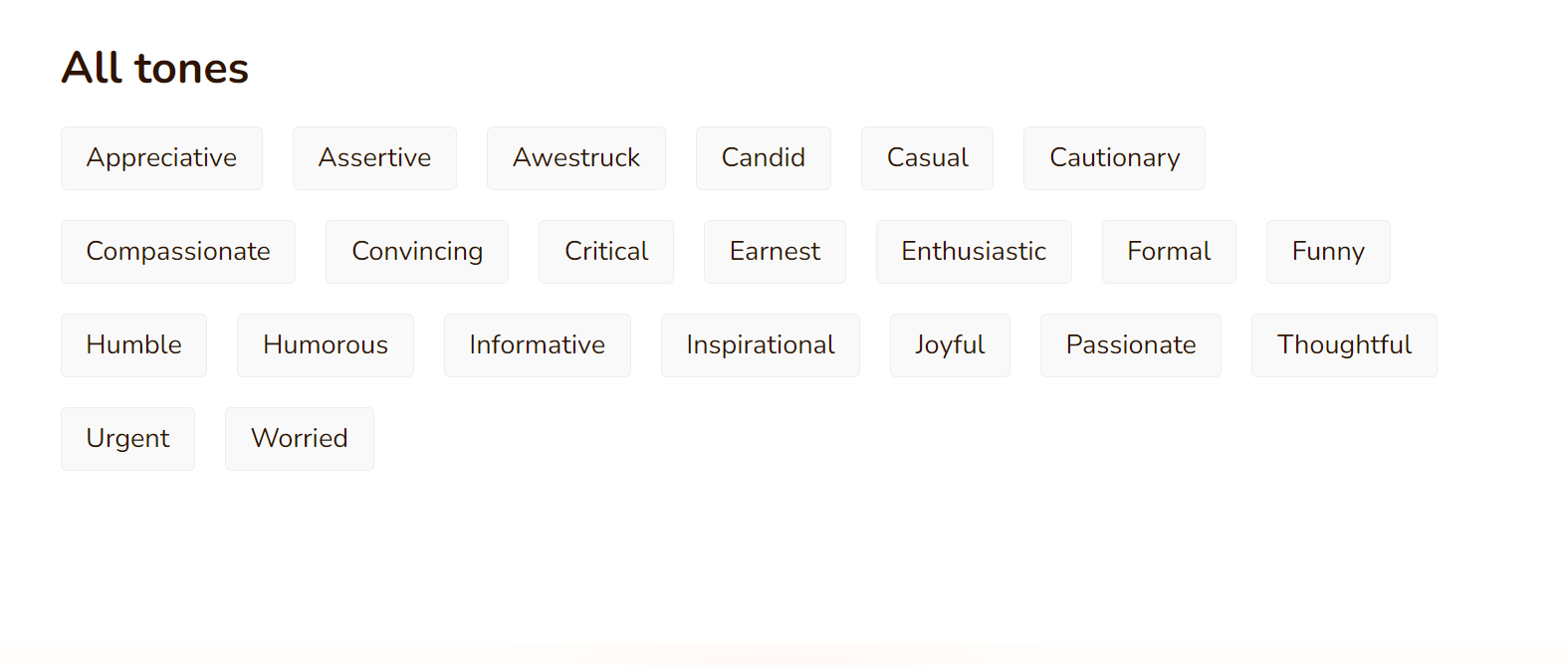 Chrome Extension 
With the support of the chrome extension, it becomes easier to create stunning copy whether you are working on email, social posts, or blogs. This will save a lot of time and improve the overall productivity of the users.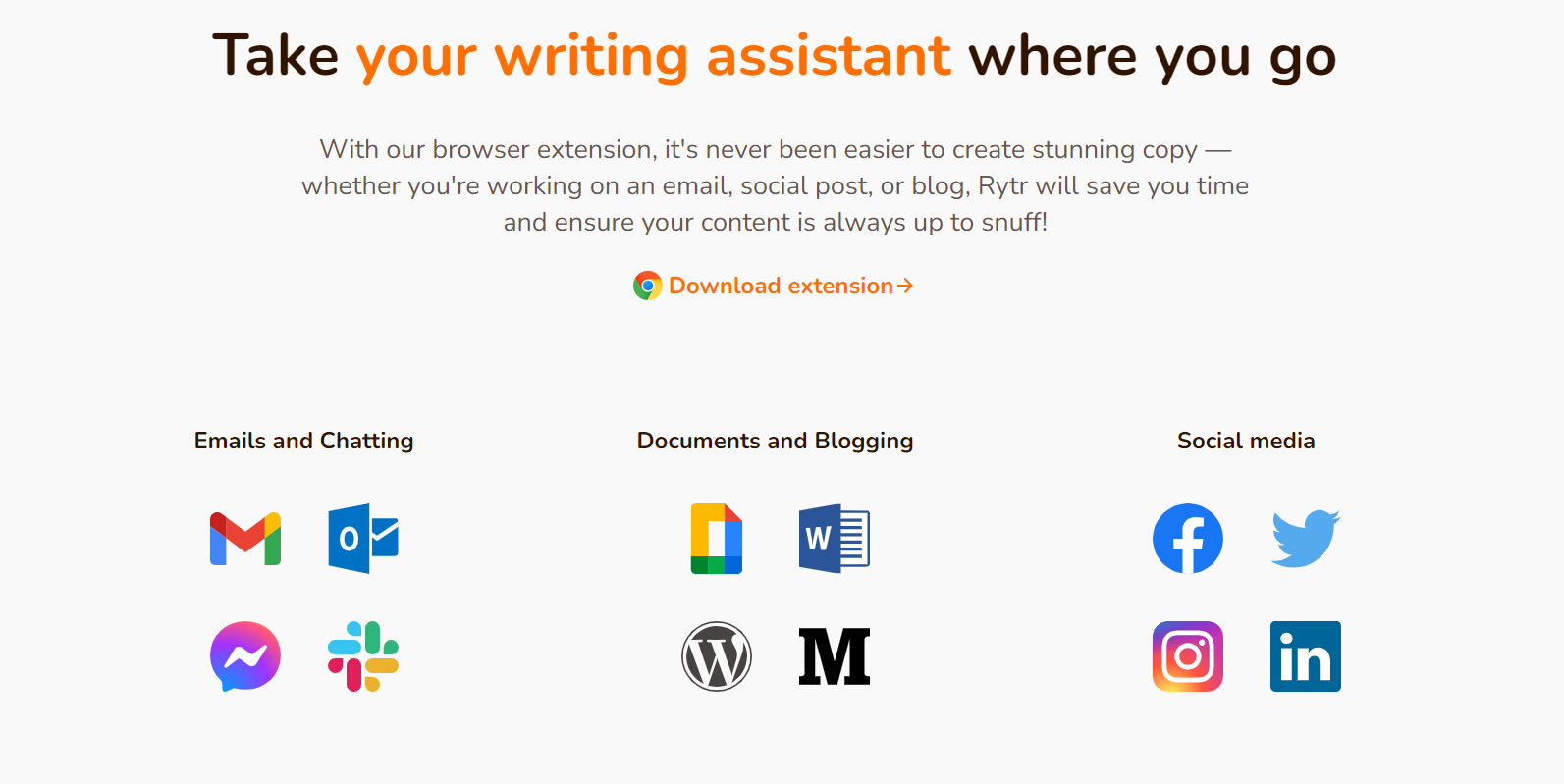 SEO Analyzer 
SEO Analyzer in Rytr helps you to find optimal keywords and create a well-written content brief. 
External Plugin
With support to work in your favorite apps including WordPress and Shopify. With Shopify apps, you can generate product descriptions within your Shopify and you don't need to juggle multiple applications.
API Support 
With API, you can integrate AI-powered content generation inside your workflow, application. You don't need any dev language or coding experience and you can just get started with 3 lines of code. 
Rytr Pros
More than 30+ languages are available along with 20+ tones of voice.

One extension multiple presences – email, docs, Medium, Slack, to social posts.

All-in-one: SEO and grammar tools support.

WordPress and Shopify plugins.

Free forever: Free plan allows you to create 5,000 characters per month.

Affordable pricing.

API integration support.

Dedicated account manager for a premium account.

Access to the premium community. 

Generate Unlimited characters with a premium account.
Rytr Cons
Sometimes (sometimes only) the generated output is not 100% unique.
What Users are Saying about Rytr
Rytr has more than 60,000+ happy customers. It got 1000+ satisfactory ratings from multiple review platforms such as Trustpilot, G2, Appsumo, and more. After analyzing customer reviews all across the world, we could say that Rytr has a strong place in their customer's hearts with its great novel features.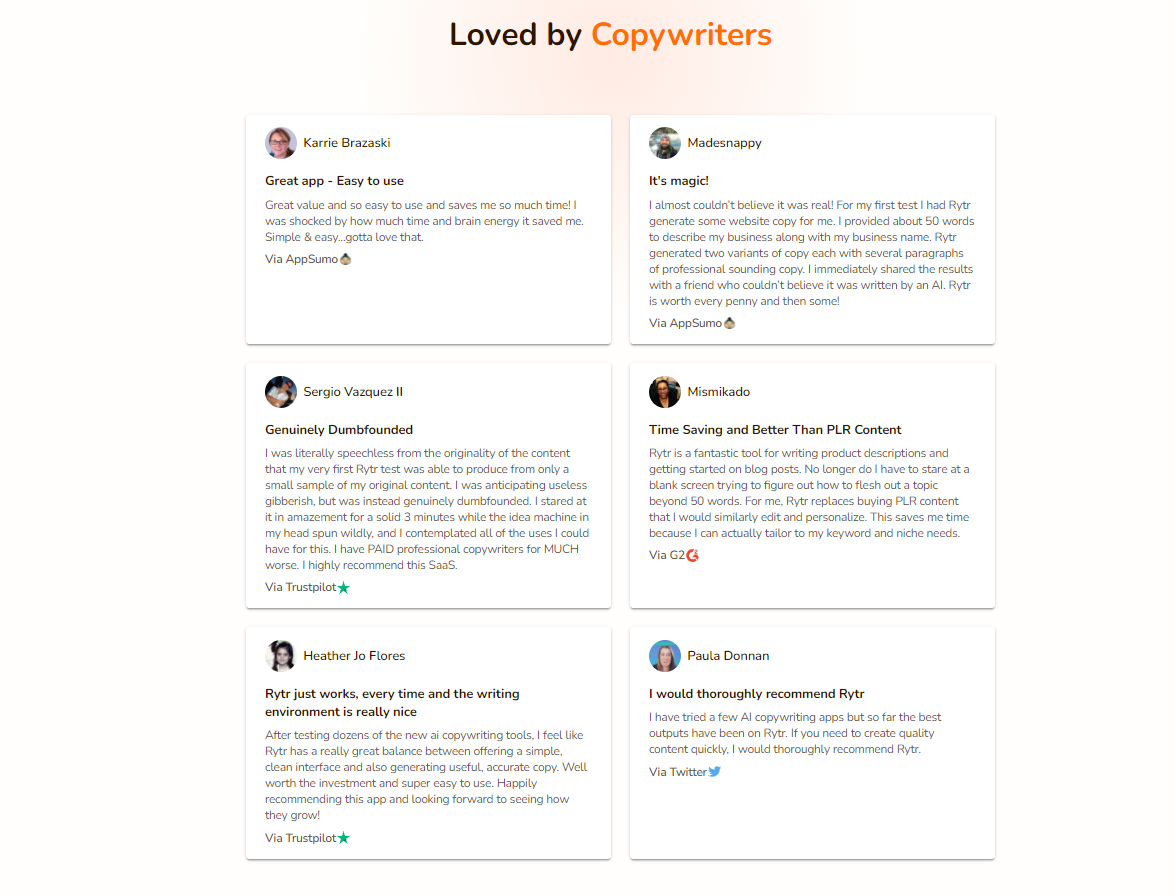 How much does Rytr Cost?
Rytr offers two plans: Free forever and a Standard plan.
Free: Free plan allows anyone to create 5,000 characters per month. Users can upgrade to the premium plan whenever they want.
$29/ mo ($290/ year): It includes unlimited characters, a dedicated account manager, priority email & chat support, and access to the premium community.
How to use Rytr 
You can generate content using Rytr with 3 Simple Steps 
Step 1: Choose your use-case 
Step 2: Add some input for context 
Step 3: Rytr magically writes for you.
Example 1: Generating Social Ads using Rytr 
Step 1: We have chosen the language to English and Selected tone as Convincing 
Step 2: We choose use case "Facebook, Google, Linkedin Ads" 
Step 3: Enter the Product name and Product description and Click "Ryte for me"
You can check out the output produced by Rytr in the below image.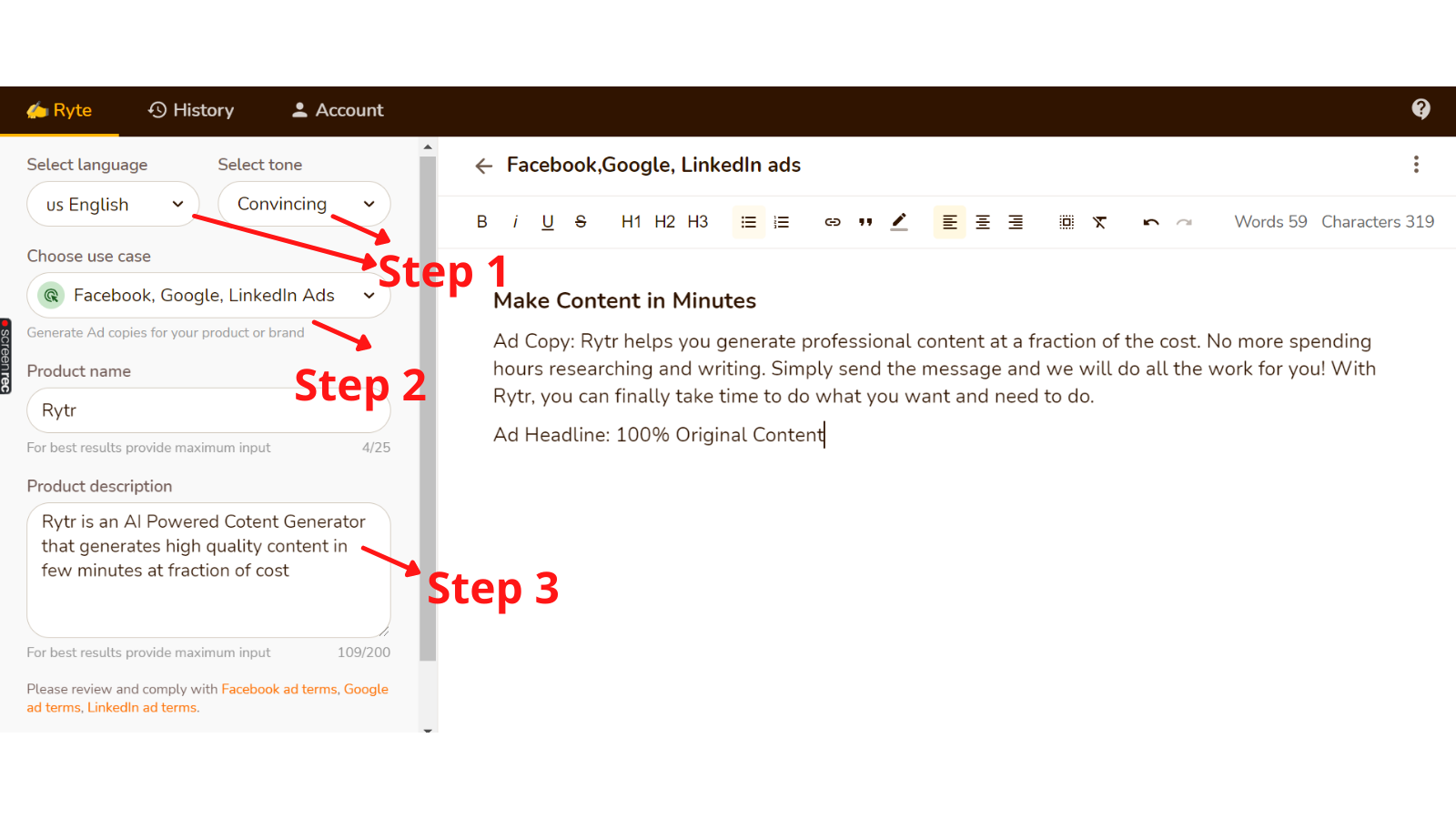 Example 2: Generate Blog Idea and Outline using Rytr 
Step 1: We have chosen the language to English and Selected tone as Passionate 
Step 2: Choose use case "Blog Idea & Outline"
Step 3: Enter the Primary keyword and Click "Ryte more"
You can check out the output produced by Rytr in the Below image.
Rytr Alternatives
In case you are not fully convinced that Rytr is the tool for you. Here are some alternatives. 
Jarvis.ai: Jarvis supports more than 50+ copywriting use cases and supports more than 30+ languages. Jarvis is the go-to AI Content generator tool for creating long-form content. With Boss mode, you even rewrite existing content. You can check out our Jarvis Review.
Copy.ai: Copy.ai supports more than 70+ copywriting skills that are needed for your business. The only way, Copy.ai stands apart from Rytr is they support 70+ Copywriting skills where Rytr only supports 32 Copywriting use cases. You can check out our Copy.ai Review. 
You can check out some alternatives to Rytr are Texta.ai and Copysmith.
Conclusion 
Rytr is one of the most affordable AI Copywriting and Content Generator Software available in the market. And it is only AI Writer that supports API integration and if you are planning to integrate the power of Rytr in your existing application or in your workflow then Rytr would be a perfect choice. 
Some features that set apart Rytr from other Copywriting tools are:
API Support

: With the API you can integrate Rytr capabilities in your application workflow.

Chrome Extension

: Be it in sending an email or writing a medium blog you can take Rytr anywhere with you. The chrome extension comes in handy and improves your overall productivity.

Affordable pricing

: After analyzing almost all AI Copywriting tools Rytr is one of the most affordable copywriting tools available in the market.
FAQs
Is Rytr value for money?
Absolutely Rytr is one of the affordable AI writer software available in the market. If you are a freelancer, content writer, business owner, entrepreneur who generates content and marketing copy at regular intervals then Rytr is worth the money.
Who is Rytr for?
Rytr is suitable for copywriters, content writers, sales development representatives, academicians, and entrepreneurs.
Does Rytr have a free plan?
Yes, Rytr has a free plan that allows you to create 5,000 characters per month.
Does Rytr support long-form content?
Yes, Rytr supports long-form content as well. You can even rephrase, shorten, and do more to improve the content quality.
Is there any alternative to Rytr?
Yes, there are few alternatives such as Jarvis.ai, Copy.ai, Texta.ai, and Copysmith available.
Is Rytr generated content unique/original?
Yes, 98% of the time Rytr generates unique and original content. However, sometimes, it may produce duplicate content that can be easily rewritten by just clicking a button.
Does Rytr have an affiliate program? 
Yes, Rytr has an affiliate program through which you will be receiving a 30% recurring commission for a lifetime.