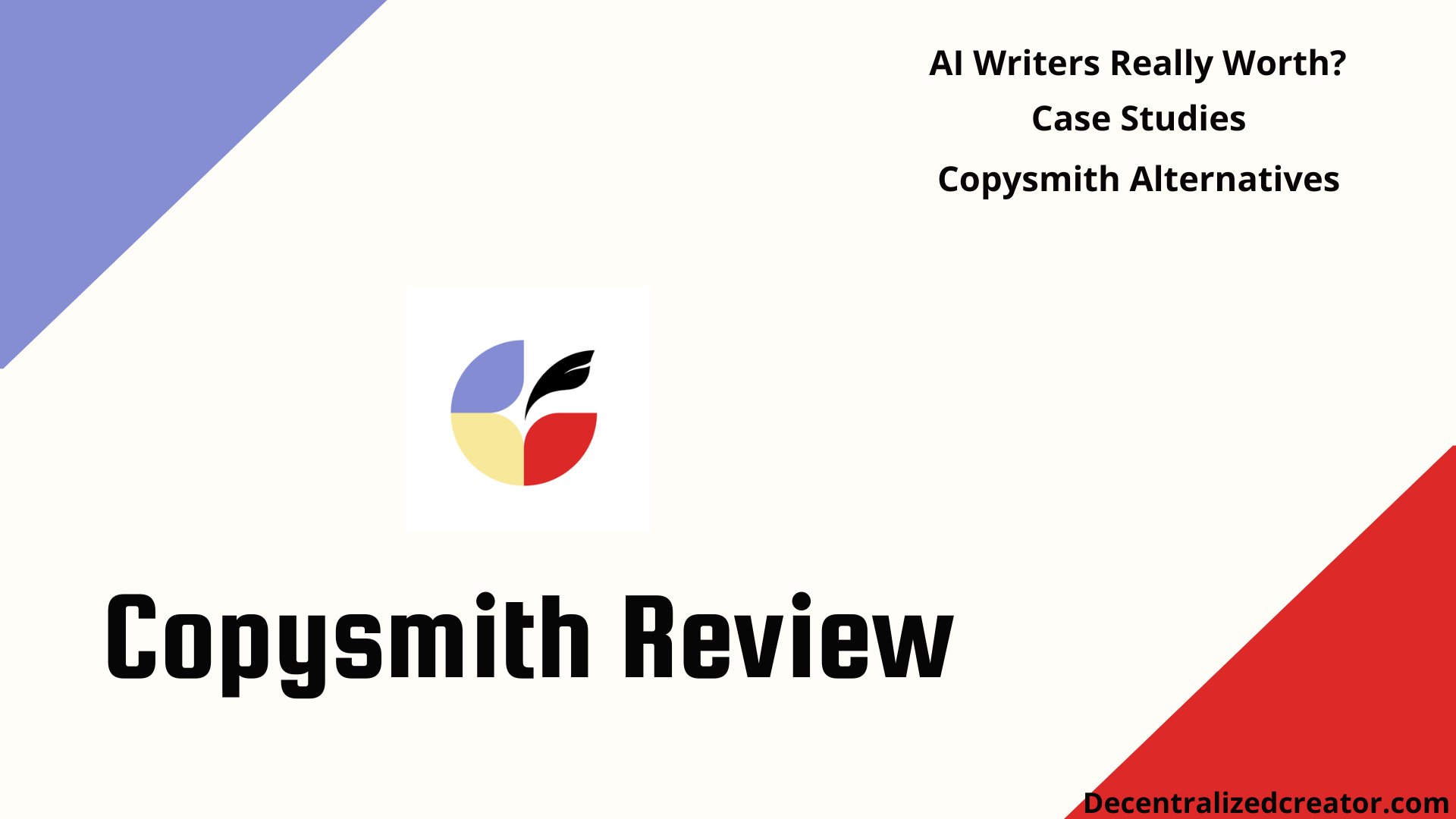 Copysmith is the AI copywriter that creates high-converting ads, product descriptions, emails with just a click of a button. Copysmith is powered by OPEN AI's GPT-3 which is the world's most powerful AI tool. Copysmith is used by marketing agencies, freelancers, and entrepreneurs.
Why Do You Need an AI Writer
Saves a lot of time: AI writers are capable of generating a copy in a matter of seconds. With the power of AI, you can create content 10X faster. 
Saves a lot of money: AI copywriters are affordable when compared to hiring writers. AI tools will 10x your productivity that means 1 writer with AI Copywriting tools = 10 writers.
Ends writer's block: As a writer, we have always faced writer's block that leaves us sitting idle. Kick your writer's block with dozens of copies that are generated by AI writers.
Solves multipurpose needs: Most of the AI tools like Copysmith, support multiple copywriting use cases and generate long-form content.
Copysmith Features
30+ Templates
Copysmith supports more than 30+ templates that cover almost all use cases to run business operations from content generation to Facebook ads. 
Want your brand to get the attention it deserves? Copysmith supports use cases including Amazon product description, Carousel Ads, Facebook ads to Google Ads to Instagram Ads.

Want to generate Longform content for your business? Copysmith supports templates including Article writing assistant, Blog ideas, Blog outline, Blog Post, and product description. 

Want to show off the best version of your business? Copysmith supports templates including Brand Essence, Event press release, Landing page SEO metatag, Taglines, Unique value proposition.
60+ Languages
Copysmith supports more than 60+ languages and this is the only AI copywriting tool that covers more languages from English to Tamil. 
Shopify Extension 
Copysmith has an exclusive Shopify app that helps you to generate compelling product descriptions for your product. With the Shopify app, you can generate product copy inside of your Shopify store.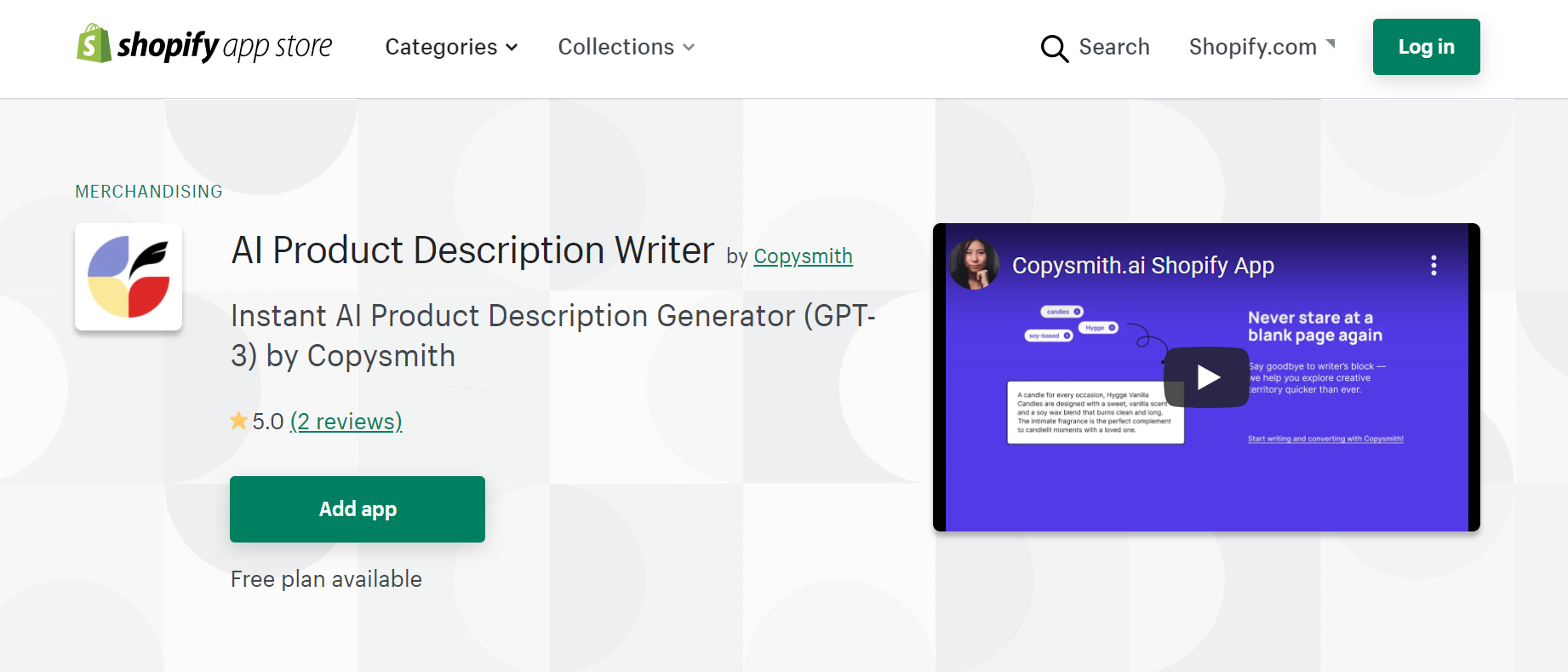 Team Collaboration
You can collaborate with your team members to create copies and manage better workflow by creating multiple projects and files. However, team collaboration is only available for Teams plan and Enterprise.
Copysmith Pros 
Supports more than 30+ copywriting skills. 

Copysmith has in-built plagiarism checks.

3 days free trial without credit card.

Dedicated Facebook group.

Both email and In-App support.

Bulk Import and Export (Available only in enterprise plan).
Copysmith Cons
Complicated UI: Very hard to navigate and has a lot of friction in achieving desired results.

Not even generating any marketing copy for some languages. 

No Integration is available.

No API support.

Limited credits for the Starter plan.
What Users Are Saying about Copysmith?
Most of its users feel that Copysmith saves them a lot of time. In fact, one of its users mentioned that Copysmith reduced their time by 80% to write a few blog posts and site pages.

Some of them are claimed that Copysmith was creative with limited input itself.
How Much Does Copysmith Cost?
Copysmith has 4 plans: Starter, Professional, Teams, and Enterprise. You can save 15% by opting for an annual plan.
Starter: $19 for monthly/ $16 for annual plan. It includes 50 credit points, 20 plagiarism checks, email support, and more.
Professional: $59 for monthly/ $50 for annual plan. It includes unlimited credit points, 100 plagiarism checks, email support, in-app chat support, and more.
Teams: $118 for monthly/ $100 for annual plan. It includes unlimited credit points, 500 plagiarism checks, email support, in-app chat support, and more.
Enterprise: Custom rate. It includes unlimited credit points and plagiarism checks, email support, in-app chat support, and more.
How to Use Copysmith 
Copysmith follows three steps to create compelling copy for you necessary 
Step 1: Choose the Marketing copy template 
Step 2: Choose language and input necessary fields based on the template you choose
Step 3: Click Generate. Copysmith AI would generate compelling marketing copy based on the input that you have given. 
Example 1: We have generated an Instagram Ad for the product called Copysmith. You can check the below image to see the Copysmith generated output. 
Example 2: We have generated a Blog Intro for the topic "How to increase eCommerce product sales". You can check out the below image to see the Copysmith generated output. 
Copysmith Alternative
In case Copysmith is not satisfied you, here are some alternatives:
Jarvis.ai (Conversion.ai): If your goal is to generate both marketing copy or long-form content, then opt for Jarvis. The advantage of Jarvis over Copysmith is, it has intuitive UI and powerful features.
Being a front runner, Jarvis also supports integration from SurferSEO so that you can create SEO-optimized content. We have seen examples where users have even created books using Jarvis. You can get 10,000 additional credits using this link.
Rytr: In a nutshell, Rytr is an all-in-one go-to AI writer for copywriters, content writers, academicians, and entrepreneurs. Rytr has built-in SEO and Grammar tools, 30+ languages along 20+ tones of voice, API support, and more. You can check out our full Rytr review.
Copy.ai: Copy.ai supports more than 70+ copywriting tools that empower your business. Copy.ai is more familiar compared to Copysmith and major companies are using it. You can check out our full Copy.ai here.
Conclusion
The only concern we have personally with Copysmith is their UI/UX because it would take 2-3 steps to create a compelling copy. Every time to create a copy you have to go back and forth to choose the necessary template which is pretty much annoying as a user.
Copysmith may not be a great copywriter tool but the copy it generates is high quality. They have mentioned that Copysmith supports more than 60+ languages but in reality, it won't even generate copy for most of the languages that are available. 
If you are an agency that works on multiple projects for your client then Copysmith would be a better option.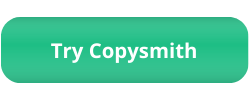 FAQs
Is Copysmith value for money?
If you are a business owner, a freelance content writer, or an agency that generates content and marketing copy at regular intervals then Copysmith not only saves you money but also proves your productivity. 
Who is Copysmith for?
Copysmith is suitable for marketing agencies, freelancers, eCommerce owners, and in-house marketing teams.
Does Copysmith have a free plan?
No, Copysmith doesn't have any free plan, but you try it for a 3-day free trial with no credit card.
Do Copysmith support long-form content
Yes, Copysmith supports long-form content but with certain limitations. If your primary goal is to generate long-form content then you can choose Jarvis.
Is there any alternative to Copysmith?
Yeah, there are a lot of alternatives in the market. The better one would be Jarvis and Copy.ai
Is Copysmith generated content unique/original?
Yes, Copysmith generated unique and original content.
Does Copysmith have an affiliate program?
Yes, Copysmith has an affiliate program through which you will be receiving a 30% recurring commission for a lifetime.