What is a Ronin Wallet?
Ronin wallet is the gateway for playing Axie Infinity, a NFT-based online play-to-earn video game and other decentralized applications running on the Ronin blockchain, a sidechain on Ethereum.
It is available as a browser extension as well as mobile application. However, it is highly recommended to use via the browser extension.
Users can send, receive, store cryptocurrencies and NFTs (including Axies) without paying high gas fees.
After the successful creation of Ronin Wallet, you will be able to log in to the Axie Marketplace.
How to Create a Ronin Wallet?
Step-by-step instructions to create a Ronin Wallet:
You can download the Ronin Wallet from Google Chrome extension store or from Sky Mavis website.
Either way, you will need a Chrome or Firefox browser.
If you haven't installed Chrome browser yet, you can download by clicking this link
If you haven't installed Firefox browser yet, you can download by clicking this link
2.
Click on

Add to Extension

To download the Ronin wallet extension, click on Add to Extension button in your browser.
or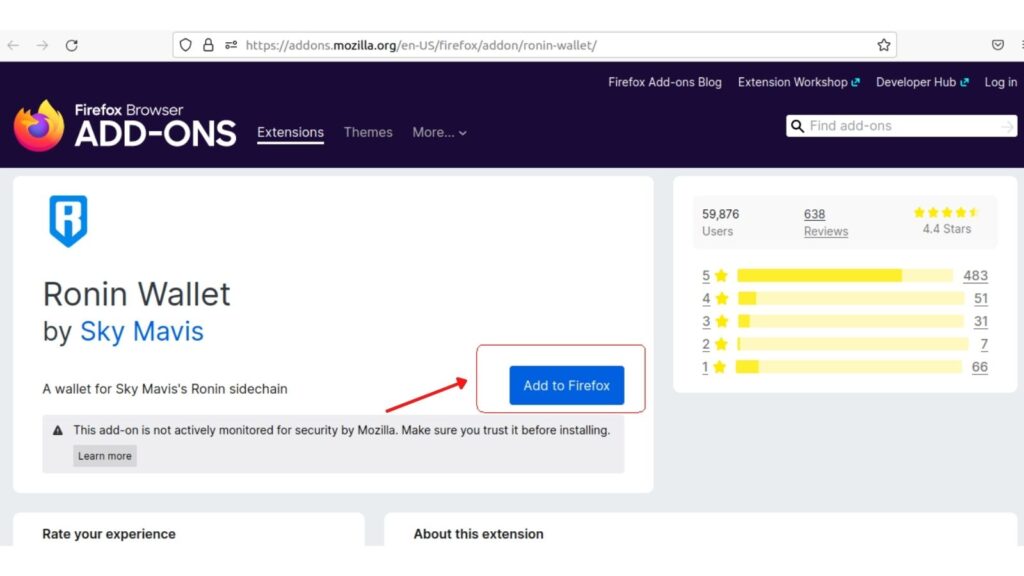 3.
C

lick the

Ronin Wallet extension

Once you've downloaded, click the puzzle icon in your browser window and then click the Ronin Wallet extension.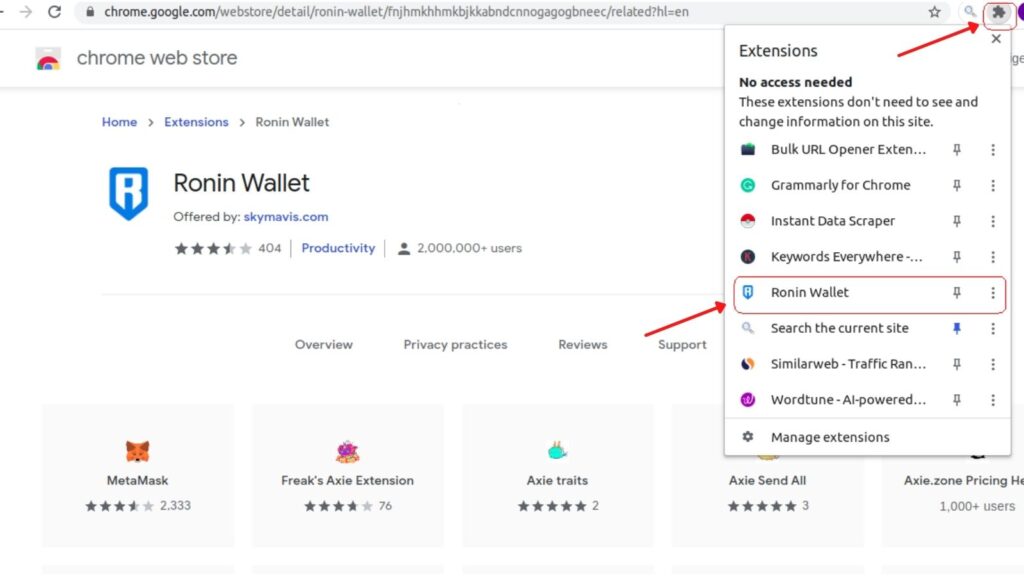 In Firefox, you can see the Ronin Wallet Icon on the top right in your browser window.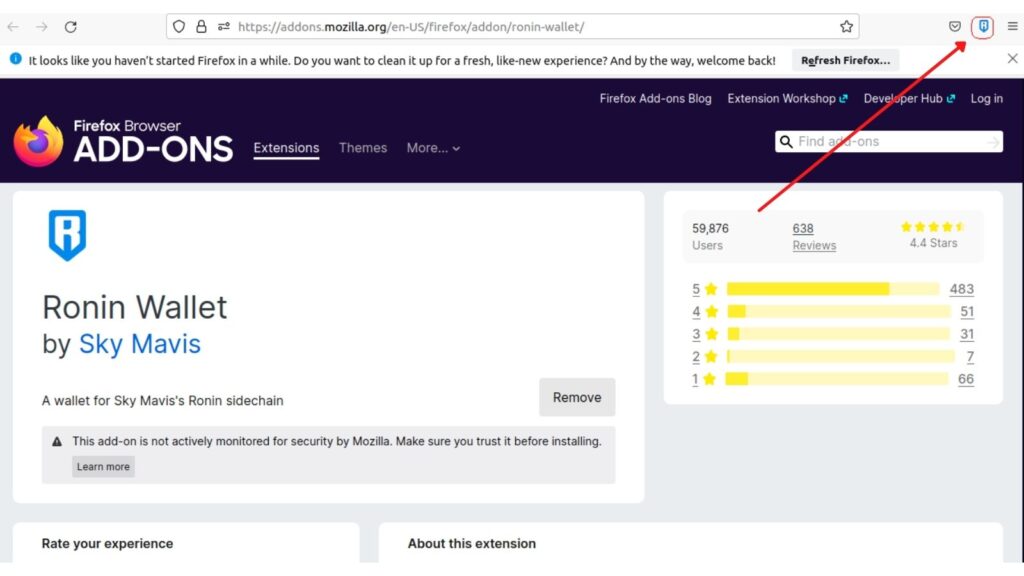 If you couldn't see the Ronin Wallet extension, give it a few seconds
4.
Click on

Get Started

Click on "Get Started" in the pop-up window.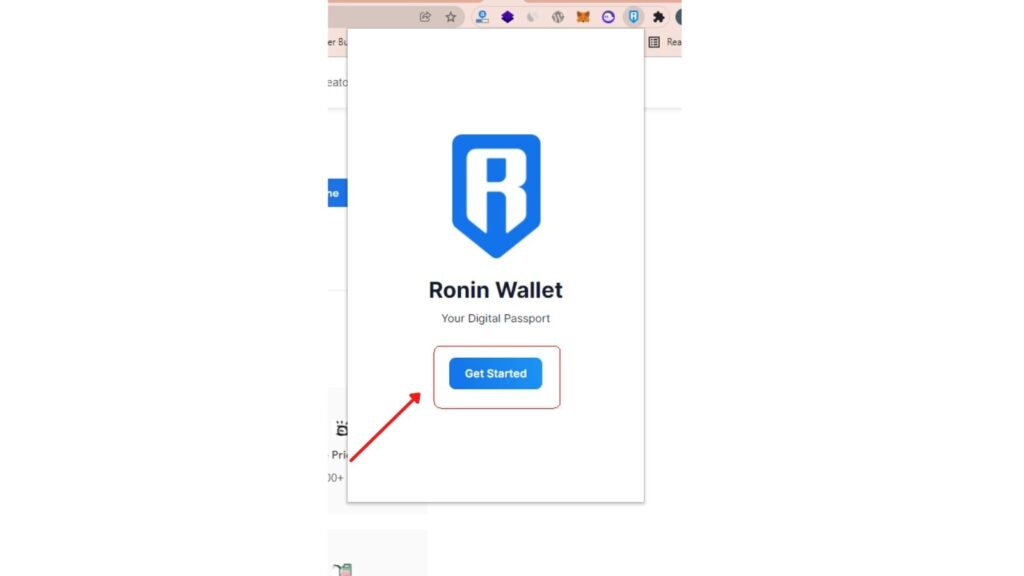 5.
Click

I'm new.Let's get set up!

Of course, you are new. Hence, click I'm new.Let's get set up!
6.
Create a password for your account
Next step will be creating a password.
Create a strong password with a minimum of 8 characters in the Enter Password field. Then retype it in the Confirm Password field also.
7.
Click

Reveal Seed Phrase

After creating password, the site will prompt you with the Reveal Seed Phrase.

Click on it and store it in multiple locations and keep it private and safe. Remember, giving your secret recovery phrase to anyone is handing over the control of all your assets.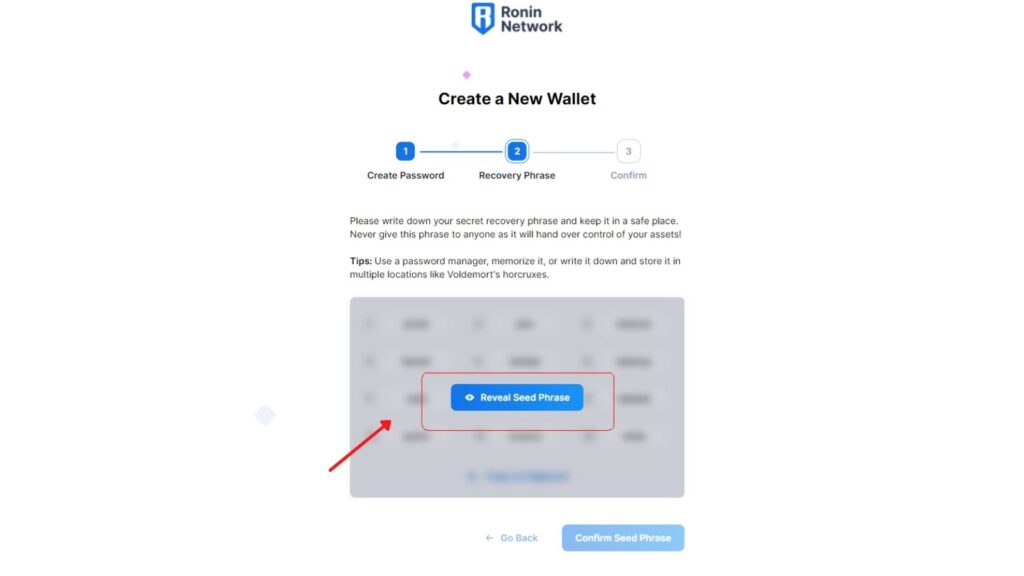 Ronin Wallet is a non-custodial service. It means nobody—including Ronin developers—can access your funds and assets. If you lose your Seed Phrase, everything is lost.
Check out the Best Practices for Storing and Securing Your Recovery Phrases /Private key.
8.
 Confirmation Prompt
This is the final step in the Ronin wallet creation process. Ensure to fill your secret seed phrase according to the position mentioned.
Let's say your secret phrase is 'Welcome Pal'.
Your #1 is W, #2 is e, and so on.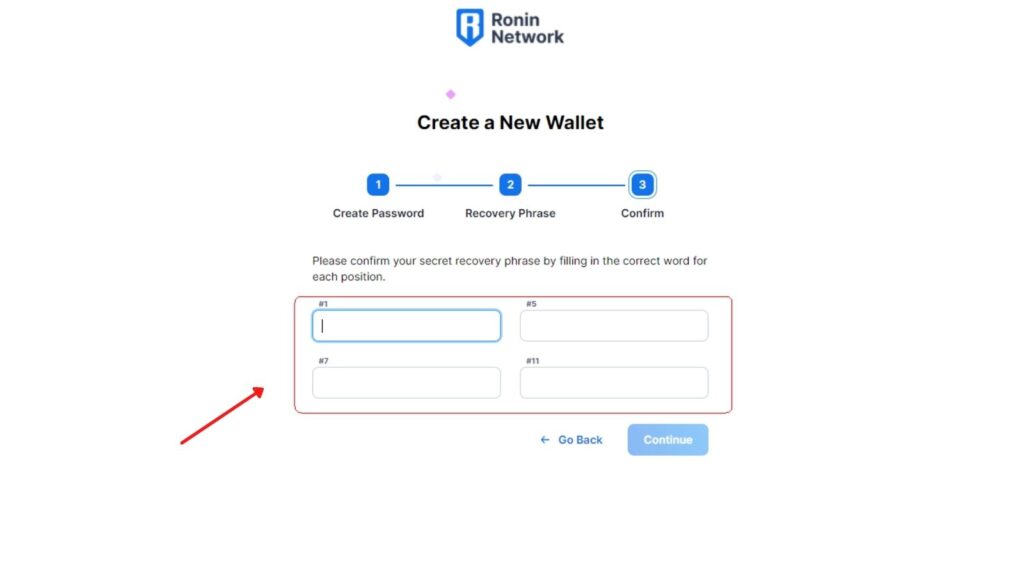 9.
Your Ronin wallet has been created
If you did everything right, you could see the below screen.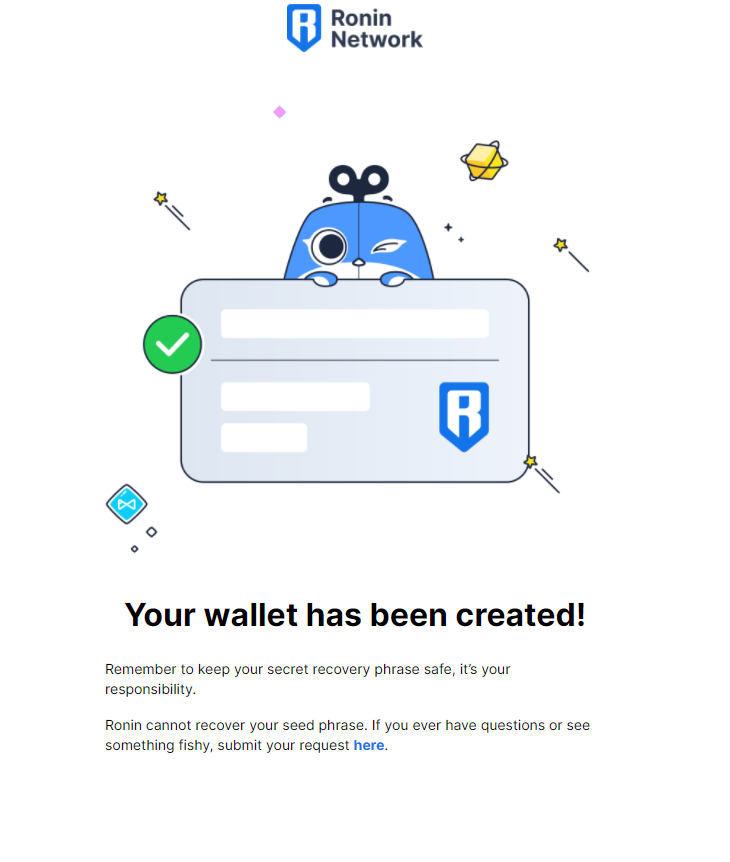 That's it for the Ronin Wallet creation. Now you can connect with Axie Marketplace.
How to Connect your Ronin Wallet with Axie Marketplace?
Once you've created your Ronin Wallet, you could then connect with Axie Marketplace to create an account.
Then, you'll be able to log in to Mavis Hub and download Axie Infinity.
Steps to connect with Axie Infinity Account:
Go to the Axie Marketplace and click Login.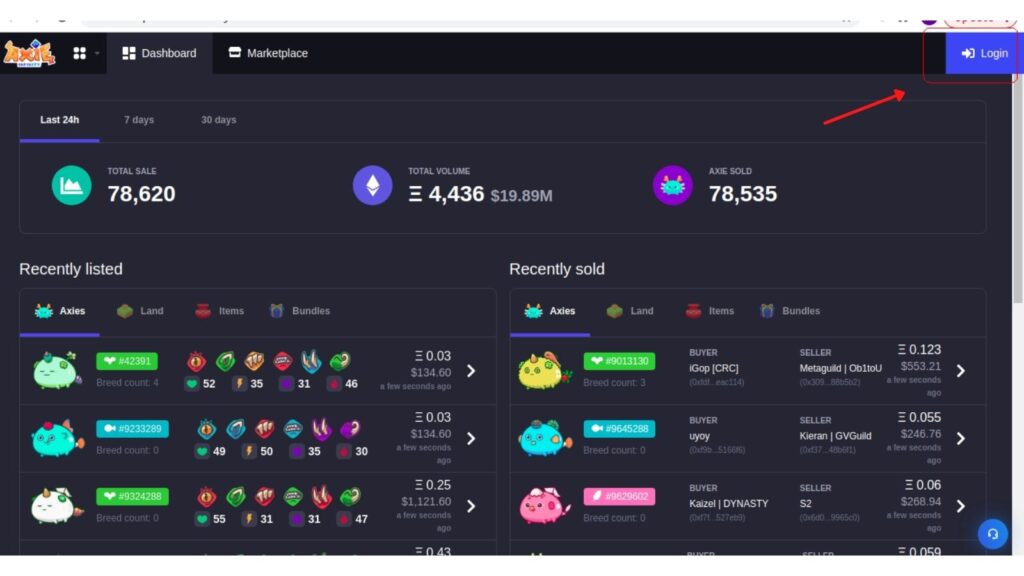 2. Opt for Login with Ronin Wallet
Click the Login with Ronin Wallet option.
3. Choose your user name and click Save
Give your account a user name.
Complete your account setup by adding your email address and creating a password.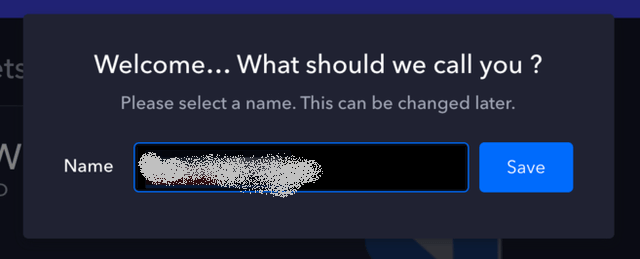 Your Axie Infinity account is ready now.
Conclusion
You have successfully created a Ronin wallet and created an account in Axie Marketplace.
You can use this Ronin wallet to play Axie Infinity, a play-to-earn game, or access any other applications that are running on the Ronin sidechain.
If your motto is to play Axie Infinity game (most probably yes), you just crossed halfway.
In order to play the game, you need to buy at least 3 Axies. To buy Axies, you will need a Metamask Wallet to transfer ETH to your Ronin Wallet.