AI is predominantly affecting every area of human life.  OpenAI is one of the leading AI research firms that has created a cutting-edge AI Model program called GPT-3 which influences the content creation process overall. With the launch of DALL.E 2, they are once again going to disrupt the Art creative world.
In this article, we covered how we got access to DALL.E 2 and you will learn how to use DALL.E.
What is DALL.E  ?
DALL.E is a new AI system developed by Open.ai that can create realistic images and art from text descriptions. DALL.E 2 generates more realistic and accurate shots with 4x greater resolutions than the previous version. 
Here is an example 

Here, you can see the text input was "an oil painting by Matisse of a humanoid robot playing chess" and the results have been delivered with respect to the text input. You can convert any idea into creative digital art. You can also request stock photos, portraits, 3D images, and logos.
How I got DALL.E 2 Access
Before the end of  August, the tool was only available to a few thousand people. Currently, the OpenAI team is planning to make DALL.E available to more than a million people. Open.AI is accepting users based on a First Come First Serve basis, Earlier you apply sooner you will get access to the tool. 
I got the DALL.E 2 Access in 5 days. As OpenAI is accepting more users than ever before. 
We covered detailed how I got access to DALL.E in the following process.
Go to Openai.com/dall-e-2 and click on the Join waitlist options.
Enter your details on the form to get on the waitlist for DALL.E access. Make sure you enter the legit details and leave with your social link as well.
After successfully submitting the form you will get a response like this from their end.
You will also receive the DALL.E waitlist email to the registered email address. Here i have attached the email that i got from Open.ai.
Within five days I got the "invite to create with DALL.E" mail from the openai.com team. You can click the "Get Started" link on the mail to access DALL.E.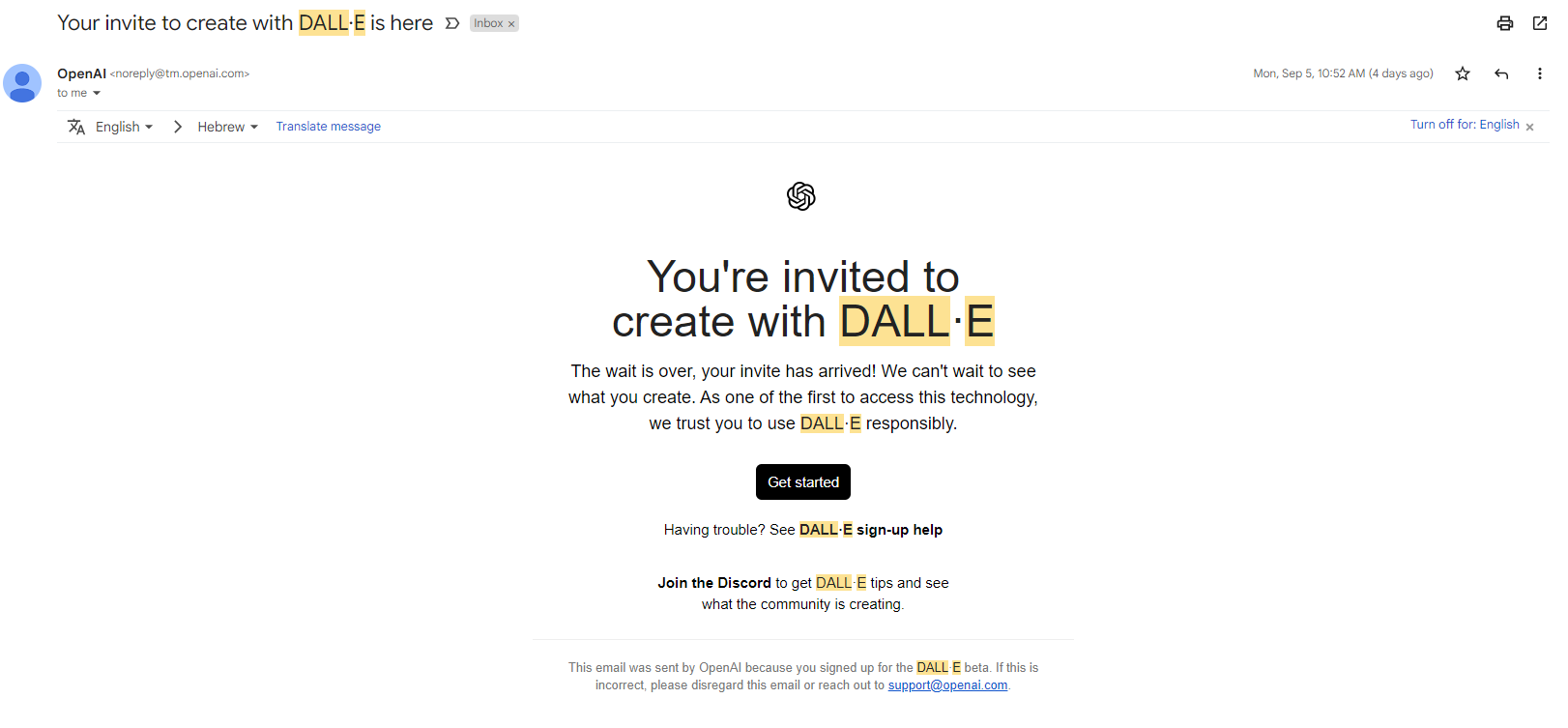 Currently, the Open.ai team is accepting more users than ever before. My friend Gowtham got the DALL.E access within three days. You don't need to be an artist or influencer with huge followers to get invited. Feel free to apply and you will get DALL.E 2  access within 5 days.
DALL.E Pricing
Every DALL.E user will receive 50 free credits during the first month of use and 15 free credits for every subsequent month.
Each credit can be used for one original DALL.E Prompt generation that returns four images.  One credit will be applied each time a prompt is entered and the user hits generate or variations.
Currently, they are charging 115 credits increments for $15 on top of their free monthly credits. With 115 credits you can generate up to more than 460 images.
DALL.E Restrictions 
Currently, they are allowed to upload images of people without their consent, including public figures.
They are preventing harmful images that are violating their content policy. 
DALL.E prevents the creation of public figures including celebrities and prominent public figures.
Conclusion 
AI  is rapidly disrupting every other industry. Eagerly waiting to see how DALL.E is going to affect the creative field. Sometimes it is scary to see whether it replaces the Artist. Creators should leverage DALL.E in content productions.