In this article, we will cover all the essentials of setting up a YouTube channel, so you can start making videos and grow your audience right away.
As a creator, first of all, congratulate yourself for preferring YouTube to publish your content.
Wonder why?
Compared to any other social platform giant, YouTube shares half of the revenue with its creators. Also, YouTube is the second most visited site in the world.
Let's create your YouTube channel without any delay.
Prerequisites for Starting a YouTube Channel
Decide on Topic Coverage & Target Audience
It may seem like many types of videos such as cooking, product review, comedy, etc are on YouTube. Don't get confused. We have narrowed down the two primary categories of videos that get the most views on YouTube:
Entertainment

Tutorials/ Learning materials
Most of the types will fall under this category. We only go to Youtube to get entertained or know about something. Isn't it? Hence, know in which category your channel falls and build audiences according to it.
        2. Equipment
Camera: No need to go for a DSLR. A good quality smartphone is enough to start
Tripod: If you want
Microphone: If you want
Green Screen: If you want to change the background
How to Create a YouTube Channel
Everyone must have a Google Account in this Internet era. Having a Google Account—to watch & like videos, and subscribe to YouTube channels—is different from having a YouTube Channel. With a Google Account, you can be able to sign in to YouTube.
Having a YouTube channel lets you upload your own videos. 
Step 1: Sign in to your YouTube Channel with your Google Account
Step 2: Click on this link, Create your YouTube Channel
Step 3: Upload your profile picture (channel logo), Type your channel name, and Click on CREATE CHANNEL
Step 4: Click on CUSTOMIZE CHANNEL
Step 5: Give first priority to the Basic Info tab. Take time and fill in the channel description, website link (if any), and contact information.
Step 6: Give second priority to the Branding tab. Considering that you've already uploaded your profile picture, we are moving towards Banner Image. Since banner (aka YouTube channel art) is the first impression, it's a great way to attract the audience.
After that, you should also consider uploading watermark for two reasons: theft protection and brand recognition
Step 7: The last one is the Layout tab. Add channel trailer for people who haven't subscribed and featured video for returning subscribers. And you can customize your channel layout by adding sections (Max 12 sections allowed).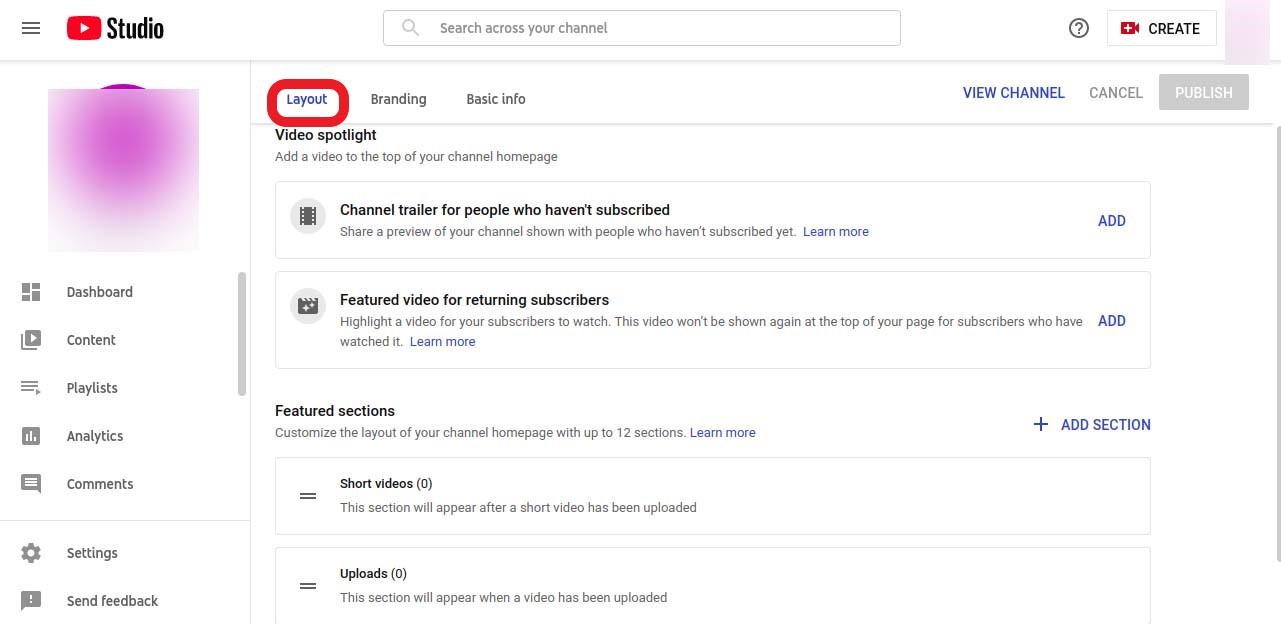 Hurrah! You've successfully created your YouTube Channel. Give yourself a pat on your back.