To send/ transfer crypto from Coinbase to Trust Wallet, you need to install the Trust Wallet and Coinbase mobile applications.
You can also use Coinbase web.
Then, you need to copy the particular crypto's address on your Trust Wallet.
Enter the amount and paste the address into the recipient page of your Coinbase account.
Complete the verification.
Steps to Send/ Transfer Crypto from Coinbase to Trust Wallet
1. Install Trust Wallet
You can skip this step if you have already installed Trust Wallet.
Trust Wallet is available as a mobile application.
It is not available as a browser extension.
First, you need to download the Trust Wallet application: Android and iOS.
After the download, you need to create an account.
Follow the on-screen instructions to complete the process.
You need to set a passcode and store & verify the secret recovery phrase.
In case you need further clarification, you can refer to this guide: How to Create and Set Up Trust Wallet.
2. Select Crypto and Copy the Address
Launch your Trust Wallet application.
Select the crypto that you wish to receive such as ETH or Shiba Inu.
Here, we will be sending ETH to Trust Wallet.
Once you have selected the crypto, tap on Receive.
You will be able to see the address along with the QR code.
Tap on Copy.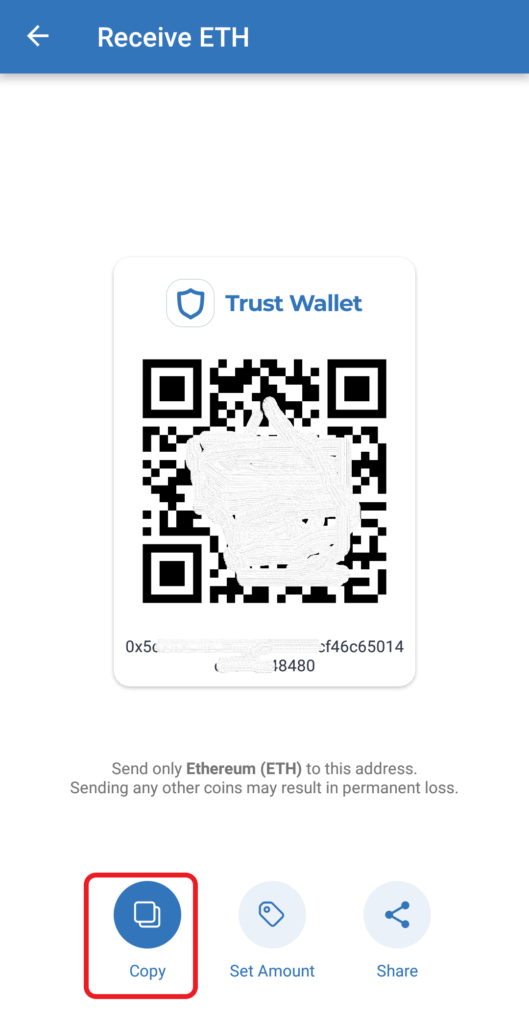 Ensure to select native/ pure cryptos, not the Binance Binance-Peg cryptos.
Because Coinbase only supports native crypto withdrawals.
3. Launch the Coinbase Application
Open your Coinbase mobile application.
In case you have not installed it yet, you can download it here: Android and iOS.
Then, sign in by entering your credentials.
After opening your Coinbase application, you will be able to see multiple options: Buy, Sell, Send, Convert, and Receive.
Tap on Send.
4. Enter the amount and select the asset
Now, you need to select the crypto assets that you wish to send.
Tap on the asset box and select your crypto.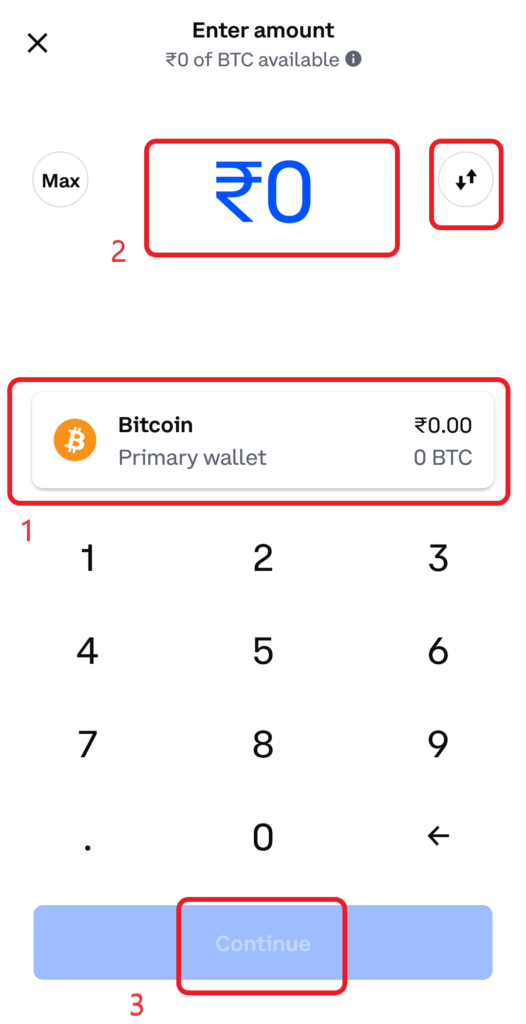 Then, enter the amount of money in fiat currency or in crypto that you have selected.
You can use the Conversion icon to change from fiat to crypto and vice versa.
Lastly, tap Continue.
5. Paste your Crypto Address from Trust Wallet
After tapping Continue, you will be on the receipt page.
There you need to paste the address that you have copied on the Trust Wallet.
Paste the address and tap on Preview Send. 
6. Tap Send Now
After tapping on the Preview Send, a confirmation page will appear on your mobile screen.
Review the address and network fee.
If you are okay with the fee, you need to tap on Send now.
If the fee is too high, you can wait for a few minutes and then try again.
7. Enter the Verification Code
Now, you need to authenticate the transaction.
You will receive an OTP to your registered mobile number.
Enter it to proceed further.
8. Check your Trust Wallet
After a few minutes, you can head back to your Trust Wallet and check your balance.
Usually, the transfer of crypto from Coinbase to Trust Wallet takes up to 5 minutes.
In case there is any congestion on the blockchain, it may take up to 12-24 hours.
Conclusion
That's it. You have successfully transferred your crypto from Coinbase to Trust Wallet.
Transferring crypto from Coinbase to Trust Wallet is a simple task.
Always ensure to copy the right crypto's address on the Trust Wallet.
Because Trust Wallet contains both the pure crypto and Binance-peg cryptocurrencies.
Now, you can swap the crypto that you have received for other crypto tokens or you can stake it.