Metaverse is the future of the internet and it is the next evolution of social connection. Tech giant Facebook rebranded its company to Meta and planning to invest around 130 billion dollars over the course of the next 10 years.
The metaverse potentially 800 billion dollars by the year 2024. Metaverse is a merge of a combination of both hardware, VR, and AR technology that potentially creates a new form of communication that eventually opens up a new kind of commerce.
Gaming could be the entry point to the metaverse and it eventually disrupts every other industry like never before. More than 3 billion people across the globe are playing games and that is about 40% of the total world population. 
CheckOut:
Solana, the fastest blockchain is powering DEFI, NFT, and Metaverse Gaming projects. Still, the metaverse project is in the early stage but we have curated some of the best Solana Metaverse projects and our ranking is based on the activeness of the community, team members, roadmaps, vision, their NFT projects.
Best Solana Metaverse Projects
Start Atlas 
Star Atlas is a virtual play-to-earn metaverse-based game in the year 2620. 
Start Atlas has partnered with Solana ( next-generation powerful blockchain ), Serum ( leader in decentralized exchange ), and FTX ( a crypto exchange ) to create the metaverse of the future. 
The core game mechanics are built on Grand strategy space exploration, land and territory control, player vs environment mission, player vs player combat, built on Unreal Engine 5 and VR Enabled. 
$ATLAS is the in-game currency with-in Start Atlas and it is inflationary in nature based on the growth of the in-game economy. 
$POLIS is the governance token, representing financial stake, voting power in the DAOs. Polis has a fixed supply that won't grow. 
Genre: Defi, MMO, Space
Marketplace:  https://play.staratlas.com/
You can check out their Twitter account of over 300K users and join their discord community of 157,323 members and with 9K Reddit subscribers. 
Checkout: https://staratlas.com/
CRYOWAR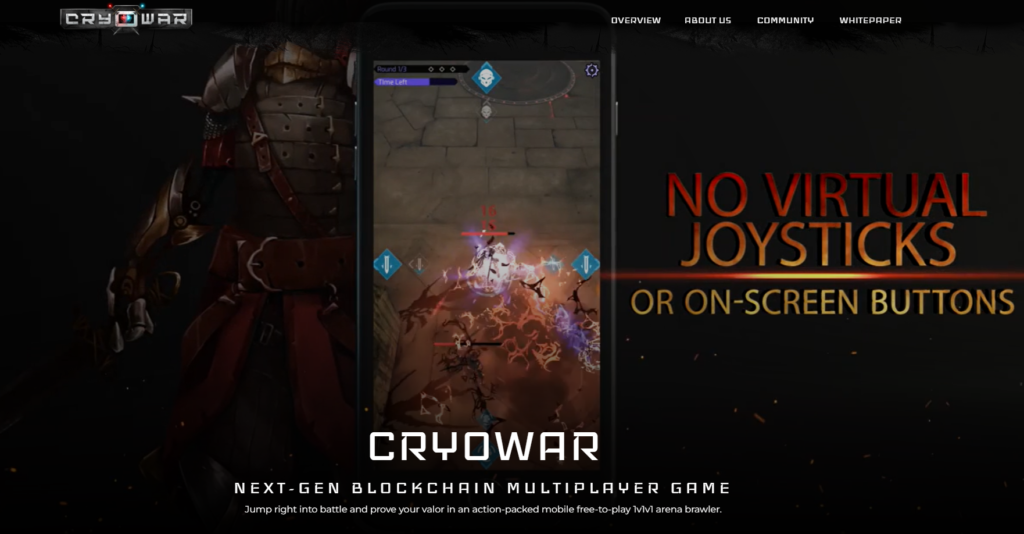 Cryowar is a real-time multiplayer PVP arena NFT game developed in Unreal Engine and on the Solana Blockchain. 
Cryowar is an amalgam between a PVP gaming experience with blockchain worlds like in-game platforms, DAO/DAC, NFTs, and DEFI. 
Cryowar is powered by the world's most powerful 3D creation platform Unreal engine and is built on the fastest, secure blockchain Solana Network. 
$CWAR is the core utility token of Cryowar with in-game, stacking for stability and reward, elements of yield farming, game platform governance voting, and internal medium of exchange use cases. 
Genre: DEFI, MMORPG, PVP
You can follow Cryo War on Twitter with over 180K followers and Join their Discord community with over 22K members. 
Checkout: https://cryowar.com/
Solice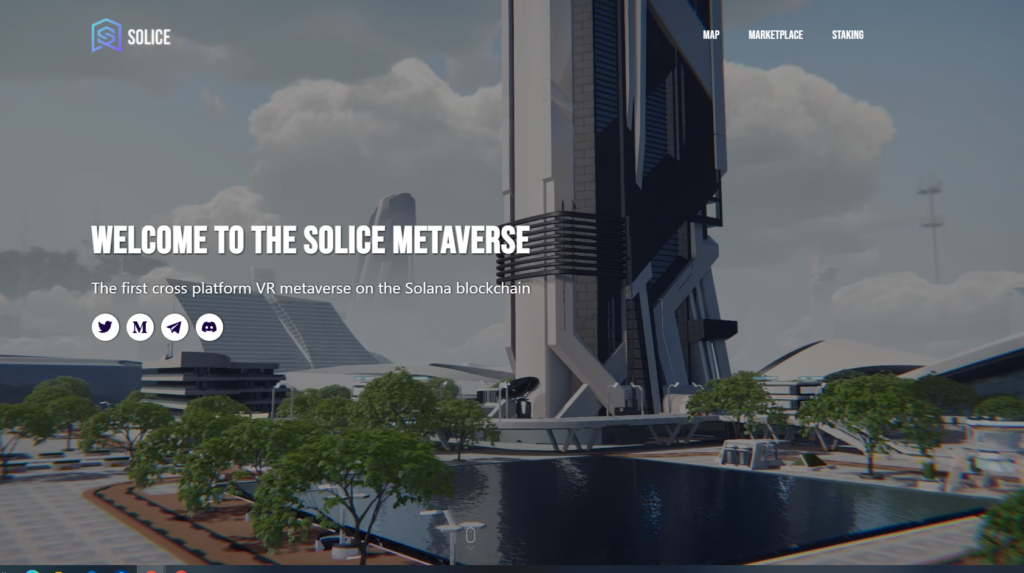 Solice is a VR Metaverse built on the Solana blockchain. Solice VR metaverse where users can play, build, own, socialize and monetize their Virtual experience in an immersive way. 
Solice metaverse is the answer to Decentraland and The Sandbox and has the potential to become the market leader of cross-platform metaverse to attract millions of users. 
$SLC is the main cryptocurrency in Solice Metaverse. SLC will be a governance token that is allocated during private and public sales. $SLC has a total supply of 400,000,000 tokens. 
Solice will have an open marketplace that means anything and everything can be sold which includes land plots, pets, special avatars, buildings, pet eggs, gemstones, raw material, crafted items. 
Genre: Building, Open World.
You can follow Solice on Twitter with over 190K followers and Join their Discord community with 35000 members. 
Checkout: https://solice.io/
Afflarium 
Afflarium is a massively online metaverse game accessed on VR, Desktop, and Mobile. It is built with stunning graphics, state of the art technology. 
Afflarium operated with several blockchain and protocols including Solana, Ethereum, and Polygon. 
$AFFL is a governance token with a total supply of 12,000,000. AFFL helps in governance the entire in-game experience, stacking and voting on an important decision. 
$Economy token in Afflarium is means of payment and it is used for commerce, trade of property, assets, and artifacts. 
If you own land or real estate on Afflarium you can either sell it or rent it for passive income in the form of stablecoins and exchange them for different tokens. 
Genre: VR
You can follow Afflarium on Twitter and Join their discord community
Check out: https://afflarium.com/
Portals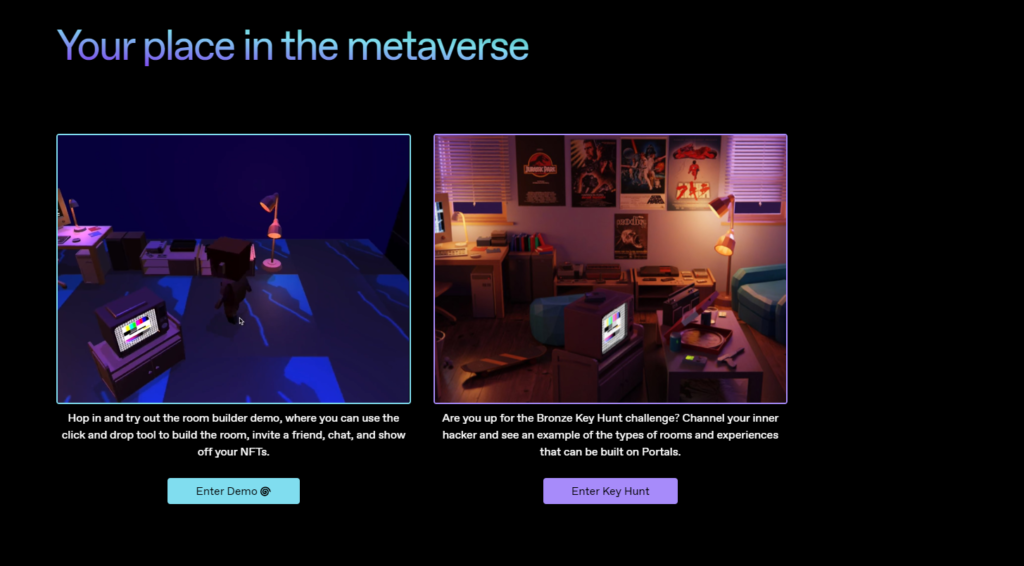 Portal is a web-based metaverse platform on the Solana ecosystem. A Portals NFT will grant you one of the units in Building one. 
The NFT is act as the ownership and access to your space in the building. The card will store and remember everything you own and build in Portals. 
In portals, you can build your spaces with a flexible drag + drop room builder. You can decorate your space with your favorite poster, display your NFT. 
You can follow Portal on Twitter with over 38K Followers and join their discord community group of 13640 members. 
Checkout: https://theportal.to/
Space Falcon 
SpaceFalcon is Intergalactic Metaverse Classic Shooter Game powered by Solana Network. They have recreated the classic shooter game in 3D that runs on browser incentivizes players by integrating blockchain technologies.
You can buy their Space Falcon NFT on MagicDen. 
$FCON is a governance token for the game Space Flacon with 20 Billion in Distribution. FCON will be available on Raydium, KuCoin, and Gate.io 
Space Falcon is invested by marquee investors like Solar eco fund, Maven Captial, and much more. They have partnered with Solana, Raydium, Solice, Cyclos, Metaplex, Cropper, and SonarWatch. 
You can follow SpaceFalcon on Twitter with over 232K followers and Join their Discord community of 129543 Members
Check out: https://www.spacefalcon.io/
Nyan Heroes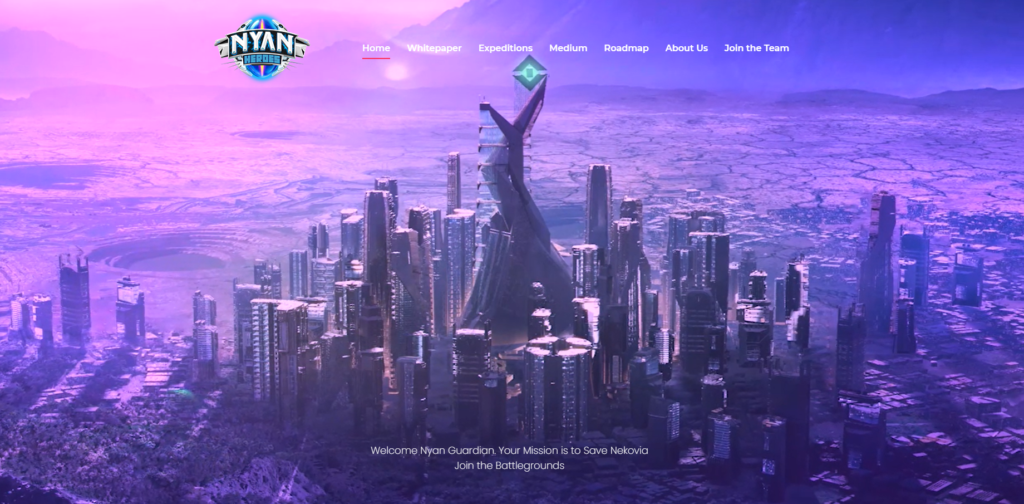 Nayn Heroes is a play-to-earn metaverse NFT game built on the Solana blockchain. Nyan Hereos is a 3D game built on an Unreal game engine.
Nyan heroes are backed by investors like Solana Captial, DeFiance Capital, Three Arrow Capital, and Infinity Ventures. 
$CTNP token is an in-game utility token. Currently, they don't have any limitations on the token. $CNTP is used to required minting new NFT, characters, and items and to Level up your gears and parts. 
$NYN is the governance token for the entire project. It will be in fixed supply and their use cases are Governance, Stacking, and Redistribution of revenue to stakeholders. 
You can follow them on Twitter and join their  Discord community of 85,207 members. 
Check out: https://nyanheroes.com/
Solmoon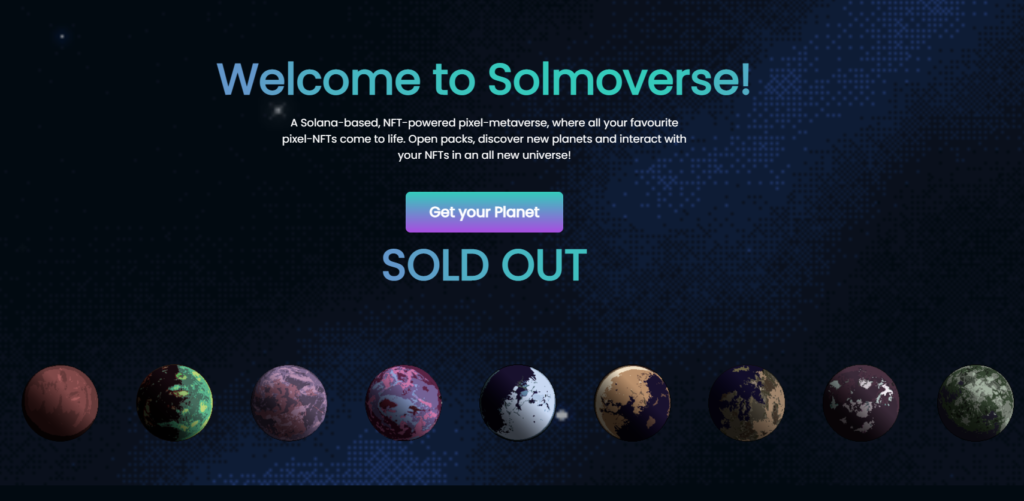 Solmoon NFT-powered pixel-metaverse hosted on Solana Blockchain. Their goal is to create a 2D mine to earn & play to earn a pixelated world. Solmoon creates a harmonic connection between gaming, NFTs, and DEFI. 
Solmoon NFT has a collection of 7777 unique collectible Planets with proof of ownership stored on the blockchain.
$SOLMO is the main currency of Solmoverse. 
You can Solmoon on Twitter and Discord
Checkout: https://solmoonfinance.com/