As of 2021, there are more than 570 million blogs on the internet and around 7 million blog posts are published every day. Creating content for the blog is challenging and time-consuming. From research to writing to publishing is a cumbersome process. What if I tell you, you can accelerate the entire content creation process using AI. With AI you create the same article with ⅓ of the current creation time.
Why Do We Use AI in Creating Content?
To Save Hours of Time:

We all know how much it would take to create a whole piece of content. But with AI, one can generate 10X faster than ever before. AI tools can generate multiple copies or pieces of content in a matter of a few seconds. This saves us a lot of time, which we can put to better use elsewhere.

To Save a Lot of Money:

AI tools are less expensive than hiring 'n' number of copy/ content writers. An AI tool is capable of 10X your productivity, meaning,

1 writer with an AI tool = 10 writers

.

To Overcome Writer's Block

: If you are a writer of any kind, you would have faced a situation in which you would be staring at a screen for a while and have nothing to write. That's pretty common among writers.

You can leverage AI and get inspired to generate content even when you are not ready.

Fasten Up the Research:

Most of the time research usually takes a lot more time than writing whether it's keyword research or content research.

With AI, you can click the button and sit back; it pulls out the important facts and essential keywords that are needed for your writing.

To Solve the Multi-purpose Needs:

With an AI tool, you can write copies for marketing purposes or long-form content to educate customers. Hence, it is better to choose tools that offer multiple solutions.
Generate Content Using Jarvis.ai
Jarvis is an AI trained by the world's best SEO and Marketing experts to teach how to write blog articles, social media posts, website copy, and more.
Jarvis will help you to generate:
Generate original content that ranks for SEO 

Finish your draft 2-5x faster

Boost ad conversions with a better copy 

End writer's block with ideas from a robot 

Breakthrough the language barrier 

Scale up your content marketing fast
Steps to Write High-Quality Content Fast
Open the Long-From editor 

Write a command to Jarvis

See Jarvis write Content

Jarvis Features 
50+ Copywriting skills 
Some of Copywriting skills are supported by Jarvis.ai are:
Product description

: Create compelling product descriptions 

Content Improver:

Take a piece of content and rewrite it to make it more interesting and engaging 

Creative Story:

Write deliciously creative stories to engage your readers. 

Blog Post Topic Ideas

: Create a new blog post topic that will engage readers and rank well in Google 

Facebook Ad Headline:

Generate scroll stopping headline for your Facebook Ads 

Google Ads Headline and Description:

Create high converting copy ad copy for your Google Ads. 

Amazon Product Features:

Create key feature and benefits bullets for Amazon Listing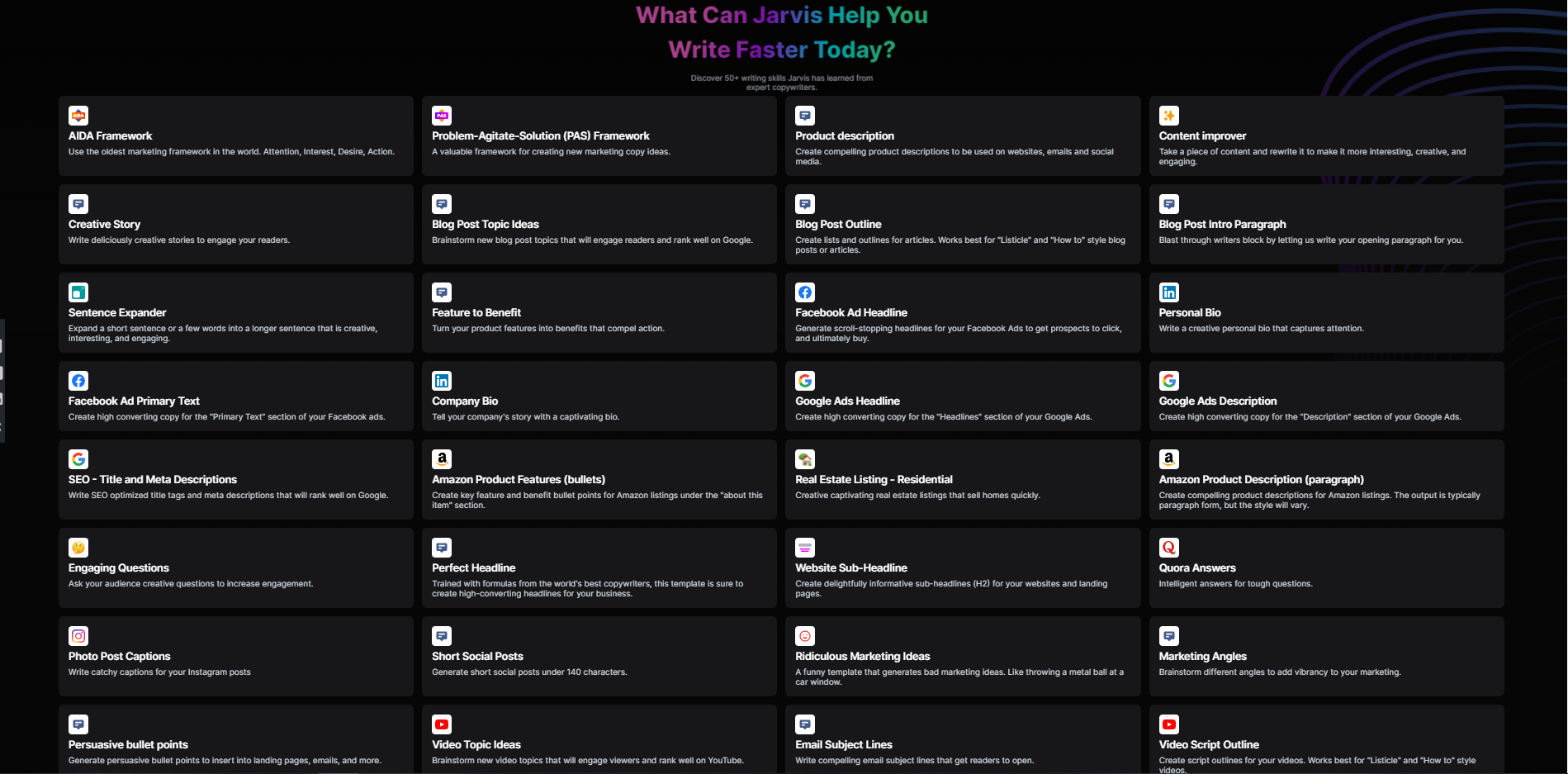 Boss Mode 
With Boss Mode, you can take control of AI and write 2x faster. You can create blog posts, stories, and even books with the help of real AI. With Boss Mode, you can generate Long-form content in a shorter amount of time. 2,000-3,000 Character lookback is also supported.
Supports 26 Language 
With Jarvis, you can write high-quality blog articles and social media posts in any language. Write creative copy that converts in 25+ language 
Jarvis Pricing
Jarvis has 2 packages: Starter and Boss Mode. It has a 7-day money-back guarantee option.
Starter: $29/ month. It includes 20,000 words/mo, 5 project folders, chat support, and access to AI Copywriter's Community.
Boss Mode: $119/ mo. It includes unlimited words & project folders, SEO mode, Command Jarvis, chat support, and access to AI Copywriter's Community.
You can get 2 months free by opting for the annual payment option.
Will AI-Generated Content Ranks in Google?
Some of you have a question like "Does AI-Generate Content Rank?". It's a big yes.
In fact, Kristin Tynski, SVP of Creative and a co-founder at Fractl, published an article in Semrush about this. She created a blog that is completely generated by AI for experiment purposes. Then, initially, she accumulated a few high domain authority backlinks and left them.
To her surprise, the blog got ranked for nearly 300 terms over a period of 4 months since its launch. And, it attracted ~60 visits per month.
So it is obvious that your website ranking always depends on the quality of content & backlinks you have and how you resonate it with user intent.
Why You Should Consider Buying Jarvis?
With Jarvis, you could be able to generate long-form content and 50+ copywriting skills that are needed in almost all businesses.  
No word limits. You can generate as many blog posts, long-form content, even sell ebooks 

Write long-form content 

Unlimited project folder 

25+ supported languages 

50+ short-form Copywriting templates 

Live training 

Dedicated chat support 

AI copywriter's community 
Conclusion
With Jarvis, you can "Capture Reader's Attention and Google Love's". Jarvis is a great tool and investment for every writer, with that, you can generate content at a much faster rate and in turn improve your productivity in the longer run.