The ranking on Google search is important for any business. Failing to do that may result in loss of leads and business deals to the competitors. Day by day it is becoming harder to get ranked in Google and competition is fierce.
Content marketing is a lower cost with a huge upside when compared with other forms of marketing. You are hitting a goldmine if you are doing it right. Many businesses and startups are now facing many challenges in optimizing their website content for SEO.
Most businesses rely on basic on-page SEO that won't be sustainable in the longer run, if you are planning to outrank your competitors, you may need advanced tools that do all the groundwork.
Google ad keywords are getting expensive day by day and to rank you above your competitor through ads is not sustainable in the long run especially if you are a small business.
Why is AI SEO Important?
User understanding is the pivot point of SEO. And it is needless to say Google uses AI to understand the search queries.
Your competitors are creating content at a faster rate and to stand out from them and to create SEO optimized rankable content faster AI SEO software would be the optimal solution.
Hence, you should also have to use AI in order to understand users better and uncover the best SEO strategy that ranks high on Google SERP. 
How Does AI Improve Your SEO?
AI will speed up the whole research process.

AI helps to identify the content gaps and trending topics.

It creates an effective topic cluster that targets the user intent queries.

It helps to improve the SEO scaling tremendously.

Helps you to find hidden ranking opportunities by finding keywords that need to be focused on.

Helps us to find the opportunities that competitors are not exploiting.
Overview of Best AI SEO Content Optimization
Here we list out the overview of all AI Content Optimization software given below.
| | | | |
| --- | --- | --- | --- |
| Software | Our Review | Free plan | Pricing |
| Frase | 4.9/5 | 7 days free trial for $1  | Starts at $44.99/monthly |
| Marketmuse | 4.7/5 | Yes | Starts at $149/monthly |
| SurferSEO | 4.5/5 | 7 days money-back guarantee | Starts at $49/monthly |
| Topic | 4.3/5 | $7 for your first 3 Content brief | Starts at $99/month |
| Outranking | 4.2/5 | Yes | Starts at $49/month |
| INK | 3.9/5 | Yes | Starts at $35/month |
Best AI SEO Softwares
You don't need to be an SEO expert to get the attention your content deserves.
Frase is an AI-powered SEO content optimization as well as an answer engine platform. Farse is an end-to-end SEO content creation workflow, powered by AI. It bagged #1 AI Software 2021 recognition in Capterra. The fastest-growing brand and agencies from Coursera, Talkspace, Merkle, Autodesk uses Farse for their Content creation and Optimization.
Frase Features
Outline Builder
Frase outline builder creates content outlines faster along with monthly search volumes and related questions.
Content Briefs
Frase's Brief Templates are a boon for writers. It enables writers to do their best. Also, it ensures the perfect delivery of SEO strategies and instructions to your writers. 
Content optimization
Frase's AI analyzes search results and brings the best variety of SEO keywords for your article. It suggests key topics and answers you should cover to rank higher. Frase Topic Heatmap shows the topics of your competitors.
Content analytics
You can avoid content decay by discovering new keywords with the help of Frase content analytics. It gives cluster-level analyzes and allows you to import your Google Search Console (GSC) content to improve your rankings.
Site search and AI chatbots
Frase site search pulls out effective results from your website. Using AI, Frase Assistant turns your content into answers.
Frase Pros
Eliminates the need for manual keyword research.

Respects privacy—doesn't access Google Search Console (GSC) data.

Unlimited scaling—Frase scales across every step.

Improves 300-500% organic traffic.

All-in-one platform—Research, briefs, and content optimization.

Easy-to-use Frase Answers API.

Frase Answers help to 3X your visitor engagement.
Frase Cons
No bulk download and link sharing option.

No content scoring and grader. 
Frase Pricing
Frase has three pricing plans: Basic, Team, and Enterprise. You can get 15% off by opting for an annual plan.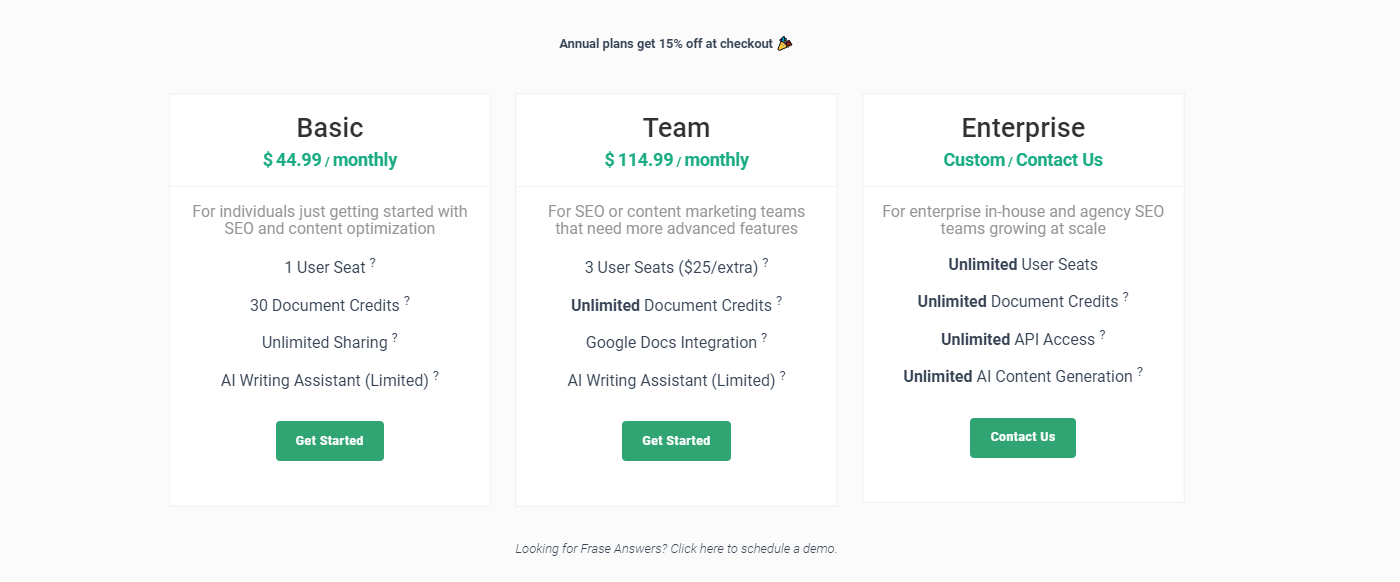 Basic (Perfect for SEO beginners): $44.99/ mo. It includes 30 credits and a limited AI writing assistant.
Team (Perfect for SEO/ Content marketing teams): $114.99/ mo. It includes Google doc integration, unlimited credits, and limited AI writing assistant.
Enterprise: Custom pricing. It includes unlimited credits, API access, and AI content generation.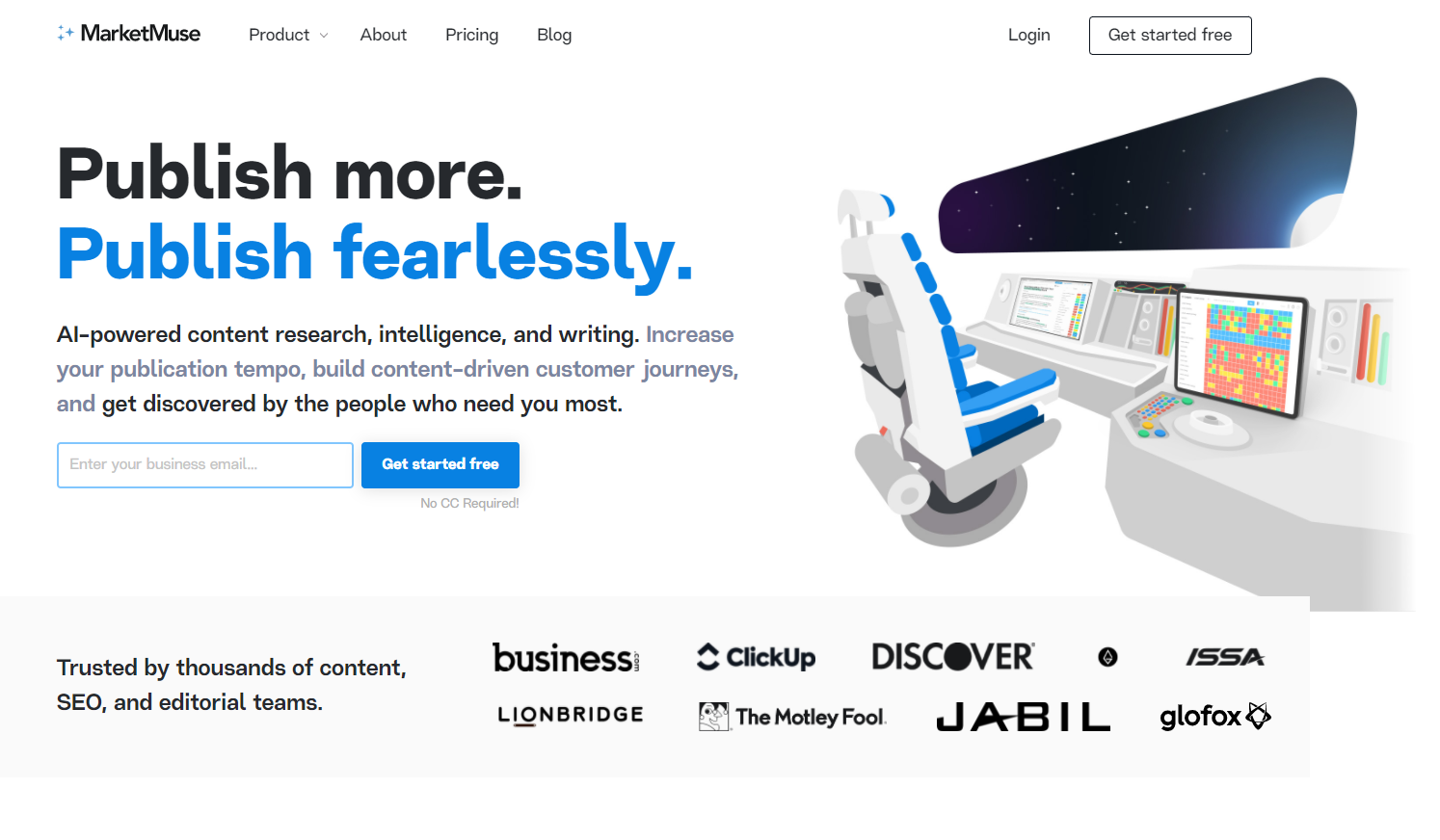 MarketMuse is AI-powered content research, intelligence, and writing platform. Marketmuse helps you to accelerate your content research, creation, and optimization process. Marketmuse is trusted by thousands of companies such as business.com, ClickUp, and discover.
MarketMuse Features
Inventory & Applications
Marketmuse Inventory automates your inventory and content audit process. It collects and organizes your pages for you, analyzes it, and makes it easily accessible. AI helps you to find your best content opportunities, prioritize them and surgically execute against them.
Content Brief 
Marketmuse content brief solution analyzes the top 10-30 results on Google SERP and helps you to write content like top results. Marketmuse Content Brief gives you a complete outline from target content score, subheading suggestions, questions to suggestions and related topics. Internal linking and external linking.
First Draft 
MarketMuse FirstDraft AI helps you to write a draft that is coherent and structured. Generated text that is free of degradation at length, plagiarism, and repetition. You can even configure to write in your style or that one you want to emulate and be able to write up to 5,000 words over time.
Optimize 
Marketmuse Optimize helps you analyze your content and topic with thousands of pages of content. Just by pasting your content on the editor or by adding the URL, you are able to identify all the content gaps needed. Get real-time feedback and how well your content matches the topic models and watch your Content Score improve as you write. You can publish confidently after you reach the target content score. 
MarketMuse Pros
The free plan is available with no credit needed.

Marketmuse AI analyzes 100s to 1000s of pages to build topic models. 

Helps you write better subheading with Marketmuse Subheading suggestions 

Shows you all relevant questions to the Answers. 

Finding internal linking to relevant pages on your domain and building topic clusters. 

Helps you find the external link that is non-competitive to establish your credibility. 
MarketMuse Cons
No support for Google docs extensions and WordPress extensions. 

Support for step-by-step guides to create and optimize content is missing on Marketmuse.
MarketMuse Pricing
Marketmuse comes with three pricing plans and you can pay it monthly or yearly. By choosing yearly you will save two months of pricing. 
Free: 35 queries per month, 45 projects
Standard: $149/month, Additional user $99/month, Unlimited queries, and Unlimited Projects
Premium: $999/month, one or more domains, Any number of pages, Unlimited users, Unlimited self-serve briefs. Unlimited queries.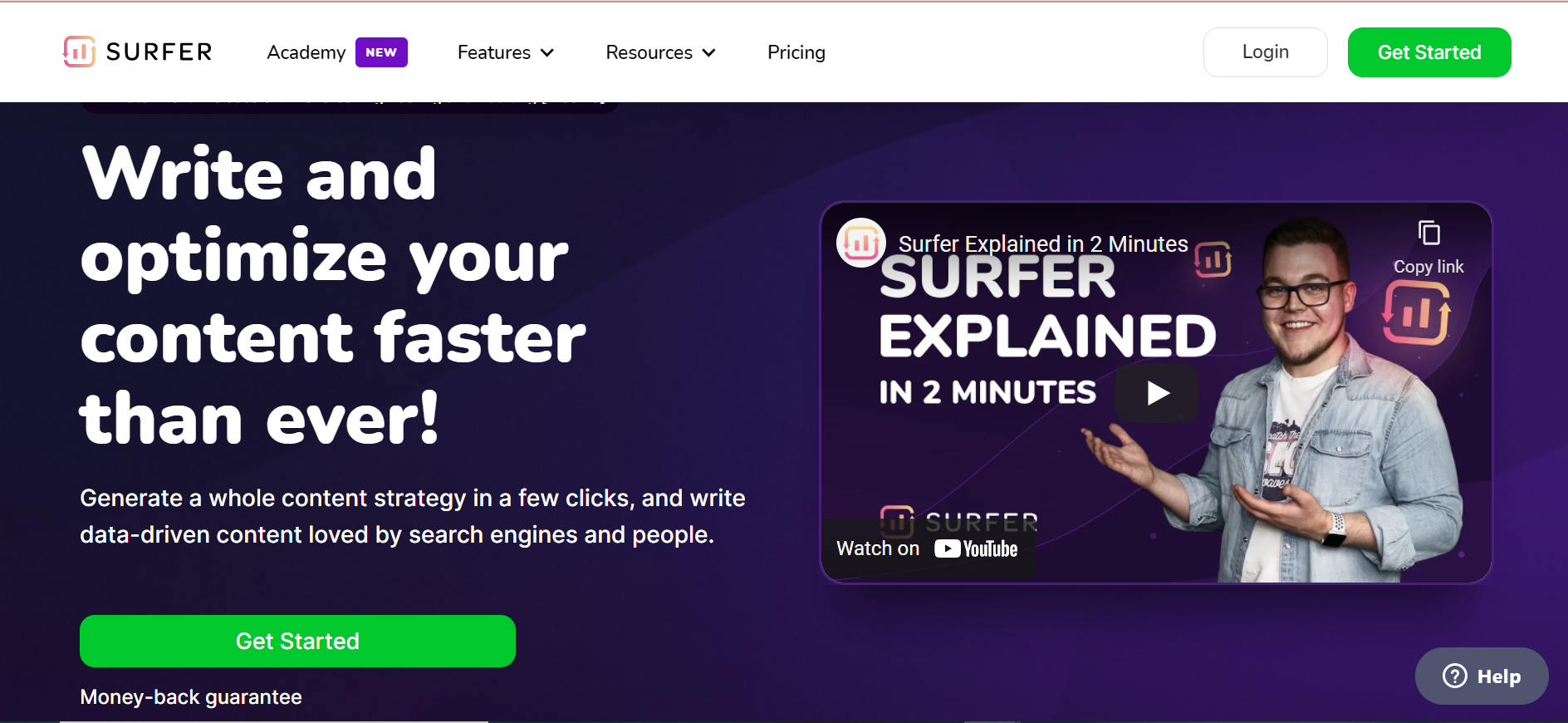 Want to generate a content plan and optimize your content quickly? Checkout SurferSEO.
SurferSEO is an AI-powered SEO tool that helps to generate a whole content strategy for your site and perform an effective audit to outrank your competitors on Google. It is trusted by 8,000+ users around the world. SurferSEO is trusted by Opera, Inpost, AuthorityHacker, Ramotion, and Jarvis for their daily content needs.
SurferSEO Features
Content Planner
Just type your seed keyword, boom. You could see a lot of content ideas along with search volume, search intent, and a number of grouped keywords.
Content Editor
SurferSEO content editor shows content guidelines with the help of Natural Language Processing (NLP). You can create hyper-relevant content by analyzing your competitor's page, you bring in important questions and topics to cover. It gives instant content scores along with suggestions.
Play with SurferSEO's interactive content editor.
SERP Analyzer
It helps to find the structure of your competitor's page, optimal keyword density, and link-building opportunities.
SEO Audit
With your keyword and URL, SurferSEO performs an SEO audit. It helps to find SEO errors, internal linking opportunities, refurbish your old content, and optimizes on-page ranking factors.
Keyword Research
You can rank for multiple keywords for a single article with SurferSEO keyword research. You can match your user intent by answering the questions suggested by this keyword research window.
SurferSEO Pros
Supports integration with Jarvis.ai.

Relevant internal link-building suggestions.

SurferSEO Content Editor Chrome extension available.

Provides a 7-day money-back guarantee.
SurferSEO Cons
Limited NLP credit for the Basic plan.

It doesn't work in the Grammarly extension.
SurferSEO Pricing
SurferSEO has 3 plans: Basic, Pro, and Business. Users can save up to 17% by opting for an annual mode of payment.
Basic: $59/ mo. It allows 10 content editors and 20 audits per month. Also includes free NLP for 1st month.
Pro: $119/ mo.  It allows 30 content editors and 60 audits per month. Also includes NLP.
Business: $239/ mo. It allows 70 content editors and 140 audits per month. Also includes free NLP, white labeling, and API.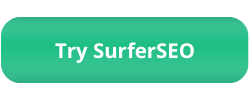 Want to create quality SEO content faster? Choose Topic.
The Topic is AI-powered Content Optimization and Content Analysis tool that helps users to optimize the content that ranks better on Google. Topic is trusted and used by organizations like Curated, Trustradius, Quizlet, Springboard, Elementor for their daily content needs.
Topic Features
Content Research
With Topic, just entering the focus keyword for your post and using the top 30 results in Google, we all find what headings, questions, and keywords you should include.
Content Outline
Using Topic's Outline Builder you can curate the research into a comprehensive outline. Topic AI suggests an idea for you and optimizes your content in different forms.
Content Optimization
With Topics Content Grader you can identify the content gaps that your draft is missing. Using the content draft you can ensure that every article covers what your audience is searching for.
Topic Pros
Automatic research that helps us to produce high-quality content briefs. 

Topic AI helps us to generate headlines and Outline Generation.

Word class content editor at a much affordable price. 

Support both WordPress and Google Doc extensions.
Topic Cons
Lack of SEO audit and backlink checker.

No support for creating step by step guidance to create and optimize content 

No support for finding a topic cluster around the topic to find relevances for the content.
Topic Pricing
The topic has three pricing plans: Starter, Plus, and Premium.
Starter: $99/month, For individuals or small startups. 10 Content Optimizations/ month. 
Plus: $199/month, For in-house content teams and agencies. 25 Content Briefs and Optimizations.
Premium: $299/month, For agencies producing content at scale. 50 Content Briefs and Optimizations/ month.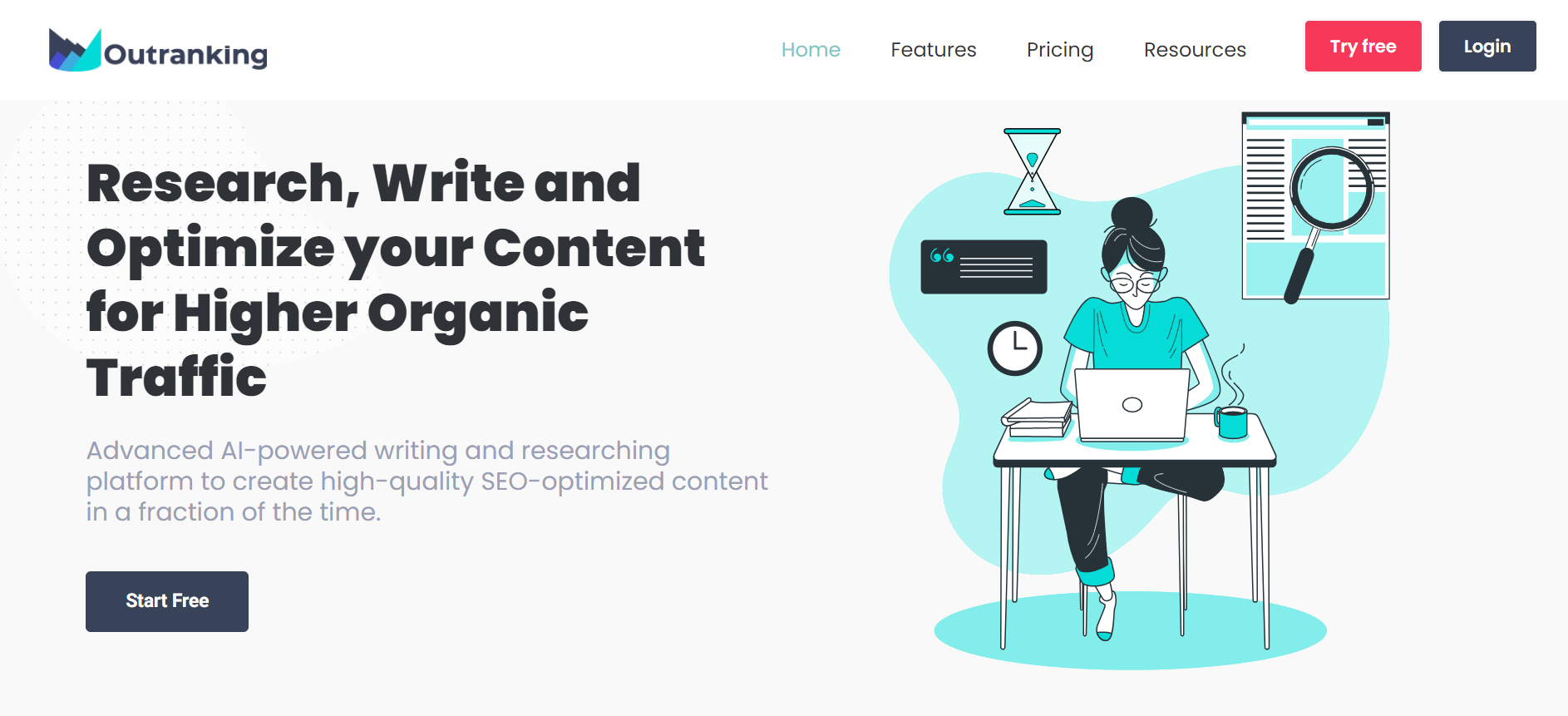 Outranking is an advanced AI-Powered writing and researching platform to create high-quality SEO-optimized content in a fraction of the time. With GPT-3, you can generate high-quality content faster.
Outranking Features
SEO Content Research, Writing, and Optimizing Simplified
AI-powered writing assistant to do research, build outlines, write content and be subject matter experts in minutes.
Outrank Competitive Research 
Outrank analyzes top ranking pages for a given keyword and brings on-page and off-page SEO Stats. Outrank covers backlink, domain, and page authority data, competing for page score, meta tags, and heading. 
GPT-3: Multilingual AI Writing assistant 
Outranking is a mesh data-driven approach to content writing using one of the most advanced tech available for writing awesome content 10X faster. Outrank infuses SERP knowledge with AI Assistant. 
SEO Scoring
Score content based on SEO ranking factors and use precise information and instructions to create the most optimized content. Outrank provides you with real-time SEO Scoring and Content assessment.
Team Collaboration 
Outranking has better team access management and document sharing that is suitable for your agency or company workflow.
Outranking Pros
Supports step-by-step guidance to create and optimize content.

Supports page title optimization instructions with the highest frequency and related keywords.

Questions from as many as 50 search ranking pages (Who, What, Why, When, can, are where, how).

Support for Google and WordPress extensions.
Outranking Cons 
Limitation of word count for AI Writing.
Outranking pricing 
Here we list out all the pricing plan for outranking
Free: $0/month, 2 SEO Documents. 200 Characters AI Writing, AI Outline Builder.
Starter: $49/month, 10 SEO Web Document, 30 Analysis/Searches, Unlimited AI Content.
Growth: $99/month, 30 SEO Web Document, 90 Analysis/Searches, Unlimited AI Content.
Professional: $99/month, 100 SEO Web Document, 300 Analysis/ Searches, Unlimited AI Content.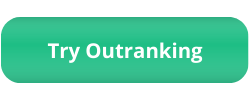 Want an AI-powered writing and SEO assistant? Jump into INK.
INK is not only built for SEO but also for content writing and copywriting. It provides smart SEO suggestions and has a lot of tools for content writing.
INK Features
SEO
INK SEO has all the essential features to outrank your competitors. It includes SEO score, meta tag optimization, keyphrase, subheading, and unique hyperlinks usage. INK brings more meaning into your content by using AI semantic options; the Semantic option helps to provide in-depth answers by covering all related topics around user intended queries.
Writing Assistant
INK writing assistant has many features to offer that ranges from basic active/passive voice suggestions to sentiment and emotional suggestions. It also includes spelling and grammar checks.
INK Pros
INK has dyslexia and colorblind modes.

It supports WordPress integration.

It has 60+ AI tools for advertising, growth, writing, and website optimization.

Provides a 7-day money-back guarantee.

Conducts regular live Q&A sessions to provide knowledge.
INK Cons
Lack of integration

like Google Docs, email, Google Sheets, and more.

No cloud editing support, you can only use it via desktop apps.
INK Pricing
INK has three pricing options and you can get 2 months free by choosing an annual plan. Apart from this, there is also a custom plan available that caters according to the needs of customers.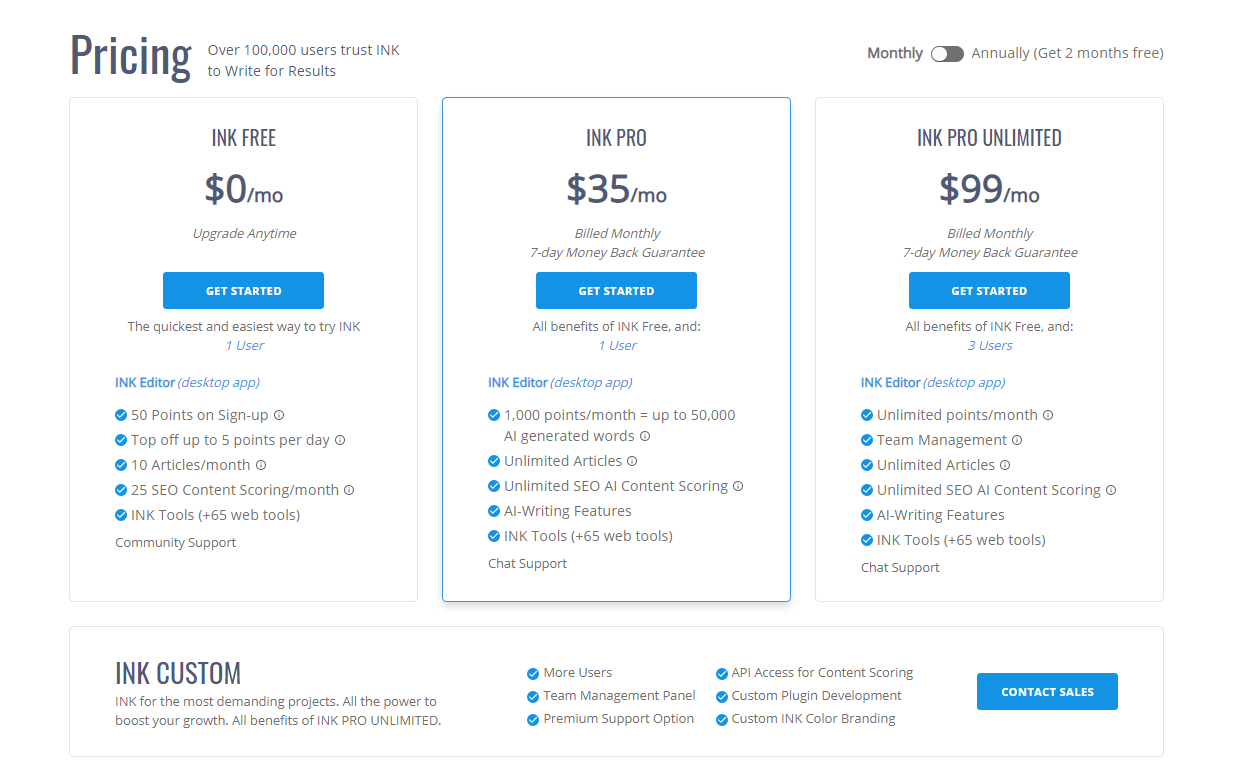 INK Free: $0/ mo. You can generate 150 AI sentence outputs. Up to 10 file/ document support and access to 65+ web tools. Community support is only available for this pack.
INK Pro: $35/ mo. You can generate up to 3,000 sentence outputs. Unlimited file/document and chat support available. Includes chat support and access to 65+ web tools.
INK Pro Unlimited: $99/ mo. No sentence and file/ document restriction, team management, and access to 65+ web tools. Includes chat support.

Conclusion
This guide helps you to find the best content optimization software that helps you to create and optimize content faster. After considering pricing, usability, integration, and collaboration, Frase would be the best SEO content creation and optimization software. Marketmuse also supports almost all features supported by Frase but from a pricing point of view, Frase comes over the top.