STEPN is a move2earn lifestyle application that motivates people to run and get fit.
As it is built with Social-Fi and Game-Fi elements, STEPN rewards its users who are equipped with NFT sneakers for walking, jogging, and running.
STEPN rewards in the form of GST and GMT tokens, which then be converted as cryptocurrency or fiat currency.
To earn rewards in STEPN, you need to buy an NFT sneaker and start moving in outdoor.
Before buying a sneaker, make sure you have a STEPN account, created and funded your STEPN wallet.
To buy a STEPN sneaker, you need to have enough SOL in your Spending Area.
Then, head to the in-app marketplace.
Select an NFT sneaker based on your fitness level and buy it.
Steps to Buy STEPN Sneaker
1. Move SOL from Wallet to Spending Area
If you have already transferred your SOL from your STEPN Wallet to the Spending Area, you can skip this step.
After creating a STEPN account, you would have transferred SOL from any cryptocurrency exchange or crypto wallet to your STEPN wallet.
To buy a sneaker, SOL needs to be in your Spending Area.
To transfer SOL from Wallet to Spending Area, you need to tap on Transfer on the Wallet tab.
Note: Currently, you need at least 13 SOL to buy an NFT sneaker since the sneaker price starts with 12/ 13 SOL.
However, once the STEPN team rolled out the sneaker renting feature, the upfront amount needed to play STEPN will get lower as you could rent an NFT sneaker instead of buying.
2. Go to STEPN Marketplace
Once you have transferred the SOL from Wallet to the Spending area, you are ready to buy a sneaker.
You can buy an NFT sneaker in the STEPN in-app marketplace.
To visit the marketplace, you need to tap on the Cart Icon at the bottom of your mobile screen.
3. Select an NFT Sneaker
Once you are in the in-app marketplace, you will be able to scroll down to see NFT sneakers that are available for sale.
You need to select a sneaker based on your fitness level and lifestyle.
Select among sneaker types, such as walker, jogger, runner, and trainer.
STEPN Sneaker Types and Optimal Speed
| Name | Optimal Speed (km/ hr) | GST Earnings |
| --- | --- | --- |
| Walker | 1-6 | 4 GST/ 1 Energy Spent |
| Jogger | 4-10 | 5 GST/ 1 Energy Spent |
| Runner | 8-20 | 6 GST/ 1 Energy Spent |
| Trainer | 1-20 | 4-6.25 GST/ 1 Energy Spent |
You can use the Filters to select sneakers based on types, quality, level, and shoe mint.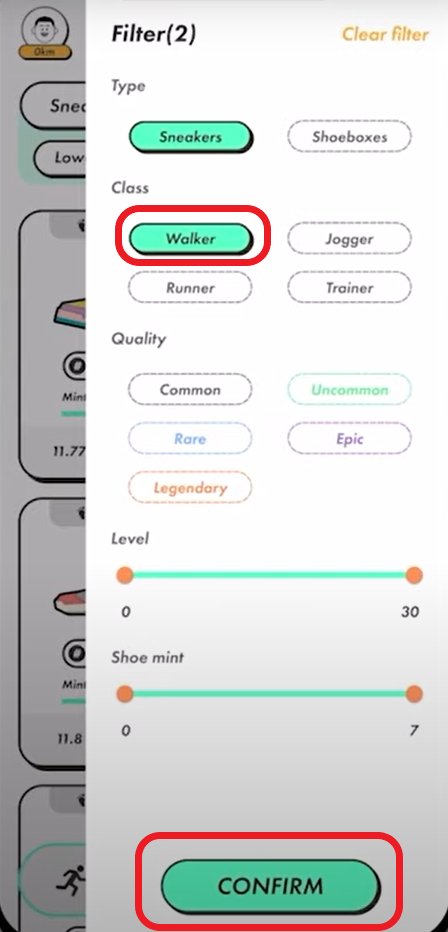 4. Tap on Buy Now
Once you have come across any sneaker that you like, tap on it to view its Attributes, such as Efficiency, Luck, and Comfort.
If you are happy with the attributes and level of the sneakers, tap Buy Now.
After tapping on Buy Now, there will be a confirmation window that displays details, such as class, level, durability, and shoe mint.
Review it and tap Confirm.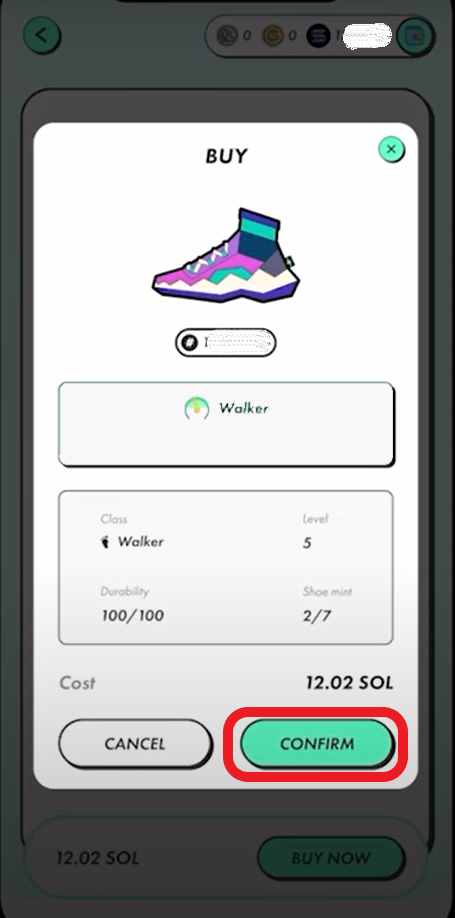 Next, there will be a confirmation pop-up for SOL consumption.
Review the amount of SOL and then, tap Confirm.
That's it. You have purchased a STEPN NFT sneaker.
5. Start Running
To view the NFT sneaker that you have purchased, tap on the Runner Icon.
Now, you need to go outdoor and tap on the Start button and start to walk, jog, or run according to your sneaker.
Ensure that you have a strong GPS signal and mobile data signal. Otherwise, you will not be able to earn GST/ GMT tokens.
Read also: 5 Ways to Earn Money in STEPN.
STEPN Sneaker Quality and Attribute Points
Sneakers are classified as 5 qualities. The value of each attribute is determined randomly at the time of minting within the min. and max. values according to the quality of the sneaker.
By burning GST/ GMT, users can level up their sneakers. Leveling up increases the attribute points of a sneaker. And, each level up takes a fixed time to complete; however, you can speed up the process by using more GST/ GMT.
Note: GMT will be available at sneaker level 30.
| Quality | Min. Attribute | Max. Attribute | Attribute Point/Level up |
| --- | --- | --- | --- |
| Common | 1 | 10 | 4 |
| Uncommon | 8 | 18 | 6 |
| Rare | 15 | 35 | 8 |
| Epic | 28 | 63 | 10 |
| Legendary | 50 | 112 | 12 |
FAQs
1. Difficulties in transferring tokens between spending and STEPN wallet? Did I lose my SOL or GST?
At the time of writing this article, many users are facing/ have faced a delay in transfers between wallet and spending area. However, all of them got the SOL/ GST/ Shoe after waiting for 1 to 10 hours.
This is most probably because of the congestion on the Solana blockchain. If you have any concerns regarding your transfer, you can check the status in Solana block explorer.
2. What are the attributes of the STEPN sneaker?
STEPN sneaker attributes include:
Efficiency

: Higher efficiency=Higher Earnings

Luck

: Influences the frequency and quality of the Mystery Box drop

Comfort

: Boosts GMT Earnings (Under development)

Resilience

: In Solo Mode, higher resilience = slower durability decay. In Marathon Mode, higher resilience = more points, since the sneakers will stay above the worn-out penalty mark for a longer period of time.
Read also: How to Mint Sneakers in STEPN: Twin Shoebox Possible?, Common Mistakes to Avoid as a STEPN Player: A Heads-Up, and How to Sell Sneakers in STEPN.